I cannot imagine I am the only one that starts singing Nat King Cole's version of "The Christmas Song" when I start thinking about a roasted chestnut recipe. If you are here, I am sure you are asking, how do you roast chestnuts? I am going to walk you through the few easy steps on how to do it but we are going to add a twist to it and do on the Weber Kettle, with some hickory smoke.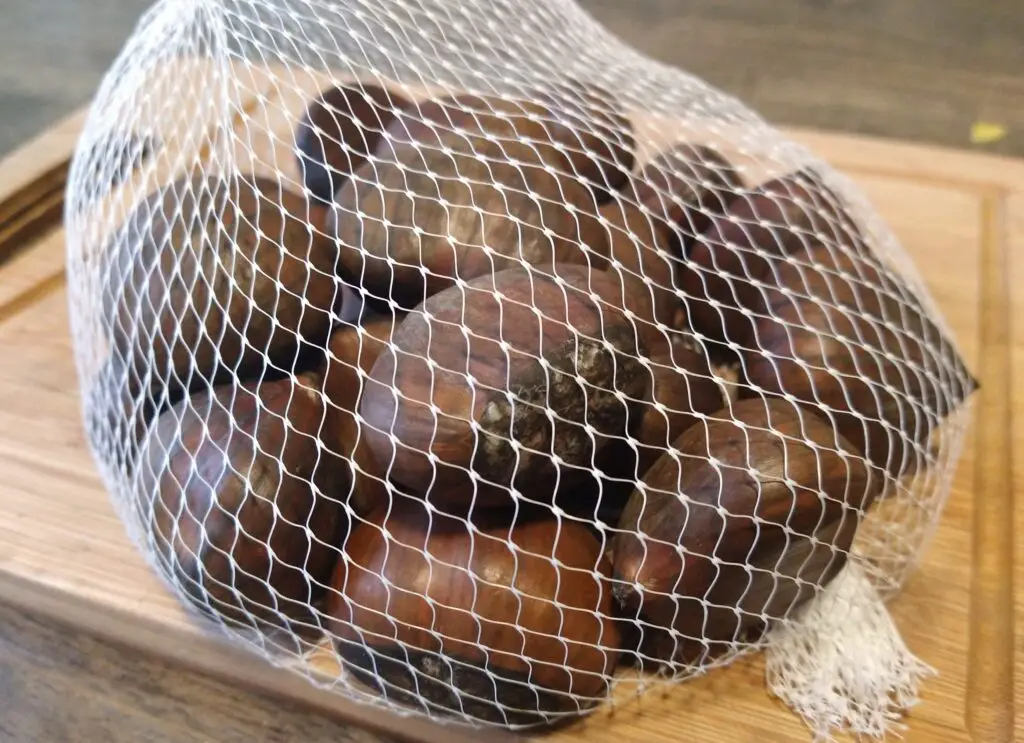 Roasted Chestnuts Recipe
With this roasted chestnut recipe we are going to get the smoker, or in my case my Weber Kettle up to 400° and I added one chunk of hickory wood. I am sure you can make adjustments if you are roasting chestnuts on an offset or pellet smoker. I am going to do this with indirect heat on the Kettle. Not sure where to find fresh chestnuts? Most grocery stores will start to carry chestnuts during the months of November and December, as it is a bit of a seasonal item.
While your smoker is getting up to temperature, you can start prepping the chestnuts. First thing you want to do it rinse the chestnuts. You can soak them for a few minutes while rinsing but does not have to be more than 2-3 minutes. Once you are done with the rinse, you are going to want to cut a cross shape into the chestnuts. You will want to ensure you have a sharp paring knife for this, otherwise it could prove to be a difficult and frustrating task. This will allow the shell to open up as they roast. The shells on these are not soft, you are going to ensure you have a sharp knife to cut them.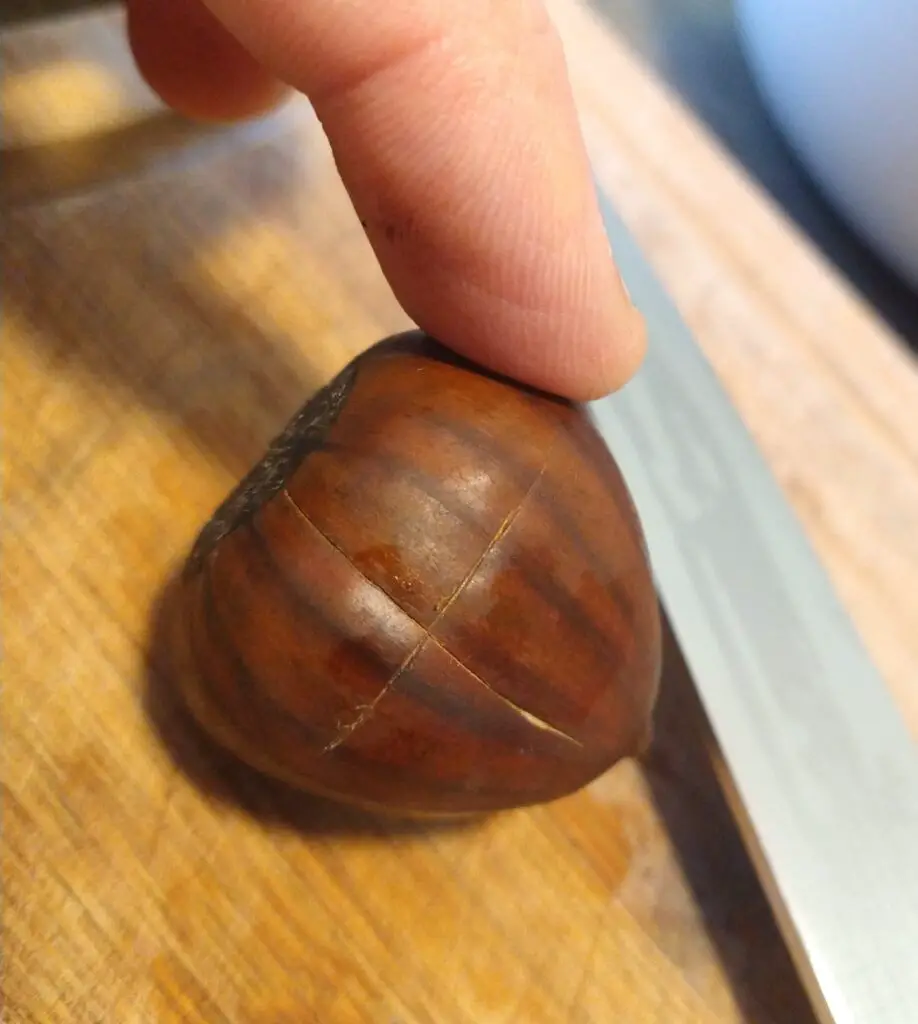 How To Roast Chestnuts On An Open Fire
After you have cut the chestnuts, it is a matter of throwing them on the Kettle and letting them roast and get some smoke on them.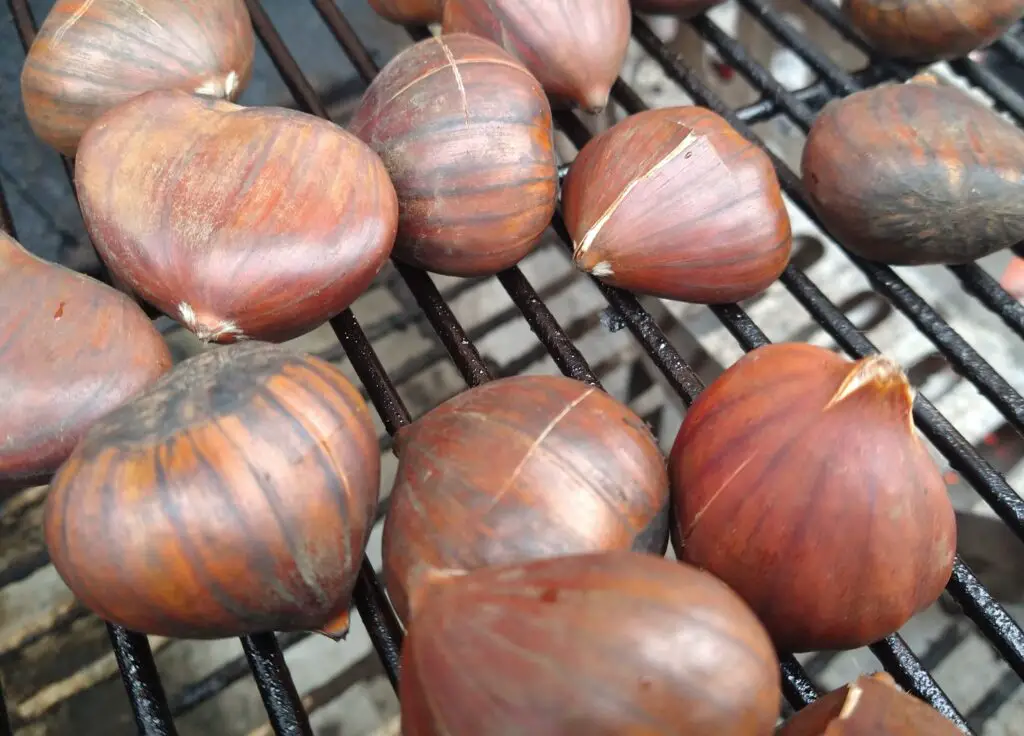 Based on time you will need about 30 minutes or so. What you really want to look at is the shell and has it peeled away from the chestnut. If you see that cross you cut into the shell start to open and expose the chestnut you are good to go and they are ready to pull and start eating. What I find is that some are usually done sooner than others, so you can start picking the finished ones off the Kettle while the others are still roasting.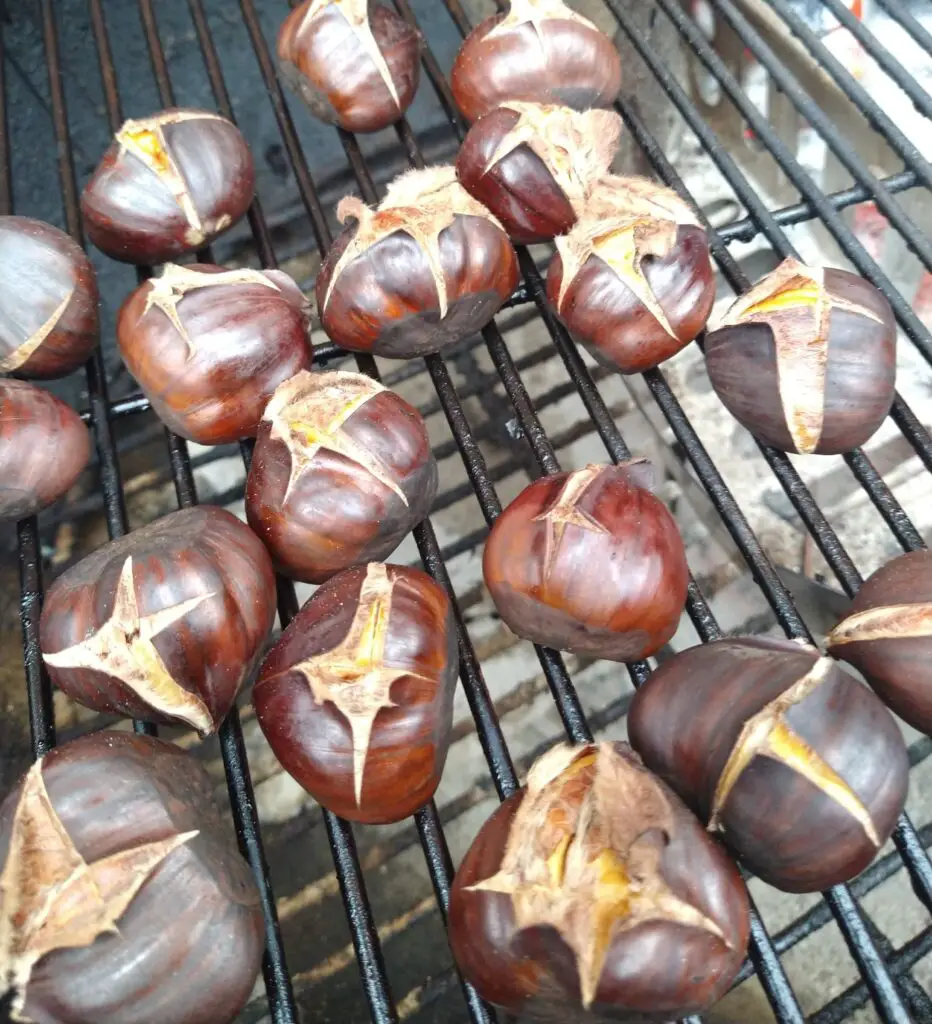 Roasted Chestnut Recipe Wrap Up
That is all there is too it, this roasted chestnut recipe is as easy as they come! Chestnuts are great to prep in advance of a holiday party or, like I have started doing, having my father over a couple of night before Christmas and we sit outside around the Kettle eating roasted chestnuts.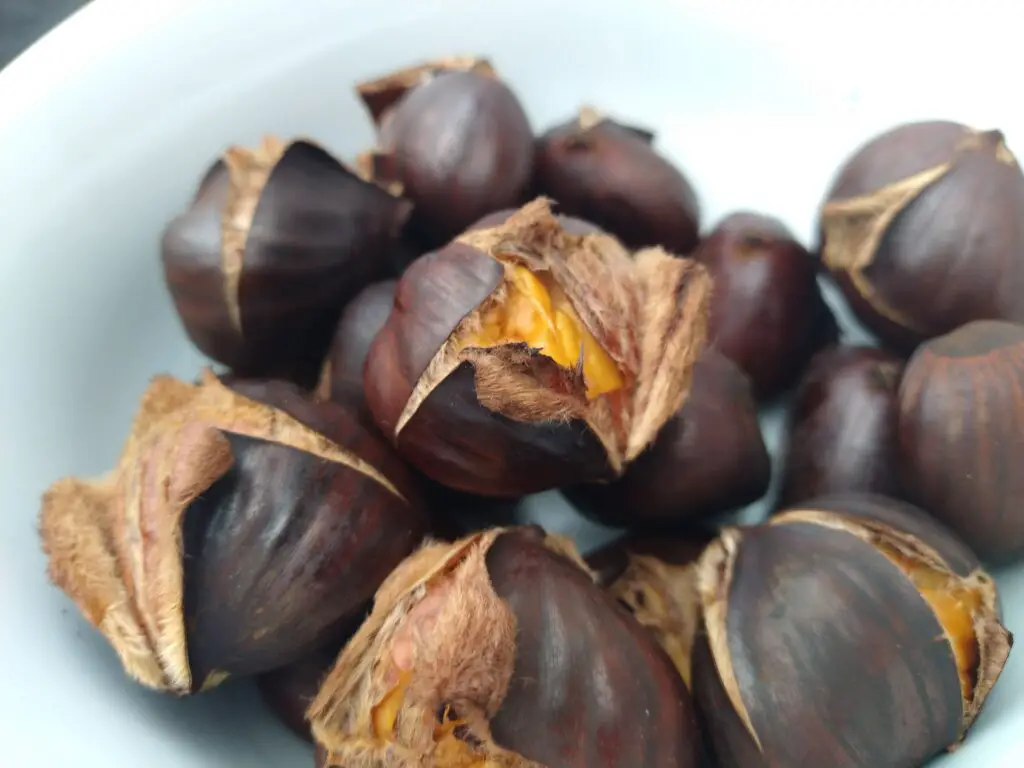 If you are looking for some other winter/holiday recipes, take a look at our drip chili or lamb recipe. If you are looking for something along the lines of the chestnuts take a look at our hickory smoked nuts recipe as well. Perfect for a holiday gift.
Thanks for being here and checking out our recipes. Leave us a comment or a review and let us know what you think!
This post contains affiliate links. If you use these links to buy something I may earn a commission. Thanks!
Roasted Chestnut Recipe
Instructions
You will want to get your Weber Kettle up to about 400° and will use one chunk of hickory wood
Will that is getting up to temperature, start by rinsing your chestnuts. You can let them soak for a couple of minutes but not necessary
Once done rinsing you will cut a slit into each chestnut in the shape of a cross
When completed place the chestnuts on the Kettle and let sit for about 30 minutes. When you see the shells start to peel back you can pull the chestnuts off.
Serve while hot or package up in an air tight container for later use.
Nutrition Information:
Yield:

5
Serving Size:

1
Amount Per Serving:
Calories:

185