Nothing beats some WSM Smoked Drip Chili on a cool fall night or a mid winter evening. For the record, I call it drip chili, some call it over the top chili or OTT chili. Regardless of what you are calling it, it is a great smoked chili recipe. The perfect way to make it is as a drip chili is on the Weber Smokey Mountain. As with many of my other recipes I post here, I try to keep this pretty easy and basic but give it a lot of flavor. Let's jump into this recipe and get going with some smoked chili to warm you and the family up.
What Is Over The Top Chili
I talk a little more about it below as well but over the top chili is essentially ground beef being smoked over the other chili ingredients. The Weber Smokey Mountain is the perfect set up for this because of its two tiered rack system. But any other smoker will work as well, as long you have the height to do it. Another smoker will just require a smaller grate that you can rest on your Dutch oven, to place the ground beef. It is a great method for infusing that smoke flavor into the chili.
WSM Smoked Drip Chili Preparation
I got my WSM smoker up and running with a temperature of 225° using 2 chunks of apple wood. While you wait for the smoker to get to temp, you can start with the chili. You are going to dice each of the following, one small Spanish onion, a green bell pepper, one fresh cayenne pepper and one fresh jalapeno pepper. I suggest removing the seeds on the jalapeno pepper.
If you want the chili spicy hot, leave the seeds in and dice it. I usually feel I get enough flavor with the seeds removed. Once you have those ingredients in the cast iron Dutch oven, we will go ahead and then add the rest of the ingredients.
You will then need the following, starting with three cans of red kidney beans. Drain two of the cans, leave the liquid in the third and add it to the chili mix. Add in 2 tablespoons of minced garlic. We always have a container of minced garlic in the house, so that is my go to. If you like using fresh garlic nothing to say you can't use it. You can always used garlic powder if you are in a pinch but that would not be my recommendation.
You will then add in 2 28 oz. cans of crushed tomatoes. I will tell you now, it will appear to be too much but you will need it once you add in the ground beef. Adding another can of crushed tomatoes later will water down the flavor you just spent 2-3 hours creating on the smoker.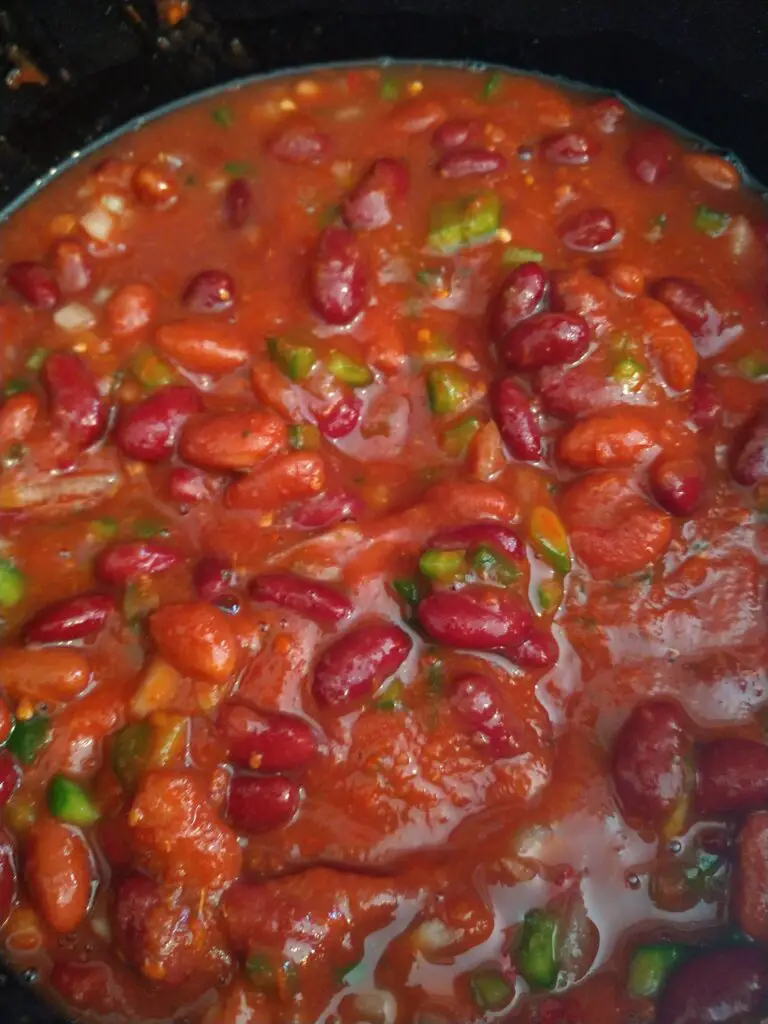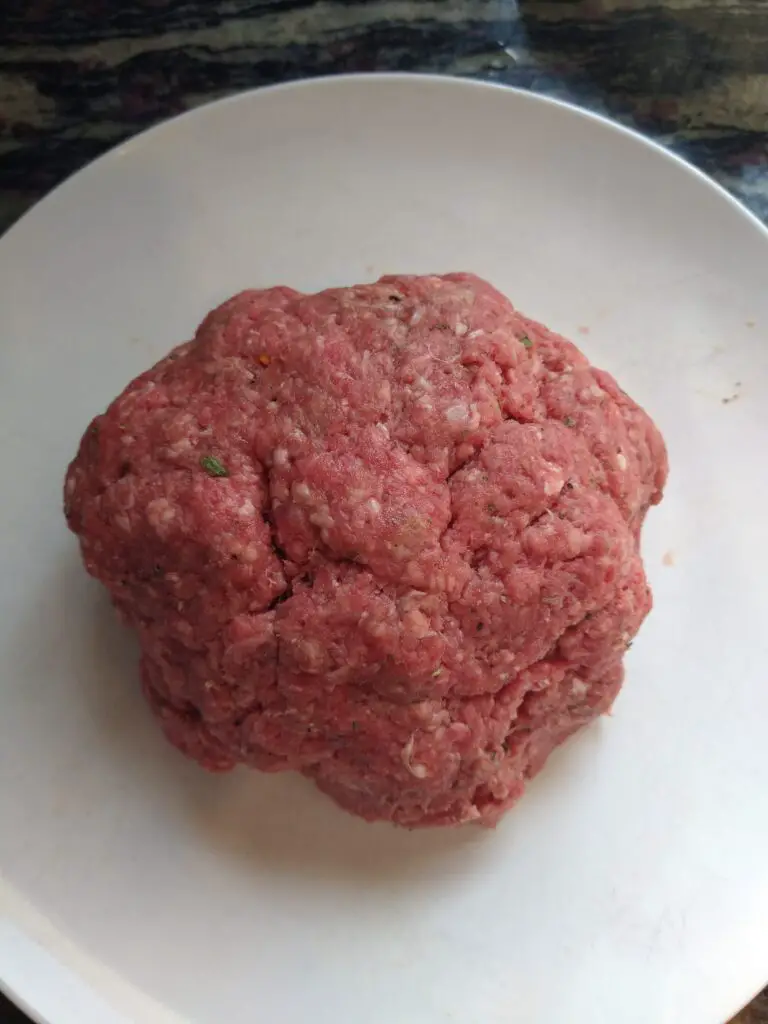 After you have completed getting all that into the cast iron Dutch oven, put it off to the side and we are going to start working on the meat. Basically what we are going to do is make a giant meatball with the ground beef. My suggestion is to take all of the following spices, put them into one bowl, mix together and gradually add them to the meat while mixing the spices in with your hands.
We are going to start with the following ingredients, using 1.5 pounds of ground beef, 1/4 teaspoon of Urban Accents Cowboy Chili seasoning mix (in case you are looking for it, I got it at Costco) 1/2 tsp of parsley, 1/2 tsp. of salt, 1/2 tsp. of basil, 1/2 tsp. of oregano, 1/4 teaspoon of black pepper and 1/4 teaspoon of Flat Iron Sweet Heat pepper flakes.
Common theme in my recipes is the FlatIron flakes, they are incredible and worth a try if you have never used them. Once you start adding these to the meat, mix them in and then work the ground beef, as mentioned above, into a big meatball. By the time you have gotten this completed, the smoker should be up to temperature at 225° and ready to get the Dutch over and ground beef on there.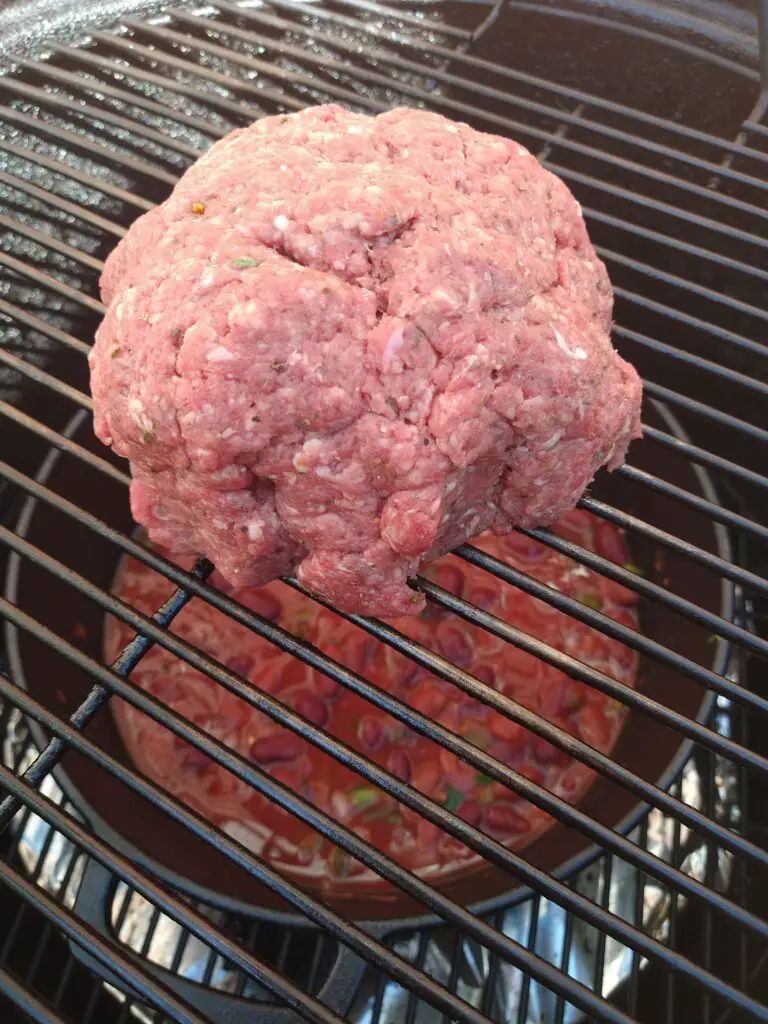 Time To Smoke Our WSM Smoked Drip Chili
In my case, using the WSM, makes for this to be an easy set up. I am going to place my cast iron Dutch oven on the lower rack and then on the upper rack, I will place my giant meatball of beef. If you have a different set up, a Traeger pellet grill, Green Egg or a Kettle, you may need to place a small grate right on top of your Dutch oven to set the meat on.
Once you have everything set in the smoker you are going to let it cook until the meat gets to an internal temperature of 165°, which should be right about 3.5 hours. Once you get there pull the meat and the chili off. You will then take the giant meatball and start breaking it up into the chili.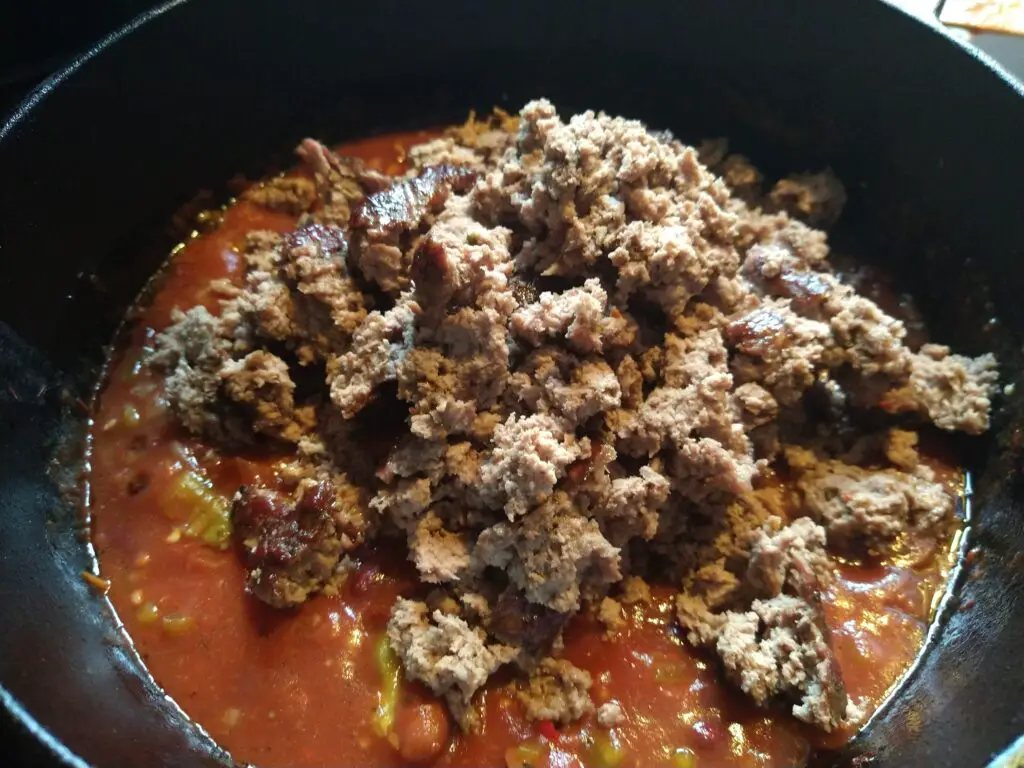 Now that you have the ground beef broken up, stir it all into the Dutch oven. Once that is done, if you are ready to eat, go ahead a serve while the WSM smoked drip chili is hot. You can garnish with some shredded cheese, sour cream and/or scallions. Bacon is always a good addition as well, although for this recipe I did not add any to the chili. A necessary side is some good Italian bread to dip in there.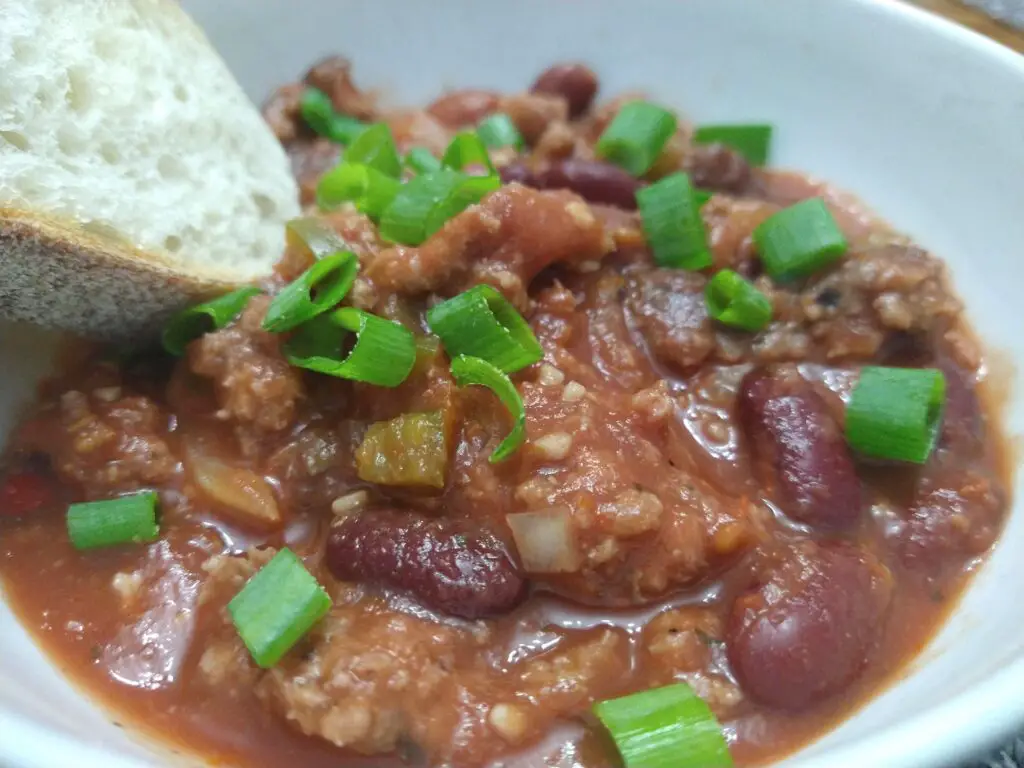 Let us know what you think of our WSM Smoked Drip Chili/OTT smoked chili/over the top smoked chili or if you have a question leave it in the comments. Enjoy! Looking for some other recipes to try check out these ideas:
I hope this smoky chili recipe! We always appreciate any comments or reviews that you leave. Thanks for being here and keep that smoke rolling!
Smoked Drip Chili
Cook Time:
3 hours
30 minutes
Smoked drip chili over apple wood, perfect for those cold fall and winter days.
Ingredients
Ground Beef Mix
1.5 pounds of ground beef
1/4 tsp. of Urban Accents Cowboy Chili Mix
1/2 tsp. parsley
1/2 tsp. of salt
1/2 tsp. of basil
1/2 tsp. of oregano
1/4 tsp. of black pepper
1/4 tsp. of FlatIron Sweet Heat pepper flakes
Chili
1 small onion, diced
1 green bell pepper, diced
1 cayenne peppers, diced
1 jalapeno pepper, seeds removed
2 tbsp. minced garlic
3 cans of kidney beans, 2 cans drained, the other can with liquid
56 oz of crushed tomatoes
Instructions
Mix all the ingredients into a bowl and gradually mix it into the meat, place to the side
Dice and add all the ingredients for the chili into a Dutch oven
Start smoker and get to a temperature of 225°, using apple wood
Place Dutch oven smoker, place ground beef on a rack above the chili
Smoke for approximately 2.5 hours or until ground beef reaches IT of 165°
Once completed, take ground beef and break apart into chili
Serve hot, topped with shredded cheese, sour cream and warm bread for dipping
Nutrition Information:
Yield:

10
Serving Size:

1
Amount Per Serving:
Calories:

292
Total Fat:

12g
Saturated Fat:

5g
Trans Fat:

1g
Unsaturated Fat:

6g
Cholesterol:

61mg
Sodium:

330mg
Carbohydrates:

21g
Fiber:

6g
Sugar:

5g
Protein:

25g
This data was provided and calculated by Nutritionix on 9/27/2021