Bacon wrapped onion bombs, is all the flavor you could be looking for. It is an easy dish that can be a meal or an appetizer that all will enjoy! This onion bomb recipe is really something that you cannot go wrong with, it is big enough for a meal or it makes for a fantastic side dish or appetizer. The combination of the beef bacon, beef, onion and BBQ sauce over hickory wood give this a ton of flavor.
We all have had those moments where you sit and say you would like to try something different on the smoker. Maybe you are having guests and want to serve up something out of the norm, this is the way to go. Depending on the size of your onions, you may want to have gum or mouthwash available for the guests after dinner! Let's dive in and you will see how easy it is!
Bacon Wrapped Onion Bombs Prep
I did this on my Weber Kettle, ran it at 250° and used hickory wood for my smoke. As we dive into the food, let's first let's cut open our onion, I used the largest Spanish onions I could find. In this case I was thinking of making this more as a main dish but as mentioned above you could do this as a appetizer or side and use smaller onions.
I first sliced it and then peeled the outer layer off. Once that was complete I took out the middle section and left 4 layers. I will be honest, taking out the sections of the onion was harder then I thought. It did not pop out as cleanly as I expected, by the second onion though I was off and running. With that completed, I put it off to the side and moved onto the meat.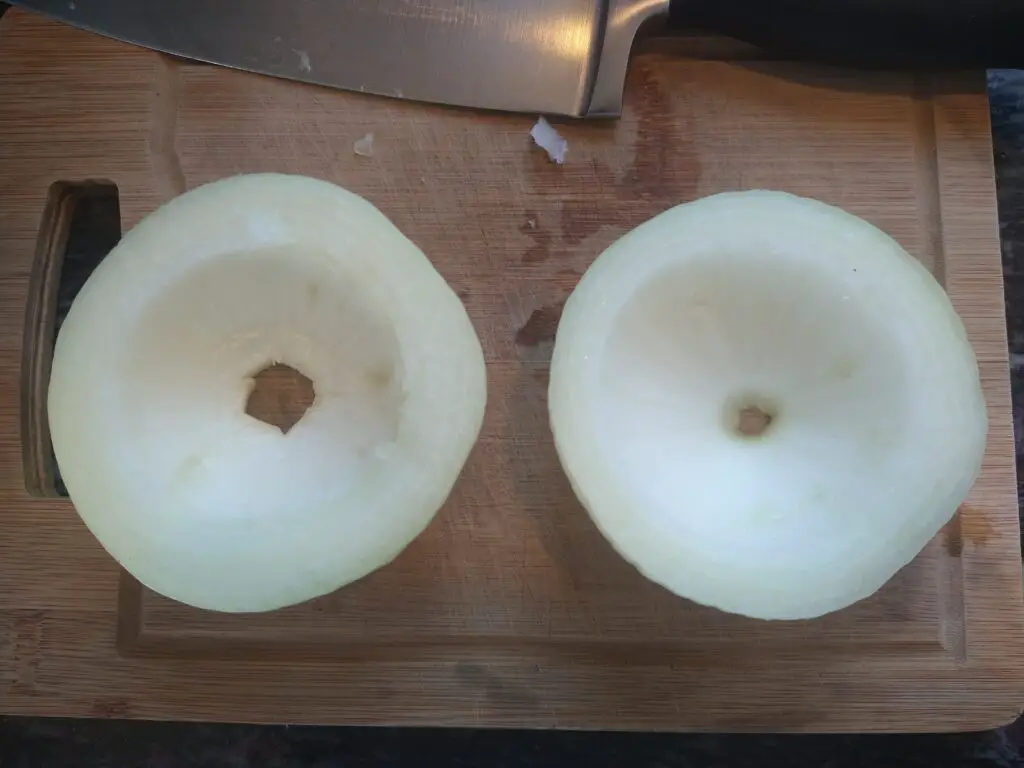 As I shifted to the meat, I used the following ingredients for the meat, salt, pepper, Sweet Heat FlatIron flakes, garlic powder and Worchester sauce. One onion was taking about 5 oz. of meat. I specifically went looking for the largest onions I could find.
You are going to have to gauge how much meat you use based on the size of the onion. As I mentioned above, if you are making this a full meal you are going to be looking for larger onions and will use closer to that 5 oz.. Smaller onions where you are using this as an appetizer will be less meat, maybe 2 to 3 oz.
My typical recommendation is to take all the ingredients place them in a small bowl and then slowly start mixing them into the meat. It makes it far easier and also ensures that the herbs and spices are distributed evenly throughout the meat.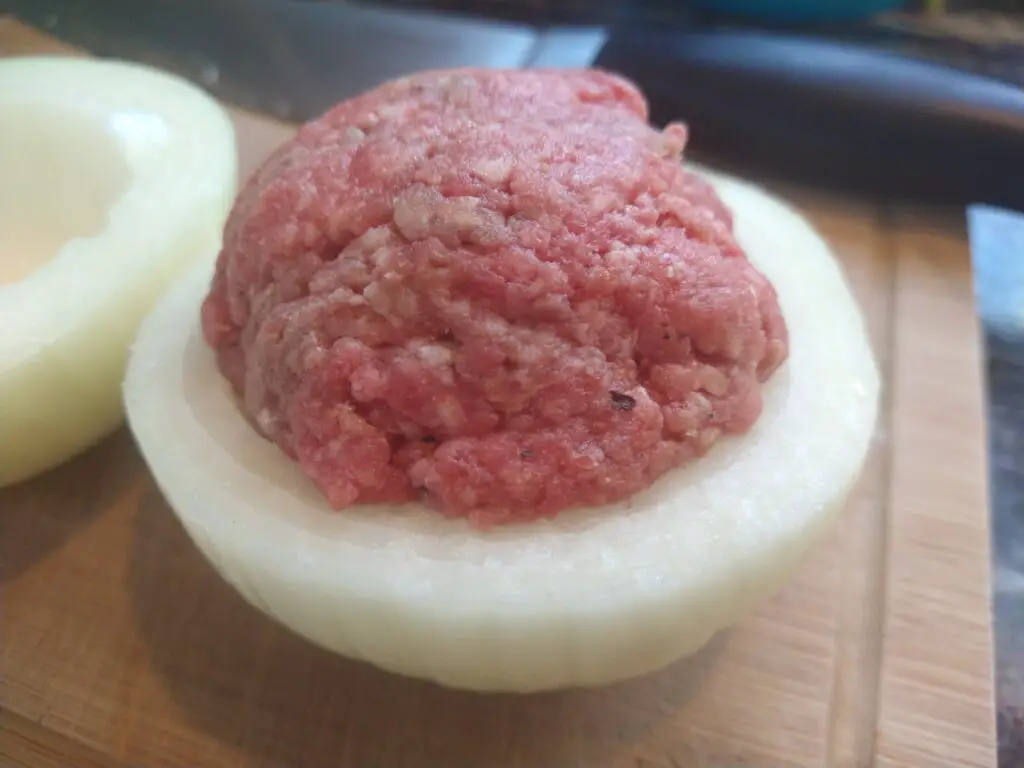 Once that was done I laid out three slices of bacon, crisscrossing them with the intention of placing the onion in the middle. After the onion is placed in the middle of the bacon bring each slice them up to the top. You will then need a toothpick to keep everything in place. Reminder to soak the toothpicks so they do not burn on you.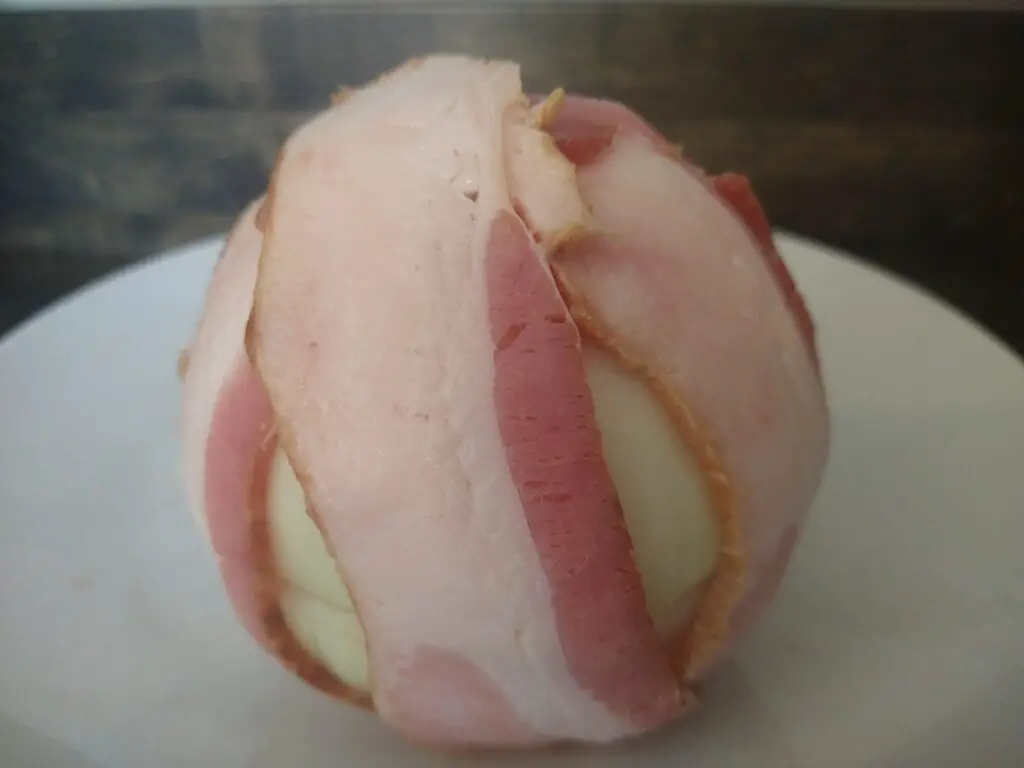 Time to Smoke the Bacon Wrapped Onion Bombs
By now the smoker should be up to temperature and ready for the onions. Place them on and wait. Not much to do on these while they are on. When I checked and the IT on the meat was 120°, I did topped if off with some Sticky Fingers Carolina Sweet BBQ Sauce. I just drizzled it on top of the onions and let it run down the side. If you are looking for more even coverage you can brush it on, I just opted not to go that route.
After you get the BBQ sauce on it only needs a little bit longer before you pull it. In order to ensure you are keeping things in line with safe IT numbers, I pulled this at 155° and let it sit for a few minutes. All in, time on the smoker was just under two hours.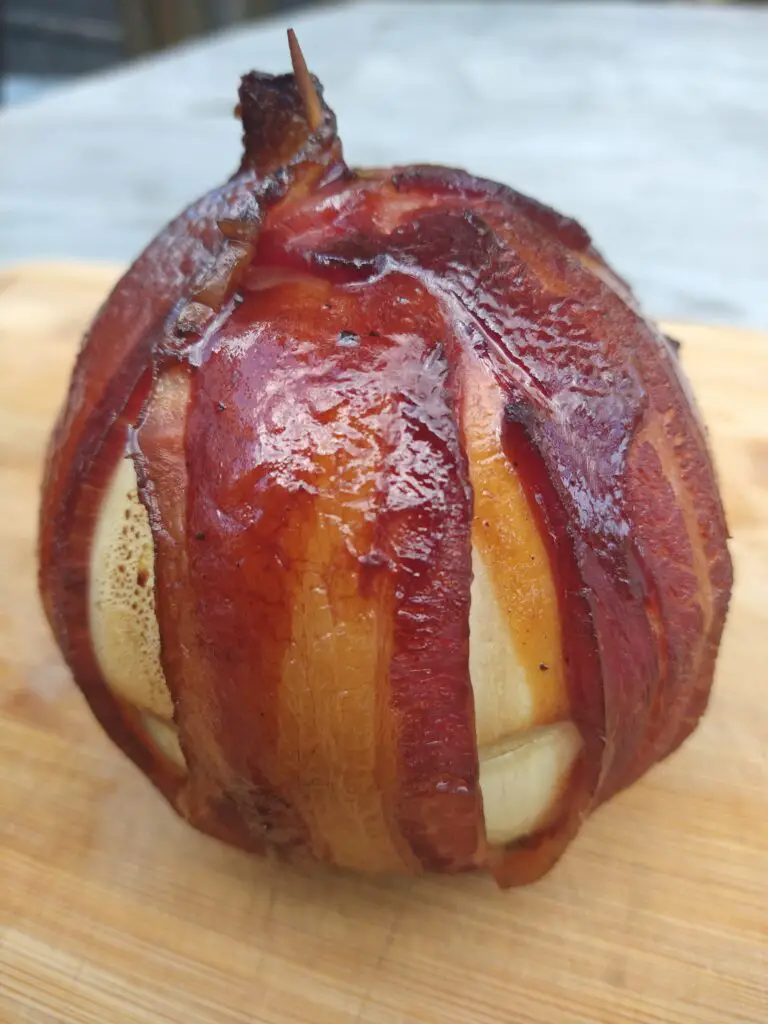 As I just mentioned you can let it sit for a bit, cool down and then serve. How you cut it is up to you, I decided to cut the bacon in line with my original cut on the onion. In this case I also had to cut further through into the meat as well. After playing it out in my head how this should be cut, I did not see a good way of doing it, without it falling a part a bit, especially the bacon.
I guarantee you serve this at a party, the guests will love this, the presentation of it is awesome with the bacon wrapped up and down the side and the sauce drizzled on is the perfect topping to finish it off.
After you try this do us a favor, leave us a review and let us know what you think.
Thanks for being here and keep that smoke rolling!
Maybe you are going to use this as an appetizer? Take a look at pairing this up with our meatloaf for the main dish or our smoked roast beef recipe.
This post contains affiliate links. If you use these links to buy something I may earn a commission. Thanks!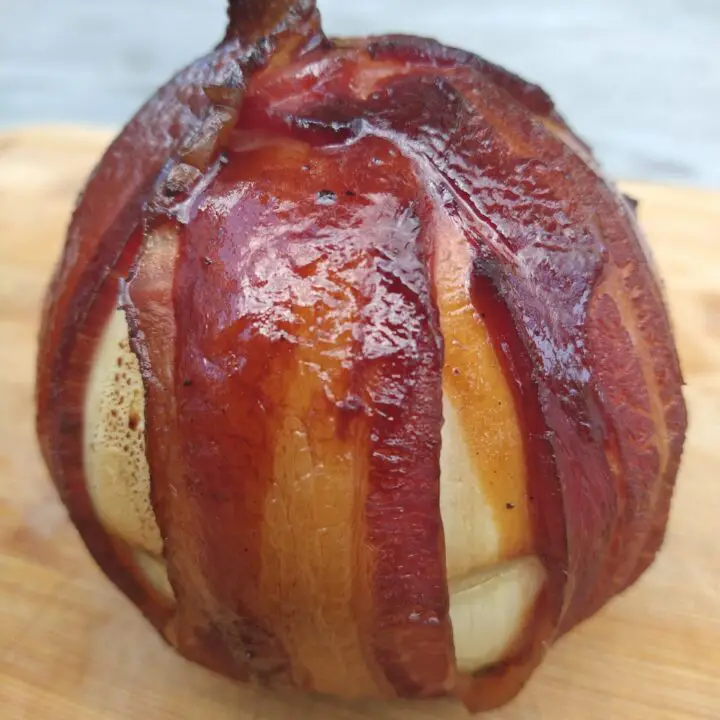 Bacon Wrapped Onion Bomb
Cook Time:
1 hour
45 minutes
Total Time:
2 hours
5 minutes
This recipe is really something that you cannot go wrong with, it is big enough for a meal or it makes for a fantastic side dish or appetizer. It is a loaded with flavor, when combining the bacon, beef, onion and BBQ sauce. We all have had those moments where you sit and say you would like to try something different.
Ingredients
1 Spanish onion
5 oz. ground beef
1/4 tsp. salt
1/8 tsp. ground pepper
1/4 garlic powder
1/4 tsp. FlatIron Sweet Heat pepper flakes
1 tbsp. Worchester sauce
3 slice of bacon
Instructions
These instructions are for 1 onion bomb. Please increase based on the number of onions you will be making
This was done on my Weber Kettle. I smoked it at 250° with hickory wood
Slice the onion and carve out the center portion, leave approx. 3 layers of the onion.
Mix the ingredients into the meat and place the meat into the onion
Wrap the onion in bacon and secure with a toothpick
At about 120° I drizzled the onion with BBQ sauce.
Place the onion(s) on the smoker for approx. an hour and 45 minutes or until the IT of the meat reaches 155°
Serve and enjoy!
Nutrition Information:
Yield:

2
Serving Size:

1
Amount Per Serving:
Calories:

303
Total Fat:

19g
Saturated Fat:

7g
Trans Fat:

1g
Unsaturated Fat:

10g
Cholesterol:

80mg
Sodium:

684mg
Carbohydrates:

7g
Fiber:

1g
Sugar:

3g
Protein:

26g
This data was provided and calculated by Nutritionix on 10/4/2021