This smoked boneless turkey breast is a great meal for Thanksgiving or any other holiday meal, The apple smoke and rub flavor combined with the honey glaze makes this turkey unique and full of flavor. This recipe works well outside the month of November, and its a random Saturday or Sunday and you want to do something different. From start to finish you can get this done in about 2 hours.
For the doubters out there that turkey breast meat cannot be smoked, or that it will be dried out, we have proven you wrong. Smoked turkey breast is a quick, easy smoke that will deliver juicy breasts and the honey glaze recipe tastes delicious! Turkey breasts are viewed in a similar manner as chicken in breast that they are tough to smoke but I am proud to say, that is proven wrong. You can smoke turkey breasts and chicken breasts. Check out our Smoked Pulled Chicken Breasts recipe here. Without further ado let's start checking this smoked turkey breast recipe out.
Smoked Boneless Turkey Breast Prep
For starters, I did this smoked boneless turkey breast on my Weber Smokey Mountain but you could follow the same recipe if you were to throw this on a Traeger grill, another style pellet grill, electric smoker or an offset smoker. All smoking enthusiasts are welcome here! I got the temperature up to 275° and used apple wood with B&B char logs.
Your best bet is to get a boneless skinless turkey breast. You can get them at your local grocery store, sometimes it is the Butterball or Shady Brook Farm at the store or your local butcher will have turkey breasts as well. If you can only get a bone in breast, it is not overly difficult to de-bone but a heck of a lot easier if it is already removed. If you picked up the breast frozen, make sure its defrosted. If the breast is deboned and defrosted then we are ready to move ahead with our injection.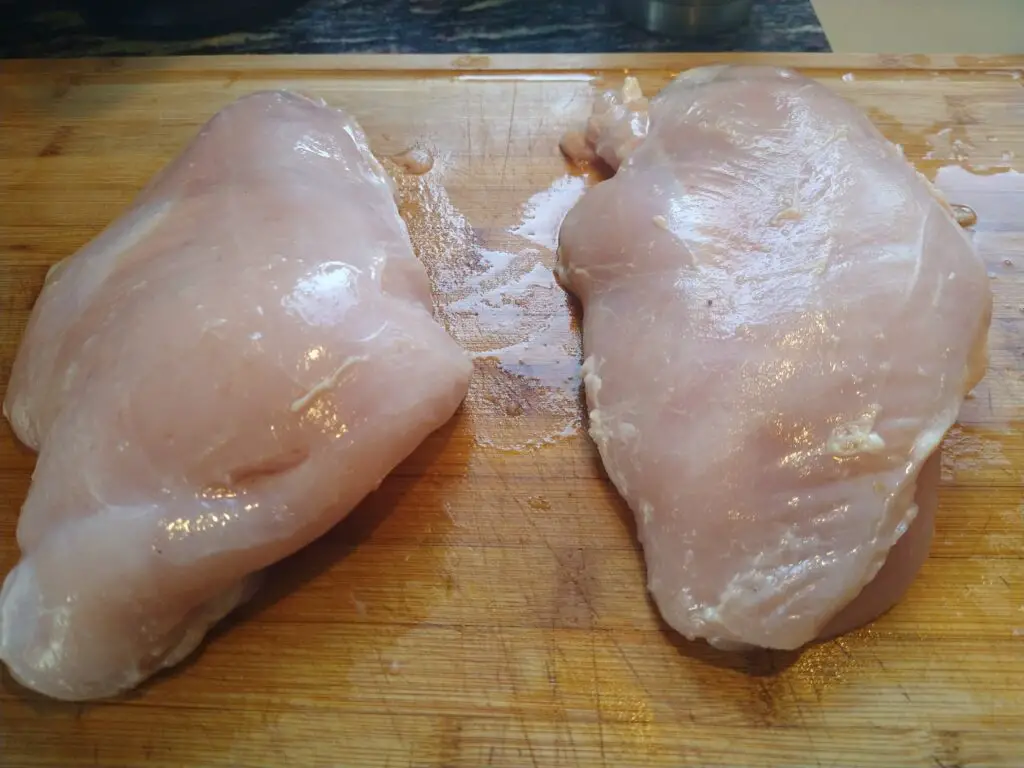 Details are in the recipe card as well but you are going to use one can of chicken broth, 2 tbsp. of butter, 1/2 cup of water and I mixed in some Kosmo Honey Killer Bee rub. Mix that together until the butter is melted and then go ahead and inject it throughout the breast. If you are looking for an injector, take a look here. Basic but does the job!
Because we are injecting, we will do these smoked turkey breast without brine. In many cases frozen turkey breasts are already brined. It would also point to why there is no salt content in our injection.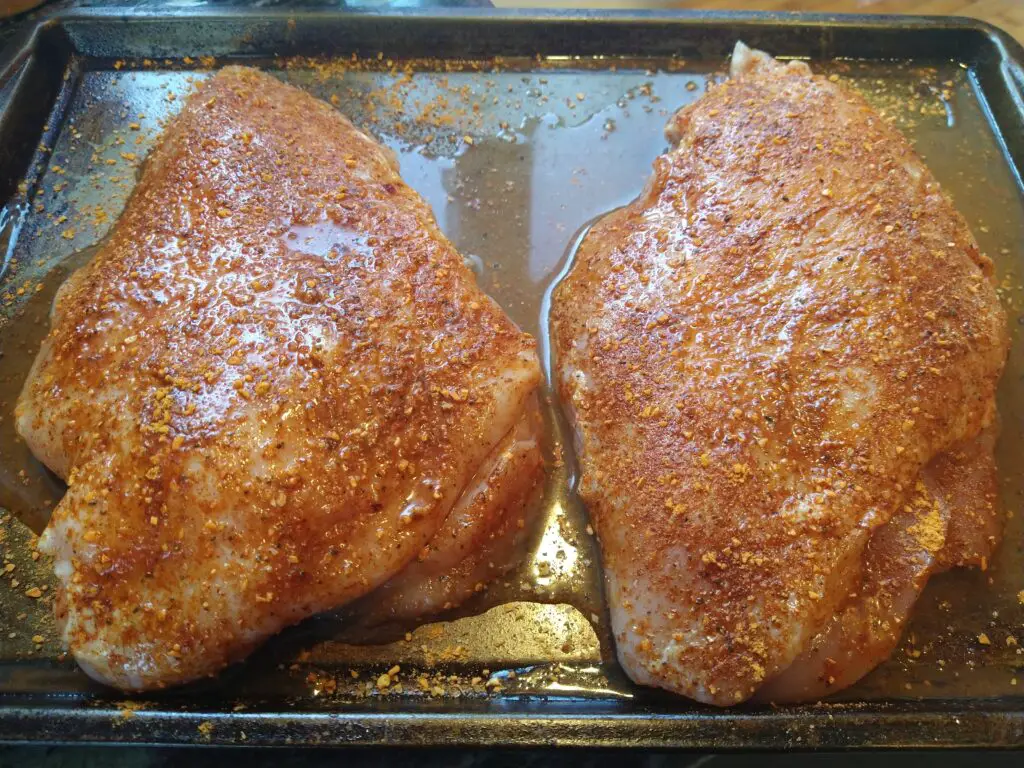 After your injection go ahead and place your rub on the turkey breast. I ended up going with a basic McCormick Applewood rub, when I first bought it I was unsure but I have now used it multiple times. This is a great complement to the apple wood smoke and the honey glaze. You can be generous with the rub, make sure on the underside you are placing enough and getting the rub into the area that were cut when the bone was removed. With the dry rub on you should not be ready to place it on the smoker.
Smoked Turkey Breasts Glaze Recipe
After you have placed the turkey breast on the smoker, go ahead and add some more rub on any spot that you may have rubbed off during placement. Now that the turkey breast is on the smoker, you are going to let it ride for a bit.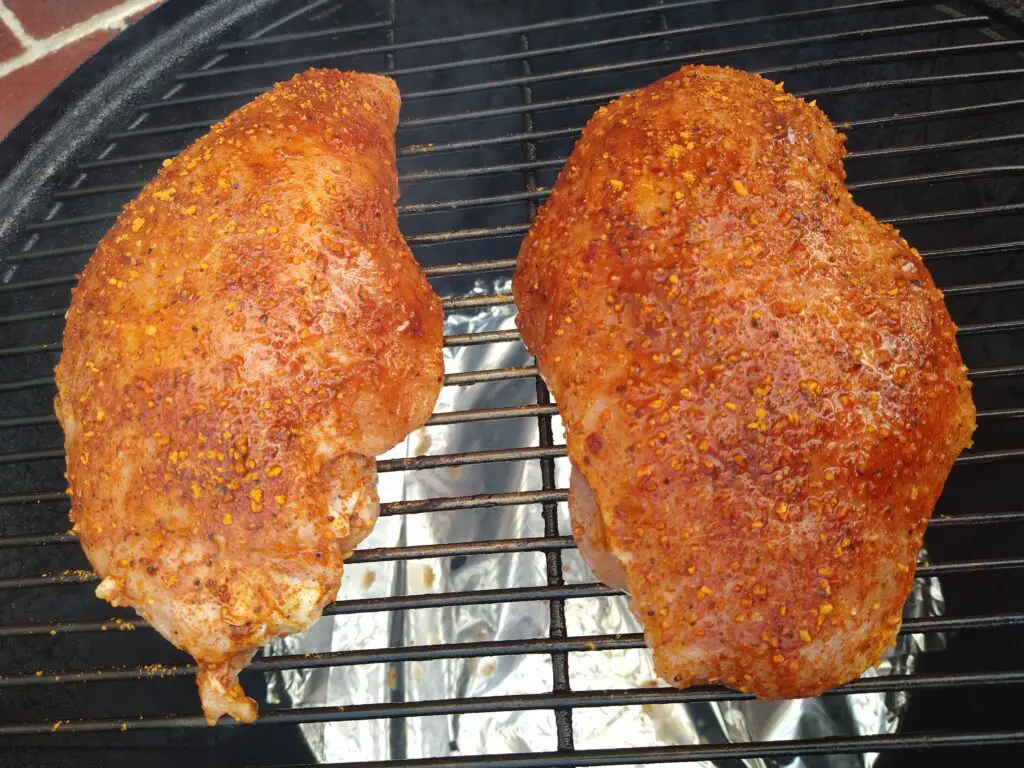 While you are letting the turkey breast smoke, you can start to melt your butter for the baste. We also have a great glaze for this turkey breast. You can also start to prep the glaze, which is a simple combination of brown sugar, honey and white sangria (as you may have seen in other posts, I use Senor Sangria. Its great in the glaze and/or marinades and awesome if you want to sit back and enjoy your food with something different to drink).
If by chance you do not have any sangria go ahead and replace that with some orange juice and you will be well on your way. You will only need to baste the turkey breast twice, once when the breast hits a internal temperature of 115° and then again at 135°.
When you baste, be sure to drip the butter on the turkey and not brush it on otherwise you may remove some of the rub. The baste will help keep the breast moist and tender while helping the outside tighten up a bit with the rub. When the breast gets to an IT of 150° you can coat it with the honey glaze recipe. In a similar manner to the baste, drip it on and do not brush. We want that rub and baste to stay intact on the breast. With the glaze now on the turkey breast you can keep it on the smoker until you hit an IT of 160°.
All in, if you are looking for how long to smoke a turkey breast, this recipe will from start to finish is about two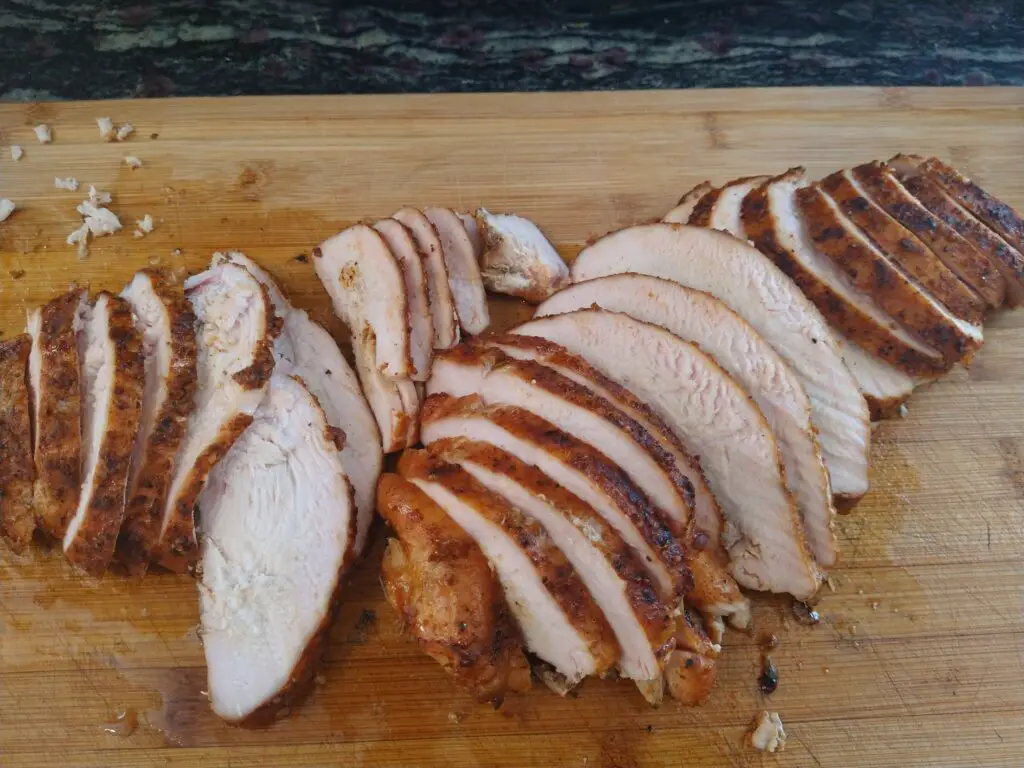 When it hits 160°, pull it from the smoker and you are going to tent it with some foil and let it rest for about 20-30 minutes. The IT will continue to rise to the IT of 165 degrees we are looking to reach and will give it that time to rest before slicing. After the rest go ahead slice the turkey breasts up and serve. This smoked boneless turkey breast recipe will provide you with an awesome holiday meal or a great midweek dish. It is full of flavor, incredibly juicy and tender. It is guaranteed to be a crowd pleaser.
Thanks for being here and I hope you enjoy this smoked boneless turkey breast recipe. Let us know what you think of this one, leave us a comment or review. We always appreciate our readers feedback.
Looking for some other ideas for meals or recipes, check out some of these suggestions below:
Looking to better understand some aspects of smoking? Take a look at a couple of our articles below:
Keep that smoke rolling!
This post contains affiliate links. If you use these links to buy something I may earn a commission. Thanks!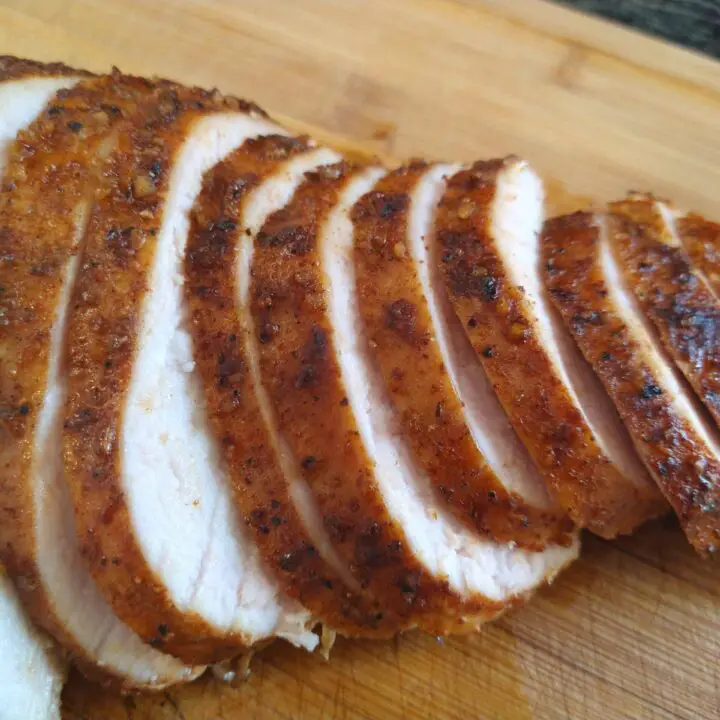 Smoked Boneless Turkey Breast
Cook Time:
1 hour
45 minutes
Additional Time:
30 minutes
Total Time:
2 hours
45 minutes
A great Thanksgiving dish or perfect for those mid week quick and easy smoked meals.
Ingredients
Injection Recipe
14 oz chicken broth
2 tbsp. of butter
1 tbsp. of Kosmo Killer Honey Bee rub
1/2 cup of water
Glaze Recipe
2 tbsp. of brown sugar
1/8 cup of honey
2 tbsp. of white sangria (I used Senor Sangria). You can also substitute with some orange juice.
Turkey Breasts
5 pounds of boneless/skinless breasts
1/4 stick of butter, melted for basting 
McCormick's Applewood rub
Instructions
Prepare smoker for 275° using apple wood chunks
Prep your turkey with your rub of choice. I used McCormick's Applewood rub
Prepare the injection and inject turkey
Place breasts on the smoker and recoat with your rub anywhere handling may have removed it
Baste twice with melted butter, at approx. 115° and 135°
Prepare glaze and drizzle breasts with the glaze at 150°
Smoke to an IT of 160° and remove
Cover with foil and let rest of 30 minutes.
Slice and serve
Nutrition Information:
Yield:

6
Serving Size:

1
Amount Per Serving:
Calories:

121
Total Fat:

8g
Saturated Fat:

5g
Trans Fat:

0g
Unsaturated Fat:

2g
Cholesterol:

22mg
Sodium:

333mg
Carbohydrates:

13g
Fiber:

0g
Sugar:

13g
Protein:

1g
This data was provided and calculated by Nutritionix on 9/27/2021