These smoked pulled chicken breast are loaded with flavor, easy to make and prefect for that summer BBQ with friends or when you are hosting that big graduation party. The injection offers a kick of spice while you get that smokey flavor off the smoker.
Smoked pulled chicken breasts are what crossed your mind when you were digging through the freezer and saw you have a package or two of boneless skinless chicken breasts sitting there waiting to be used. The only answer to that is smoke them, but how? This smoked pulled chicken breast recipe, gets it done. Whether you are doing 2-3 breasts or 10 pounds for a party you have a ton of flavor minus a lot of headache. This recipe is pretty straight forward, very easy and simple to do and the chicken breasts came out tasting moist and tender.
Smoker Prep For Smoked Chicken Breasts
On my Weber Smokey Mountain I got the temperature up to 250° and used a mix of wood chunks, using B&B Lump. For this recipe, I used 2 chunks of cherry and 1 hickory.
In many cases you will smoke chicken, in many cases this would chicken thighs or chicken wings, with a hot and fast method. In those instances the chicken has its skin and bone which helps contain the natural moisture in the chicken and you are also looking to get a nice crisp skin. A low and slow with chicken and you end up with some rubbery skin. Because these are skinless and boneless, hot and fast is not as important. If ranges between 250° and 275° you will be fine.
Smoked Pulled Chicken Breasts Prep
If your breasts were frozen, make sure these are defrosted before getting started. Once you they are defrosted you are going to set them up in a foil tray and inject. Because how we are going to be smoking these chicken breasts we are not going to brine but go with this injection.
This is a simple injection recipe, most of it you should have in the house and ready to go. Two keys items you will want is the FlatIron Sweet Heat peppers, they are on the hotter side so feel free to downgraded to something with a little less heat to them. The other is Senor Sangria, if you don't have that in your local stores, any sangria should work. The other option, if you do not have any sangria, would be to use some orange juice.
My suggestions is to leave the injection, mixed and in the refrigerator for about an hour before injecting. What this will do is allow you to pull the flavor from the crushed red peppers and get it mixing with the other ingredients.
After you have them injected you will keep them in the pan and season the chicken with a dry rub of your choice. For this recipe I used Super Bird Poultry Seasoning. I made sure I did both side, in and around all the cuts. Once coated with the BBQ rub you will leave the breasts in the tray and move to the smoker. Any of the injection that worked its way out of the chicken, into the tray, leave it in the tray. It will help add some additional flavor and keep the chicken moist.
When making these smoked pulled chicken breasts, I used my ThermoPro TP20 to check internal temperatures.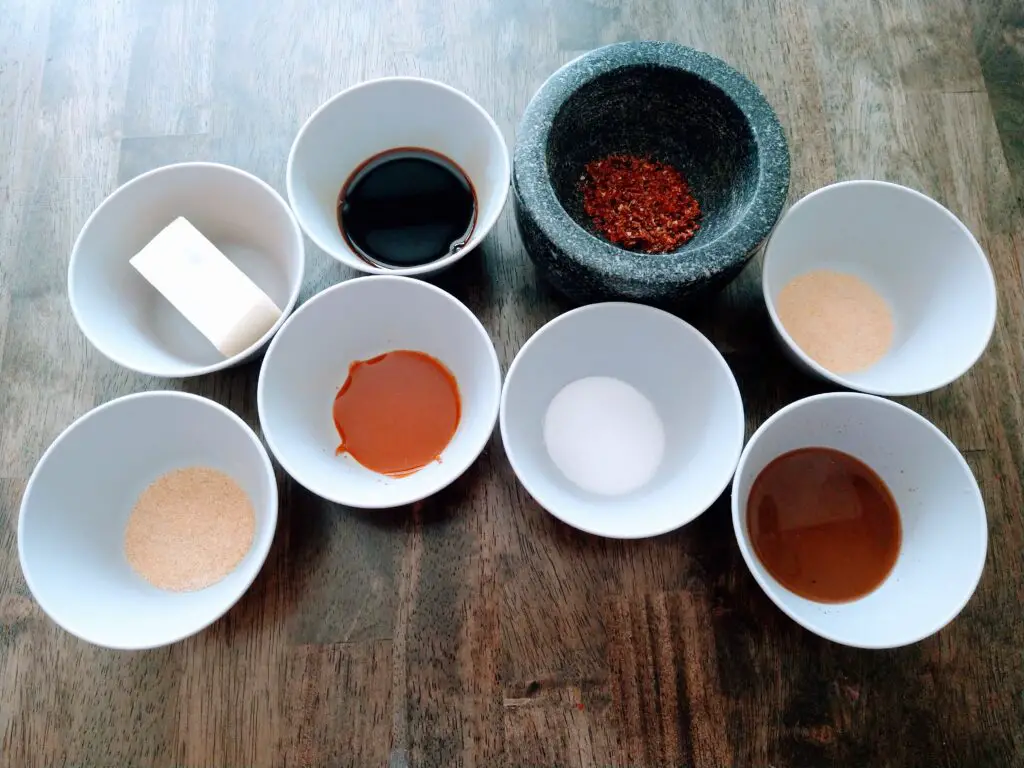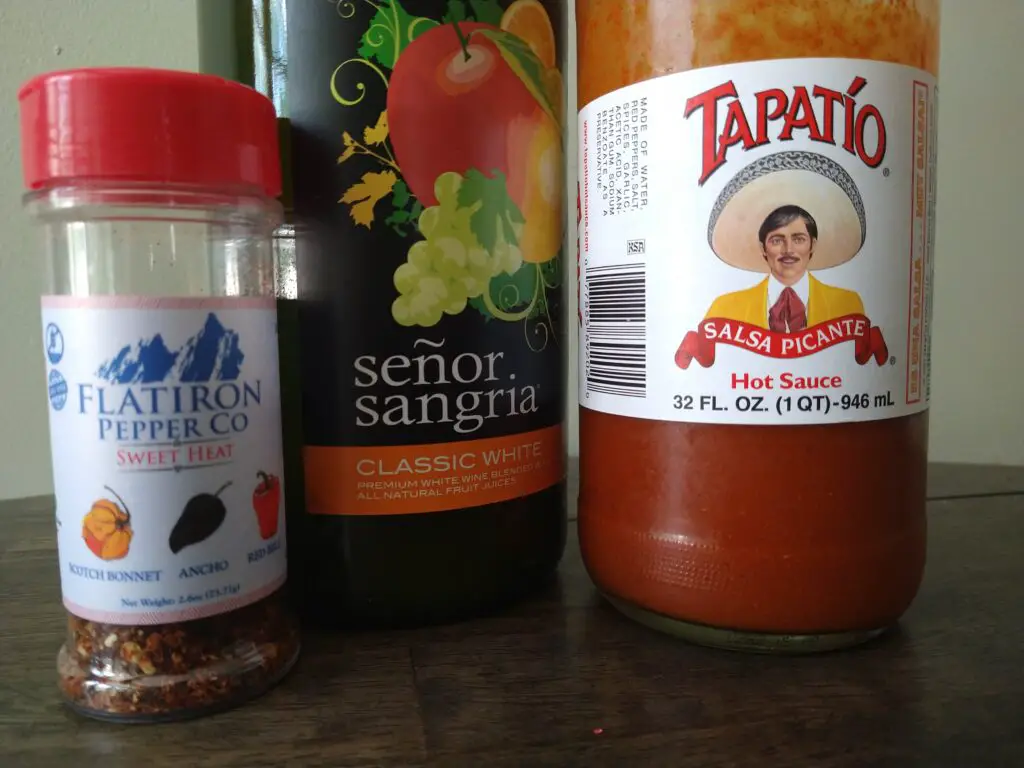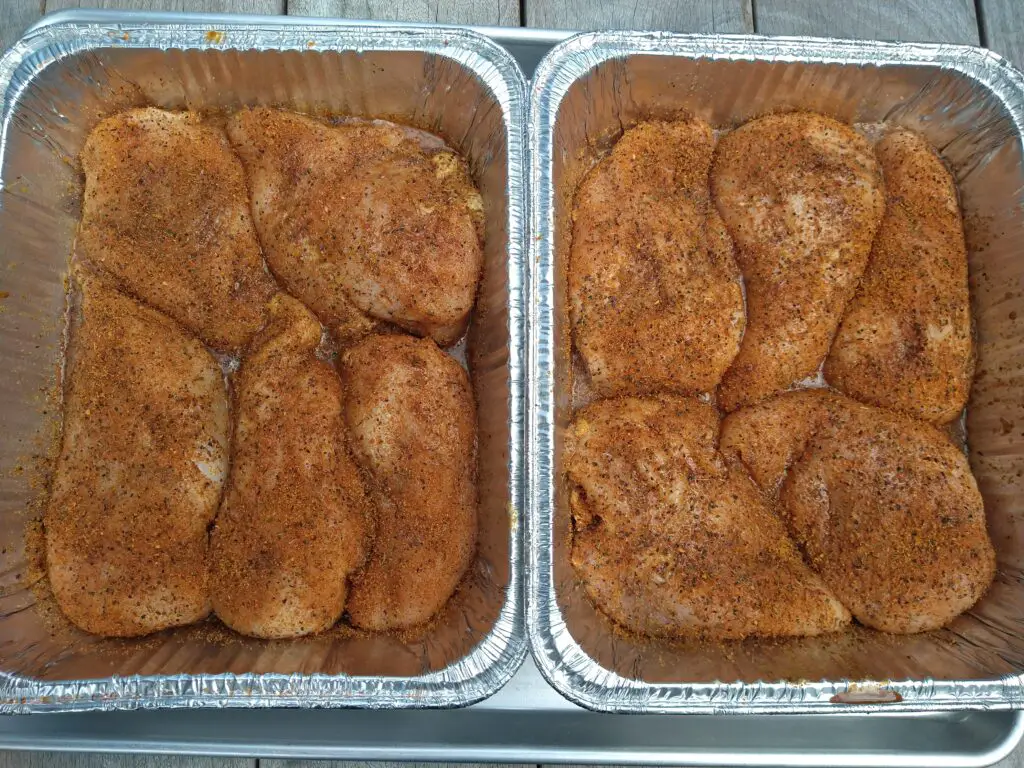 Smoked BBQ Pulled Chicken
Once they are on there, keep an eye on your temperature. You do not want it spiking to high for too long if at all. Even chicken breast smoked, can dry out, so you want to ensure you stay at 225°. You are going to keep the breasts on until the internal temperature reaches at least 165 degrees. This will take about 3 hours on the smoker. I did flip the breasts about half way through that way the top did not get dried out at all and all sides of the breasts got to sit in the injection and natural juices released from the chicken.
Once you get them to the an internal temperature of 170° degrees go ahead and pull them. Once the barbecue pulled chicken is off you can shred them right away. Keep all the injection and natural liquid in there for some added flavor. Once they are shredded, go ahead serve them on a roll of your choice with barbecue sauce, coleslaw or in tacos. If you want to top it off with some coleslaw check out our Easy Mexican Coleslaw recipe, it will not disappoint! Any of the options are very viable and will be thoroughly enjoyable.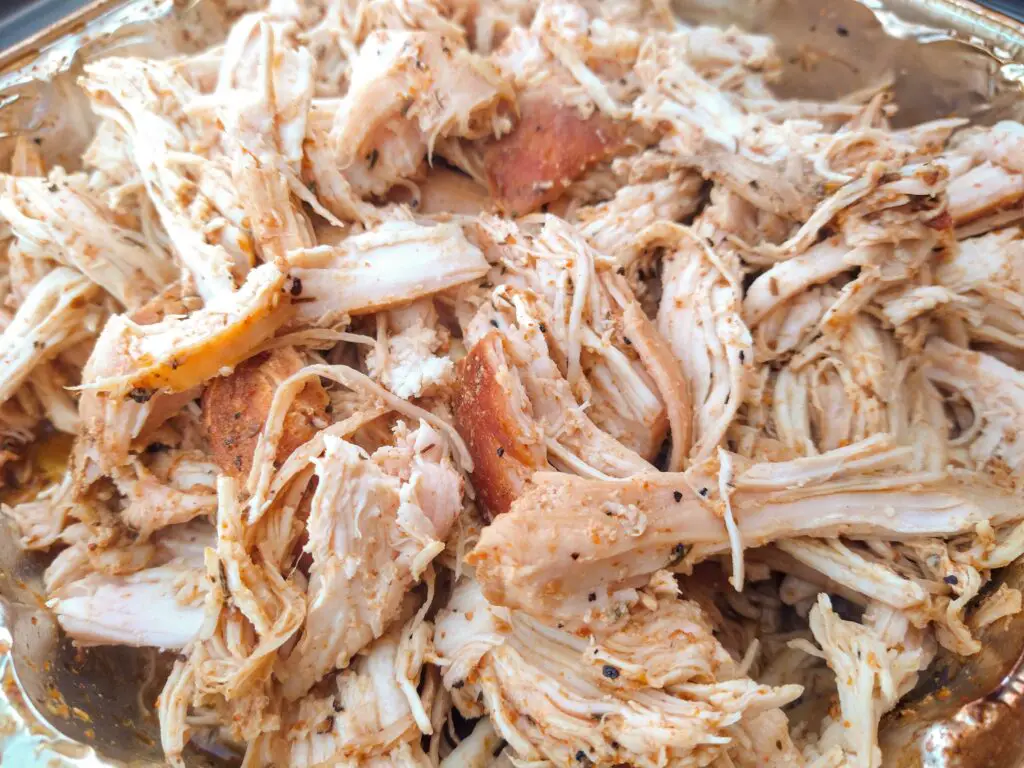 Interested in learning more about what temperatures chicken is done? Visit Savory Experiments to learn more!
If you enjoyed this recipe, please leave a review, share it or leave a comment. You can also check out some of our other dinner recipes:
You can also check out some of our side or appetizers that are a great pairing for our chicken recipes:
Thanks for being here and keep that smoke rolling!
This post contains affiliate links. If you use these links to buy something I may earn a commission. Thanks!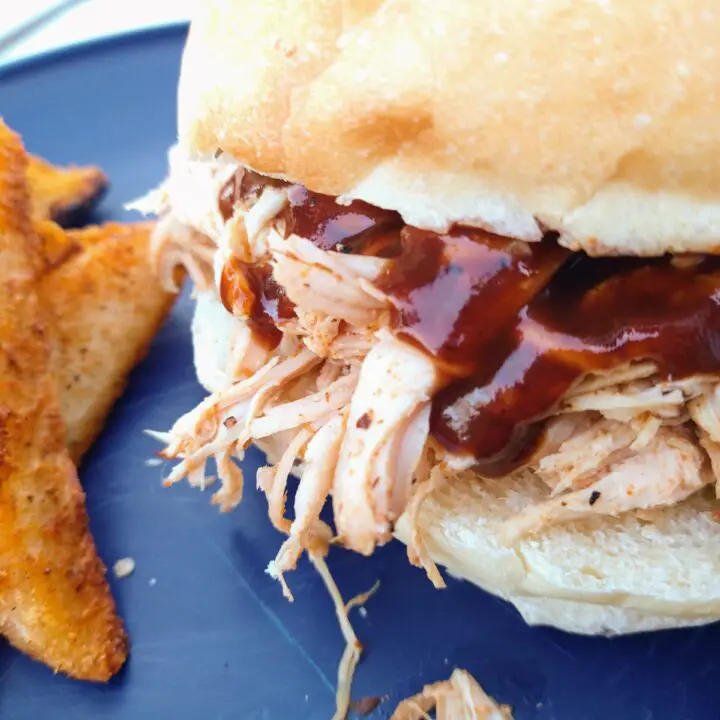 Smoked Pulled Chicken Breasts
Total Time:
3 hours
30 minutes
A simple and quick smoked chicken breast recipe
Ingredients
Chicken Breast Recipe
5 pounds of chicken breast
Dry Rub of Choice
Injection Recipe
1/4 stick of butter
1 teaspoon of salt
2 tablespoons of Worchester sauce
2 teaspoons of hot sauce (I used Tapatio)
1 tablespoon of soy sauce
1 teaspoon of garlic powder
1 teaspoon of onion powder
1 teaspoon of FlatIron Co. Sweet Heat pepper flakes, ground up
3 tablespoons of White Senor Sangria or orange juice
For more flavor grind up some FlatIron pepper flakes and add them to the injection
Instructions
Add all the injection ingredients into a bowl and mix
Bring smoker up to temp of 225° using 2 cherry chunks and 1 hickory
Place chicken breasts into a foil pan
Injection chicken and leave extra injection and breasts in pan
Place rub on both sides of the chicken and leave in pan
Place pan on smoker
Flip chicken breasts once
Pull chicken breasts once IT hits 170°. Will be approximately 3 hours
Immediately shred
Top with BBQ sauce or our Easy Mexican Coleslaw
Nutrition Information:
Yield:

20
Serving Size:

1
Amount Per Serving:
Calories:

210
Total Fat:

6g
Saturated Fat:

2g
Trans Fat:

0g
Unsaturated Fat:

3g
Cholesterol:

103mg
Sodium:

253mg
Carbohydrates:

1g
Fiber:

0g
Sugar:

0g
Protein:

36g