These Old Bay potato wedges are a great addition to any meal or make for a tasty snack. They are full of flavor and guarantee they will be loved by kids and adults.
In this article I am going to cover two different methods, one on the grill and the other in the air fryer. Both make for great options and are sure to please.
Potato Wedge Prep
So these old Bay potato wedges are easy and limited in ingredients. First thing we are going to do is take the potato's and peel them. While peeling the potato's, you can get a pot of boiling ready as we will be putting them in there once peeled. So while you water is boiling, finish peeling, once you have completed peeling all the potato's place them all in the boiling water. Another option is to boil the potatoes first and then peel the skin, either way works. I prefer not having to deal with the hot potatoes beyond cutting them.
Once all the potato's are in there, you are going to let them boil for about 12 minutes or until tender and can be easily pierced by a fork. Once you hit that point of tenderness all the potato's can be removed. You may need to give them a couple of minutes to cool down. There are times, I will handle them with thongs and slice them before letting them cool down, just to keep things moving.
When it comes to cutting the potato's I would slice the potato in eights Now the size of the potato may determine how you do this. If the potato is larger you may want to cut it in half and then cut it into eights. If it is a smaller potato you may just be able to slice in eights without cutting it in half.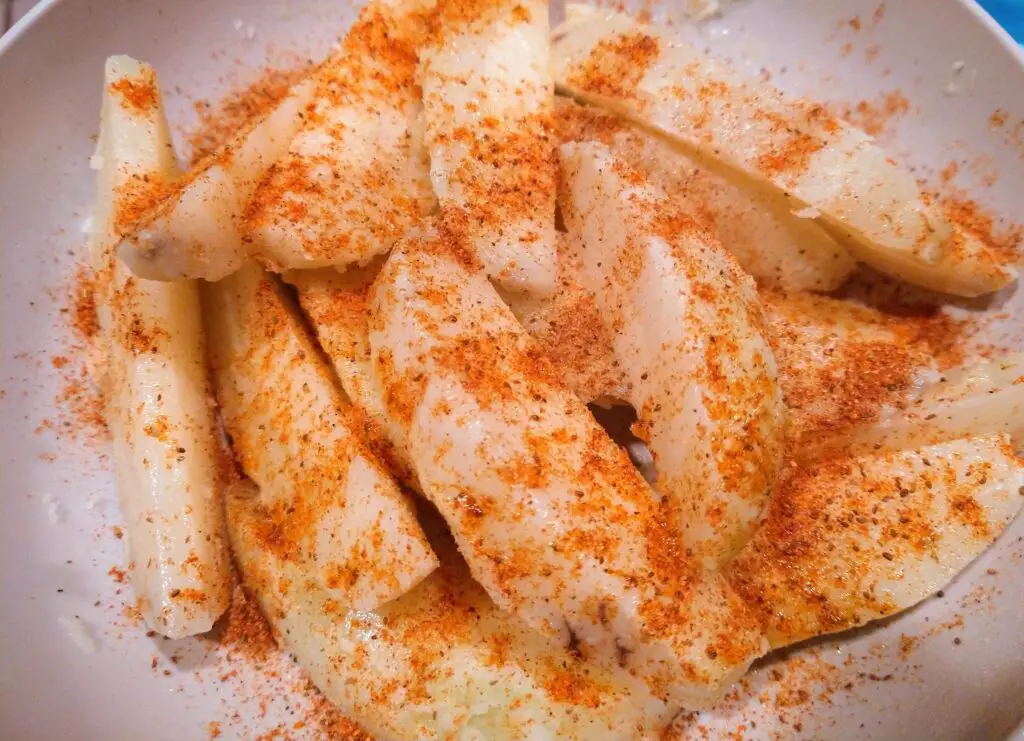 Now that you have them cut into sections, place the wedges into a large mixing bowl. In order to allow the Old Bay seasoning to stick to the wedges there are two things you can do. You can coat with some olive or vegetable oil or my preference is to spray with some cooking spray, like a Pam. In an effort to go a little healthier I try to avoid the olive oil and use the cooking spray. Places your wedges in a large bowl and add either some of the olive, vegetable oil or the cooking spray and shake the wedges in the bowl until you have proper coverage on the wedges.
Now that you have completed that you can start to add in some of the Old Bay. How much you add is totally up to you. I prefer to get full coverage so I am pretty generous with how much I use. My recommendation is to keep the wedges in the bowl and in a similar manner we did with the spray or oils, add some of the Old Bay and then shake the wedges in the bowl, incrementally adding more until you are satisfied with the Old Bay coverage you have on the wedges.
Air Frying The Old Bay Potato Wedges
Now that the wedges are coated we are going to place potatoes in the air fryer. First thing you will want to do is preheat the air fryer for about five minutes. We are going to put this in the air fryer for about 20 minutes at 380°. Every five minutes you are going to want to pull the basket and shake it so that all sides of the wedges are exposed to the heat equally. As you get down to that 5 minute mark start keeping an eye on them. The size of your wedges will impact how soon they are done. once you get under that 5 minute mark.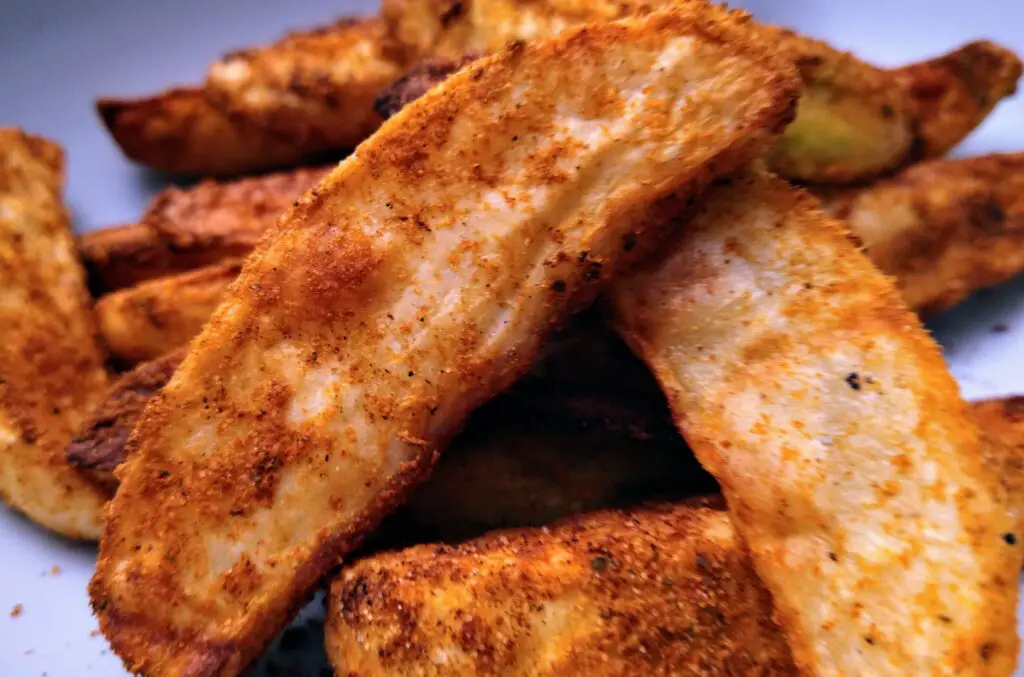 Once you feel like you have that nicer crisp to the outside, go ahead and pull them out. Serve these and enjoy them while hot!
Grilled Potato Wedges
So if you are going to do these on the grill you are going to want to get up to that 400° on your grill. I prepped everything the same way as for the air fryer. For the grill you will want to transfer the a grilling basket. I use my Weber Grilling basket for this. Once you have them in your basket and on the grill you are going to leave with some indirect heat for about an hour. This will hinge on how thick you cut the wedges but when I make these, I get that little bit of a crisp to the outside and that nice soft middle of the wedge.
Every 15 minutes or so give your basket and shake just so ones on the bottom get moved around. Also if you feel that you have lost some of your Old Bay, add some more along the way. After about an hour go ahead and pull the grilled potato wedges and serve them while hot!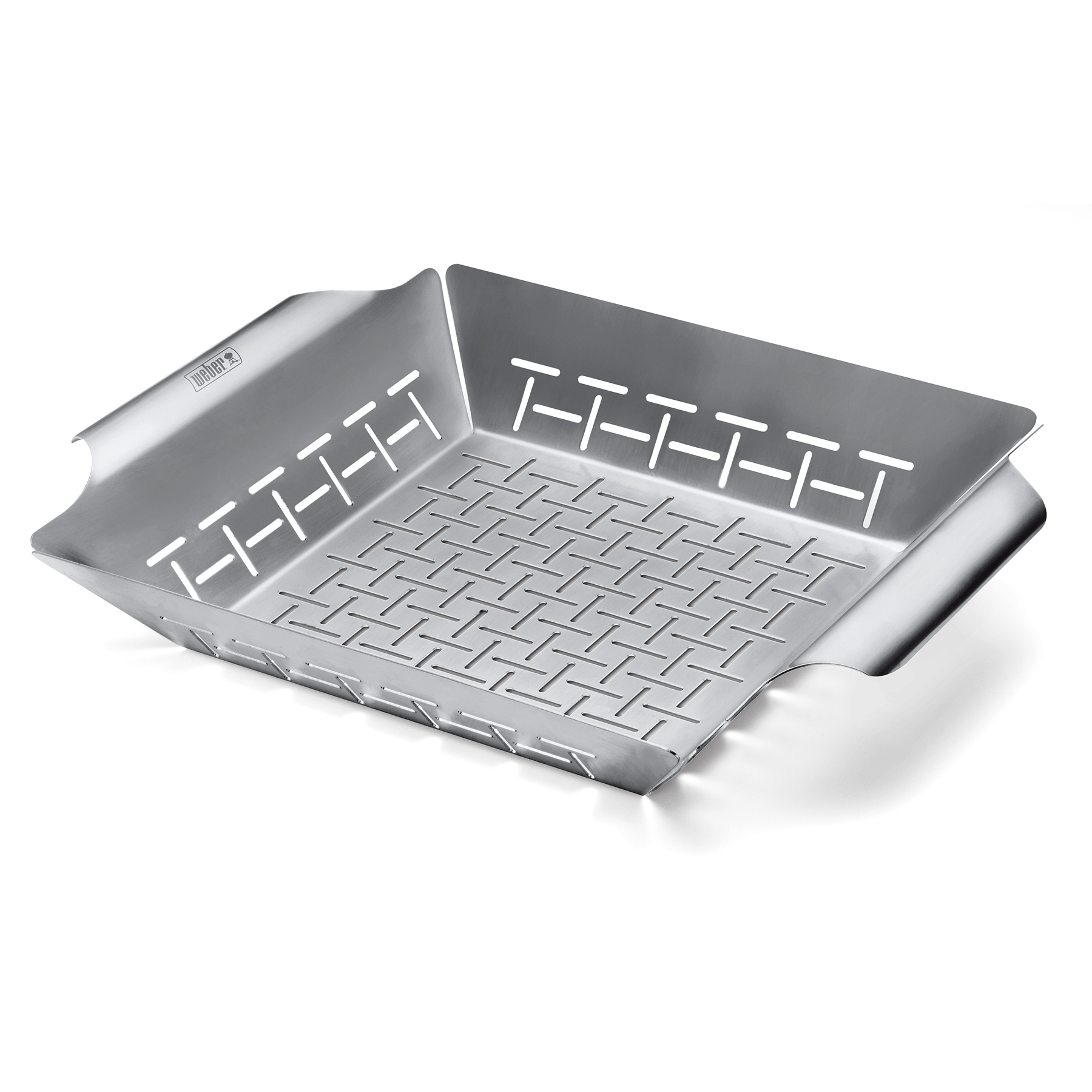 Old Bay Potato Wedges Toppings And Variations
Some other ideas if you are looking for some variety to this Old Bay potato wedges:
throw some shredded cheddar cheese or Vermont cheddar cheese on for the last minute or two while in the air fryer
when done, add some parsley, salt and/or pepper
use some honey mustard to dip them in
You can slice the potatoes smaller and make fries
Thanks for being here! I hope you enjoy this easy but full of flavor Old Bay potato wedges. As always we appreciate any comments, reviews and social media shares. Let us know what you think. If you are looking for some other recipes check out some of these suggestions:
This post contains affiliate links. If you use these links to buy something I may earn a commission. Thanks!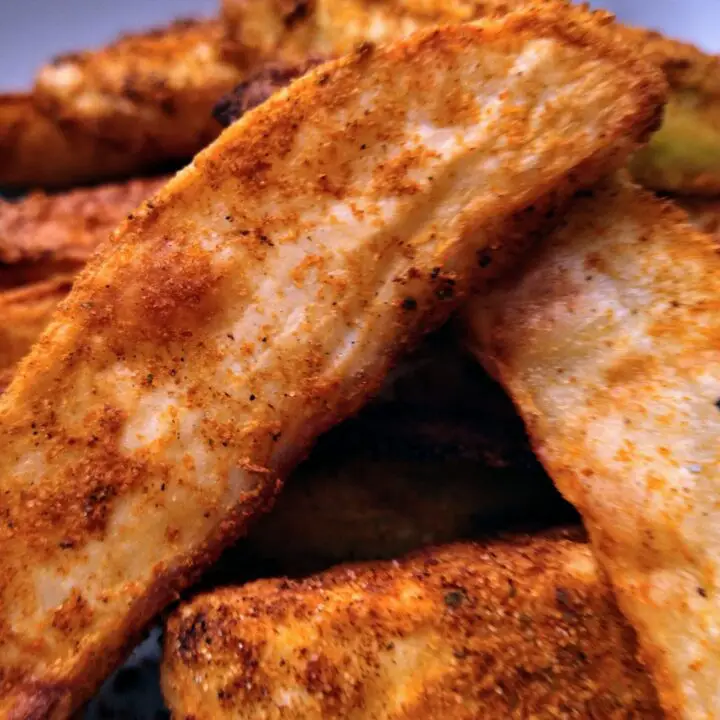 Old Bay Potato Wedges
These are a great addition to any meal or make for a great snack. Without a doubt, there will never be enough Old Bay potato wedges and they will be loved by both the adults and the kids.
Ingredients
1 lb. of russet potato's
Old Bay seasoning
Cooking Spray or olive oil
Instructions
peel the potato's
place in boiling water for 12 minutes or until easily pierced by a fork
slice the potato into wedges, approximately 1/8's
place in a bowl and coat the wedges with olive oil or a cooking spray
add Old Bay seasoning and shake until you have covered the wedges
Place in the air fryer for for 18 minutes at 400°
Shake the basket every 5 minutes
Remove and serve while hot
Nutrition Information:
Yield:

3
Serving Size:

1
Amount Per Serving:
Calories:

187
Total Fat:

5g
Saturated Fat:

1g
Trans Fat:

0g
Unsaturated Fat:

4g
Cholesterol:

0mg
Sodium:

72mg
Carbohydrates:

32g
Fiber:

3g
Sugar:

2g
Protein:

4g