In an effort to mix it up this past weekend I decided to do some smoked stuffed Portobello mushrooms for dinner. It was quick, easy and something different. These sausage stuffed mushrooms can work as a main dish or you could use smaller mushrooms and serve this as an appetizer. The mushrooms combined with the smoked sausage and smoke flavor really make this enjoyable.
Smoked Stuffed Portobello Mushrooms Prep
To get this smoked stuffed mushrooms recipe started, get your smoker going first. The prep on the food is pretty quick, so you will need some time getting your smoker up to temperature. I did this on my Weber Kettle, it was certainly a quicker and smaller smoke that did not warrant cranking up my WSM. For the smoker prep, I got the temp up to 275°, I used 2 small chunks of cherry wood, which were a great complement, on the Kettle. I used two large Portobello mushroom caps on this and a pound of sausage.
Getting started I removed the sausage from the casing and placed the sausage in a bowl to add the additional ingredients and mix. I then used half an onion, chopped it and placed it into the bowl. Then I added the other ingredients, minced garlic (if you do not have minced garlic you can use fresh garlic or garlic powder, either will get the job done), olive oil, soy sauce, salt, pepper, paprika and FlatIron Four Pepper Blend. All your measurements are outlined in the recipe card for you.
Once it was all in the bowl I mixed it together and prepared the mushrooms caps. First we will remove stems, then scoop out the caps, wipe the caps down with a damp paper towel and coat the top of the mushroom caps with some olive oil. Once the mushroom caps were ready, I placed the sausage mixture into the caps. As soon as the smoker was up to temp, I got them on the Kettle. This recipe should be transferable over to your Traeger or any other smoker you might be using.
If you wanted you could take the mushroom stems, chop them up and add them into the sausage. I did not do that here but it is an idea if you want to add to your stuffing.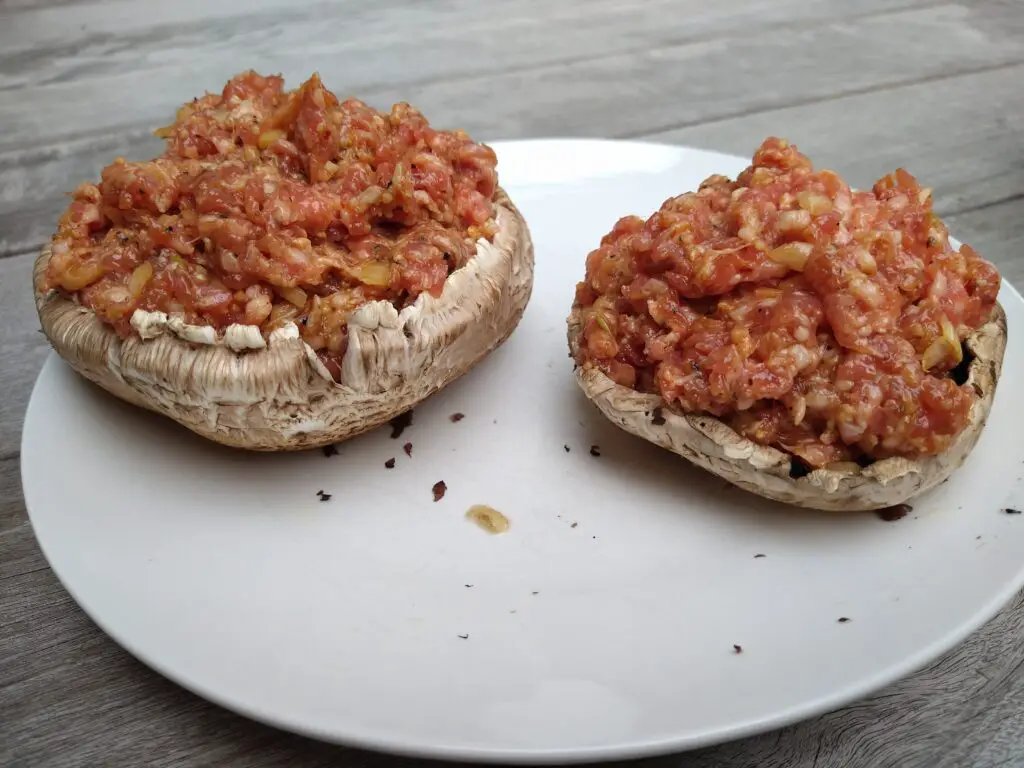 Time To Make Some Smoked Portobello Mushrooms
As if the prep for these smoked stuffed portobello mushrooms was not already easy enough, this part is where it gets easier and pretty fast. You need the sausage to hit an IT of 165° before taking them off. Anything less than 165° would not be recommended. At 275° with indirect heat on the Kettle, these were on for about an hour and forty five minutes. That amount of times should allow you to get some smoke on the sausage and mushrooms. When the sausage hits the IT of 165° go ahead pull them off and enjoy while hot!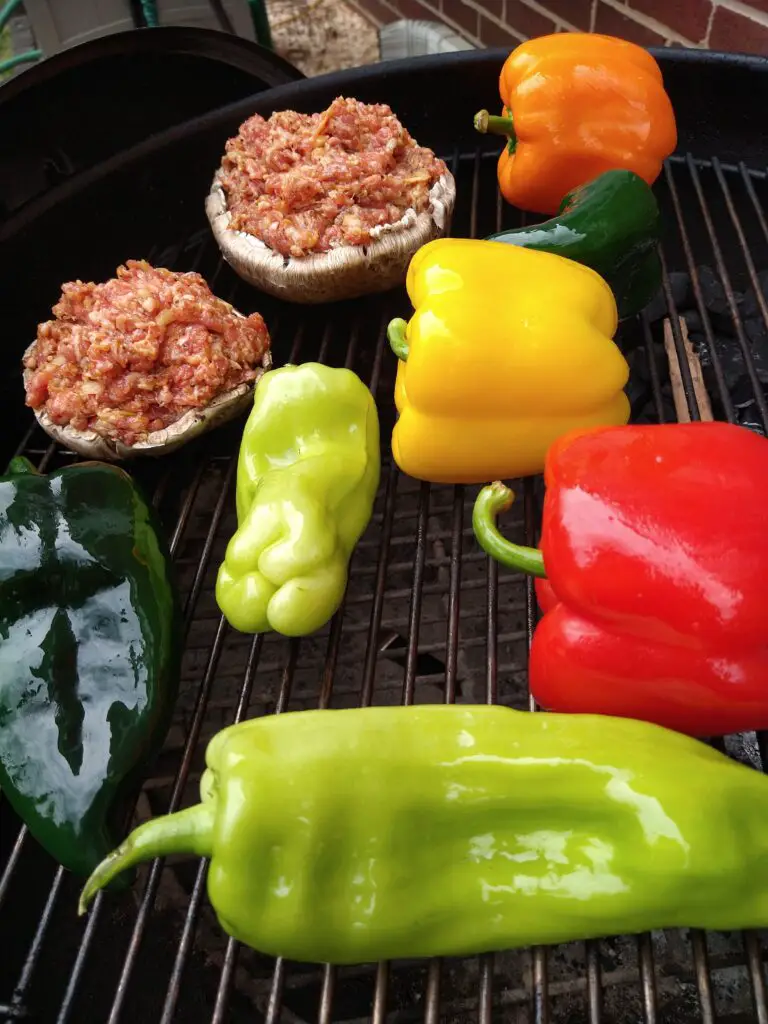 Smoked Stuffed Portobello Mushrooms Wrap Up
Hope you enjoy this one, its as quick and easy recipe that provides the great versatility for a main meal or side dish. Since we had this as a main dish, as a side I also threw some peppers on the Kettle. I included Poblano, Italian Frying peppers and some yellow, red and orange sweet peppers. I coated them with some oil, flipped them once and took them off when I took the stuffed mushrooms off.
If you are looking for some other ideas on toppings or how to serve this, you can top off with some shredded or parmesan cheese. If you want to beef up the filling you could also add some bread crumbs as well.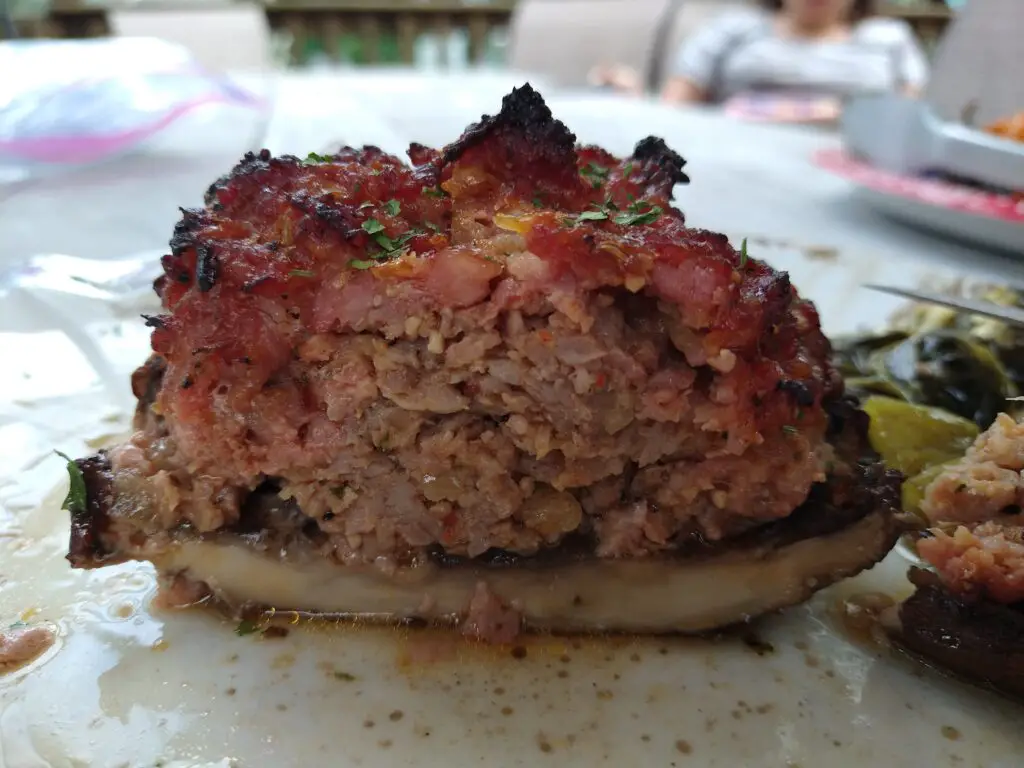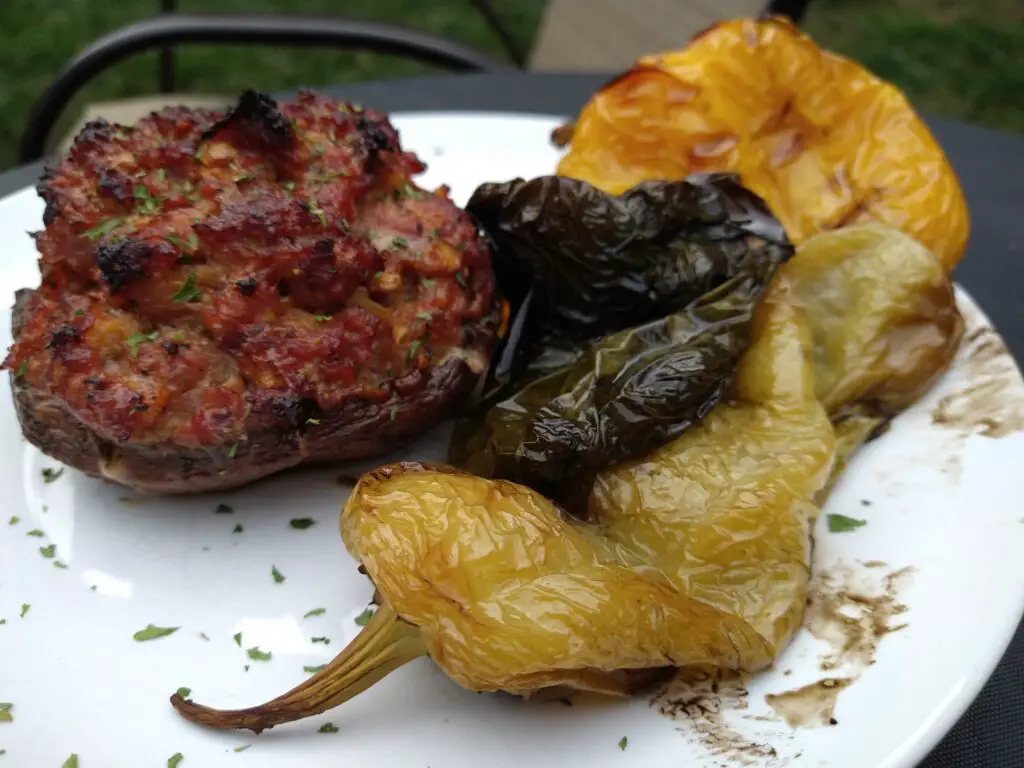 I appreciate your being here and hope you enjoy this Smoked Stuffed Portobello Mushrooms recipe! If you liked it we welcome some comments, reviews or shares on social media. As always remember to keep that smoke rolling!
Looking for some other smoking ideas and recipes, check out these suggestions:
If you are looking for sides or snacks, try some off these out:
This post contains affiliate links. If you use these links to buy something I may earn a commission. Thanks!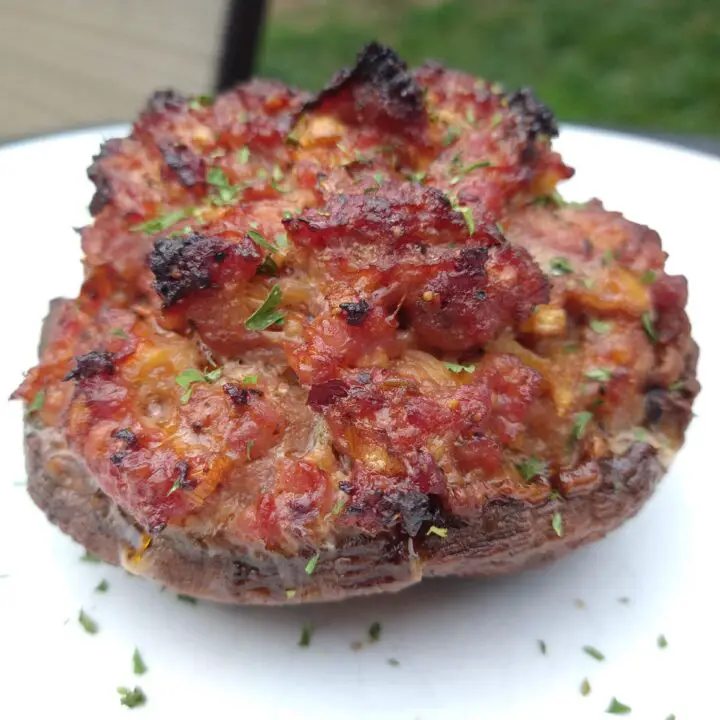 Smoked Stuffed Portobello Mushrooms
Cook Time:
1 hour
45 minutes
A quick and easy stuffed mushroom recipe with sweet Italian sausage.
Ingredients
2 Portobello Mushrooms Caps
1 pound of sweet Italian Sausage
2 tablespoons of minced garlic
2 tablespoons of olive oil
1 tablespoon with soy sauce
1 teaspoon of salt
1 teaspoon of black pepper
1/2 teaspoon of paprika
1/2 teaspoon of Four Pepper Blend
Instructions
Place the ground sausage in a mixing bowl
Add the chopped onions and other ingredients
Mix all the ingredients together
Clean out the mushroom caps and coat with olive oil
Place sausage, onions and spices into the mushrooms caps
Place on smoker @ 275° for approximately 1 hour and 45 minutes or until the sausage hits and IT of 165°
Remove and serve hot!
Notes
I used cherry wood chunks but you can use the wood of your choice.
Nutrition Information:
Yield:

2
Serving Size:

1
Amount Per Serving:
Calories:

504
Total Fat:

33g
Saturated Fat:

9g
Trans Fat:

0g
Unsaturated Fat:

21g
Cholesterol:

68mg
Sodium:

2797mg
Carbohydrates:

14g
Fiber:

3g
Sugar:

1g
Protein:

40g