Cornbread on the smoker! This smoked cornbread recipe is easy, it is delicious and easy on the budget. It makes for a great side and can easily be done while you are resting the meat you just smoked.
It is rare after making this smoked cornbread recipe that I have any leftovers that have made it off the dinner table. Not only that but its a fairly frequent request here at our house. Part of the simplicity to this smoked cornbread recipe, is I am using out of the box dry ingredients cornbread mix. We buy ours at Costco and it is the Penguin Natural Foods brand that they sell. On its own this is some good cornbread. If you are looking to make for scratch you may need to modify this a bit using your own recipe but let's start looking at this recipe!
Smoked Cornbread Recipe Prep
Get your smoker going to a temperature of 225°, I used a chuck of cherry and 1 chunk of pecan, all done on my Weber Smokey Mountain. While making only minor adjustments, if any at all, you can also use this recipe on your Traeger pellet grill, eclectic smoker, Kettle or even your gas grills with some indirect heat.
While the smoker is getting up to temperature you can start with the cornbread. A suggestion, since this goes great as a side dish, is to throw it on after you just pulled some meat off. If you time if correctly, your cornbread can be on the smoker while you are giving your meat some time to rest and slice. By the time you are ready to serve the meat the cornbread should be ready to come off and serve as well.
Mix the the dry and wet ingredients per the Penguin cornbread mix instructions on the box. Even though I used the Penguin brand from Costco, feel free to make your own cornbread from scratch or use another boxed brand. Once mixed, use a foil tray to cook it in. For this brand and amount you get out of one package, I use a 9×11 foil tray. If you have a cast iron skillet, you could certainly use that as well. I prefer the easy cleanup of throwing it away but that is me.
We are still following the instructions on the package. You will then cook it in the oven for 25 minutes at the recommended temperature. Once you have it in the oven for the 25 minutes, pull it out. You will then need a half stick of butter. Cut it up and place each pat of butter on top of the semi baked cornbread.
How Long To Smoke Cornbread
Once the butter is on, you will throw the tray on the smoker, at 225° for another 30 minutes. You will want to check on occasion to ensure its not getting dried out. The butter is important aspect because it will add some flavor but also ensure it stays nice and moist. I do the whole toothpick method and once I see the toothpick coming out clean, I will pull if off the smoker. Again, usually around that 30 minute mark. As I mentioned above, for this smoked cornbread recipe I used a two pieces of pecan wood and 1 piece of cherry.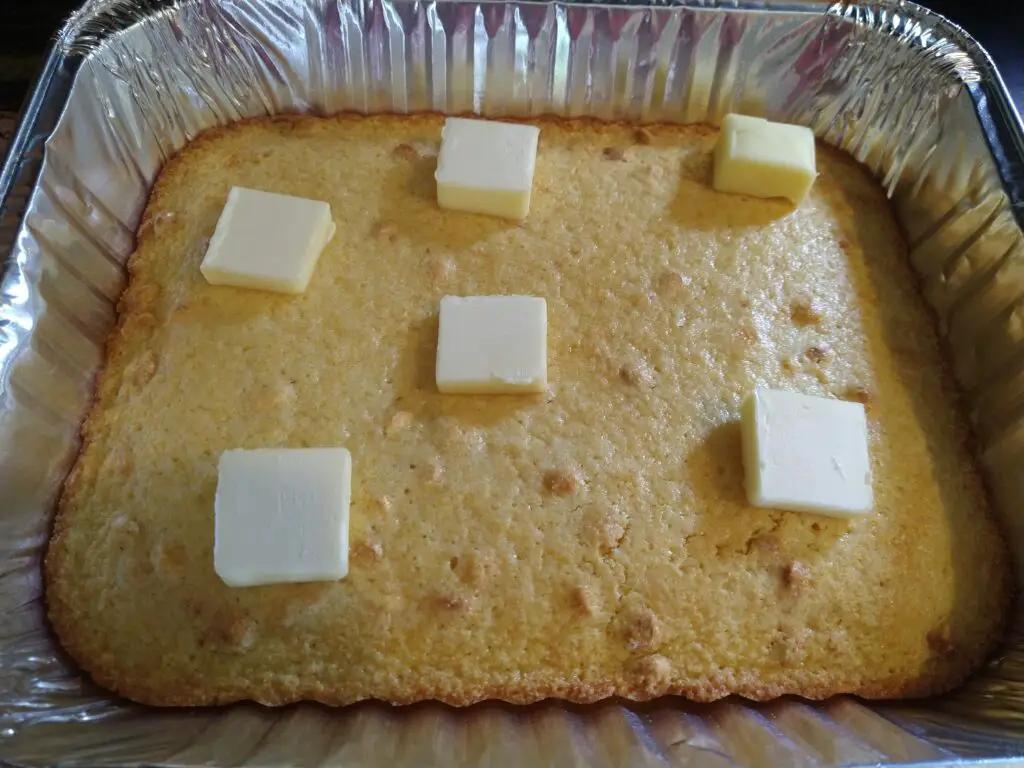 And that is it! Simple, easy and delicious. If you wanted to add a bit more flavor top it off with some honey right before pulling it. Enjoy this smoked cornbread recipe while it is hot. If you are looking for some main dishes here are some ideas:
Interested in another side dish or snacks, take a look at some ideas here:
Thanks for being here and checking out this smoked corn bread. I hope you enjoy it! We always appreciate comments, 5 star recipe rating and social media shares. As always, keep that smoke rolling!
This post contains affiliate links. If you use these links to buy something I may earn a commission. Thanks!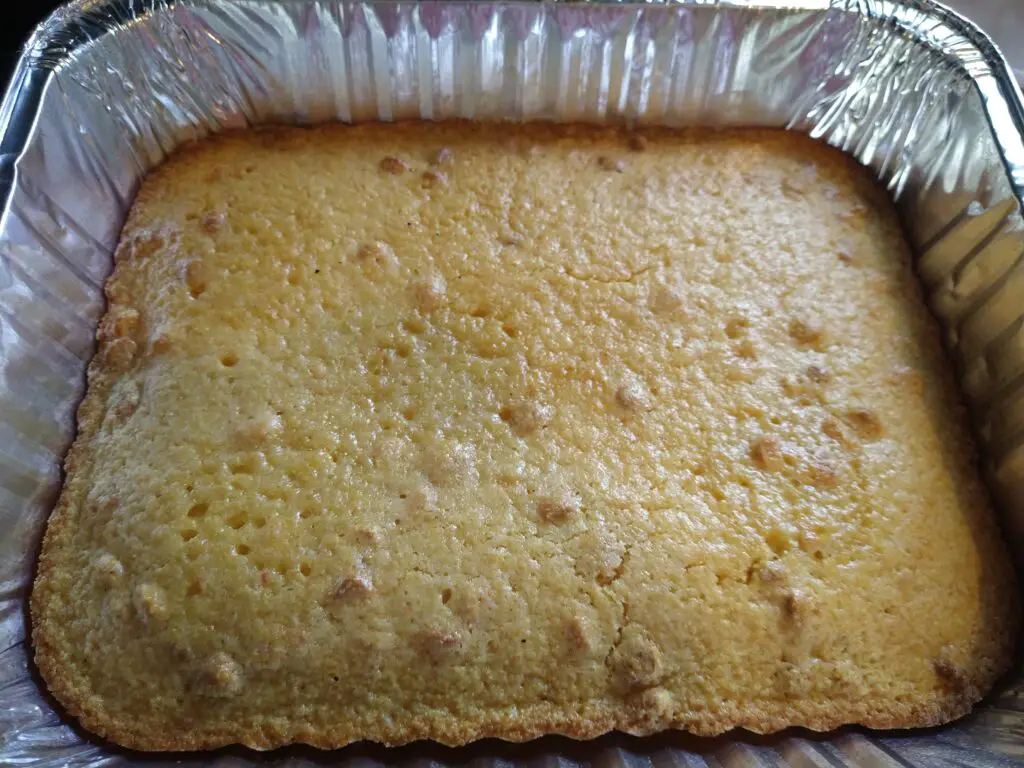 Smoked Cornbread Recipe
Total Time:
1 hour
10 minutes
An easy side dish, that pairs perfectly with many of your smoked or grilled meals.
Ingredients
1 package of Penguin Cornbread
1 egg
3/4 cup of milk
1/2 cup of oil
1/2 stick of butter
Instructions
Bring your smoker up to a temperature of 225° using cherry and pecan wood
Prepare the cornbread according to the package, cutting the baking time in half, per the instructions on the package
Cut your 1/2 stick of butter into 5-6 pats of butter
Once the half way point is reached for baking, add butter to the top and place on smoker
Smoke for approximately 30 minutes, until you can pull a toothpick out clean
Serve while hot and enjoy!
Nutrition Information:
Yield:

10
Serving Size:

1
Amount Per Serving:
Calories:

173
Total Fat:

17g
Saturated Fat:

4g
Trans Fat:

0g
Unsaturated Fat:

12g
Cholesterol:

35mg
Sodium:

95mg
Carbohydrates:

4g
Fiber:

0g
Sugar:

1g
Protein:

2g