This smoked wings recipe is a great addition for those summer BBQ's or fall football games. Regardless of what I am smoking, I finish nearly ever smoke off with some smoked wings. Since I have everything up and running, I see it as a "why the heck not smoke them".
The one thing, especially if you are new to smoking is to put aside is that you will not do this low and slow. Wings are meant to do hot and fast so let's run through this smoked wings recipe.
Smoked Wings Recipe – Why Hot and Fast?
As I said above we are going to put aside the smoking low and slow mentality and rethink these for hot and fast. I have used both my WSM and Kettle for wings. Whatever your smoker of choice there may be some differences in how you generate the heat but the overall concepts are the same in that we want to crank the temperature up on these.
Hot and fast will get you that crispy skin on the wings that everyone loves. If you go with low and slow you are more likely to end up with rubbery skin on the wings, which really causes the wings to lose a lot of their appeal. Hey, some may be ok with that but you want good tasting wings with crispy skin, go with hot and fast.
Smoked Wings Recipe Prep
So prep on these are easy, while prepping, if you are only setting up for wings, you will need to get your smoker up to about 400°, if not higher. If I am using my WSM, I will usually have finished up a smoke on something else so I just will just need to increase the temperature a bit. If I am maybe doing this on my Kettle there is a chance I am starting fresh and will need to get the temperature up to 400°. I usually use either B&B char logs or B&B lump with a hickory wood.
If you are using a Kettle for the wings, there are a couple of ways to do this, you can use the vortex which will really help generate those high temps or you can go with combing your Weber baskets, and get similar effect, but not nearly as hot as the Vortex will get it.
I don't typically coat my wings with a sauce, it is just a personal preference thing. I will usually hit the wings with a rub and go from there. Make sure you are patting your wings dry and then if you using a rub, like I do, go ahead and place the wings in a bowl, add your rub and mix them in together. Keep adding to your taste and to ensure you have enough coverage on the wings.
One of my recent favorites for rubs is by Dizzy Pig, Swamp Venom. You can get it here. It will not disappoint.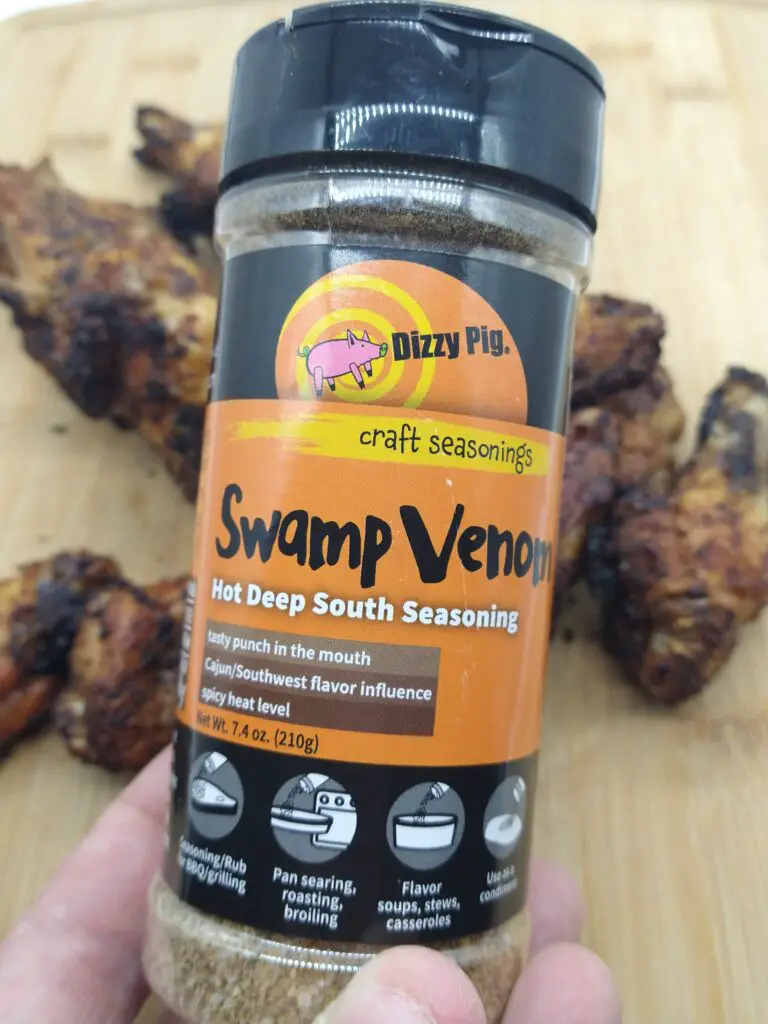 Smoking The Wings
Now that you have the smoker up to temperature at 400°+, go ahead and throw the wings on. Pack them as tight as you need to but if you can leave room between them try to do that. If you are at 400°, you will only need to leave them on for about 45 minutes. Depending on your heat source, you may want to turn them.
When I use my WSM, I do not flip the wings, it is rarely needed as they are not that close to the heat source. On my Kettle, depending on how many wings I have on and how close they are to the heat source, I may flip or rotate. Adjust as necessary based on your smoker type.
So chicken should always hit an IT of 165°, measuring that on a wing is not that easy so timing if your best bet and if you have them on for that 45-60 minutes you should be good. I love my ThermoPro TP20 when it comes to measuring temperature, check them out, bang for buck one of the best you will get. It does not hurt to try and check one of the larger wings and see if it is at the 165° IT. I like to avoid getting guests sick so I will try to find a wing to check the IT on, again sometimes easier said than done.
Want coat these wings with a smooth bourbon sauce? Check out the recipe here from The Perks of Being Us. It has some wonderful flavor and is easy to make for a summer BBQ.
Once you get that skin looks like it has the crisp you are looking for go ahead and pull them and serve while hot! Need to waste any time letting them sit and get cold.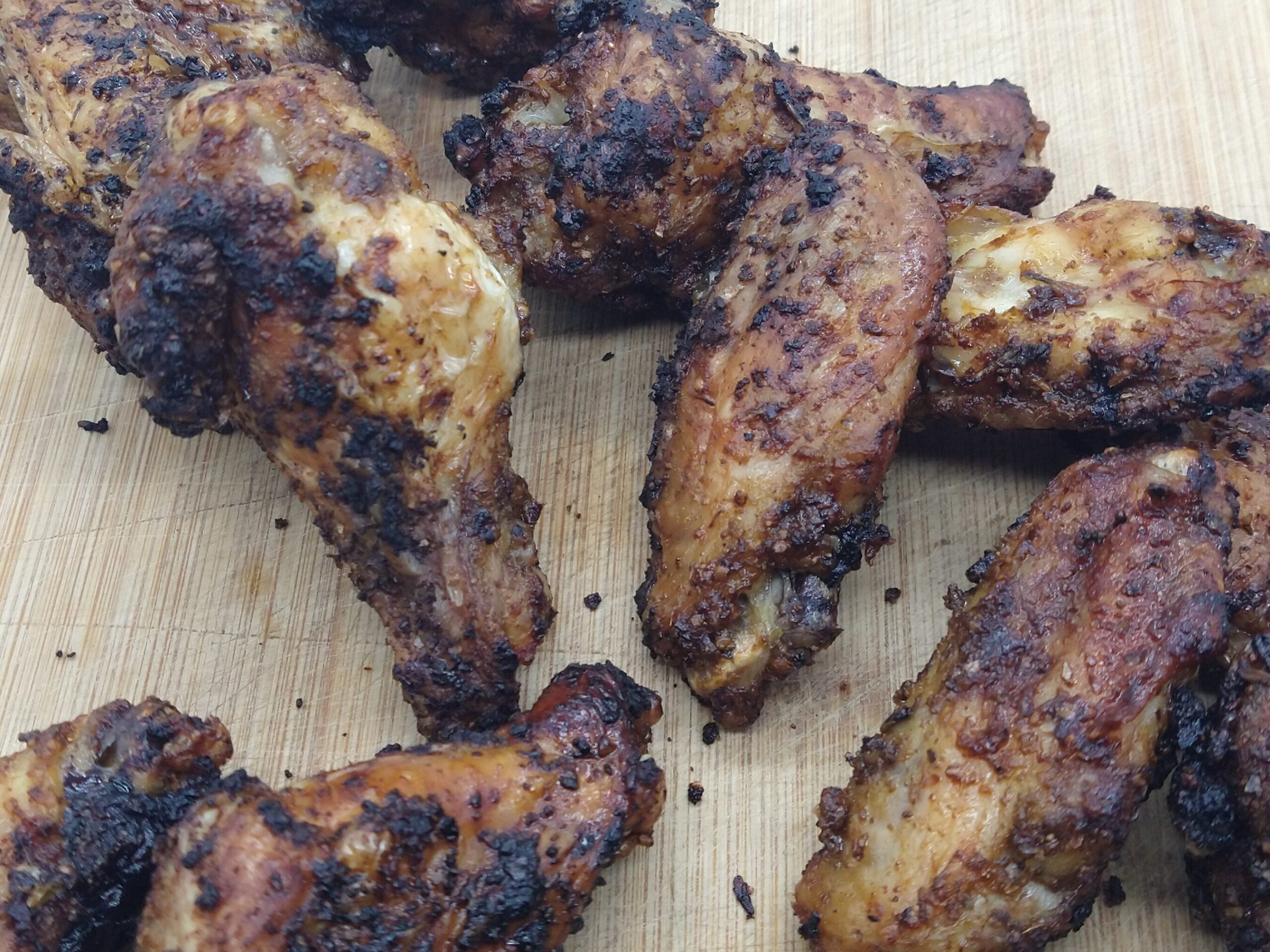 Looking for some other ideas beyond our smoked wings recipe, try out our hickory smoked nuts or our smoked turkey breast.
Thanks for being here and please leave us a comment or review.
Keep the smoke rolling my friends!
Smoked Wings Recipe
Total Time:
1 hour
5 minutes
Smoked Buffalo wings are a great addition for those summer BBQ's or fall football games. Regardless of what I am smoking, I finish nearly ever smoke off with some smoked Buffalo wings.
Ingredients
1 lb of Party Wings
Rub of choice
Instructions
Start smoker and set to a temperature of 400°
Pat the wings dry
Place in a large bowl and add in your rub of choice
Mix wings and rub well
Place on smoker for about 60 minutes or until an IT or 165° is reached or skin is crispy
If placed near to the heat source, consider flipping
Remove and serve hot
Nutrition Information:
Yield:

4
Serving Size:

1
Amount Per Serving:
Calories:

371
Total Fat:

28g
Saturated Fat:

10g
Trans Fat:

0g
Unsaturated Fat:

15g
Cholesterol:

93mg
Sodium:

446mg
Carbohydrates:

11g
Fiber:

0g
Sugar:

0g
Protein:

19g
This post contains affiliate links. If you use these links to buy something I may earn a commission. Thanks!