If you've ever taken a stroll through the streets of Mexico, chances are you've encountered the enticing aroma and mouthwatering sight of Elote being prepared by street vendors. This beloved Mexican street food, also known as Mexican grilled corn, is a true culinary delight that captures the essence of authentic Mexican cuisine. With its tantalizing combination of sweet corn smothered in tangy mayo, crumbled cheese, and zesty spices, Elote has become a beloved global sensation. In this article, we will guide you through an authentic Elote recipe that will transport your taste buds straight to the bustling markets of Mexico. Get ready to indulge in this flavorful explosion that is sure to satisfy all your cravings!
What Is Elote and It's History?
Elote, also known as Mexican street corn, is a delicious and popular dish that has gained worldwide recognition for its unique flavors. This mouthwatering treat consists of grilled or boiled corn on the cob, slathered with a creamy mixture of mayonnaise, cotija cheese, lime juice and chili powder. While Elote has become an iconic street food in Mexico and beyond, its history dates back centuries.
Origins in Indigenous Cultures:
The roots of Elote can be traced back to ancient Mesoamerican civilizations such as the Mayans and Aztecs. These indigenous cultures revered corn not only as a dietary staple but also as a sacred crop with deep cultural significance. Corn held great importance in their religious ceremonies and was considered a symbol of fertility and sustenance.
Birth of Street Food Culture:
By the 19th century, street food became increasingly prevalent across Mexico's bustling cities. Vendors would set up small carts or stalls along busy streets to cater to hungry locals looking for quick snacks between work or leisure activities. It was during this time that Elote emerged as a beloved street food staple.
Modern Elote:
In recent years, particularly with increasing globalization and culinary exploration, Elote has gained popularity well beyond its origin country's borders. Food trucks serving variations of this savory snack have proliferated around the world – from Los Angeles to London – becoming an international sensation.
Contemporary Twists:
While the traditional Mexican Elote recipe remains immensely popular today – often sold directly off grills on street corners – innovative variations have also emerged over time. Some vendors offer "esquites," which are essentially deconstructed Elote served in a cup, making it easier to eat on the go. Additionally, creative chefs have experimented with incorporating additional ingredients such as bacon, avocado, or even shrimp to give Elote a unique twist but nothing compares to an authentic street corn recipe.
Authentic Elote Ingredients
This mouthwatering dish is grilled over hot coals and is a combination of flavors that are simple and yet flavorful. You are going to need these items before you get started.
corn on the cob
chili powder
mayo
limes (lime juice will work if you do not have limes)
cotija cheese (best bet is a to get this is a Hispanic grocery store or some local grocery stores may also have it)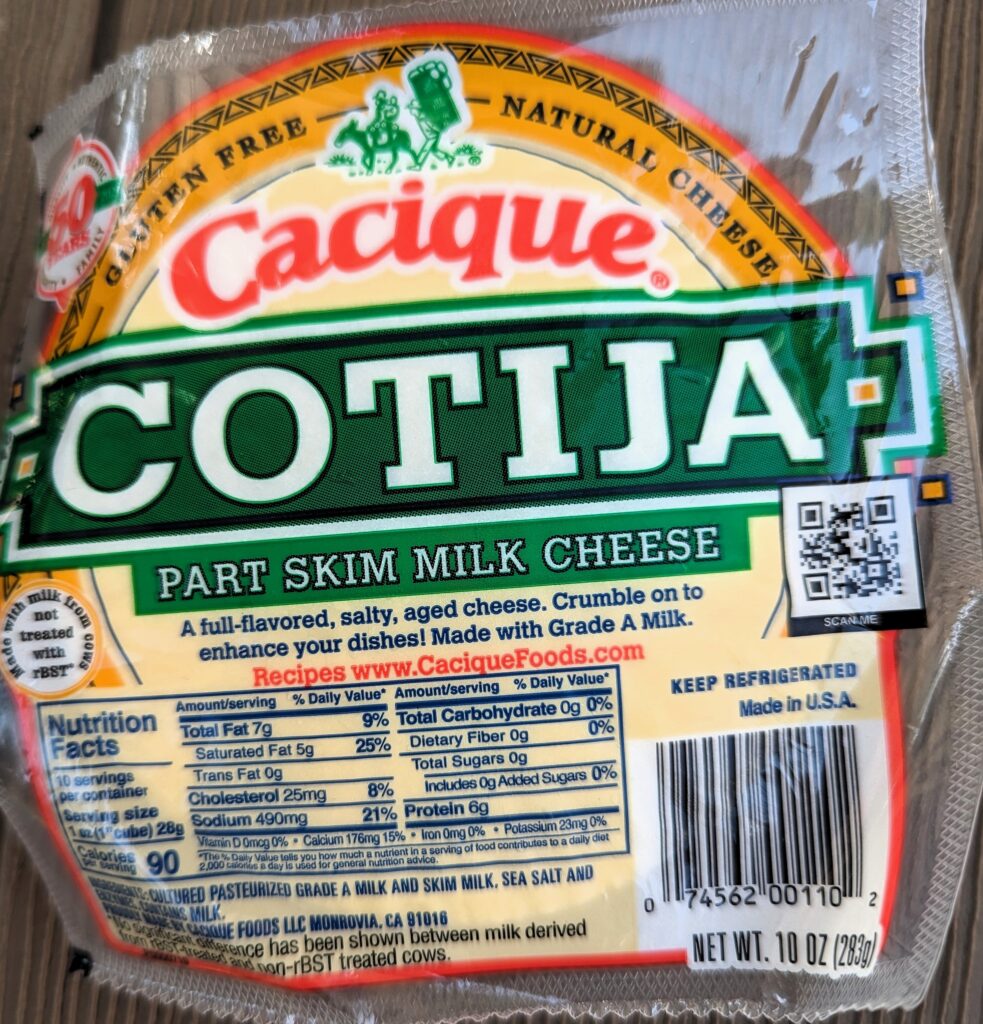 One item that I have found to be very helpful in with this recipe is wooden skewers. You will need to soak them in water but if you push them into the cob, it makes it incredibly easy to eat but also rotate on the grill when we are cooking the corn.
Grilling Elote
We absolutely love serving this year round at our house. Whether its for a summer BBQ with family and friends, a lazy Sunday around the house or for our annual Dia de los Muertos party. As long as the corn is available, we will make this recipe!
I did this on my charcoal Weber Kettle, you can also easily do this on a gas grill as well. When getting the Kettle ready, I started a full chimney of charcoal, and waited for the briquettes to ash over before pouring them into the Kettle. I kept most the charcoal to one side where I was going to grill the corn.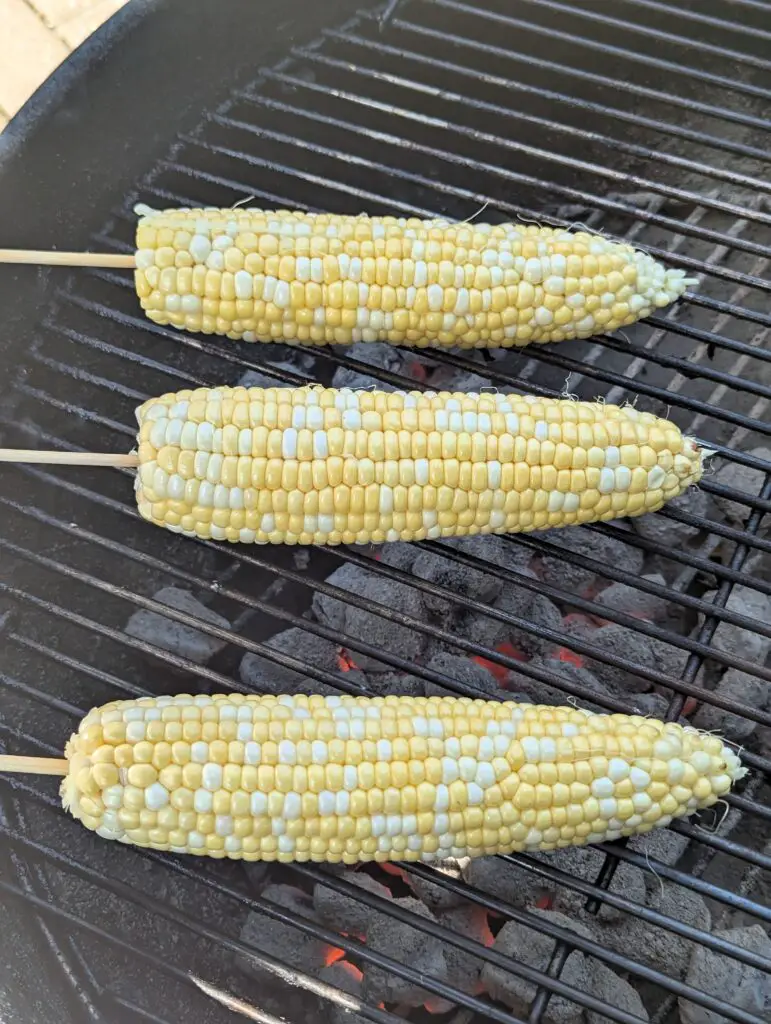 While the chimney was getting up and running, you will want to husk the corn and also by now you will have wanted the wooden skewers soaked. Once the corn is husked and skewers in, we can put them on the grill. Leading up to this point, you do not need to do anything to season the corn.
With the corn on the grill, all you will need to do is occasional rotate it. I did this all with the lid off, there is not much need to look for a specific temperature on the grill as we are just looking to roast the corn over the charcoal. You are going to roast the corn for about 10-15 minutes. This may depend on how concentrated the charcoal is and what kind you are using. With the lid off, its pretty easy to keep an eye on the corn and eye up when you think its done. With the skewers on, as I mentioned above, its really easy to rotate the corn over the coals.
While the corn is roasting and in between rotations, you can start working on the sauce. You are going to mix and whisk the mayo, chili powder and lime juice. I squeezed some limes for the lime juice or you can just use lime juice, either one should work fine when making this recipe. If you want a little more heat on your roasted Elote, add some additional chili powder, just 1/8-1/4 teaspoon at a time. When its done put if off to the side.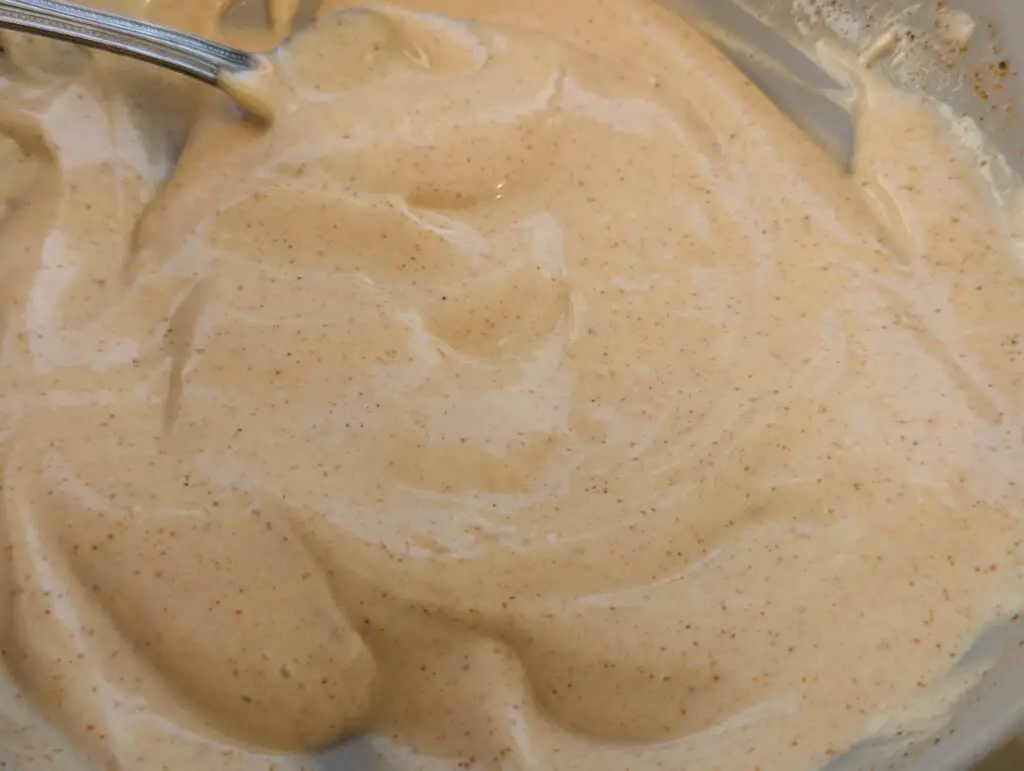 The next ingredient we need to prepare is the cotija cheese. I mentioned it briefly above, you are more likely to find this in a Hispanic grocery store but you may find it in your local store as well. At least I did, so there is hope. If you are unable to find cotija cheese, my recommendation is you substitute it with some grated parmesan cheese. You will want to grate the cheese and then put it off to the side.
While doing all this, make sure you are turning your corn. When the corn is done, you can pull it off the grill. While it still hot you will brush on the mayo sauce, make sure you cover all around the corn. Once that is one, you will take the crumbled cotija cheese and sprinkle that on. After that you will be ready to serve!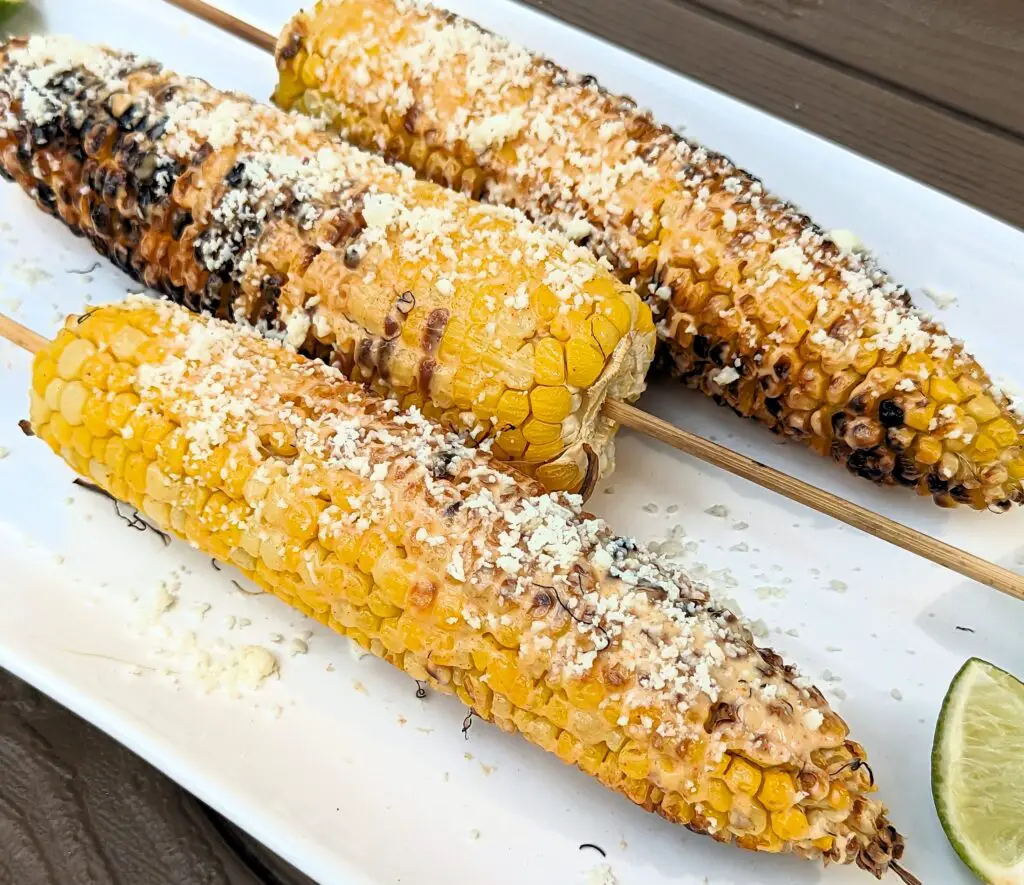 If you want to add additional garnish, some chopped cilantro works great as well or a squeeze of some more lime juice.
I Hope You Enjoy This Authentic Elote Recipe
This authentic Elote recipe is a delicious and satisfying dish that captures the true essence of Mexican street food. With its combination of sweet corn, savory toppings, tangy lime juice, and spicy chili powder, this flavorful snack is sure to please any palate. Whether you're enjoying it at a summer barbecue or as a quick snack on the go, the authentic Elote recipe brings the vibrant flavors of Mexico right to your plate. So next time you're craving a taste of something truly special, give this simple yet incredibly tasty recipe a try – you won't be disappointed!
Thanks for being here and checking out this Authentic Elote recipe. I hope you enjoy it! We always appreciate comments, 5 star recipe rating and social media shares. As always, keep that smoke rolling!
Looking for some other ideas and Mexican recipes for the grill or with an international flair? Here are some suggestions:
This post contains affiliate links. If you use these links to buy something I may earn a commission.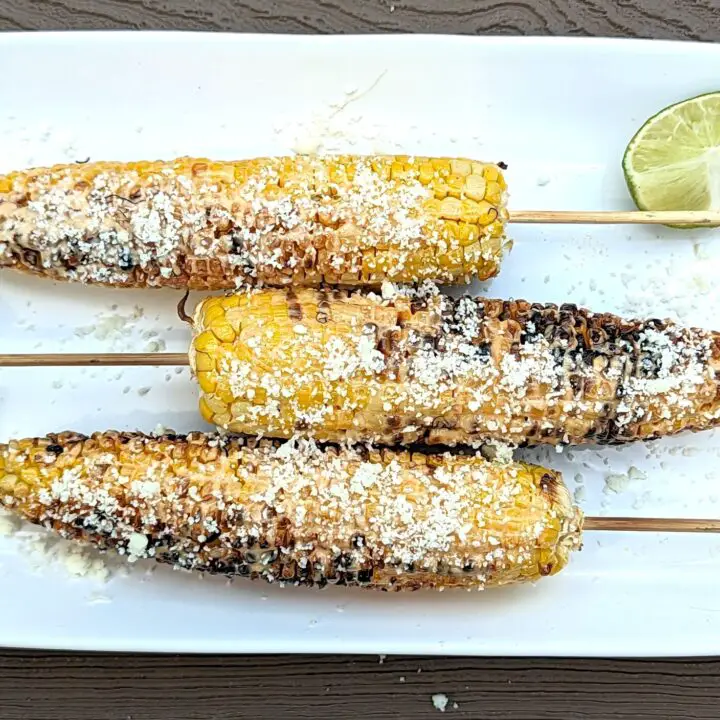 Authentic Elote Recipe
A delicious corn recipe, roasted over hot charcoal and coated with a chili lime mayo sauce, topped off with some cotija cheese.
Ingredients
3 husked corn on the cob
3/4 tsp. chili powder
1/2 tbsp lime juice
1 cup mayonnaise
1 cup cotija cheese
Instructions
Start a full chimney of charcoal that we will evetnually place on one side of the Kettle. If you are using a gas grill, you can just crank it up right before you are ready to place the corn on, give it a few minutes to heat up the grate. There is no ambient temperature we are looking for here because we are going to grill with the lid off/open.
if you are going to use wooden skewers on the corn, I suggest letting them soak for about 30 minutes before getting them over the charcoal
While waiting for the chimney to ash over, you can husk the corn. There is nothing else to do to the corn until its done roasting
Before putting the corn on, thread the skewer into the corn, it makes it incredibly easy to rotate the corn while roasting all sides. Rotate the corn every 3-4 minutes
While roasting the corn, you can make the mayo sauce, combining the mayo, chili powder and lime juice. Put it off to the side when done. You can also grate the cotija cheese
The corn should be done after about 15 minutes, this may vary a bit based on how hot your grill was
After the corn is roasted, you are going to slather on the sauce, again we want to cover it all the way around
Then you will sprinkle on the cheese to your desired amount
Once that is done, if you want to squeeze on some fresh lime juice you can but these are ready to serve, while hot
Notes
If you are unable to find the cotija cheese, you can substitute it with parmesan cheese.
If you are looking to add some more heat to the corn, incrementally add 1/4 tsp, of chili powder at a time.
Nutrition Information:
Yield:

3
Serving Size:

1
Amount Per Serving:
Calories:

746
Total Fat:

69g
Saturated Fat:

16g
Trans Fat:

0g
Unsaturated Fat:

50g
Cholesterol:

71mg
Sodium:

1306mg
Carbohydrates:

24g
Fiber:

3g
Sugar:

5g
Protein:

12g