If you're a fan of bold flavors and hearty comfort food, then you're in for a treat with Smoked Texas Chili. This iconic dish hails from the Lone Star State, where chili con carne is taken to new heights by infusing it with smoky goodness. The combination of tender chunks of meat, aromatic spices, and a touch of heat makes this chili a true crowd-pleaser. Whether you're planning a cozy family dinner or hosting a game day gathering, Smoked Texas Chili is sure to satisfy even the most discerning taste buds. So grab your apron and fire up your smoker because we're about to embark on an epic culinary adventure through the heart of Texas!
Texas Style Chili vs Classic Chili
When it comes to chili, there are countless variations and regional styles that have gained popularity over the years. Two such styles that often find themselves in a debate are Texas Style Chili and Classic Chili. Let's delve into the characteristics, flavors, and origins of these two beloved chili recipes.
Texas Style Chili
Originating from the Lone Star State, Texas Style Chili is known for its robust flavors, simplicity, and emphasis on meat rather than beans. Here are some key features:
Meaty Goodness: Texas-style chili typically uses chunks of beef as the main ingredient instead of ground meat. It commonly includes cuts like chuck roast or brisket, which are slow-cooked until tender and flavorful.
Spices Galore: This style relies heavily on spices to create depth of flavor. Traditional seasonings include chili powder (sometimes made from dried ancho chilies), cumin, garlic powder, onion powder, oregano, paprika, and cayenne pepper.
No Beans Allowed: Unlike classic chili recipes that usually include kidney beans or other varieties, true Texas-style chili does not incorporate beans at all. The focus remains on the rich meatiness combined with a thick gravy-like consistency.
Heat Factor: While heat levels can vary depending on personal preferences, Texas-style chili tends to be spicier compared to classic versions due to liberal use of spices and sometimes additional spicy ingredients like jalapenos or hot sauce.
Classic Chili
Often associated with American comfort food traditions, Classic Chili has its roots in Tex-Mex cuisine but has evolved over time across different regions. Here's what you can expect:
Ground Meat Base: In contrast to Texas-style chili's chunky meat approach, classic chili predominantly uses ground beef as its foundation. However, ground turkey or even a mixture of meats can also be utilized.
Hearty Bean Addition: Classic recipes generally incorporate kidney beans, pinto beans, or a combination of both. These legumes add texture, substance, and a touch of earthiness to the dish.
Versatile Flavor Profile: Classic chili relies on an assortment of ingredients like tomatoes (diced or crushed), onions, garlic, bell peppers, and a range of spices such as chili powder, cumin, paprika and oregano
Smoked Texas Chili With Chuck Roast
Smoked chuck roast is an amazing addition to a Texas chili with its touch of smokey flavor. I am going to take this chuck roast to a temperature that allows it to be cut into cubes and not pulled. I will list out the details for smoking a chuck roast below but if you are looking for more depth about smoking chuck roasts, you can visit the post here.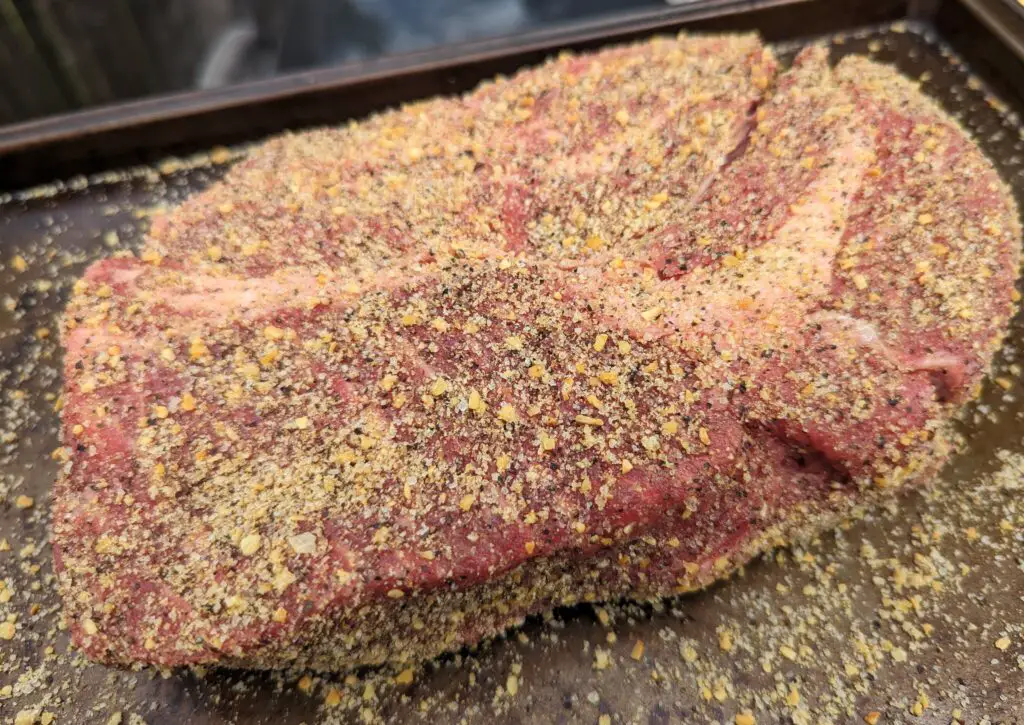 Prep your smoker to 225°, using wood of your choice. I usually use cherry and/or hickory. Combining the two is also a great way to go
Coat the chuck with mustard and then cover in your rub. A SPG rub is prefect. If you need to make your own, equal parts of salt, pepper and garlic will do the trick.
Place on smoker, and every hour, spritz with some apple cider vinegar.
Once you like how the bark is set, wrap in either foil or butcher paper. Bark in the case of a chili is not crucial so you can also look to wrap when it stalls out, which is around 150°
Because we are going to cube this, we are going to pull around 180°
Let rest for about 30 minutes and then cube the chuck, into piece about 1/2″ by 1/2″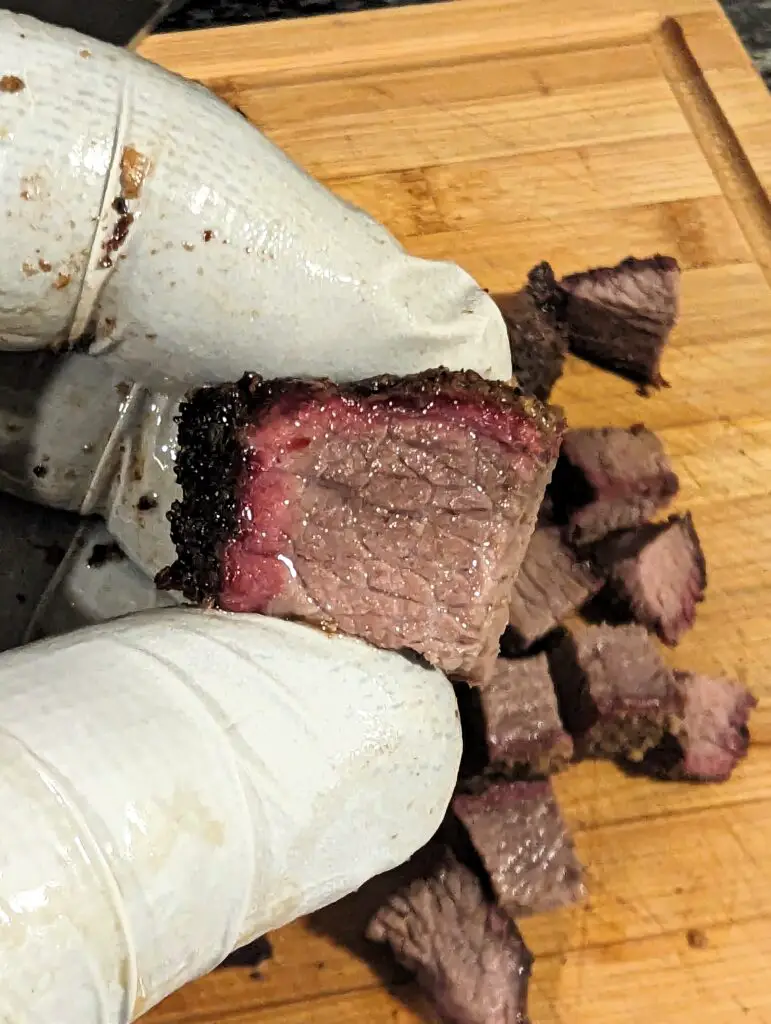 When smoking a chuck roast this process will take about 8-10 hours, depending on the size. If you are planning on Smoked Texas Chili for dinner, you will want to consider starting very early in the morning or even doing this the day before.
If you need a great, budget friendly probe, take look at the ThermoPro TP20. You will not regret it!
Ingredients For Texas Chili Recipe
Depending on when you and how you choose to do your chuck roast, you will have plenty of time to work on rest of the smoked chili recipe.
Here is the list of ingredients you will need to finish off the rest of the chili recipe:
Dried guajillo chiles
Chipotles in adobo sauce
Fresh jalapenos
Olive oil
Onions
Minced Garlic
Beef stock
Brewed Coffee
Apple cider vinegar
Grated dark chocolate
We are also going to use a variety of spices, including cumin, paprika, oregano (Mexican oregano if you can get it), cayenne, coriander
Masa Harina flour
A couple of items to note. In this recipe, if you cannot get your hands on Mexican oregano, use traditional oregano. Also, instead of cayenne powder, I used a fresh cayenne pepper, that I diced. Texas chili can take some time to make, all well worth it but the nice part is with the smoked meat, you have plenty of time to work on the other aspects of the chili, all while the meat smokes.
Time To Make Some Smoky Chili, Texas Style
Ok so the chuck roast is either smoking, or maybe you did what I suggested earlier and did it the day before. Regardless of where you are with the meat its time to get the rest of this incredibly delicious meal started!
First thing you will want to do is take the dried guajillo chiles and roast them for a bit. You can do this either in the oven at about 400° for about 10 minutes. Or you can do it in a cast iron pan, for about 3-4 minutes on each side. When they are done you will add some of the beef broth and let them soak under a low heat for about 20 minutes. We want them to soften up before moving them into the blender. When these are done, we are going to place them in the blender, with a cup of water.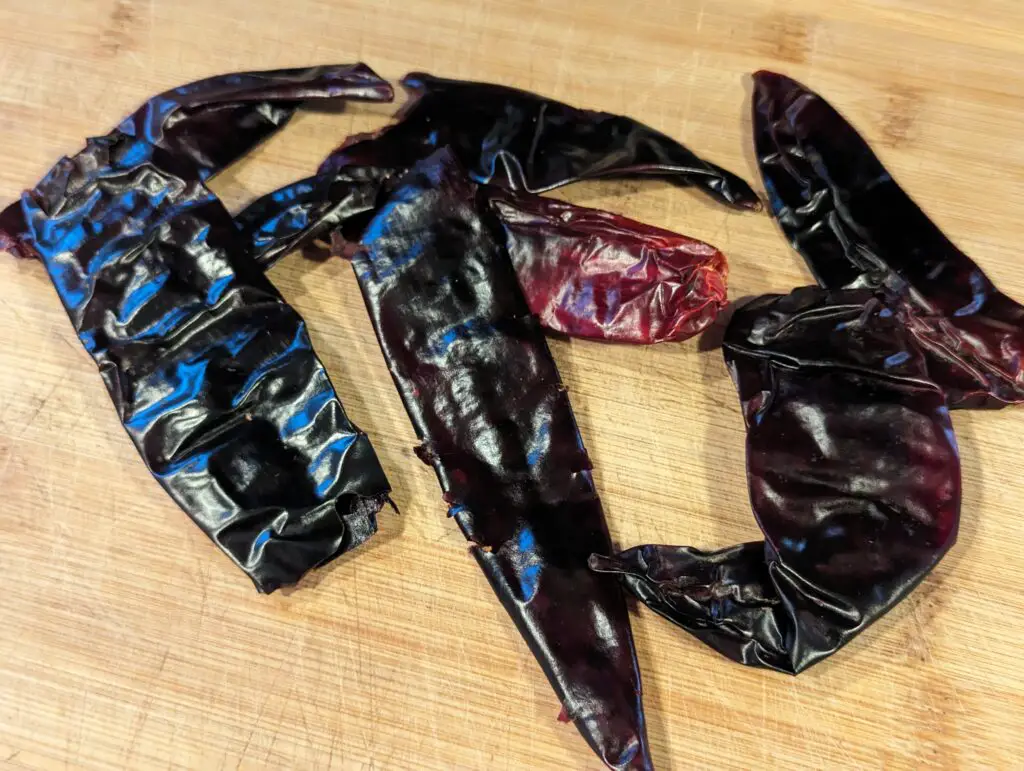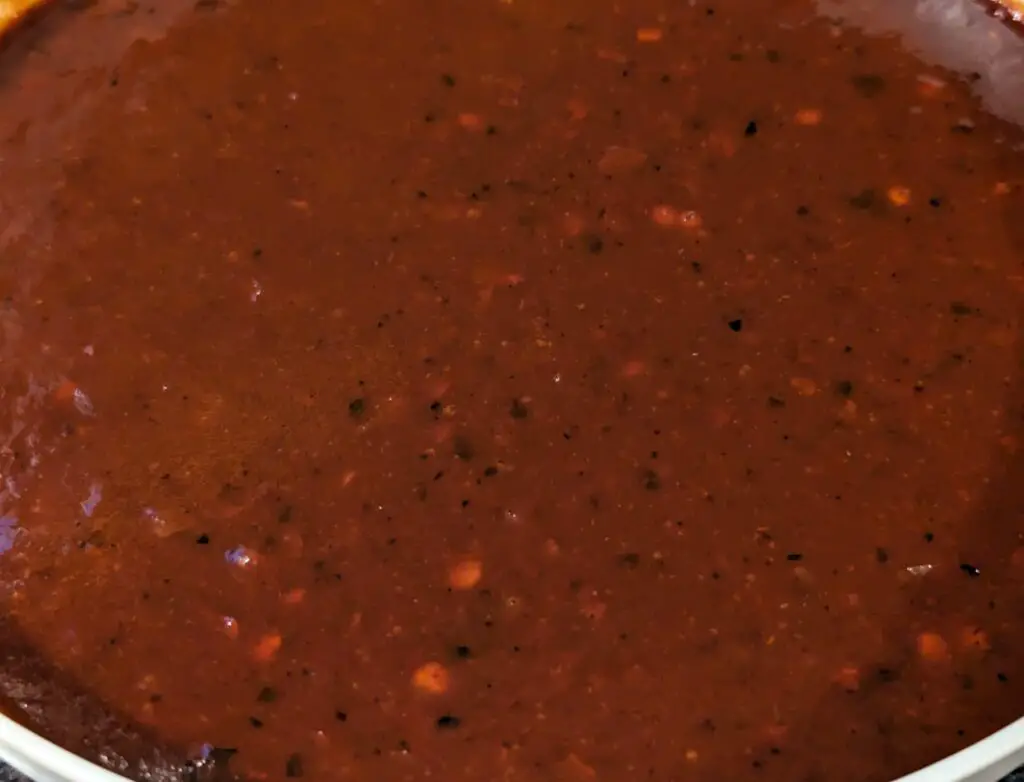 In addition to the guajillo chiles we are going to add the chilies and adobo sauce. Blend these together until we have a nice thick but smooth chile paste. Set that off to the side for the moment.
While the guajillo chiles are roasting and soaking we can work on the rest of the chili recipe. This next step we will want a a large 5 qt Dutch oven, where we will end up combining everything. First thing we are going to do is dice up the white onion, jalapenos any cayenne pepper, if using one. Before adding that to the Dutch oven, add about 1 tbsp. of olive oil and we are going to warm that up before placing the onions and peppers in. After the onions and peppers go in, give the about 5 minutes to soften. When that is done, add in the minced garlic, give that about 2 minutes in the Dutch oven.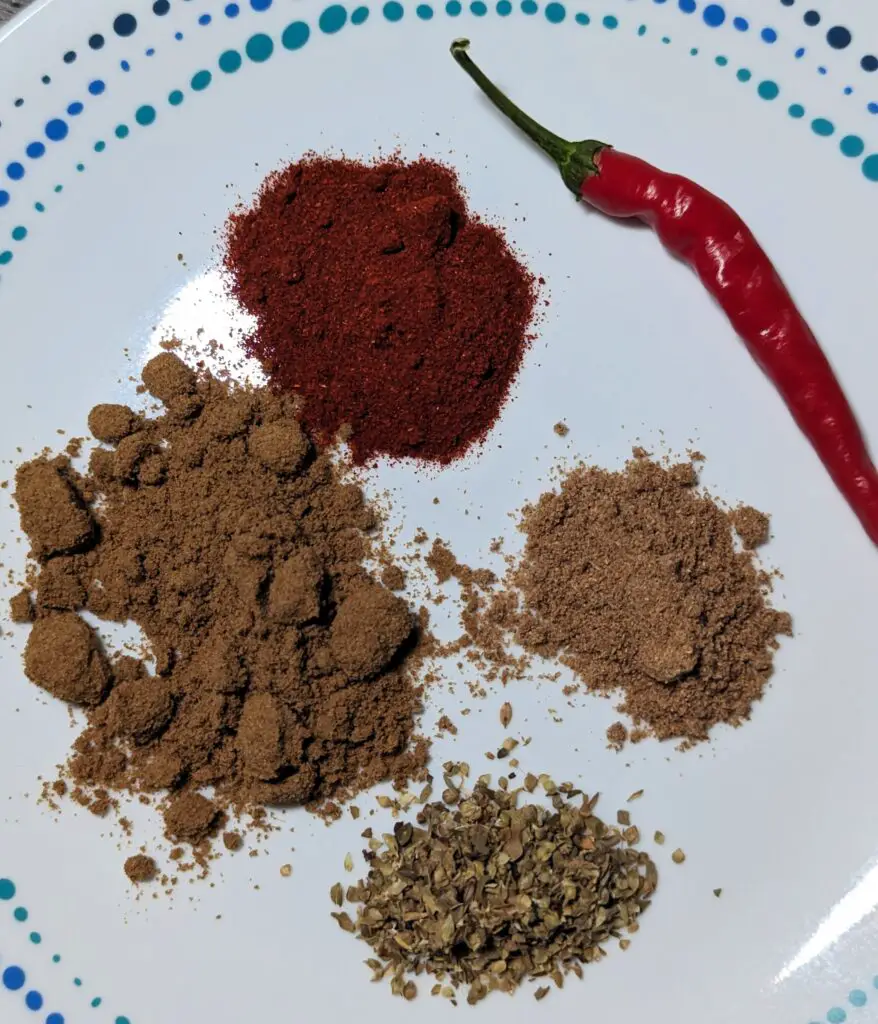 After 2 minutes, add in the beef broth and one cup of the brewed coffee. Already in the Dutch oven is the diced onions, peppers and minced garlic. Now you can also add in the dry spices and the chile paste. Depending on where you are with the chuck roast you can cube it into 1/2″ x 1/2″ pieces and add that in as well.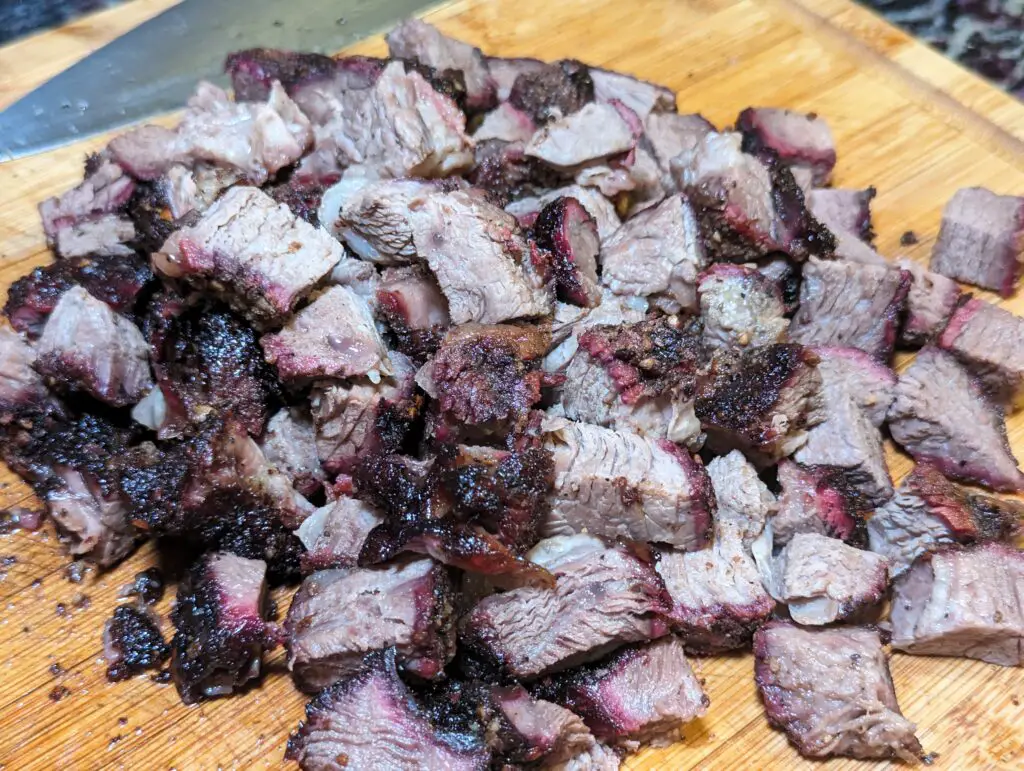 From here you have two options, you can get the entire Dutch oven back on the smoker or finish it off on the stove top. I typically like a getting a little more smoke on the entire chili recipe so I put it back on the smoker for about 2 hours. Stir once every 30 minutes or so hour and then again when you remove it. After 2 hours on the smoker, I will get it on the stove for another 2 hours to let it continue to simmer and really get the flavors blending. When smoking, some cherry wood is exactly what you want.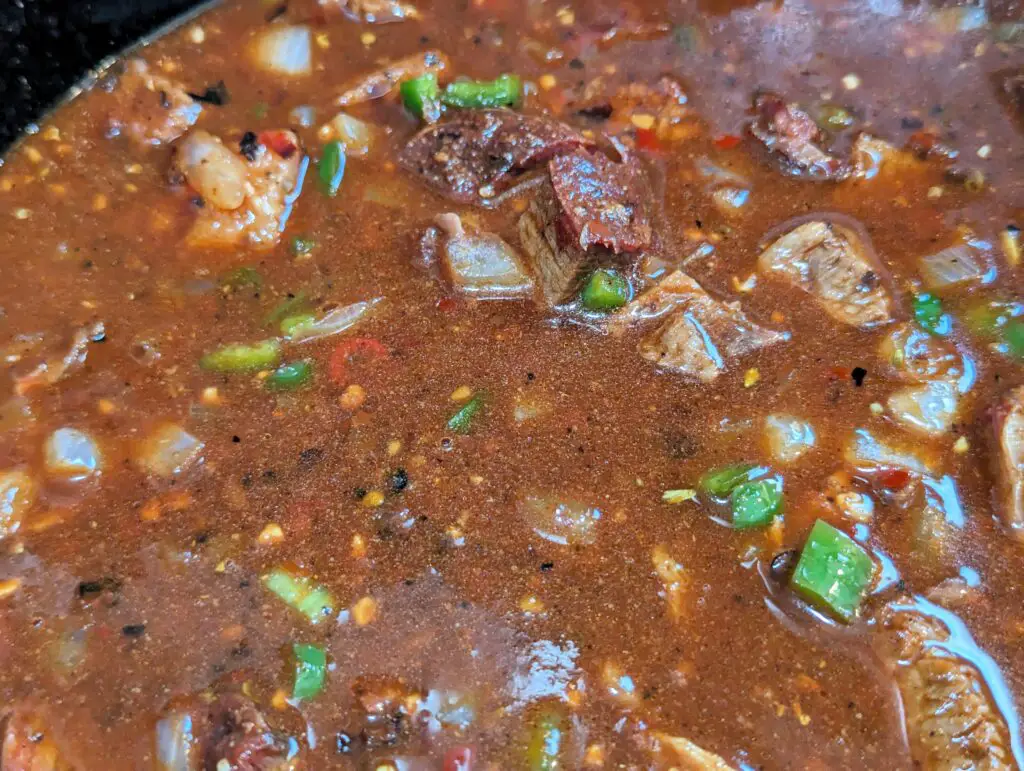 With about an hour left of simmer time, add in the grated dark chocolate and masa harina. Do yourself a favor and taste the chili before and after you add the chocolate, you can taste the difference! The masa harina will help thicken up the chili before serving. If a 1/4 does not get you the consistency you are looking for, add 1/8 of a cup at a time. After about 4 hours of simmer time, you can start serving this amazing smoked Texas chili.
How To Serve Smoked Texas Chili
Smoked Texas Chili can be served a variety of ways. Here are a few suggestions for you:
First a side of corn bread is a great place to start. If you are looking for an awesome recipe for smoked cornbread, I've got you covered! Another perfect side is baked potato, topped with some cheese, bacon and/or sour cream.
How you serve the smoked Texas chili is up to you but here are some ideas:
shredded cheese
sour cream
green onions
cilantro
These are probably going to be your most common but best combinations with a smoked Texas chili. Some avocados, tortilla chips or limes, on the side, will also work incredibly well with this recipe.
If you are looking for some great tortilla chips, try Tortiyahs! They are perfect for dipping in a thicker chili in our Smoked Texas Chili.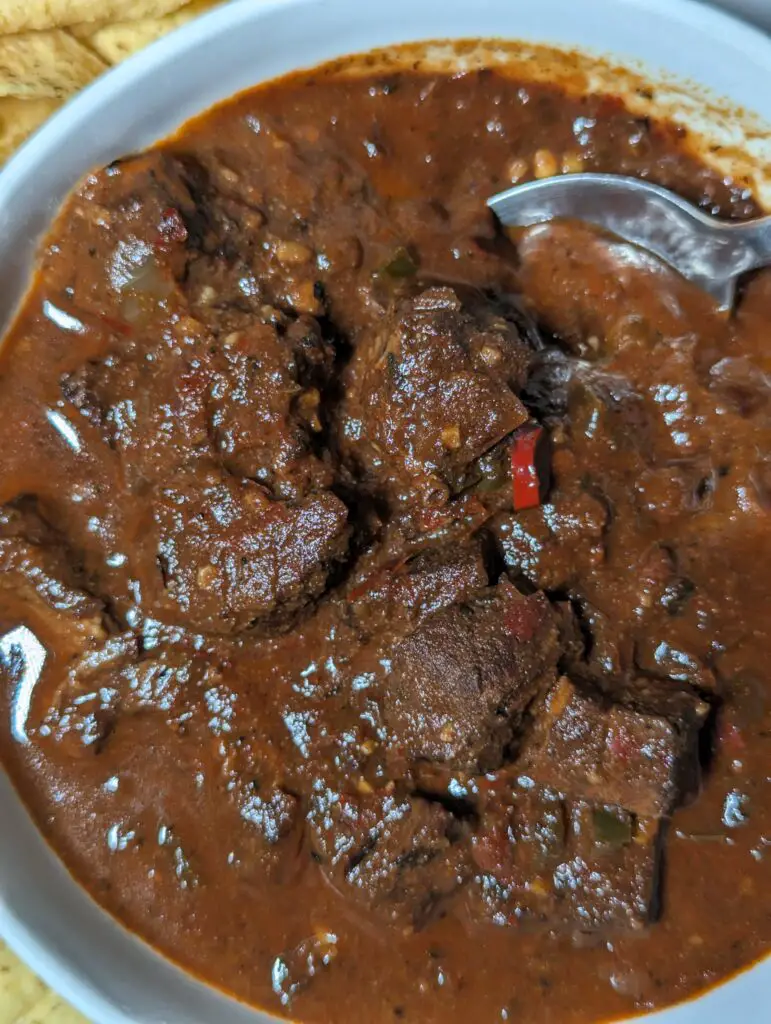 Wrapping Up, Smoked Texas Chili
Smoked Texas chili is a delicious and unique dish that captures the heart and soul of Texan cuisine. The combination of smoky flavors from the meat and spices, along with the rich and hearty texture, make it a favorite among chili enthusiasts. Whether enjoyed on its own or as a topping for hot dogs or nachos, smoked Texas chili is sure to satisfy any craving for bold and robust flavors. So fire up your smoker, gather your ingredients, and dive into the world of this iconic Texan dish – you won't be disappointed!
Thanks for being here and checking out this Smoked Texas Chili recipe. I hope you enjoy it! We always appreciate comments, 5 star recipe rating and social media shares. As always, keep that smoke rolling!
Looking for some other recipes and ideas? Here are a few suggestions:
This post contains affiliate links. If you use these links to buy something I may earn a commission.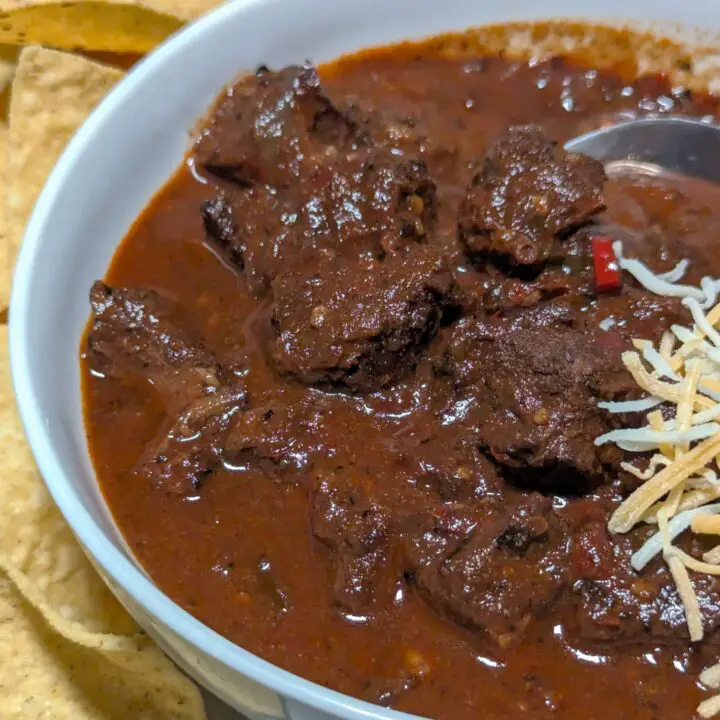 Smoked Texas Chili
Bring a taste of Texas into your house and kiss it touch of smoke flavor.
Ingredients
2.5 lb. chuck roast
6 Dried guajillo chiles
3 Chipotles in adobo sauce
2 Fresh jalapenos, chopped and seeded
1 White onion diced
2 tbsp. Minced garlic
5 cups beef broth
1 cup of brewed coffee
1 tbsp. apple cider vinegar
1/4 cup grated dark chocolate
1 tbsp. cumin
1 tsp. paprika
1 tsp. oregano (Mexican oregano if you can get it)
1 tsp. coriander
1 tsp. of cayenne or 1 full cayenne pepper, with seeds
SPG rub
1/4 cup Masa harina flour
Instructions
Start off by smoking the chuck roast. This will take about 7 hours (considering doing this a day in advance). Coat the chuck roast with a SPG rub, I used Kinder's. Smoke using a cherry wood. If you feel you need a binder, some yellow mustard does the trick.
When the meat is done, you will want to cube into 1/2" x 1/2" pieces
While the chuck roast is smoking, you can start working on the paste. Start by roasting the dried guajillo chiles. You can do this either in the oven at about 400° for 10 minutes. Or you can do it in a cast iron pan, over medium heat, for about 3 minutes on each side.
When done roasting them, add 2 cups of beef broth and let them soak under a low simmering heat for about 20 minutes. We want them to soften up before moving them into the blender. When these are done, we are going to place them in the blender, with a cup of water.
After placing the chilies in the blender, add 3 chipotle peppers in adobo sauce. If you have extra chiles you can dispose or use them for more spice but add all of the adobo sauce from the can. Once added, blend and set the paste to the side.
In a large Dutch oven, add 1 tbsp. of olive oil and start to warm
While that is warming, dice your white onion, jalapeno and cayenne peppers and place in the olive oil and soften for about 5 minutes under a simmering heat.
After 5 minutes, added in the minced garlic and cook that for 2 minutes.
After the 2 minutes, add in the 3 cups of beef broth and the 1 cup of brewed coffee
Immediately after that, add in the chili paste, the dried spices and the meat
Now, you can either, place it back on the smoker and at a temperature of 225°, and some cherry wood, continue cook for about 2 hours, stirring every 30 minutes. After 2 hours, you can finish the remaining 2 hours on the smoker or move it indoors and finish on the stove. If you choose to forgo finishing on the smoker, you can continue the cooking process on the oven for 4 hours total.
With about an hour left, add in 1/4 cup of masa to help thicken the sauce a little bit and then the 1/4 cup of grated dark chocolate.
After 4-5 hours of total simmer time, you can remove and serve while hot.
If looking to store, keep in a airtight container and keep in the regfrigator for no more than one week
Notes
For the dark chocolate Abuelita adds a great rich. flavor
As you are letting the chili simmer, make some adjustments are you feel necessary. You want a little more heat, add some more cayenne etc.
Nutrition Information:
Yield:

8
Serving Size:

1
Amount Per Serving:
Calories:

419
Total Fat:

25g
Saturated Fat:

11g
Trans Fat:

1g
Unsaturated Fat:

13g
Cholesterol:

118mg
Sodium:

701mg
Carbohydrates:

11g
Fiber:

2g
Sugar:

6g
Protein:

38g