Grilled London broil is a mouthwatering dish that perfectly combines tender, juicy beef with an explosion of flavors. This classic American favorite, originating from the British capital itself, has become a staple on grills across the nation. Whether you're hosting a backyard barbecue or simply craving a delicious and satisfying meal, grilled London broil is sure to impress both family and friends alike.
In this article, we will explore the history behind this delectable dish, uncover the secrets to achieving that perfect charred exterior while maintaining a juicy interior, and provide some tantalizing marinade options to elevate your grilled London broil game to new heights. Get ready to fire up those grills because we are about to embark on an unforgettable journey of culinary delight!
What Is London Broil?
London broil is a type of beef dish that originated in the United States, despite its name. Contrary to popular belief, it does not refer to a specific cut of meat but rather a cooking method. London broil is typically made using top round steak, which is a lean cuts of beef.
To prepare London broil, the meat is marinated for several hours or overnight to enhance its flavor and tenderness. The marinade usually consists of ingredients like soy sauce, Worcestershire sauce, garlic, olive oil, vinegar, and various herbs and spices.
Once marinated, the meat is cooked using high heat methods such as grilling or broiling. It is important to note that London broil should be cooked quickly at high temperatures to achieve a medium rare or medium doneness while still maintaining its juiciness. Overcooking can result in tough and dry meat.
After cooking, London broil is traditionally sliced thinly against the grain before serving. This helps to further tenderize the meat and make it easier to chew. The resulting slices are flavorful with a slightly charred exterior and juicy interior.
London broil can be served as a main course alongside vegetables or salad. It pairs well with side dishes like roasted potatoes or rice pilaf. Leftover London broil can also be used in sandwiches or salads for added protein and flavor.
Overall, London broil offers a delicious, budget friendly, way to enjoy lean cuts of beef with robust flavors. Its versatility makes it suitable for casual gatherings or special occasions alike.
London Broil Marinade
Our marinade for this recipe is super easy but incredibly important. When it comes to London Broil, its not the highest quality steak so the marinade will help tenderize it, making it far more appealing and flavorful. You do not need to get overly complex with the marinade but you also don't want to short change the time you marinade. A solid overnight time period is best, if you are short on time, 3-4 hours is really what you want as your minimum.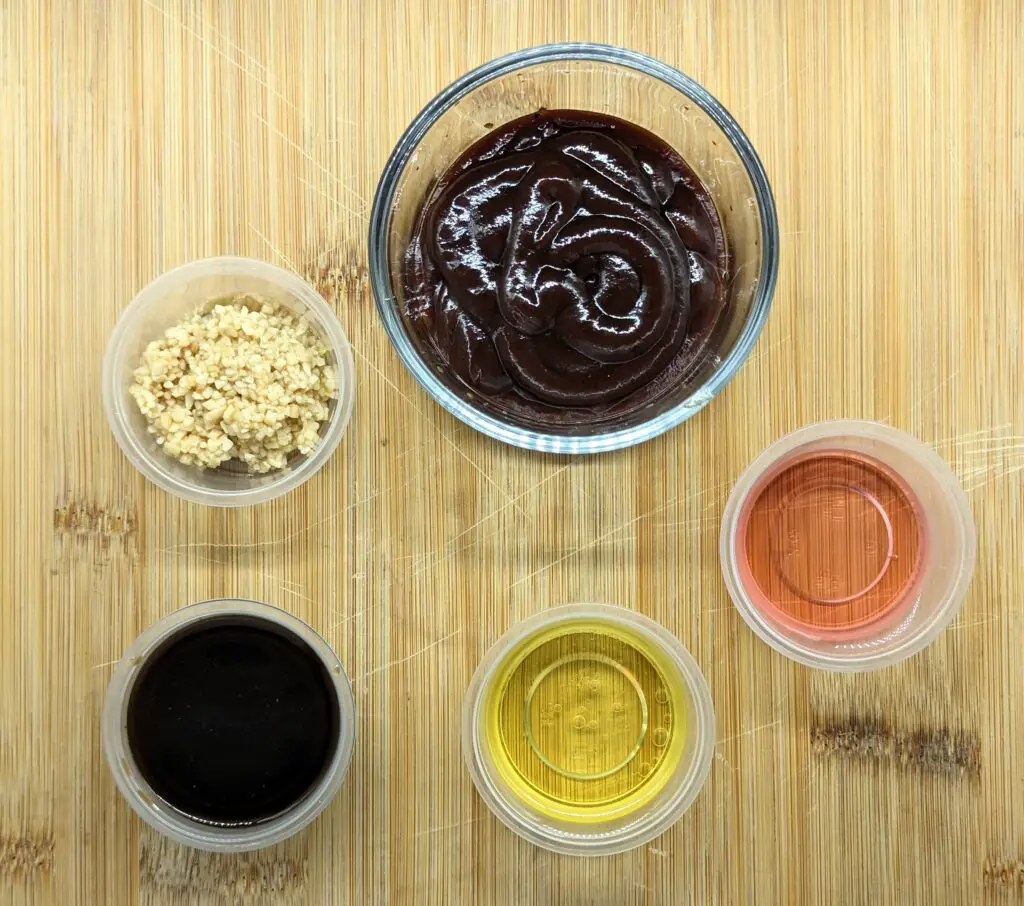 Here is your list of ingredients for the marinade:
red wine vinegar
olive oil
Worcestershire sauce
BBQ sauce
Minced Garlic
One suggestion I make with this marinade or any other, rotate the bag so that you ensure all parts of the meat are being covered. Every couple of hours, especially if you are marinating it overnight.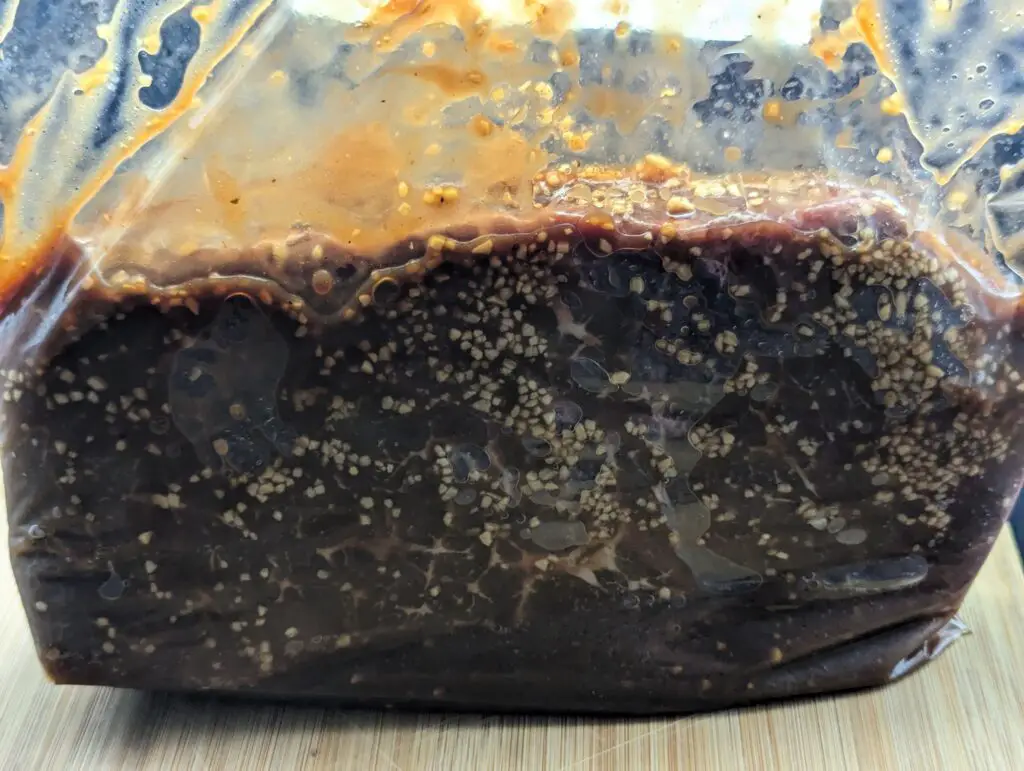 After getting an overnight or 3-4 hours of marinade, take the marinated London Broil and we are going to remove it from the container. We are next going to add some SPG rub, don't even pat it dry, simply add the SPG rub to the London Broil as is. If you do not have an SPG rub, equal parts, of salt, black pepper and garlic is all you need to make your own. Do not get overly aggressive with the rub, we already have a lot of flavor in there with the marinade, this is just a secondary flavor to compliment the marinade.
How To Grill London Broil
For this London broil recipe we are going with an indirect cooking method to start and then a quick sear over direct heat. For this recipe I have used both my gas grill and my Weber Kettle, the same principles apply for this recipe, regardless of whether its on charcoal or gas.
Start off setting your grill up with two zones. You will want an ambient temperature of 300° on the grill. While you wait for the grill to get up to our desired temperature, leave the London Broil out and let is work its way up to room temperature. Once the grill is up to temperature, the London Broil should be ready to go. Place it on the cool side for indirect cooking and you will leave it there for about 40 minutes, until it reaches an IT of 110°.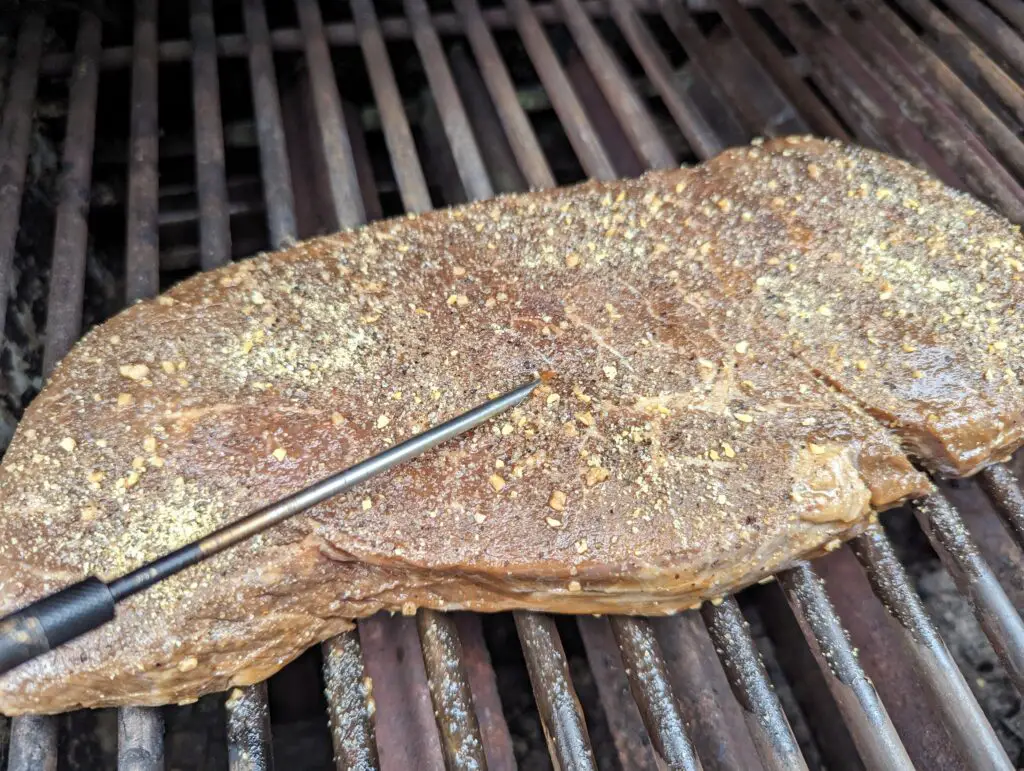 When the grilled London Broil reaches 110°, briefly remove it from the grill, crank up the heat to 400°. This should not take long and then we are going to sear the London Broil. You are going to sear for about 3 minutes on each side.
If you need a quality unit to track your IT on the London Broil and grill, try the ThermoPro TP20. It has yet to disappoint me!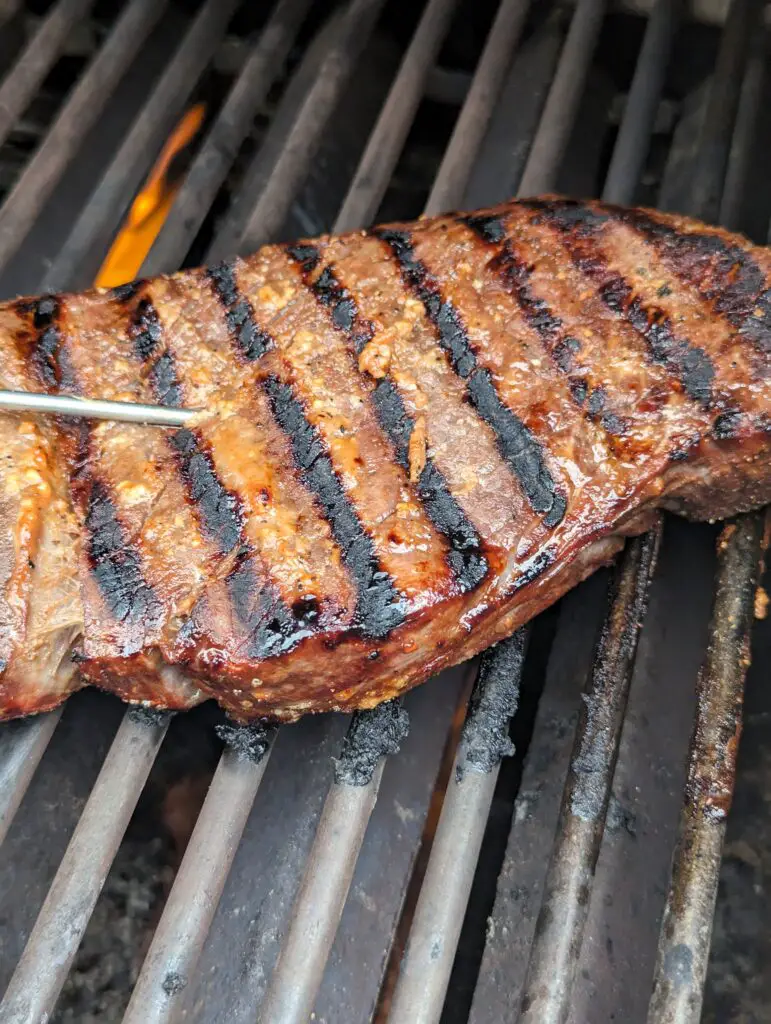 After 3 minutes on each side, you will pull this right around 135° and then let it rest for about 10-15 minutes. After the rest period, you can start to slice and serve. I recommend slicing across the grain, allowing for a more tender piece of meat to enjoy!
Wrapping Up Grilled London Broil
Grilled London Broil is a delicious and versatile dish that offers a flavorful experience for meat lovers. Its marinade infuses the beef with robust flavors, while grilling it to perfection creates a juicy and tender texture. Whether enjoyed as the centerpiece of a summer barbecue or as a comforting meal on a cozy evening, this recipe is sure to impress family and friends alike. So fire up the grill, gather your ingredients, and get ready to savor every bite of this mouthwatering Grilled London Broil.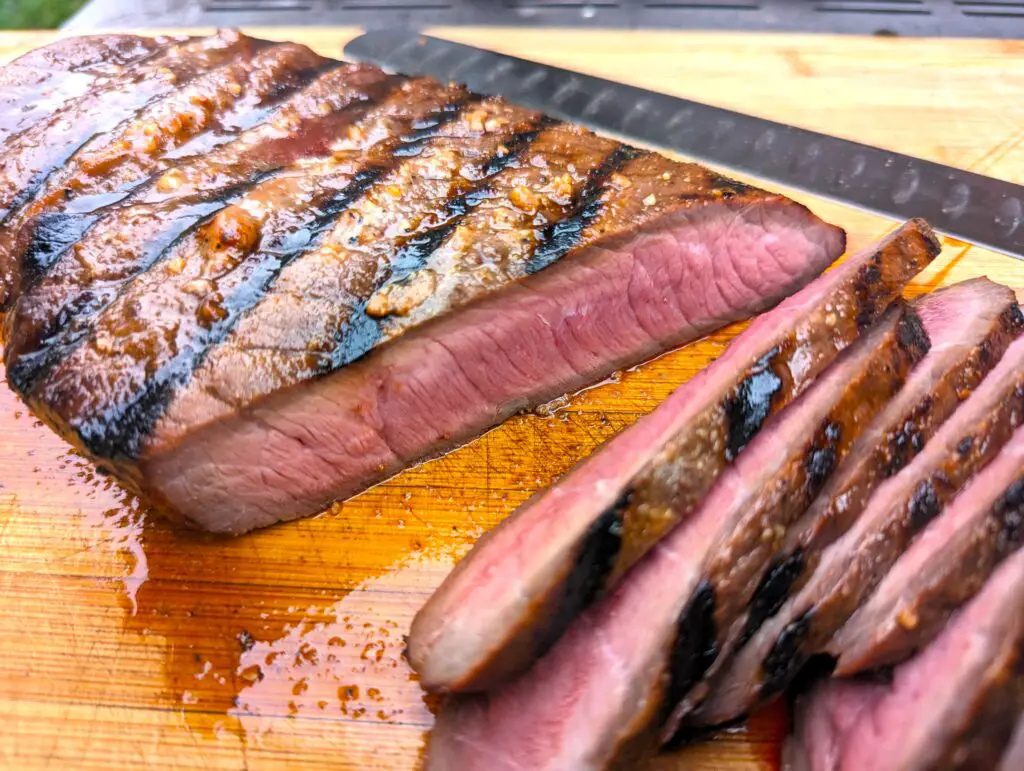 Thanks for being here and checking out this easy Grilled London Broil recipe. I hope you enjoy it! We always appreciate comments, 5 star recipe rating and social media shares. As always, keep that smoke rolling!
Looking for some other recipes? Here are some suggestions:
This post contains affiliate links. If you use these links to buy something I may earn a commission.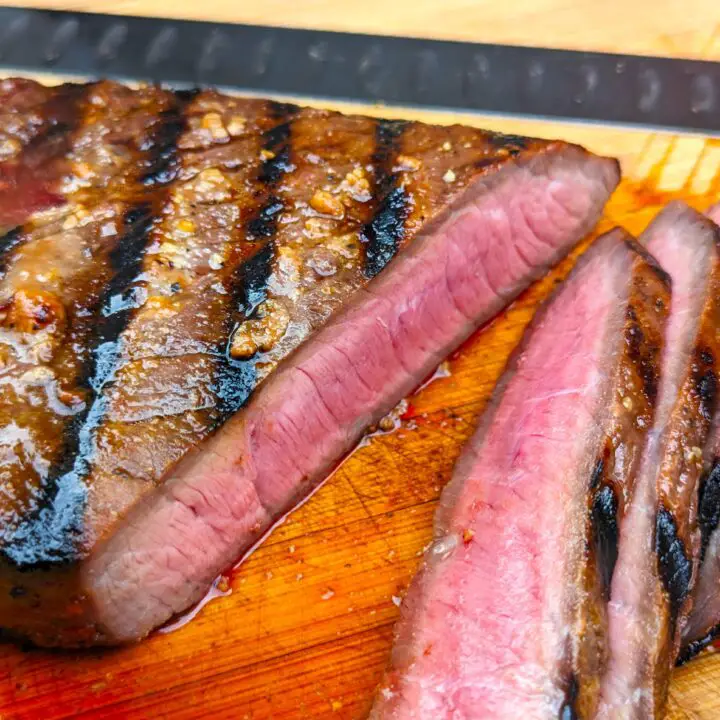 Grilled London Broil
Total Time:
1 hour
15 minutes
Up your London Broil game with this easy marinade, some indirect cooking topped with a quick reverse sear. Guaranteed to change how you view London Broil's.
Ingredients
2.5 lb. London Broil (top round)
1/4 cup of BBQ sauce (I used Sweet Baby Ray's)
1 tbsp. red wine vinegar
2 tbsp. olive oil
3 tbsp. Worchester sauce
1 tbsp. minced garlic
SPG rub
Instructions
Mix your marinade ingredients of the BBQ sauce, minced garlic, Worchester sauce, olive oil and vinegar in a bowl, whisking well
Place the London Broil in resealable bag and pour the marinade over the meat. Seal and place in the refrigerator overnight for best results, 3-4 hours at minimum if you are short on time.
Remove the London Broil from the marinade, coat with an SPG rub on both side, do not pat the London Broil dry, leave it with the marinade on there.
Start your grill, set up for 2 zones as we will start cooking with indirect heat. We want a temperature of 300° on the grill.
Place the London Broil on the grill starting off with indirect heat. Cook until the London Broil reaches an IT of 110°.
When it reaches 110, remove, crank up the heat to 400° and then cook the London Broil over direct heat for 3 minutes on each side, until the IT reaches 135°.
At 135° remove, cover with foil and let rest for 15 minutes.
After 15 minutes, slice against the grain and serve.
Notes
If you want to add a little bit of heat, add 1 tsp. of red pepper flakes to the marinade.
Nutrition Information:
Yield:

5
Serving Size:

1
Amount Per Serving:
Calories:

756
Total Fat:

49g
Saturated Fat:

18g
Trans Fat:

0g
Unsaturated Fat:

25g
Cholesterol:

264mg
Sodium:

556mg
Carbohydrates:

8g
Fiber:

0g
Sugar:

5g
Protein:

67g