A hanger steak is a quality cut of meat but a smoked hanger steak takes it to another level with the smoke flavor and a SPG rub. As I like to do, create a quality recipe and make it as simple as possible. Mission accomplished on this smoked hanger steak recipe, so let's dive into it.
What Is A Beef Hanger Steak
Hanger steak is in the same steak family as skirt steak and flank steaks. It is known for naturally being full of flavor and an extremely tender cut of meat.
Want a delicious grilled flank steak recipe? We have you covered, its great for fajitas!
A grilled hanger steak, you will more than likely want to marinade it, to ensure it holds up well over the higher heat. Hanger steaks if cooked too long, can toughen up and lose some of their appeal. Because we are smoking, low and slow, we are not going to have to marinade and instead will go with a simple steak rub option.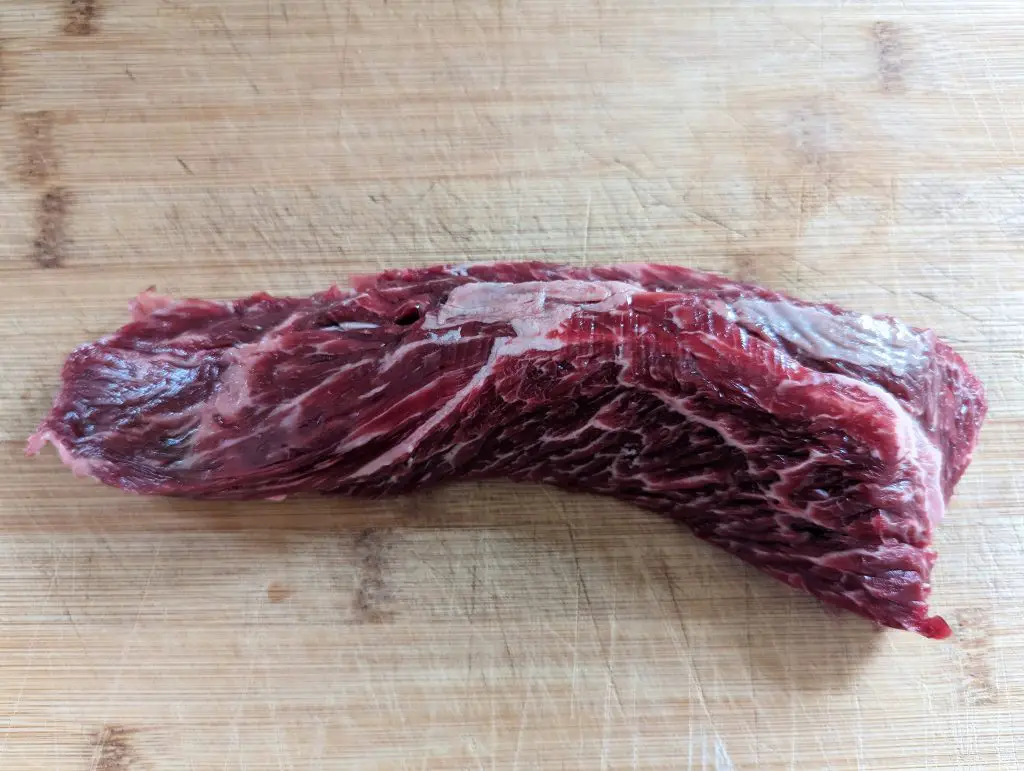 Differences of Hanger Steak vs Skirt Steak
Hanger steaks tend be thicker, almost round and will measure longer, 6+ inches. A skirt steak tends to be on the thinner side, while could measure much longer, upwards of 24 inches and maybe 4 inches in width. So while in the same beef category, they have some very different appearance but both are rich in flavor.
How To Cook Hanger Steak On A Smoker
So I did this on my Weber Kettle, perfect for a smaller and faster smoke. To start, I set my Kettle up with a charcoal snake and set it for a temperature of 225°. I used apple wood for this smoke. For the most part, this recipe should translate regardless of whether you are using a pellet grill or some other smokers.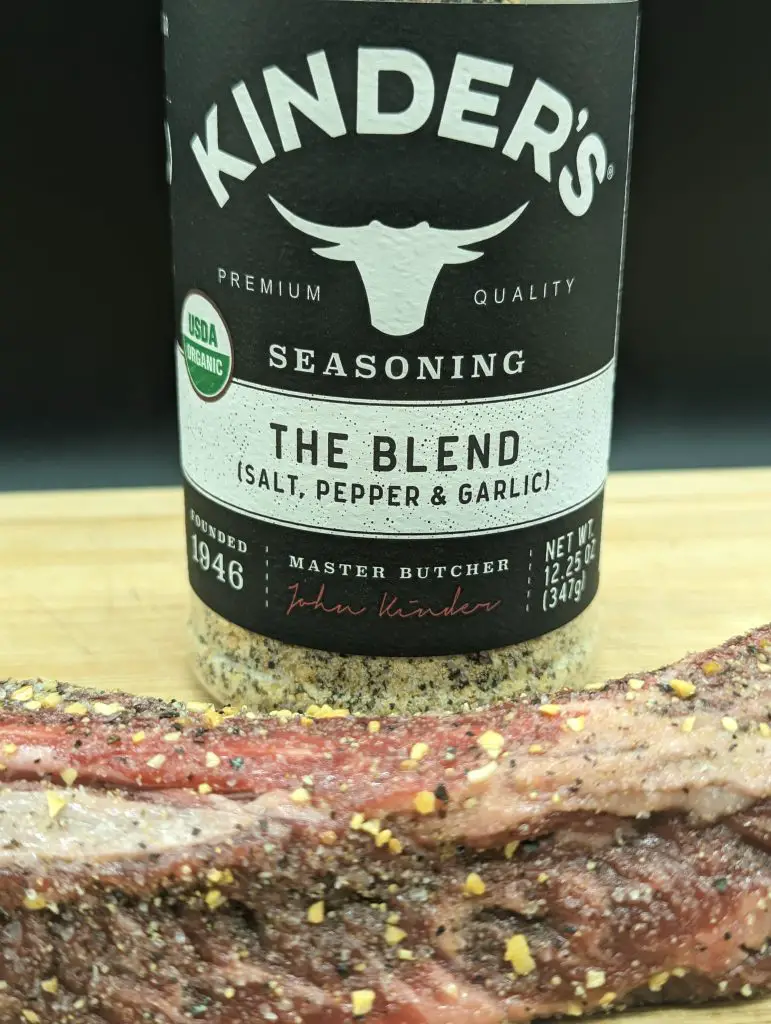 While the smoker is getting up to temperature, we are going to start prepping the steak. I keep this real simple, one reason being, because of what I mentioned above, hanger steaks are full of natural flavor so we don't need to overwhelm it with other dry rubs or spices. We are going to start off rubbing it down with some olive oil, and this will act as our binder, so make sure to get it all. There is not much of a top or bottom to a hanger steak so be mindful of getting it all covered with olive oil.
After getting the olive oil on it, we are going to rub it down with a basic salt, pepper and garlic rub. I like using the Kinder's SPG, you can get it at Costco. If you do not have that available to you, your best bet is to make your own, using equal parts of the salt, pepper and garlic. When this is done, we can get it on the smoker
Smoking With A Reverse Sear Hanger Steak
Now that it is prepped and ready to go, we can start smoking it. The Kettle or other smoker or choice should be at 225°, we just need to place it on there and wait. We are going to keep it on there until the internal temperature reaches 120°, As soon as it hits 120°, we are going to pull it and throw a nice quick reverse sear on it. So make sure you are ready with your method to reverse it the hanger steak. A couple of suggestions on how to do that:
Shift the hanger steak directly over the coals on the Kettle
Move it over to the gas grill and do it on there
Put it in a cast iron skillet, and do it on the grill or stove top (throwing a little bit of butter in there if you go this route)
My preferred method is to usually shift over to the gas grill, no right or wrong on this, I just feel it's easier. We are going to reverse sear this steak for about 1 minute on each side. We are going to do this over a high direct heat.
Hanger steak is best served medium rare or medium at most so we do not want to let it sear for too long.
If you need a great budget friendly meat probe, check out the ThermoPro TP20. I use it all the time and love the ThermoPro products.
Wrapping Up Smoked Hanger Steak
Now we have our nice quick sear on this. After searing, remove and let it rest. Tent it with some aluminum foil and let that meat rest for 15 minutes. After the rest period, slice that steak and serve.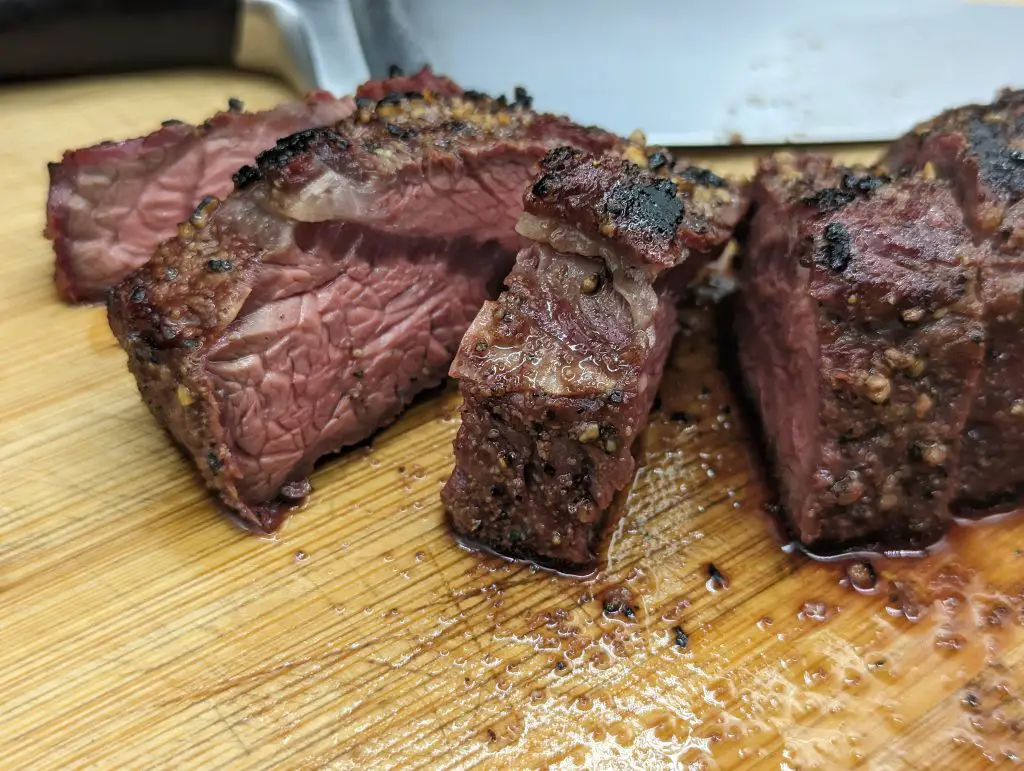 If you are looking for some other grilling or smoking recipes here are some suggestions:
Thanks for being here and checking out this Smoked Hanger Steak recipe. I hope you enjoy it! We always appreciate comments, 5 star recipe rating and social media shares. As always, keep that smoke rolling!
This post contains affiliate links. If you use these links to buy something I may earn  a commission.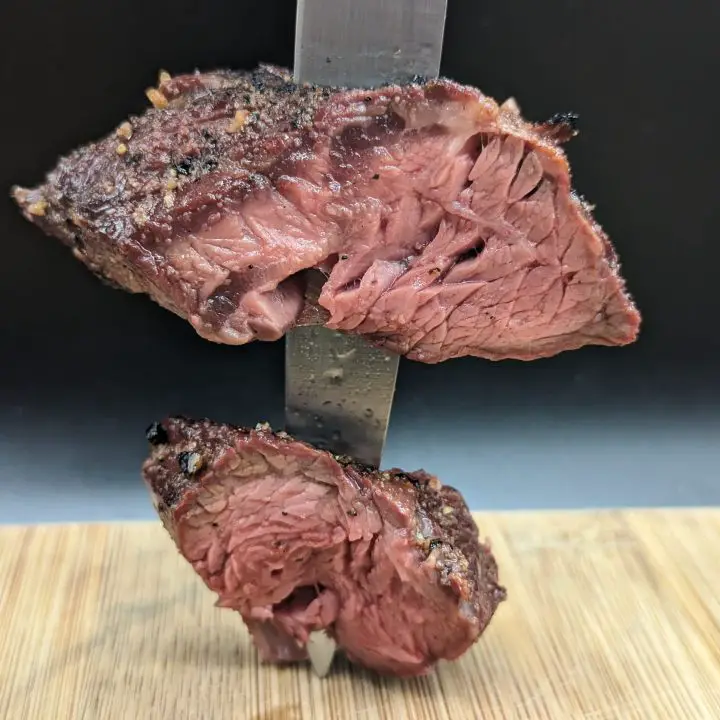 Smoked Hanger Steak
Additional Time:
10 minutes
Hanger steak is an amazing cut of beef. Add some smoke flavor, a simple SPG rub and wrap up with a quick sear and you will be eating like a king.
Ingredients
1 lb. hanger steak
SPG rub
1/2 tbsp. of olive oil
Instructions
Set your smoker to 225°, using applewood.
Rub down your steak with some olive oil for a binder and then the SPG
Place on the smoker and smoke until it hits 120° and remove
Sear, either on a grill or in a cast iron skillet for about 1 minute on each side, over high heat
Remove, let rest for about 15 minutes, tented with foil
After 15 minutes, slice and serve
Nutrition Information:
Yield:

2
Serving Size:

1
Amount Per Serving:
Calories:

536
Total Fat:

29g
Saturated Fat:

9g
Trans Fat:

1g
Unsaturated Fat:

14g
Cholesterol:

206mg
Sodium:

141mg
Carbohydrates:

0g
Fiber:

0g
Sugar:

0g
Protein:

69g