A grilled blackened fish sandwich is incredibly easy to make and an absolute delight to eat. It gives you just enough spice to make it enjoyable but not having you reaching for the water. Garnished with some basic lettuce and tomatoes and topped with some tartar sauce, you will find yourself making this a regular fish option on the menu.
What Is Blackened Seasoning?
Blackened seasoning, tends to run in the same vein as Cajun or Creole seasoning. It is typically used on fish, chicken or steak. Your typical blackened seasoning recipe will have some dried herbs, like oregano and thyme. Most will definitely have paprika and cayenne peppers and after that you will see some variations.
Blackened seasoning got its name, less from the spices and more from the cooking method of the food being cooked in a cast iron skillet and getting that charred look, flavor and texture to it.
Starting Our Blackened Fish Recipe
Before we get started on the fish, you can start the grill. I did this recipe on my Weber gas grill. No doubt if you wanted to do this on your Weber Kettle or some other style grill it should work all the same. Now my grill has 4 burners so I am easily able to set mine up for indirect heat. On a Kettle this can be accomplished as well, on a smaller gas grill, you may need to use the warming rack to cook the fish. Set your grill up for 400° and again plan on doing this with indirect heat, except for the very end of the cook.
While the grill is getting up to temperature we can start prepping the fish. For this recipe, I used tilapia. You can choose to go with any other style of white fish, if you would like. Some examples of other white fish would be:
cod
snapper
flounder
haddock
halibut
grouper
Any of these white fish variations work extremely well with blackened seasoning and would recommend going only with a white fish.
Once you have your fish ready, if you are using frozen fish, make sure you defrost it first, we are going to start by melting some butter. Once the butter is melted, my suggestions is in a pot over a low/simmer heat, we are going to coat the fillets in the butter. While the butter is melting, I would prepare the seasoning. I will list the ingredients below you will need, the measurements are in the recipe card.
Blackened Recipe For Fish
Here are the herbs and spices you will need for the blackened seasoning:
paprika
onion powder or onion flakes
garlic powder
ground dried thyme
ground cayenne pepper
ground black pepper
basil
dried oregano
kosher salt
After assembling these ingredients, simply mix them together in a small bowl and set to the side for a brief moment. By now the butter should be melted, as soon as the butter is ready, coat the fish with the butter, both sides and don't feel you need to skimp on it.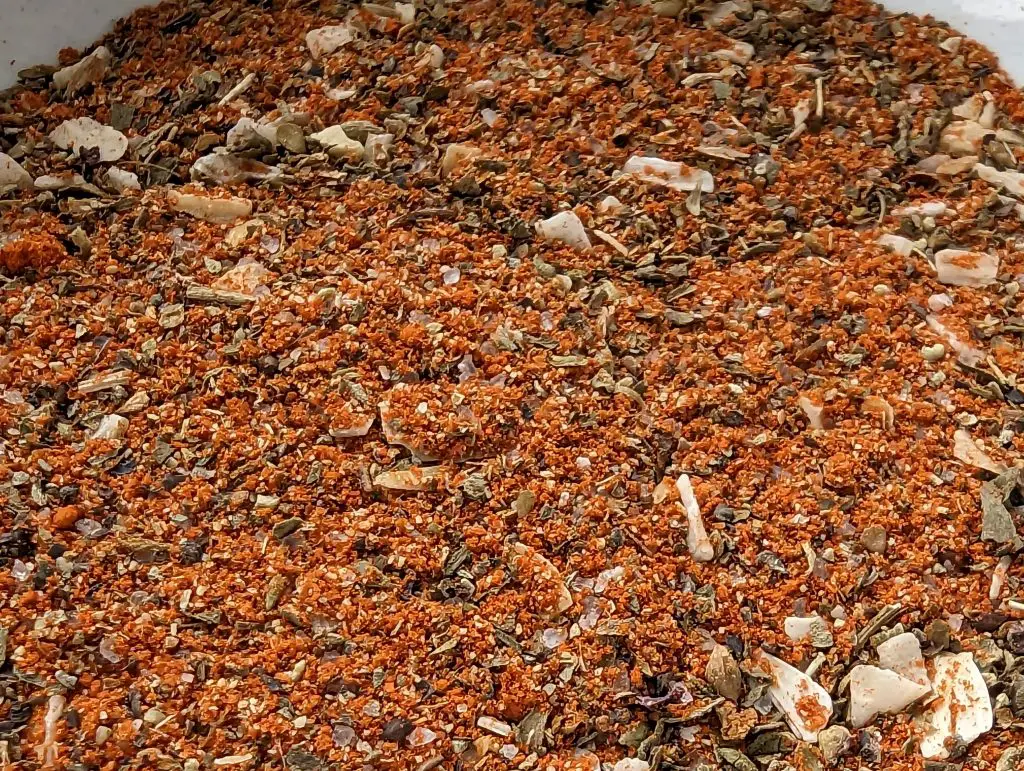 Now you have the fillets covered in butter, you can spread the seasoning on them. You definitely want to hit both sides of the fillets and be generous, you will lose some along the way while transferring and grilling. With the fish now seasoned, let's get to grilling!
Grilling The Best Blackened Fish Sandwich
So the grill is ready, the fish seasoned, let's cook some fish. Before dropping the fish onto the grill, hit the grates with some cooking spray so the fish does not stick. Depending on your set up it might not be a bad idea to briefly shut the flames off, just an idea!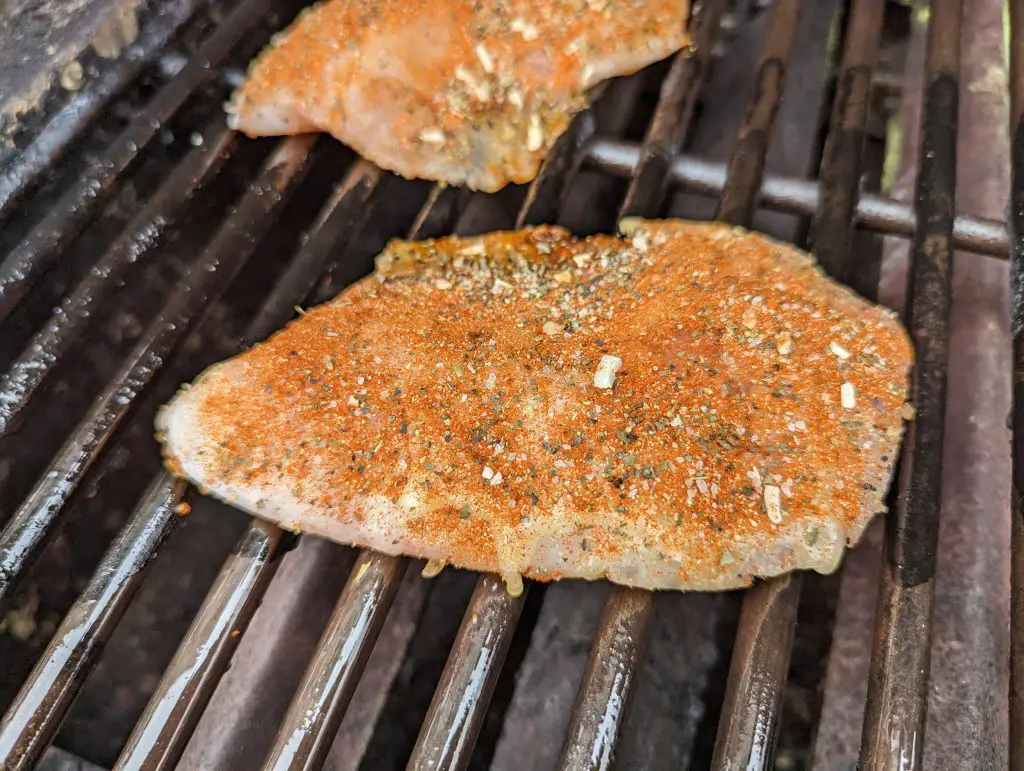 As a reminder, we are going to do this indirect heat, so place the fillets on the grill and you are going to leave them there for about 15 minutes at 400°. Keep the lid closed, no need to flip since its all indirect anyway. After that 15 minutes, you are going to transfer over to direct heat. Leave the grill cranking at 400°, place the fillets over the direct heat and leave it for one minute on one side, then flip and do another minute on that side.
Don't trust the thermometer on your grill, try using the ThermoPro TP20, super reliable and budget friendly.
We are going to get s little bit of char on them and crust up the seasoning just a little bit. If for whatever reason, you prefer to do this last step in a cast iron skillet, you can. Other recipes have the entire recipe done in a skillet but I prefer to get some real flames on the fish.
After a minute on each side, pull them and start prepping your sandwich.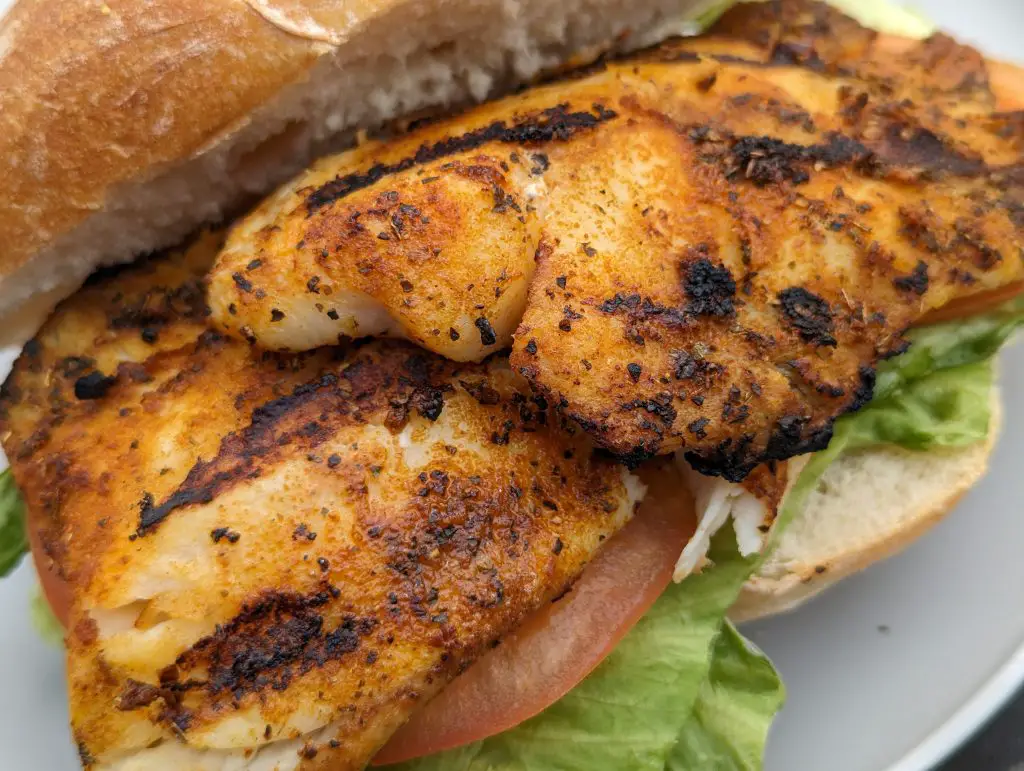 Making Blackened Fish Sandwiches
The real flavor on this recipe is the blackened seasoning so anything else after that is extras! I like keeping things simple, so a couple slices of beefsteak tomato, lettuce and a tartar sauce to top this sandwich off. I used Portuguese buns, they have a great texture and are perfect for this sandwich. If you prefer to top off with a spicy mayo aioli you can do that as well. However you choose to top this off, go for it!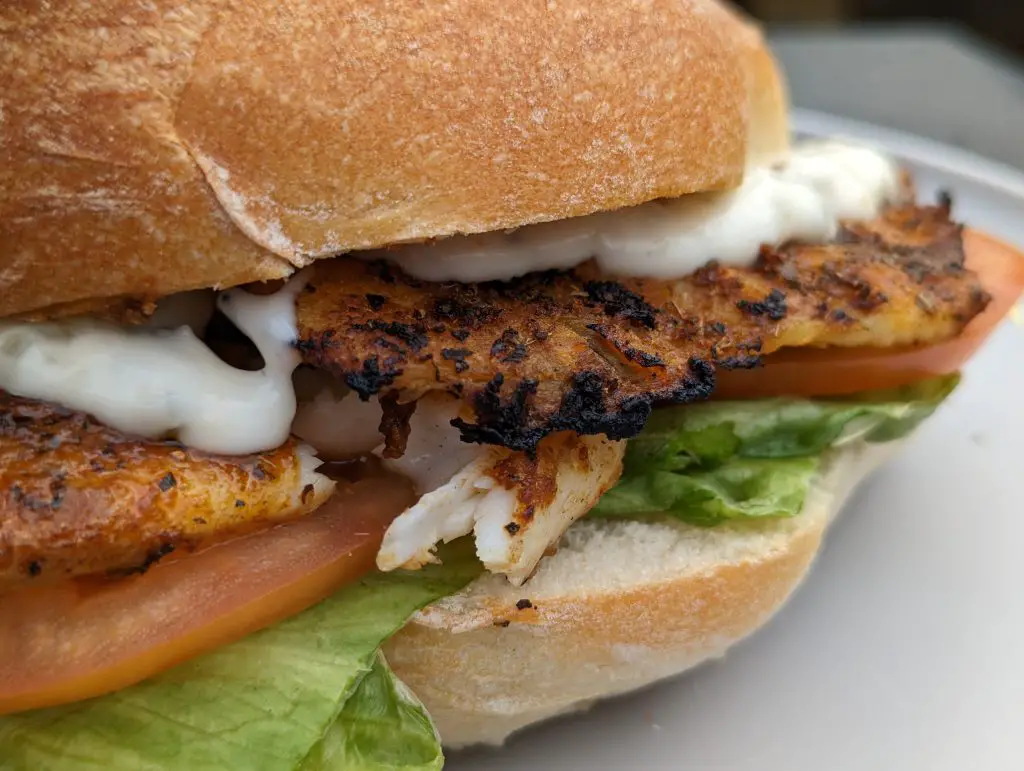 Closing Out Blackened Fish Sandwich Recipe
This is a great recipe, super simple to make but bursting with spice and flavor!
Thanks for being here and checking out this Blackened Fish Sandwich recipe. I hope you enjoy it! We always appreciate comments, 5 star recipe rating and social media shares. As always, keep that smoke rolling!
Need some other ideas for seafood or sandwiches, here are a few suggestions:
This post contains affiliate links. If you use these links to buy something I may earn a commission.
Grilled Blackened Fish Sandwich
A blackened fish sandwich on the grill is a great combination that makes for a delightful sandwich anytime of the year.
Ingredients
1/2 tbsp. paprika
1 tsp. onion powder
1/2 teaspoon garlic powder
1/2 teaspoon dried thyme (ground thyme is best if you have it)
1/2 tsp. cayenne powder
1/2 tsp. ground black pepper
1/2 teaspoon dried basil
1/2 teaspoon dried oregano
1/2 teaspoon kosher salt
1 tbsp. of butter
2 tilapia fillet
1 Portuguese roll
tartar sauce
beefsteak tomato
lettuce
Instructions
Set your grill for 400° and indirect heat
Melt the butter and while butter is melting, gather your dry ingredients, measure and mix in a small bowl
Cover the fillets with the melted butter and then the seasoning
Quickly spray some cooking spray on your grates to keep the fish from sticking to the grates and then place the fish on and cover the grill
Cook for 15 minutes with indirect heat
After 15 minutes, place for 1 minute over direct heat and then flip and do another 1 minute
After 2 minutes of direct heat remove and prepare to serve
Top your sandwich with some tartar sauce, lettuce and tomatoes and serve while hot
Notes
If you desire something a little more spicy, add some additional teaspoons of the cayenne will do the trick, the goal is to not overpower the other spices in this mixture.
Nutrition Information:
Yield:

1
Serving Size:

1
Amount Per Serving:
Calories:

379
Total Fat:

23g
Saturated Fat:

10g
Trans Fat:

0g
Unsaturated Fat:

11g
Cholesterol:

130mg
Sodium:

1928mg
Carbohydrates:

62g
Fiber:

9g
Sugar:

9g
Protein:

55g