Steak and shrimp kabobs are the home grilled meal you are looking for to meet that surf and turf craving you have. From the prep to finishing on the grill these are easy and will be sure to delight the taste buds.
What Kind of Steak For Kabobs?
When making kabobs, you are going to want a cut of beef that is naturally tender and can withstand the grilling heat, while also maintaining its flavor. There are several you can use. I frequently find that a sirloin steak is one of the best kabob meat. When it comes to sirloin you can go with either top or tip.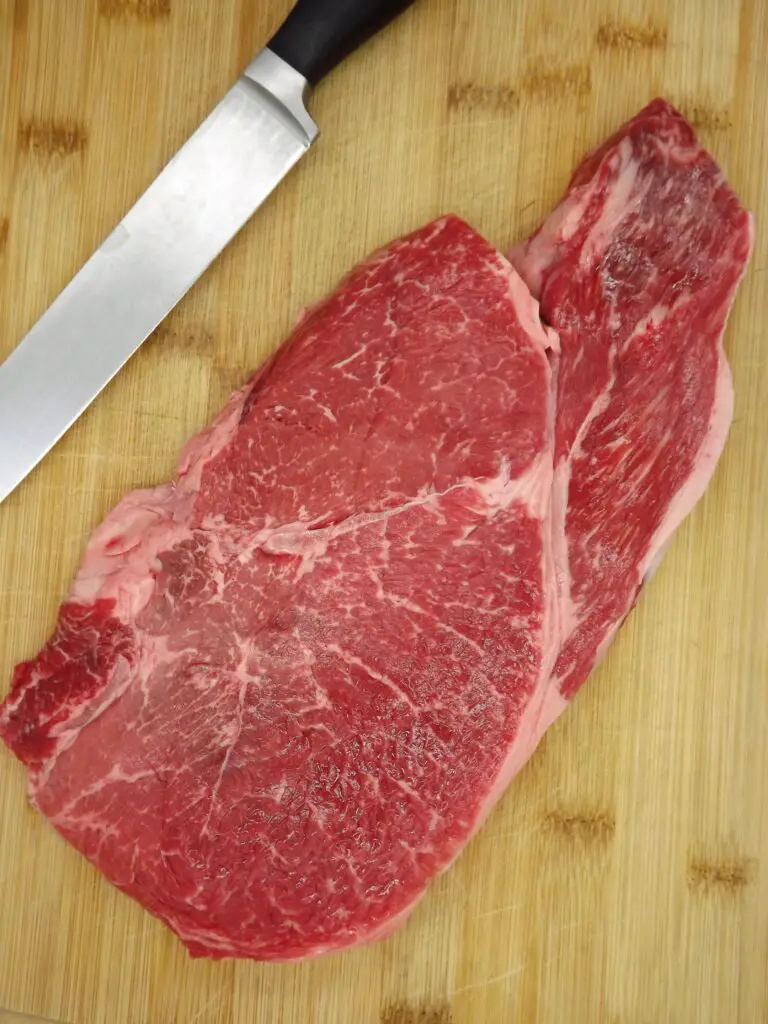 You can also go with a flank or strip steak as well, both hold well on the grill and don't need to be marinaded. I used a sirloin tip with this recipe and would suggest it if you can find it. If you are budget conscience, this is also a great way to go as it allows for a great recipe and doesn't break the bank.
Ingredients For Shrimp and Steak Kabobs
As I mentioned above, we will be using a sirloin tip steak for our beef. For the shrimp, I used frozen shrimp, that I have defrosted and is a medium size. Outside of that its still pretty easy. You will need some olive oil. Then I combined equal parts of salt, pepper and garlic powder for seasoning. And later on in this process we will need some butter for basting the beef and shrimp.
Making Grilled Steak and Shrimp Kabobs
So we have our ingredients together. We are going to use some wooden skewers for our kabobs. Make sure you soak them for about 30 minutes prior to using them otherwise they will burn. Usually not fun when you are grilling for perfection and the wooden kabobs are going up in flames. It is possible, that happened to me at one point.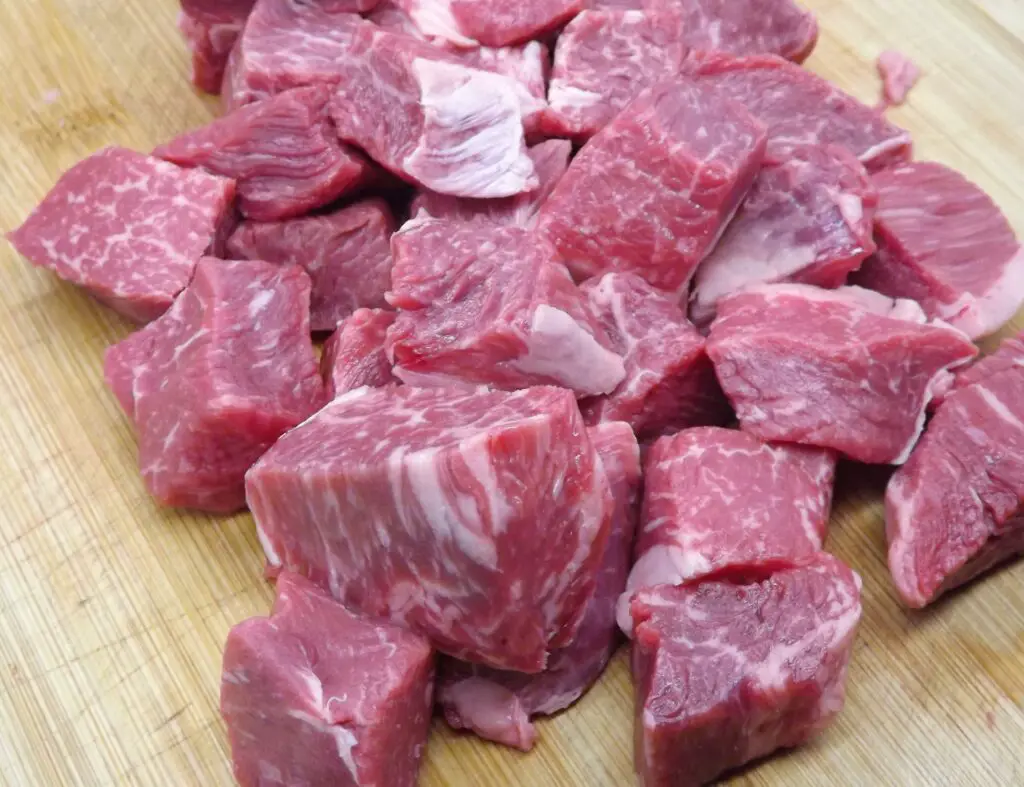 With your skewers soaked in water, you can cut the sirloin steak, or whatever it was you choose to use, into approximately 1″ x 1″ pieces. After the beef is cut, you will start putting the kabobs together. Alternate shrimp and beef, putting on as much as you can or want. I do try to leave a little bit of space between each piece for cooking purposes and seasoning but that is me.
Once you have the beef and shrimp on the skewers we are going to coat them with some olive oil and add our slat, pepper and garlic to it. Ensure you are rotating and coating all sides well. When you have wrapped up this step we can get ready to place them on the grill.
Grilling Shrimp and Beef Kabobs
Your skewers are now ready so let's get them on the grill. Get your grill up and running and over medium heat is how we will cook the kabobs.
Place them on the grill and let them sit for about 7 minutes on each side. When you are ready to rotate, coat the one side with some melted butter and then when you flip, coat the other side. It is a delicate balance of getting some nice char on the kabobs, ensuring the shrimp is cooked through without drying them out and keeping the meat tender.
After the 7 minutes on each side and basting with the butter, go ahead pull them off and serve while hot.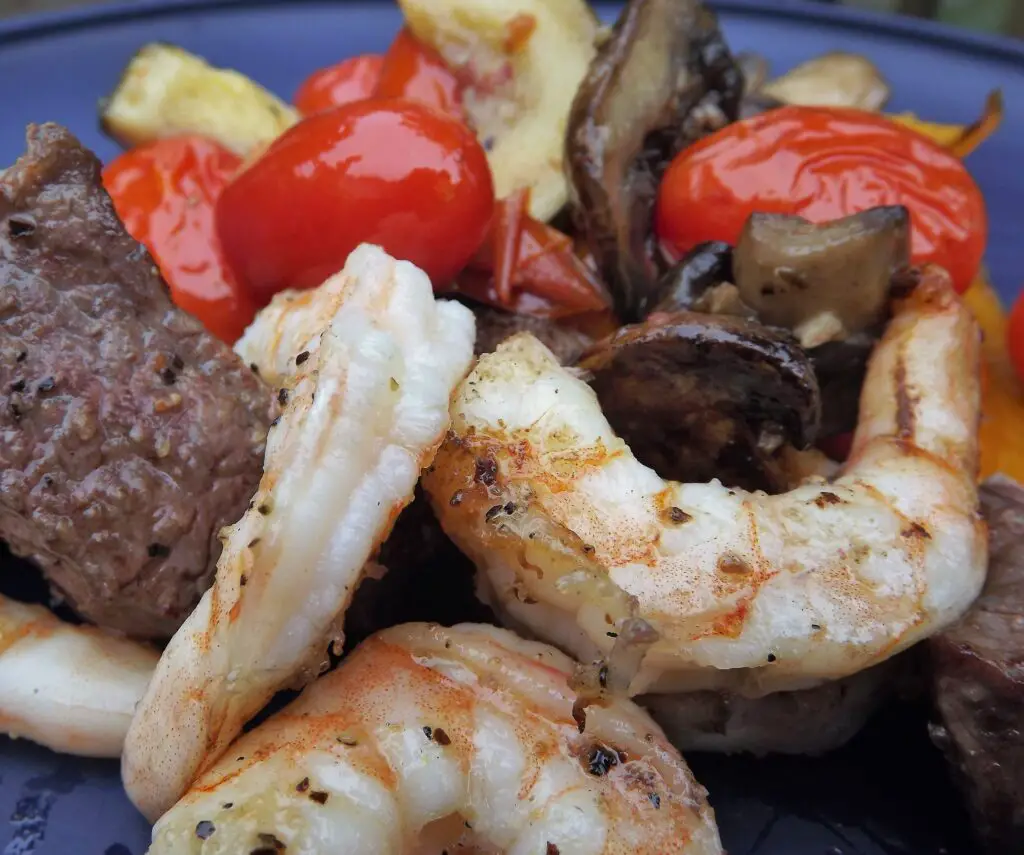 Wrapping Things Up
I promise the family and friends will love this recipe. If you are using this as a main dish and are looking for some ideas on what to serve with steak and shrimp kabobs, try any of these: grilled asparagus, Old Bay Potato wedges, grilled vegetables or mash potatoes.
If you are looking for some other recipes, here are some suggestions:
Thanks for being here and checking out this Steak and Shrimp Kabob recipe. I hope you enjoy it! We always appreciate comments, 5 star recipe rating and social media shares. As always, keep that smoke rolling!
This post contains affiliate links. If you use these links to buy something I may earn a commission. Thanks!
Easy Steak and Shrimp Kabobs
Steak and shrimp kabobs are what you are looking for to meet that surf and turf craving you have. From the prep to finishing on the grill these are easy and will be sure to delight the taste buds.
Ingredients
1.25 lbs. of sirloin
1 lb. of medium or large shrimp
2 tbsp of salt
2 tbsp of pepper
2 tbsp of garlic powder
2 tbsp of olive oil
1/2 stick of butter
Instructions
If you are using wooden skewers, soak in water about 30 min in advance to ensure they do not burn
Dice your sirloin into cubes approximately 1"x1"
Place shrimp and beef on skewers alternating each one. I like to leave a small space between each
Brush on olive oil to all sides of the shrimp and beef
Combine your salt, pepper and garlic and then add to the beef and shrimp. Again rotate to ensure you are covering all sides
Place on grill over medium heat for about 7 minutes on each side
Before rotating the skewers, brush on the 1/2 stick of melted before and then rotate and brush on the other side.
When done remove and serve