Its Taco Tuesday, you have a chuck roast and its calling out to be shredded for tacos. These chuck roast tacos are super easy, can be done same day or in advance and will be a family favorite.
Can Chuck Roast Be Used For Tacos?
The answer is yes! And in fact they are a great cut of meat to use for shredded beef tacos. Chuck roast is a great cut of beef to smoke and then use for a variety of dishes, one of them being tacos. You can also use brisket for for shredded tacos, flank steak and skirt steak are other options but my personal favorite is a boneless chuck roast. Chuck roasts are easier on the budget, are one of the better cuts of beef and are great for shredding.
Mexican Chuck Roast Recipe
We are going to smoke this like we would any other chuck roast, if you need some more details on smoking a chuck, check out our Easy Chuck Roast Recipe. The difference is the rub we will be using. I like to keep things simple around here, so what I did on this one is I used Kinder's SPG and added in some cayenne pepper.
For every 1/4 cup of SPG, I added 1 teaspoon of cayenne pepper. Now if you don't have an SPG, simply do equal parts, salt, pepper and garlic powder. I did not use any kind of binder on this chuck, just went direct onto the chuck with the rub. If you were to use a binder, I would suggest you go with an olive oil. It would give just a bit more flavor to the meat than the mustard or something else.
Make sure when you are coating the chuck with the rub you are really getting it into any cut or slits of meat. It will just add more of that flavor to the chuck once you start to pull it.
Smoking A Chuck Roast
Rub is on the beef chuck roast and its time to throw it on the smoker. I did this one on my WSM, but you can do it on your Weber Kettle, or Traeger or whatever else it is you may be using. Chucks are pretty standard so there should not be a lot of variation between smokers on how to do this.
I got my WSM dialed in at 250°, using B&B Char Logs and some pecan wood. You are going to leave the chuck on there for about 10 hours, spritzing it a few times before you wrap it. I mentioned it above but if you need any additional details on smoking a chuck, check out our Easy Chuck Roast recipe.
I used my ThermoPro TP20, which is great for these one meat smokes. Highly recommend if you are looking for a good product, without breaking the bank.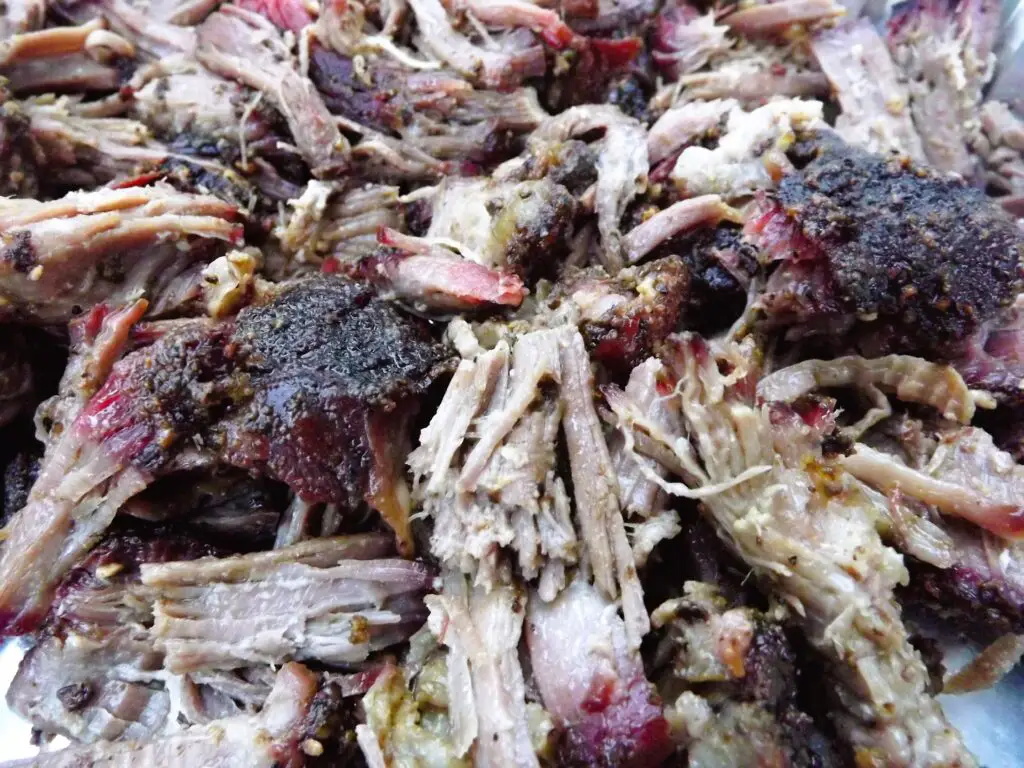 Once you wrap around that 160° IT, you will let it go for a few more hours and take it to an IT of about 205°. You want to leave it on until it is probe tender. I have taken chucks up to 210°, with no issue, just so it got to probe tender. Each roast will behave a little differently, so be flexible with your process. Once the chuck is ready to pull, we are going to let it rest for about 30 minutes and then we will shred it.
Reheating Shredded Beef
If you are making this in advance, maybe a day before or reheating after freezing you can put the meat in a slow cooker with some beef broth and reheat in there. You can also take the shredded beef and place it in the oven, again with some beef broth and reheat slowly in a foil pan, keep it covered. The other option is to take a vacuum sealed bag and throw it in some warm water and reheat that way as well. Keep the water warmed over medium heat, at the highest. When reheating, we want to avoid cooking the meat further so a continued low and slow method is how you want to approach the reheat methods.
Chuck Roast Tacos Ingredients
Now that the meat is done we can start putting our tacos together. I will briefly review how to make Mexican style tacos. This list of taco ingredients is pretty basic, as is the case with true Mexican tacos. You will need the following items:
Cilantro
White onion
Corn tortillas (flour works as well)
Hot sauce
Salsa
Radishes
Limes (No limes? You can use a squirt of lime juice in a bind. The limes are just to be squeezed to add to the tacos)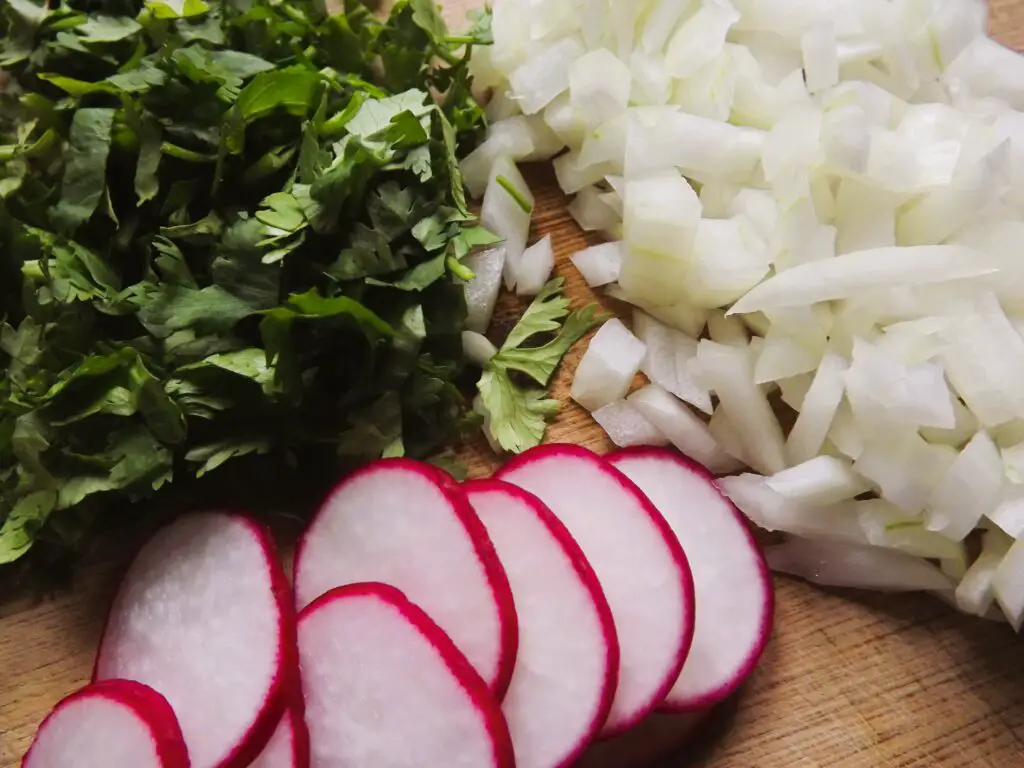 The cilantro and white onion will get chopped and put to the side. The radishes will be sliced thinly and you can quarter the limes. Once you have everything shredded, chopped and laid out you are ready to assemble your chuck roast tacos. You can top it off with some hot sauce (we use Valentina around here) and salsa.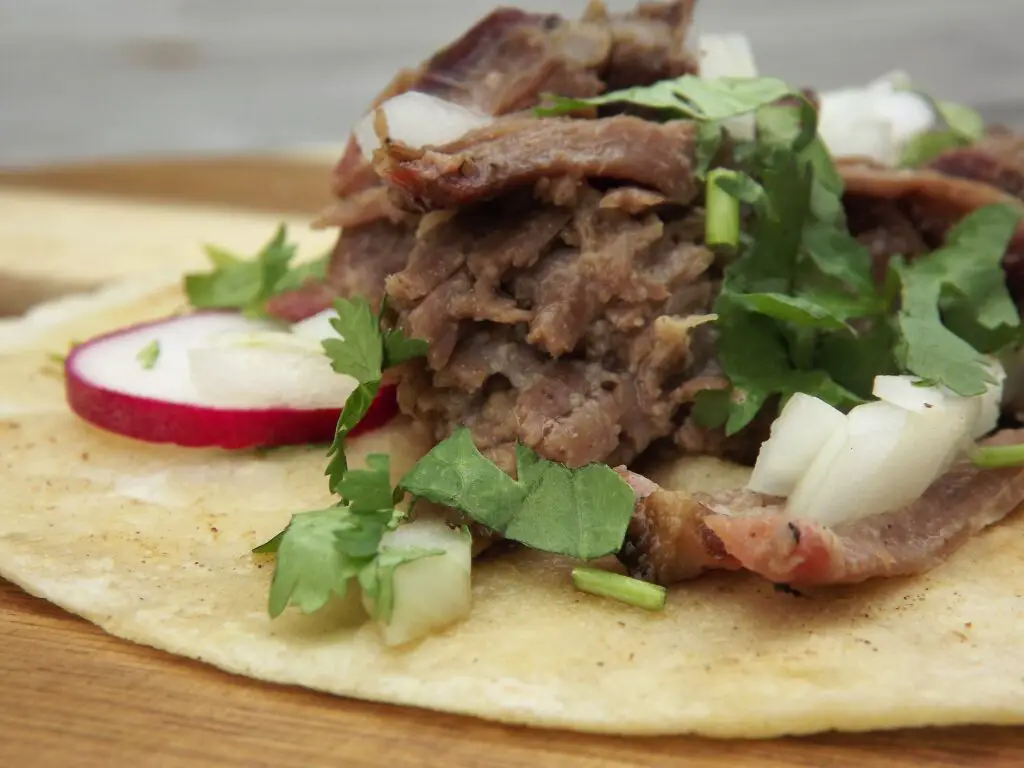 These tacos and the way they are made, you will find to be more of an Mexican, authentic shredded beef tacos recipe. All the hard shells and lettuce and cheese and so on, that is an American style taco. If you are looking to keep things on the more authentic side of a Mexican beef taco recipe, this is the way to go.
Thanks for being here and checking out this Chuck Roast Tacos recipe. I hope you enjoy it! We always appreciate comments, 5 star recipe rating and social media shares. As always, keep that smoke rolling!
If you are looking for some other recipes and ideas on what to put on the grill or smoker here are some suggestions:
This post contains affiliate links. If you use these links to buy something I may earn a commission. Thanks!
Chuck Roast Tacos
Additional Time:
30 minutes
Total Time:
10 hours
15 minutes
Its Taco Tuesday, you have a chuck roast and its calling out to be shredded for tacos. These chuck roast tacos are super easy, can be done same day or in advance and will be a family favorite.
Ingredients
3 lb chuck roast
1 tsp of cayenne pepper
1/4 cup of SPG dry rub
corn tortilla
1 bunch of radishes
1 bunch of cilantro
1 white onion
hot sauce of choice
salsa of choice
1 lime
Instructions
Set up smoker for 250°, using pecan wood
Apply the combined cayenne pepper and SPG rub to the chuck roast
Place chuck roast on smoker. It should take about 10 hours, depending on the size
Spritz with apple cider vinegar every hour until you wrap it
Wrap when bark is acceptable
Take to an IT of about 205° or probe tender
Remove and let rest for 30 minutes and then shred
Assemble tacos to your liking with the ingredients detailed above
Enjoy!
Nutrition Information:
Yield:

10
Serving Size:

1
Amount Per Serving:
Calories:

335
Total Fat:

21g
Saturated Fat:

9g
Trans Fat:

1g
Unsaturated Fat:

11g
Cholesterol:

113mg
Sodium:

133mg
Carbohydrates:

3g
Fiber:

1g
Sugar:

1g
Protein:

34g
This data was provided and calculated by Nutritionix on 7/11/2022