Smoked barbacoa tacos are easy to prep and will make for an awesome addition to your Taco Tuesday rotation. The blend of jalapeno, onions and hot sauce, in the braise, will make your mouth water. We are going to use a chuck roast for this recipe. Chucks are easier to find out there and are a cheaper option. If you have ever had a chuck roast you will know, you are not sacrificing any flavor. The adults in the family we will come back for more, as will the kids. Let's dive in and spice up that Taco Tuesday menu.
What Kind Of Meat Is Barbacoa?
Let's brush up on our Spanish to start this off, barbacoa is the Spanish word for barbeque. Hence its Spanish origins, this is primarily a Mexican dish. As I mentioned earlier for this recipe we are using chuck roast and that is a viable option but it is not the only option.
What is barbacoa made of? You will frequently see barbacoa being made with beef cheeks. As was my case, beef cheek meat was not easy to find, at least not where I live. None of the grocery stores have it and calling around to several local butchers I was also unable to find them. Beef cheeks are great for barbacoa if you can find it. Whatever the selection of beef you choose you want one that provides plenty of fat dispersed throughout the meat, allowing it to stay moist throughout the cooking process. Its on my bucket list to make some beef cheek barbacoa.
Traditionally in Mexico you will see authentic barbacoa recipe being made with beef, goat, lamb or mutton. If using one of these meats your best bet to find a quality cut is at local butcher.
Smoked Barbacoa Recipe
Your average chuck roast, from a grocery store is about 2 lbs. give or take. If you head over to a butcher you can usually find larger chucks, but with this recipe I am going with a grocery store bought that is coming in at exactly 2lbs. These smoked beef tacos will feed our family of 6, and every once in a while there are some leftovers but its rare.
As you prep your smoker, I am doing this on my 18″ WSM, using B&B char logs and 1 chunk of pecan and 2 wood chunks of apple. You are going to get your smoker up to a temperature of 275°.
Prep on this is easy, you are going to season it with a dry rub of your choice. For the barbacoa seasoning in this recipe I went with Spiceology and their Chile Margarita rub. You can find it here at Ace Hardware. I opted to not use a binder on this one. If you are looking to read more about binders, check out our article here. As soon as your smoker is up to temperature go ahead and put it on.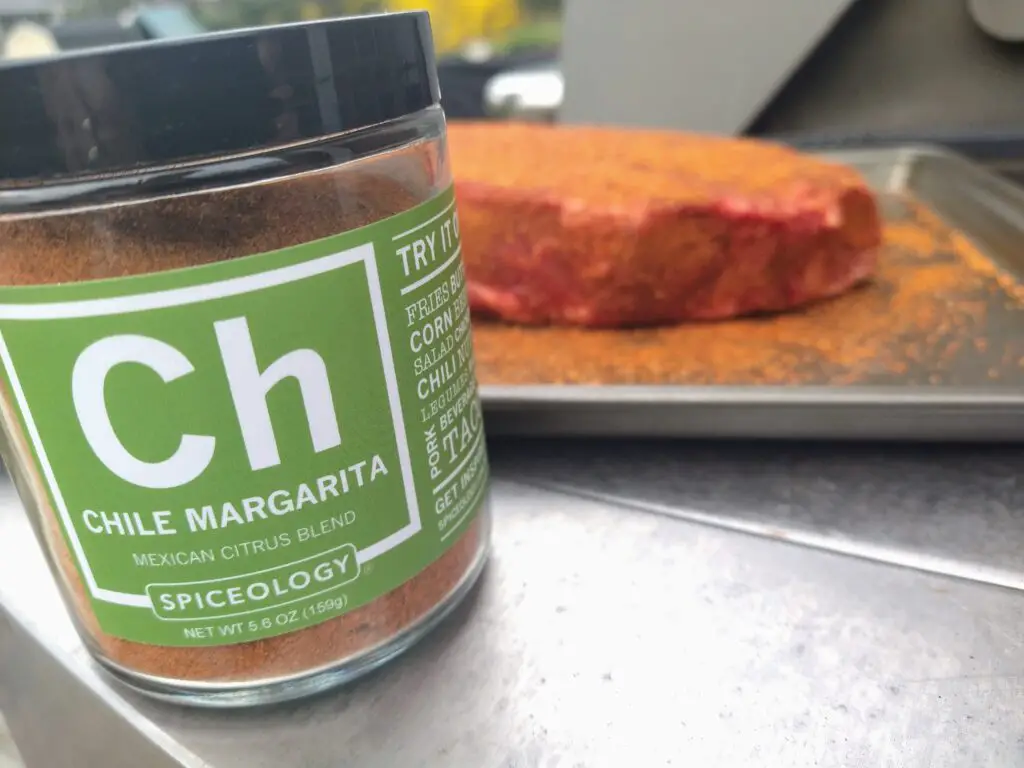 Once you have your chuck on the smoker, we are going to let it ride for about 4 hours or until you get a nice bark on it. That should be about when it also hits the stall around an internal temperature of 160°. I did not spritz this at all while in this first phase, so all you need to do is keep an eye on that internal temperature and gauge how you feel about your bark before pulling it. I pulled this at 170° and moved the chuck into the pan. You could also use a Dutch Oven at this step. I prefer the easy clean up myself and stick to foil pans.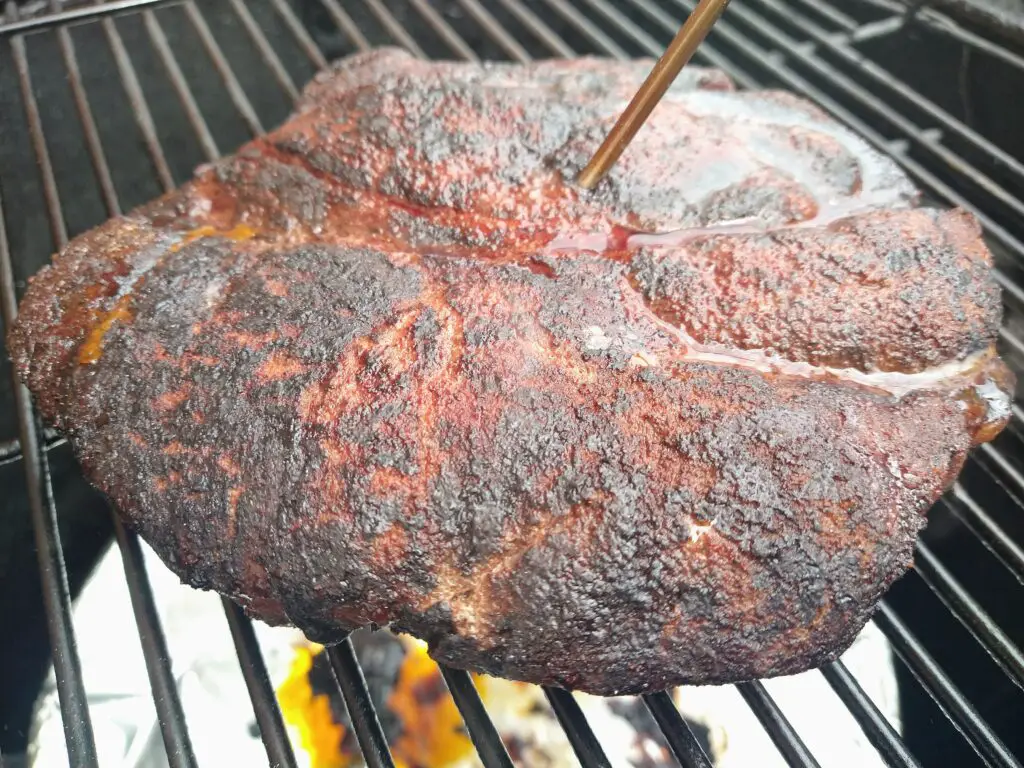 As I moved this over to the pan, I added the following ingredients:
1/2 white onion
2 jalapeno, seeds removed and sliced into quarters
1 tablespoon of Valentina hot sauce
I tablespoon of minced garlic (you can use fresh garlic cloves as well for this or in a real, pinch garlic powder but I rarely recommend that)
2 cups of beef broth
Because we are using the Spiceology Chile Margarita spice mixture on the chuck, we are not using many of the normal ingredients, like salt, black pepper or chili powder. A lot of those flavors are being captured in the rub when we make the smoked beef barbacoa.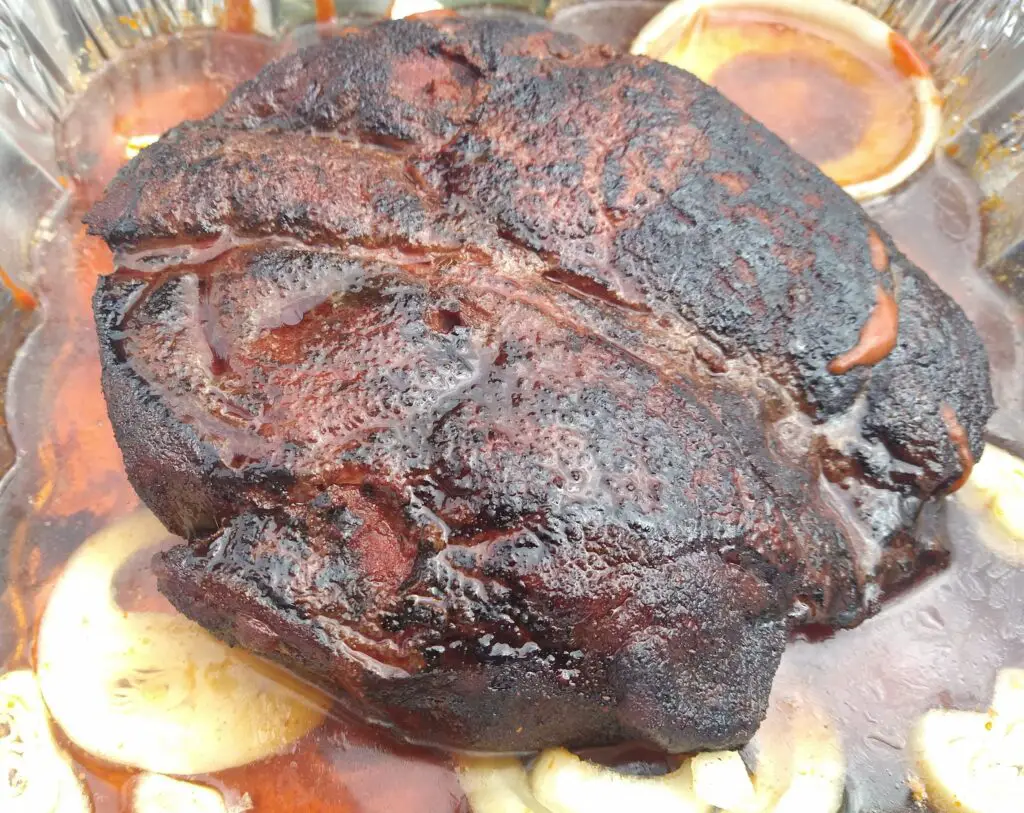 With the chuck roast in the pan with the other ingredients, I covered it with foil and placed it back on the smoker. We are now going to keep it panned until we reach an IT of about 210°. If you are familiar with chucks, they can stall out like any large cut of beef or pork. Once you have it in the pan, with the liquid and covered, it will break through the stall rather quickly. For this particular 2lb chuck, it stayed on just shy of 2 hours before getting to that ideal IT of 210°.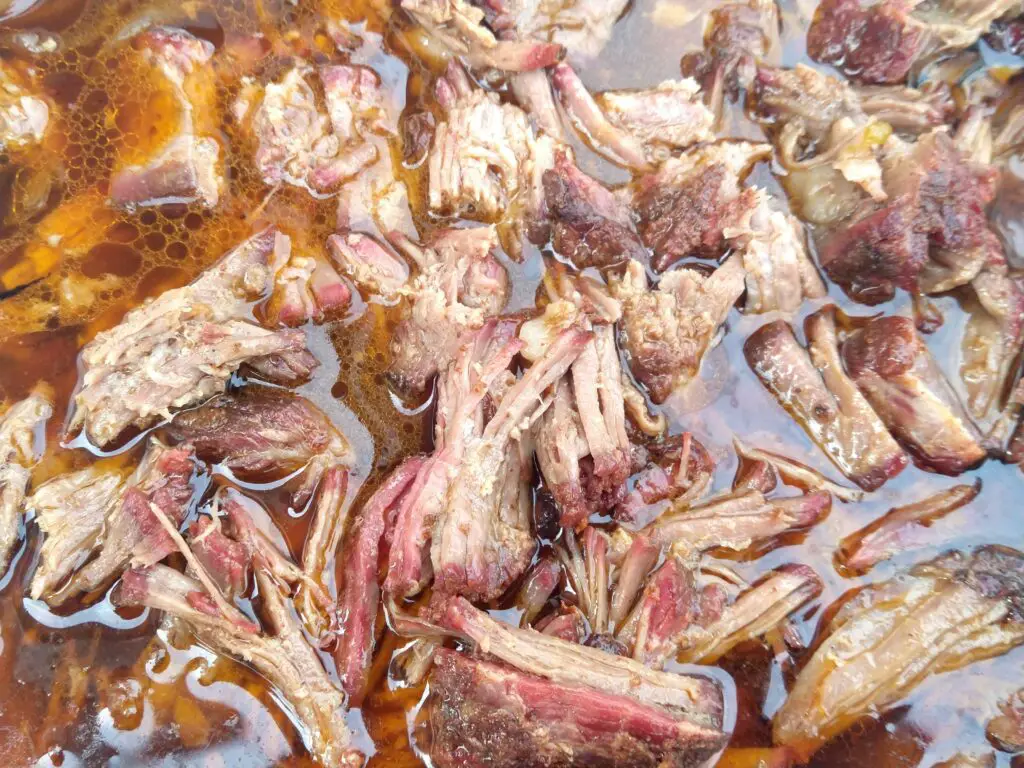 Smoked Beef Barbacoa Tacos Prep
After having pulled the chuck roast you can shred it, leaving it in the liquid and serve from the pan. While the meat is wrapping up on the smoker, use that time to dice some onions and chop some cilantro to top the tacos. Use your choice of corn or flour tortillas for this tacos.
Corn tortillas, will give that more authentic feel but go with that works. If you are going to use corn tortillas, I would suggest warming up with tortillas first. A quick spray on each side with some cooking spray and throwing on a pan will keep them tender and not breaking apart on you while eating. Feel free to top the tacos off with any kind of hot sauce or salsa of your choice. Serve with a nice side of cilantro lime rice and you are off to a great meal.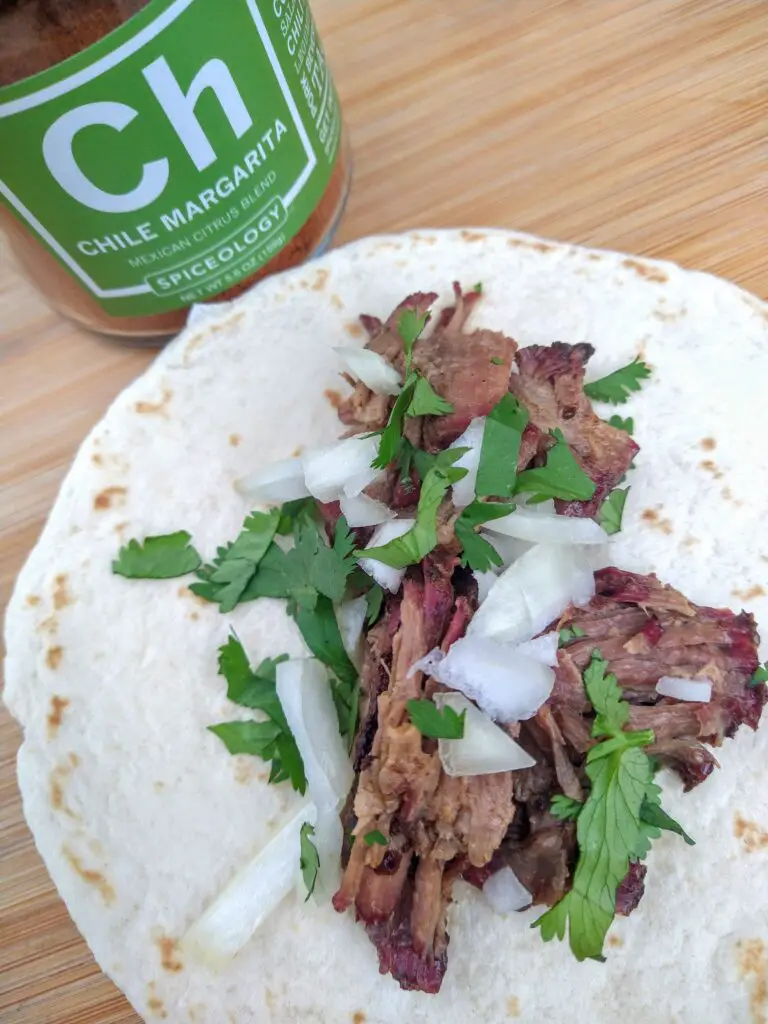 I hope you enjoyed this smoked barbacoa tacos recipe and this is a good add to your Taco Tuesday rotation. If you are looking for some other ideas and recipes take a look at some of these suggestions:
Thanks for being here and checking out this smoked barbacoa tacos recipe. I hope you enjoy it! We always appreciate comments, 5 star reviews and social media shares. Keep that smoke rolling!
This post contains affiliate links. If you use these links to buy something I may earn a commission.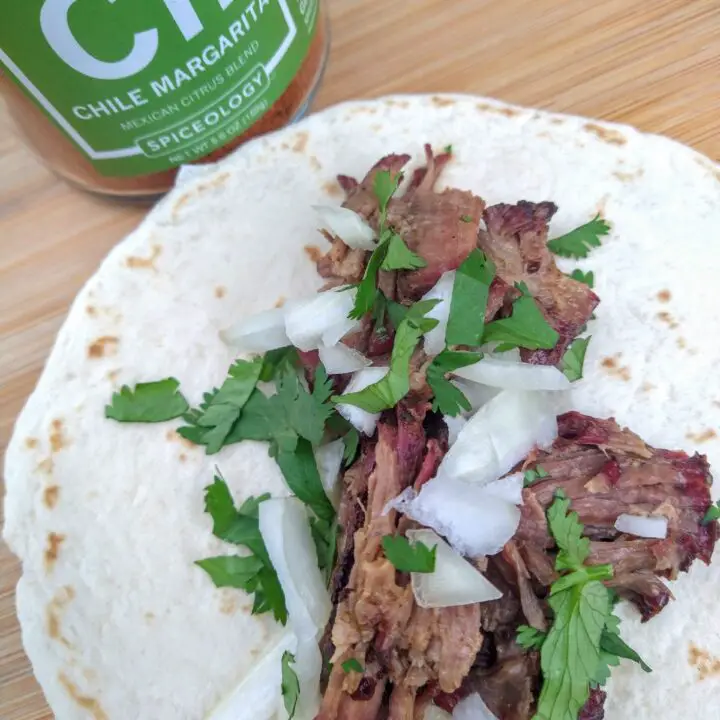 Smoked Barbacoa Tacos
Additional Time:
15 minutes
Total Time:
6 hours
45 minutes
Smoked barbacoa tacos are easy to prep and make for an awesome addition to your Taco Tuesday rotation.  After trying this once, it may become a staple in your house!
Ingredients
2.5 lb. chuck roast
Dry rub of choice (I used Spiceology Chile Margarita)
1/2 white onion (save the other half for taco garnish)
2 jalapenos
1 tablespoon of Valentina hot sauce (you can do more if you like your food spicy
I tablespoon of minced garlic (you can use fresh garlic cloves as well for this)
2 cups of beef broth
Instructions
You are going to get your smoker up to a temperature of 275° using 1 chunk of pecan and 2 wood chunks of apple.
Coat your chuck with a rub of choice and prepare to place on the smoker
Smoke the chuck roast until you hit an internal temperature of 160° or you feel you have a good bark on the chuck
Slice the onion, jalapeno (into 1/4's with seeds removed) and place in a pan
Remove the chuck, place in the pan with the onions, jalapeno, minced garlic, broth and hot sauce and cover with foil
Smoked until you get to an internal temperature of 210°
Remove and shred the chuck roast and serve hot
Nutrition Information:
Yield:

8
Serving Size:

1
Amount Per Serving:
Calories:

344
Total Fat:

22g
Saturated Fat:

9g
Trans Fat:

1g
Unsaturated Fat:

11g
Cholesterol:

118mg
Sodium:

378mg
Carbohydrates:

1g
Fiber:

0g
Sugar:

0g
Protein:

36g