These grilled chicken sliders are a prefect addition for your Big Game menu or for that mid summer BBQ dinner. This is really easy chicken sliders recipe, with your prep time being 15 minutes and your grill time another 15 minutes. Not only are they great for that NFL game but these are kid friendly and will also be wife or husband approved. You will have some great tasting sliders before you know it for everyone to enjoy.
Grilled Chicken Sliders Prep
We are going to start with two boneless skinless chicken breasts, which is approximately 1lb of chicken. For this recipe was are going to slice the breasts in half and then we will then season both side with some salt and pepper to taste.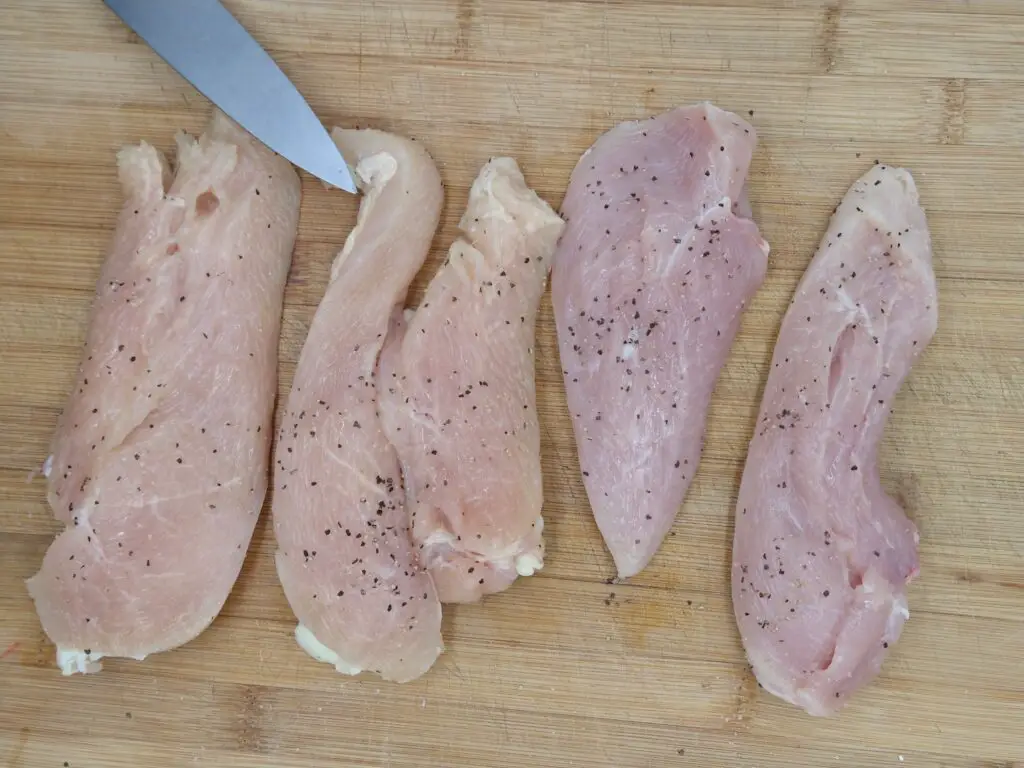 Once that is done, take the chicken pieces and place them in a Ziploc bag. You will then add your buffalo sauce of choice. For this recipe I am going to be using Frank's Red Hot Wing Sauce. Let the breasts sit in the bag for no less than an hour, 2-3 hours is best so the sauce really has some time to soak into the chicken breast.
This recipe calls for grilled buffalo chicken sliders but if you want to substitute that out for another type of barbecue sauce you can always do that as well.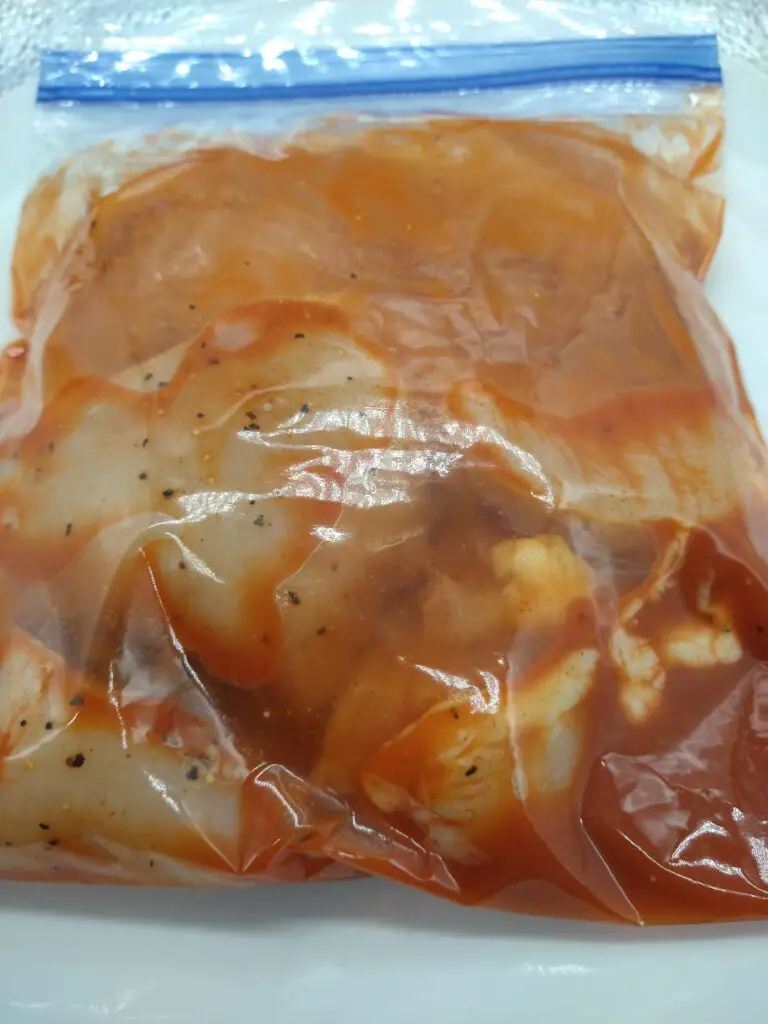 As the chicken is wrapping up its time in the bag with the buffalo sauce you can crank up the grill to a medium heat.
How To BBQ Chicken Sliders
As we move on with this this grilled chicken sliders recipe the first thing I did was cut the chicken into smaller sections for the slider. You can do this before marinating in the sauce, I chose to do it after. Next we will place them on the grill over medium heat. We are going to grill on each side for about 5-6 minutes or until the chicken reaches an IT of 165°. As you are grilling add some additional buffalo sauce to the chicken, ensure to add it to each side when you flip the chicken.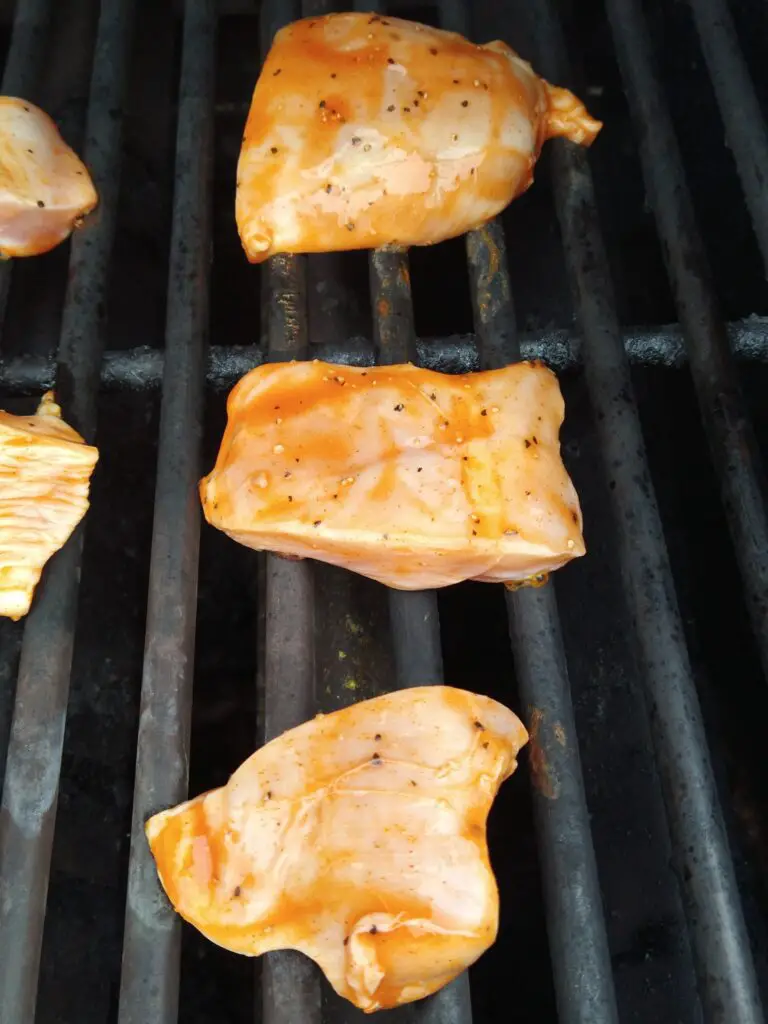 Assuming you have a grill large enough, while you are grilling the chicken, you can take your rolls, cut them in half and toast them for a few minutes. For this particular recipe I decided to go with Hawaiian rolls. Once the chicken has hit an IT of 165°, go ahead and move the chicken breast to your upper rack and we are going to add some pepper jack cheese to them for some additional flavor.
Once you see the cheese melting go ahead and pull the chicken from the grill.
Making The Grilled Chicken Sliders
By now we have the chicken grilled, the slider rolls toasted and some cheese melted. It is a matter of pulling it all together. Place your chicken on the roll and you are going to add your choice of ranch or blue cheese. So I am going to admit I am a fan of ranch over the blue cheese, therefore I will be adding ranch. If blue cheese if your thing, go ahead and add that to the slider.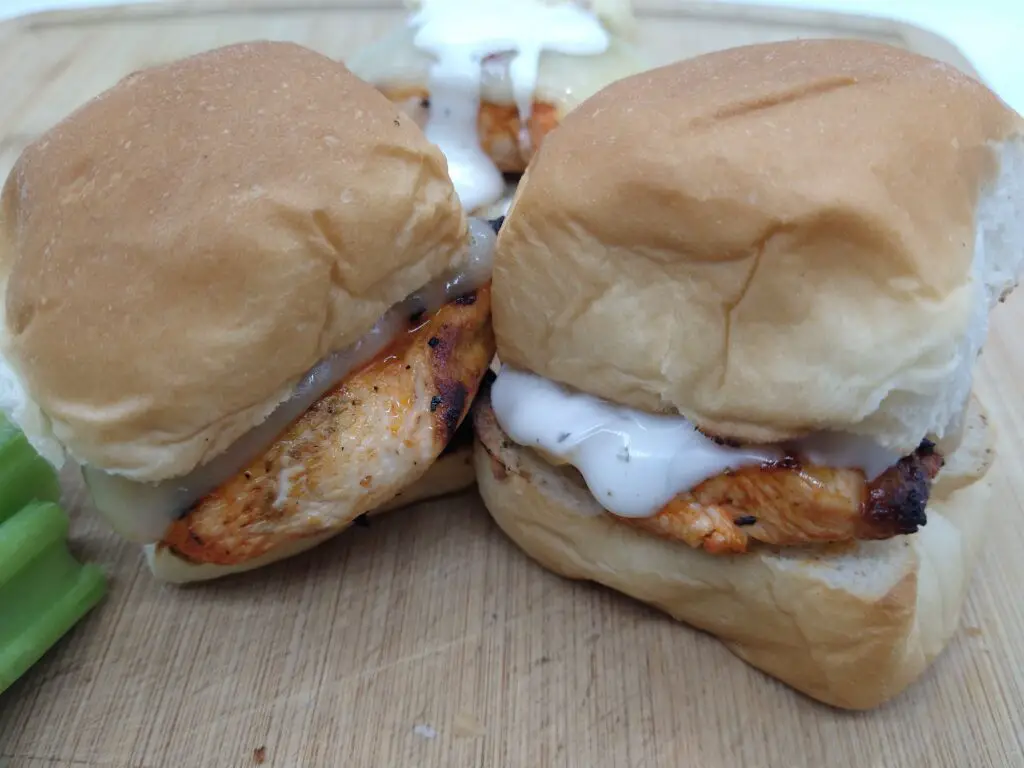 As per the usual agreement when it comes to anything buffalo chicken, you will need some sides of celery and carrots. Beyond that, get creative in how you want to dress these grilled chicken sliders up.
Here are some other ideas you may want to consider:
Add some French fried onions as a topping
Bacon, when is it ever a bad idea to add bacon to something
Lettuce, tomato and onions, or any combination of those three
Cheeses, try a swiss or a mozzarella or a cheddar or American
Looking for some additional heat add some Flat Iron pepper flakes or some hot sauce
I hope you enjoyed this recipe for grilled chicken sliders. If you are looking for other chicken recipes or another idea for the Big Game party or BBQ check out some of these other recipes:
We always appreciate comments, 5 star recipe rating and social media shares. As always, keep that smoke rolling!
Thanks for being here and keep that smoke rolling!
This post contains affiliate links. If you use these links to buy something I may earn a commission. Thanks!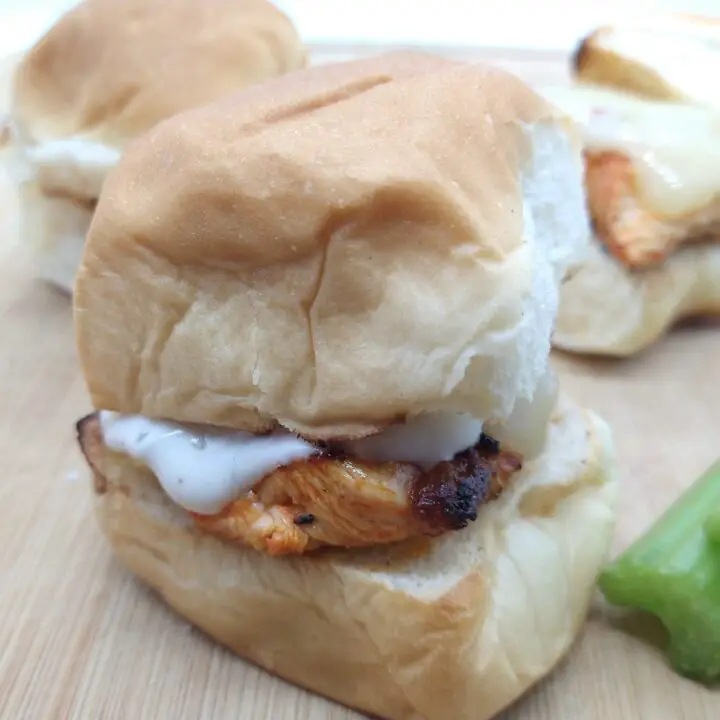 Grilled Chicken Sliders
These grilled chicken sliders are a prefect addition for your Super Bowl menu or for that mid summer BBQ. Your prep time is 15 minutes and your grill time another 15 minutes. You will have some great tasting sliders before you know it.
Ingredients
1 lb of chicken breasts
Salt to taste
Black pepper to taste
Buffalo sauce of choice
Hawaiian Slider Buns
Pepper Jack cheese
Ranch Dressing or Blue Cheese
Celery and/or carrots
Instructions
Slice the chicken breast in half
Add salt and pepper to both side to taste
Using a buffalo sauce of your choice to marinate the chicken in for no less than 1 hour
Either before marinating or after but before grilling cut the breasts into sections to fit the rolls
Grill the chicken for about 5-6 minutes on each side until your reach an IT of 165°
While grilling occasionally add some more sauce to the chicken
Toast rolls on the grill while chicken is grilling
When the chicken is completed move to your warming rack and add cheese to melt
After cheese has melted remove and place on rolls
Add ranch, blue cheese or other toppings of choice
Serve while hot!
Nutrition Information:
Yield:

3
Serving Size:

1
Amount Per Serving:
Calories:

368
Total Fat:

13g
Saturated Fat:

4g
Trans Fat:

0g
Unsaturated Fat:

8g
Cholesterol:

144mg
Sodium:

591mg
Carbohydrates:

8g
Fiber:

1g
Sugar:

3g
Protein:

50g