This smoked pork loin recipe is a perfect dish for the holiday or a typical weekend when you are having some guests over. You can easily prep this recipe and have it served in a matter of hours. It goes great on your WSM, Weber Kettle or your favorite pellet or offset. We are going to do this pork loin with some East Carolina injection.
Before we get started I want to point a difference here between a pork loin and a pork tenderloin. The pork tenderloin is a smaller cut of meat, think if you were going to make some sliders. It fits perfect on slider rolls. A tenderloin has much more fat on it and therefore allows for the low and slow method without many concerns. The fat as it renders will keep that tenderloin nice and juicy.
For our recipe we will be smoking a pork loin. This cut of meat is going to be much larger, think pork chops and has much less fat to render thereby not allowing the meat to stay and tender and juicy during the process. It is worth noting that pork loin is not a cut of pork that you will make pulled pork out of. The cut of meat you would want to use for that is a pork butt.
Now that we have tackled those differences let's start to look at this recipe. We will be smoking a boneless pork loin for this recipe. I had actually bought this at Costco and it was about an 8lb cut of meat but I sliced in it half, vacuum sealed the other half for another day. Depending on your smoker you may need to cut it in half regardless but for this recipe we will be dealing with a 4lb cut of pork loin.
Let's start to dive into the details of this smoked pork loin recipe.
Smoked Pork Loin Recipe Prep
Before you get the smoker going you are going to make the pork injection and then let it sit for a bit to get the flavors really working together. Because we are going to let it sit after injecting, it acts as a pork injection marinade type of method. We are going to go with an East Carolina flavor for this smoked pork loin recipe. I used a simple meat injector that I got off Amazon to inject the pork. I let the injection sit for about 6 hours before using it.
Make sure you leave some of the injection because you will need to use some of it later to baste the pork loin. For the injection we will need the following:
1/2 cup distilled white vinegar
1/2 cup apple cider vinegar
1/2 cup of water
2 tbsp. of brown sugar
1 tsp. red pepper flakes ( for this recipe I used FlatIron pepper flakes. I highly recommend if you have never tried them)
1 tsp. of chopped onion flakes
1 tsp. minced garlic (You can use powder if you would like. In this application it does not matter that. Just watch that you don't suck it into your injector)
1 tsp. dry mustard
1/2 tsp. of black pepper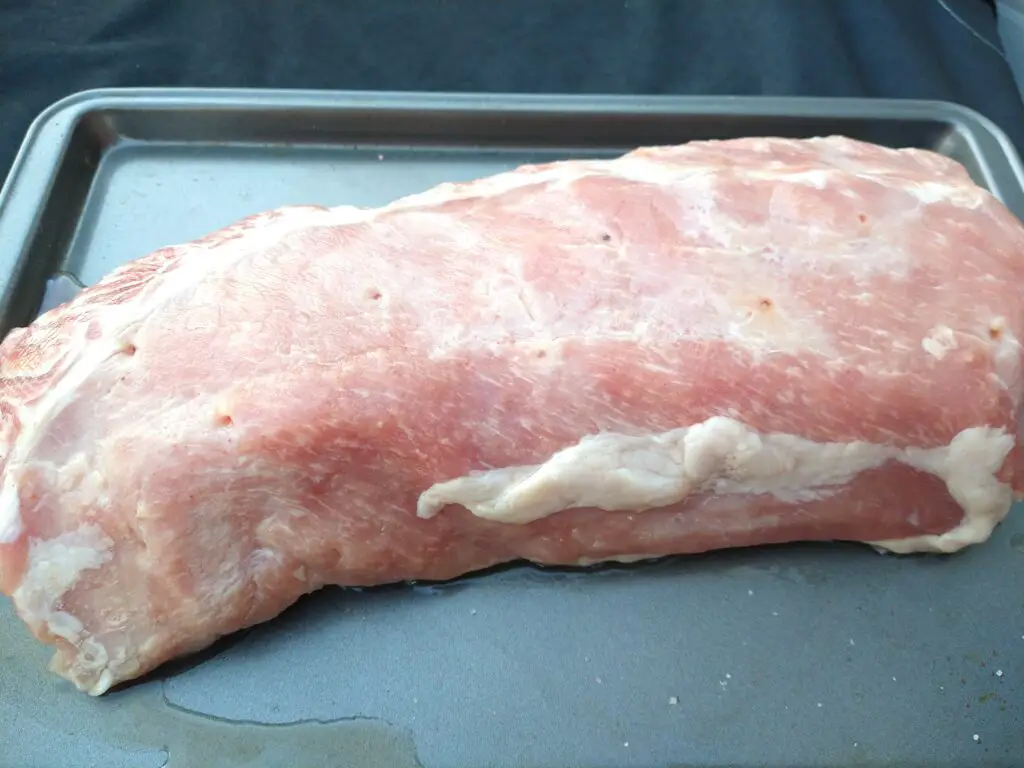 Now that you have the injection together we can move on to the smoker prep and loin prep. I did this recipe on my Weber Kettle, using B&B char logs, hickory wood and the snake method. You are going to want to get the Kettle up to about 375. Because pork loin does not have a lot of fat the low and slow method does not give you the best chance to turn out a great product. You are better off going a little hotter and faster with this one.
While the smoker is getting up to temp, we can start on the pork. Just to note any fat that is on here, I would not suggest trimming it. Work with what you have, its minimal to being with and trimming off the little you have will provide little benefit.
With that being said, there is little prep to the actual meat. I coated the pork loin with some pink salt and that was all. Once my injection had some time to blend, I then injection pretty heavily throughout the loin. When injecting be mindful that you may have used the minced garlic and pepper flakes, you will struggle to inject that but you will want it for later with the basting so do not strain any of those big items out when injecting.
After you finish with the injection save what is left because you are going to baste the pork loin a few times while its on the smoker.
Smoking A Boneless Pork Loin
Now that you have injected the pork loin, rub with some salt the pork loin should be ready to throw on the smoker. Place the loin on the smoker and baste it once. Make sure you are mixing it up so you are basting with some of the garlic and pepper flakes in there. You will then baste it about every 30 minutes or so. This took about just under two hour to get to 135. At that point I pulled it and then did a reverse sear on it. I did about 3 minutes on each side.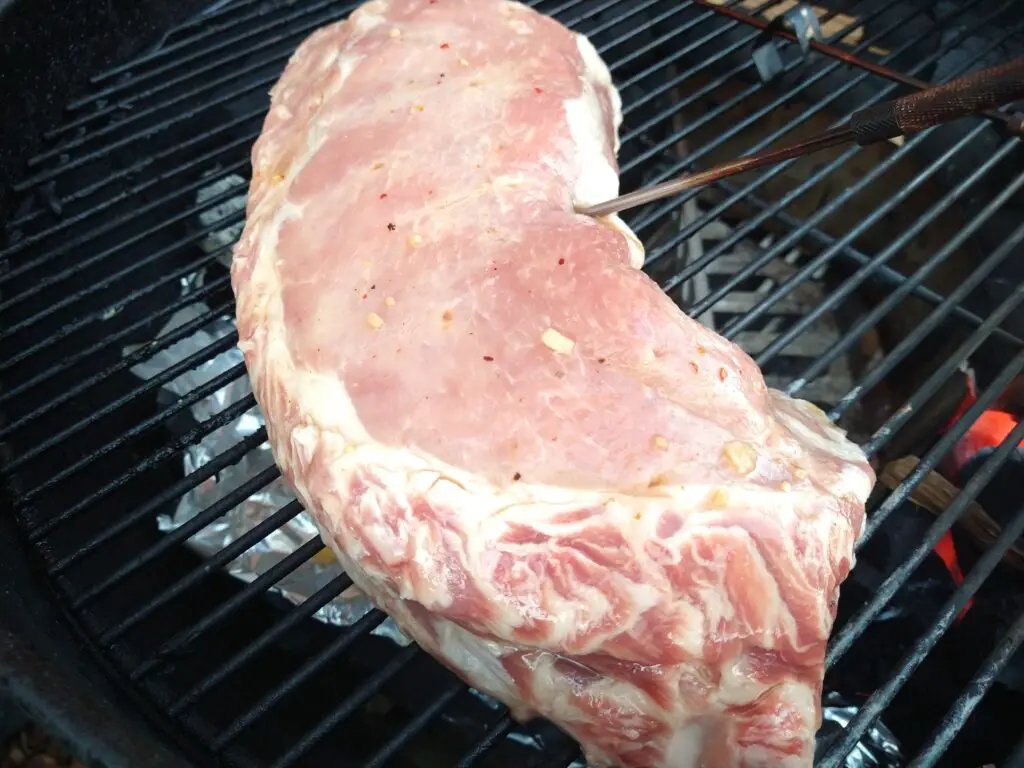 Smoked Pork Loin Recipe Results
You now have it smoked, reversed seared, the next thing you will want to do is take it and let it rest for about 20 minutes, under a foil tent. After you have given it the 20 minutes to rest you can start to slice the smoked pork loin.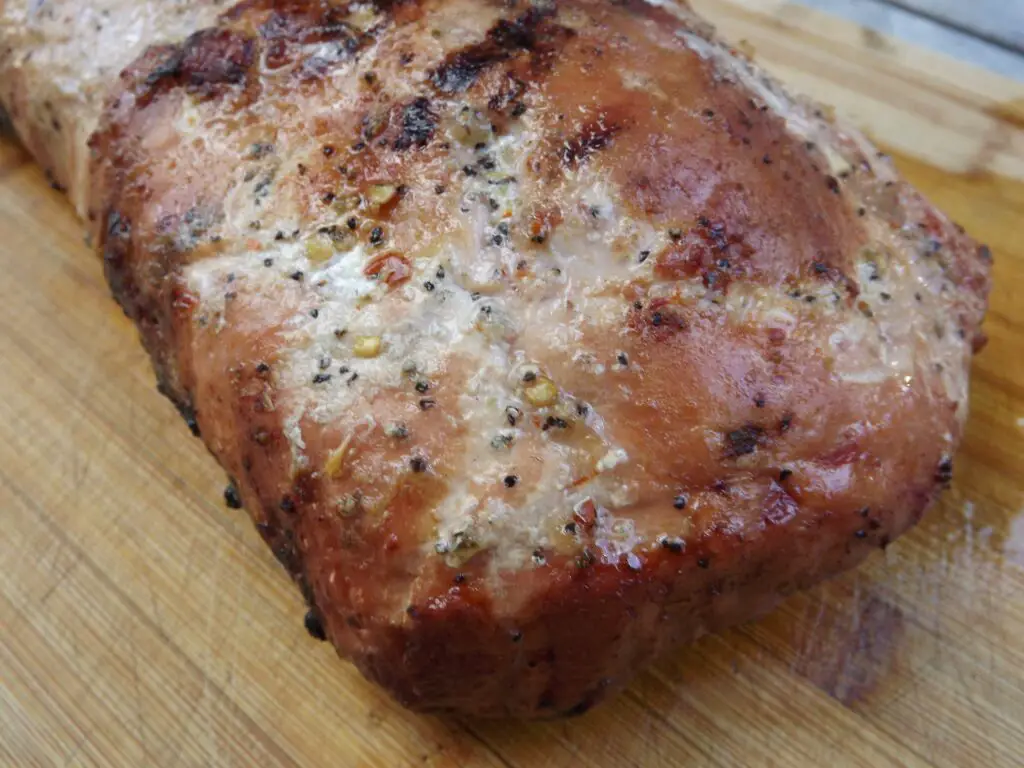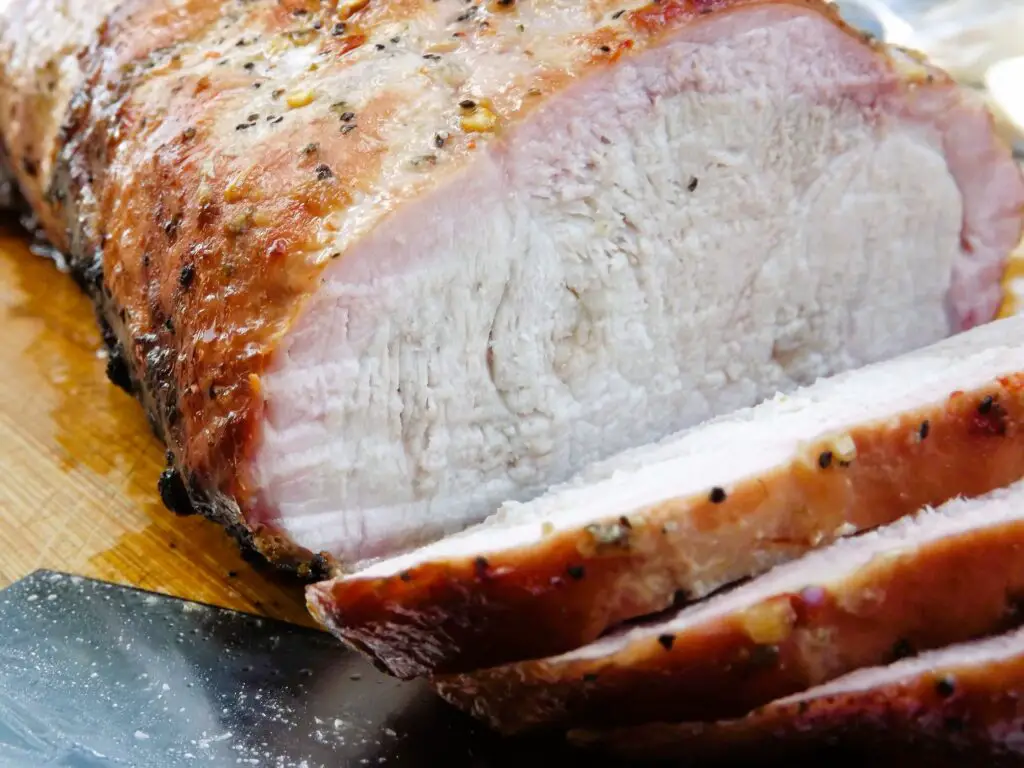 After you have sliced the pork loin go ahead and serve. The injection should have kept it nice a juicy throughout. We hope you have found this smoked pork loin recipe easy and full of flavor. If you are looking for some other ideas check out some of our suggested recipes here:
Thanks for being here, if you enjoyed this recipe we appreciate a 5 star recipe rating or leave us a comment. Keep that smoke rolling!
This post contains affiliate links. If you use these links to buy something I may earn a commission. Thanks!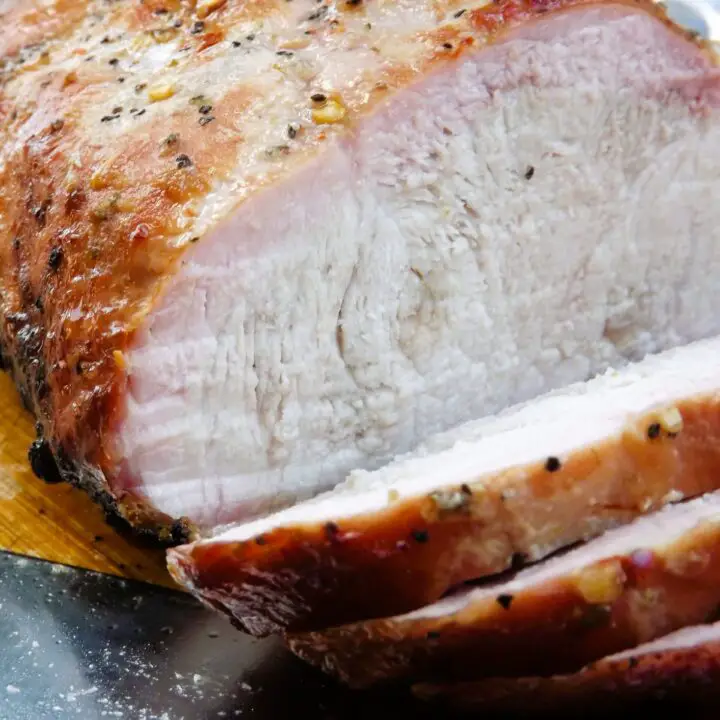 Smoked Pork Loin Recipe
Additional Time:
20 minutes
Total Time:
2 hours
30 minutes
This smoked pork loin recipe is a perfect dish for the holiday or a typical weekend when you are having some guests over. You can easily prep this recipe and have it served in a matter of hours.
Ingredients
4 lbs of pork loin
1/2 cup distilled white vinegar
1/2 cup apple cider vinegar
1/2 cup of water
2 tbsp. of brown sugar
1 tsp. red pepper flakes
1 tsp. of chopped onion flakes
1 tsp. minced garlic (You can use powder if you would like. In this application it does not matter that)
1 tsp. dry mustard
1/2 tsp. of black pepper
Instructions
You are going to crank up your smoker to 375 using hickory wood
Make your injection and let it sit for several hours, I let it sit for 6 hours to get the flavors mixing in
Rub your pork loin down with some salt
Inject your injection mix into the pork loin liberally. Save some for basting later in the process
Place the pork loin on the smoker and start smoking
Baste the pork loin every 30 minutes, ensure to mix your remaining injection so as to ensure you are basting using the minced garlic and pepper flakes for maximum flavor
Once reaching the IT of 135, pull the pork loin and reverse sear for about 3 minutes on each side
After searing, remove and let sit for 20 minutes while tented
After resting slice and serve
Nutrition Information:
Yield:

8
Serving Size:

1
Amount Per Serving:
Calories:

455
Total Fat:

20g
Saturated Fat:

6g
Trans Fat:

0g
Unsaturated Fat:

10g
Cholesterol:

181mg
Sodium:

107mg
Carbohydrates:

3g
Fiber:

0g
Sugar:

3g
Protein:

60g