If you are looking for something quick and easy, a nice smoked roast beef on is the way to go. You achieve some amazing flavor with the SPG, combined with the broth and smoke. Especially with beef prices rising, a cut of round roast is going to be on the inexpensive side and you can smoke it in a matter of hours. Perfect for when you have that last minute itch to throw something on the smoker. We know its happened to all of us at one point or another!
For this particular recipe I went with a bottom round roast but you can use a top round roast as well. Either will work for a great smoked roast beef.
Interested in another cut of meat and have never smoked chuck roast, you need to try your hand at that one, its amazing!
Smoked Roast Beef Prep
I am a Weber guy and so I have done these on my WSM and Kettle but you can use this recipe on your pellet smoker, electric or whatever is your smoker of choice. So I crank my smoker up to 225°, using B&B char-logs and Weber Pecan wood chunks. More often than not, I find myself going with Pecan, sometimes I will mix in some cherry or apple. Pecan has always seemed to be the most versatile wood out there and in many cases is my go to.
While the smoker is getting up to temp, we can start prepping the meat. We will start with injecting the beef with a beef broth. After injection, you can season it with salt and pepper along with some garlic powder. I used Kinders SPG dry rub for this recipe but other wise you can go ahead and do equal parts of salt, ground black pepper and garlic. Personally I am a fan of the Kinders SPG.
On this particular recipe, I grinded some Flatiron Pepper Co. Hatch Valley Flakes up and seasoned with that as well. If you have not tried any of the Flatiron products, do so, you are missing out. They make some great pepper flakes and provide several different varieties! You are going to do this in a foil tray, makes for easy transport, allows for that broth to stay in there and keep that roast beef nice a moist and it always makes for easy cleanup.
Once you get your smoker up to temperature take your roast beef, in the pan, and place it on the smoker. Whether using a Traeger pellet grill, WSM or electric smoker, this recipe should translate well, its pretty basic.
How To Do A Smoked Bottom Round Roast
Once on there you are looking at about 2-3 hours of smoke time before you start to get to that internal temperature of 135°. If you like yours rare, then maybe you take it to 130 degrees. Once that IT started getting to about 100°, I hit it a couple of times with some apple cider vinegar as well. Because it is in the pan with the broth, its may not be needed but certainly not going to hurt.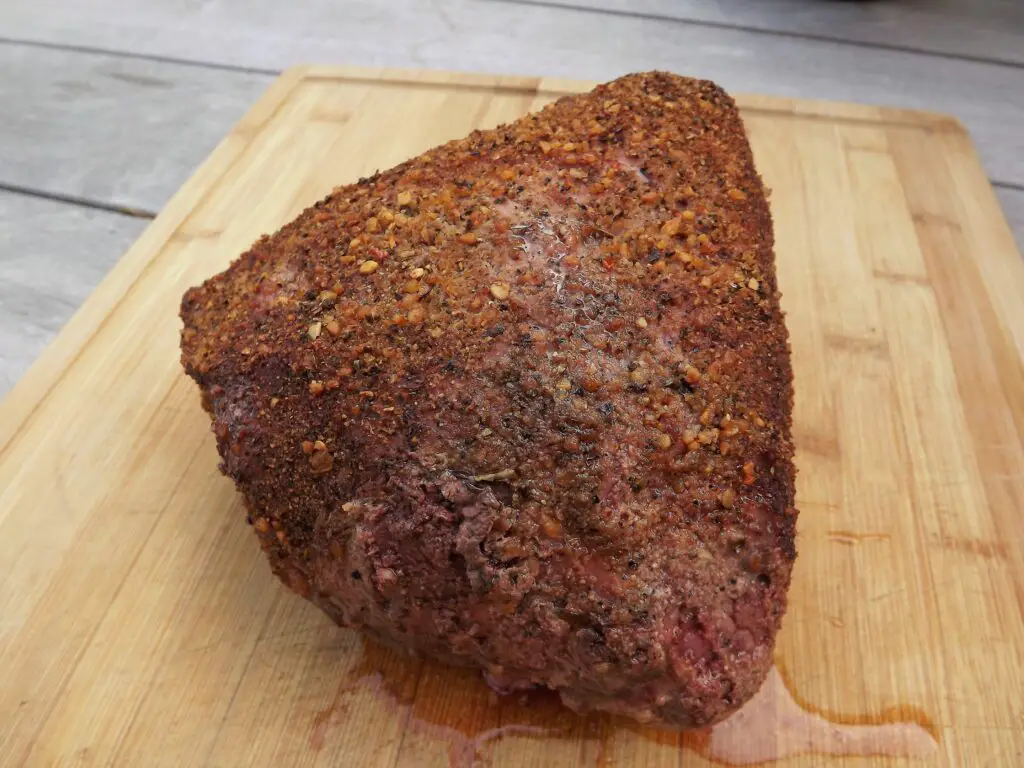 When the roast beef hits internal temperature reaches 135 degrees pull the smoked roast beef off the smoker, tent it with some foil and let it rest for about 15-20 minutes. Once you have given it some time to rest, start slicing. You can serve this two ways, your first option would be to slice it thicker and eat with a fork and knife.
The second option is to slice it thinner and make a sandwich. Using this smoked roast beef for sandwiches is a great way to go and will make some delicious roast beef sandwiches!
If you are from NJ, you will know the name, I use Calandra Italian rolls to make a sandwich and used a creamy horseradish sauce mixed with some mayo. The horseradish has some kick so play around to your liking, I usually go equal parts on the creamy horseradish and the mayo. The kids like going with BBQ sauce on their sandwich and there is always the option of a classic Russian Dressing as well.
This smoked roast beef is a quick and easy smoked roast beef recipe that is great for a weeknight smoke after work or if you just did not have the time to plan ahead.
Thanks for being here, please leave us a comment or review and let us know what you thought. Keep that smoke rolling!
If you are looking for some smoked beef recipe ideas take a look at some of these suggestions: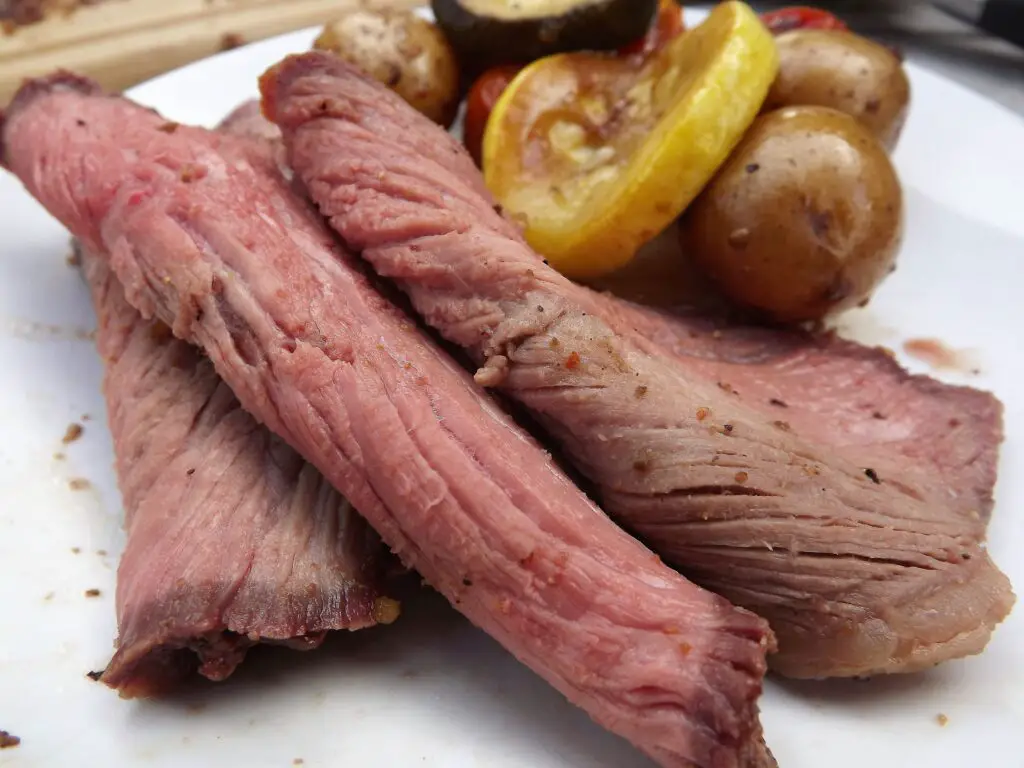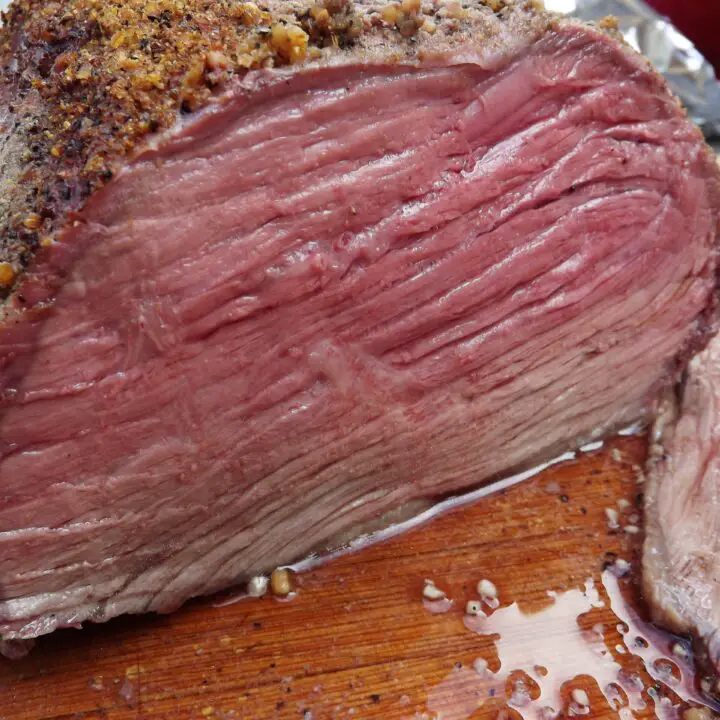 Smoked Roast Beef
Cook Time:
2 hours
30 minutes
Additional Time:
20 minutes
Total Time:
3 hours
10 minutes
A simple and quick recipe option for smoked roast beef.
Ingredients
3lb Bottom Round Roast
Beef Broth
Kinders SPG (or equal parts salt, black pepper and garlic powder)
Instructions
Get your smoker up to temp, for the roast beef you want to keep in the 225°-250°.
While bringing the smoker up to temp, take out your beef and inject it with some beef broth.
Once injected season it to taste with some salt and pepper and garlic. I also took some of the Flatiron Pepper Co. Hatch Valley Green, crushed it and sprinkled it on the beef.
Once you have the the smoker up to temp, take your remaining broth, place it in a pan and put the beef in the pan for smoking.
Once you have it in there, I hit the top with a some spritzes of apple cider vinegar a couple of times.
Bring it to medium rare and look for an IT of 135° and then pull, approximately 2.5 hours.
Let it rest for about 20 minutes, tented with some tinfoil.
Once you let it rest, start slicing. If you happen to have a meat slicer, that is best way to get some nice thin cuts, otherwise use your knife and slice it as this as you can.
Nutrition Information:
Yield:

8
Serving Size:

1
Amount Per Serving:
Calories:

375
Total Fat:

20g
Saturated Fat:

8g
Trans Fat:

0g
Unsaturated Fat:

9g
Cholesterol:

145mg
Sodium:

244mg
Carbohydrates:

0g
Fiber:

0g
Sugar:

0g
Protein:

45g
This data was provided and calculated by Nutritionix on 8/13/2021
This post contains affiliate links. If you use these links to buy something I may earn a commission. Thanks!