Today we are going to do a smoked sirloin tip. They are easy on the budget and quick to do on the smoker. The sirloin tip is a great combination of flavor and tenderness.
I am going to walk you through the steps on how to smoke a sirloin tip on my Weber Kettle. The Kettle is perfect for these smaller and quick smokes.
The sirloin tip is not to be confused with a smoked sirloin tip roast or top sirloin roast so want to briefly break out the differences.
Sirloin Tip Roast or Top Sirloin Roast: This is larger cut of meat, usually more expensive as well. If I were to make a comparison it us more like a top or bottom round roast, with a little more marbling and fat to it. It makes for a great cut of roast beef and /or some roast beef sandwiches, as it is very tender and flavorful. Also great on a rotisserie.
Sirloin Tip Steak: This is still a tender but leaner cut of beef. It is smaller in size and less expense than the sirloin roast. If I were to make a comparison here, is going to bear a greater resemblance to a cut of London Broil. This cut also makes for great kabob meat or cubed for a beef stew.
How To Prepare For A Smoked Sirloin Tip
Because this is a leaner cut of beef we are going to marinate it overnight. True to form I like to keep the marinade simple and done in such a way, you will hopefully have most of the marinade ingredients in the house already.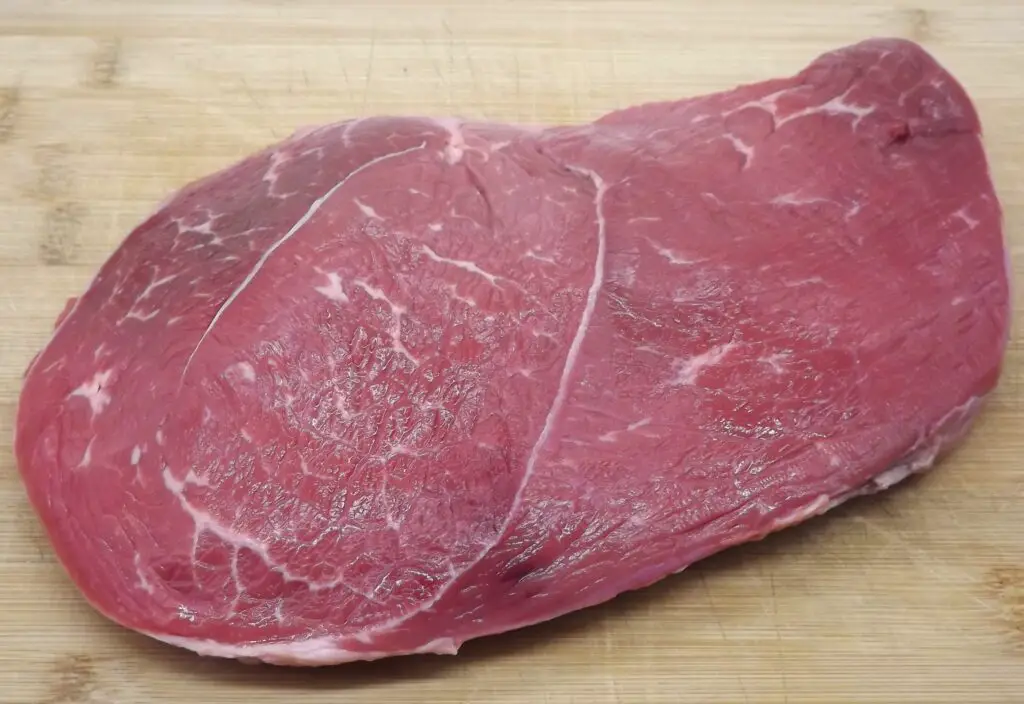 For the marinade you will need the following:
Red wine vinegar
olive oil
minced garlic
salt and pepper
soy sauce
Combine these ingredients in a bowl, mix well and then add the marinade to the tip steak. You can do this in a Ziploc bag or some kind of pan. I prefer the bag as it allows me to rotate the ensure I am getting all parts of the steak covered. Marinading a steak is best done overnight when you can.
If you cannot do overnight, try to get at least 8 hours of marinade time. Because this is a quick turnaround , even being smoked, you can start your marinade in the AM and still eat at a reasonable time, especially if you are doing this midweek.
Even though I am smoking this, I am staying away from any dry rub as the marinade should provide enough flavor. If you wanted to add an SPG before smoking, that would be a good compliment but certainly not necessary.
Smoking The Sirloin Tip Steak
As mentioned above, I did this on my Weber Kettle but this recipe should work if you are using a Pit Boss pellet grill, a Traeger or some other style of smoker.
We are going to get the smoker going and take it to a temperature of 225°. I used some pecan wood for this recipe. Once you have the smoker up and running, you can place the steak on and let it go. This is a smaller cut of beef, probably in the range of 1.5 lbs. so this will be a relatively quick smoke. You are looking at around an hour to smoke this.
We will take the internal temperature to 125°. If you are looking for a great meat thermometer, try out the ThermoPro TP20. It is budget friendly and an overall great product. Once it reaches there we are going to pull it off the smoker and do a reverse sear. To do the reverse sear you can either crank up the temperature of the charcoal and do it over that, or what I did is move it over to my gas grill for a quick reverse sear.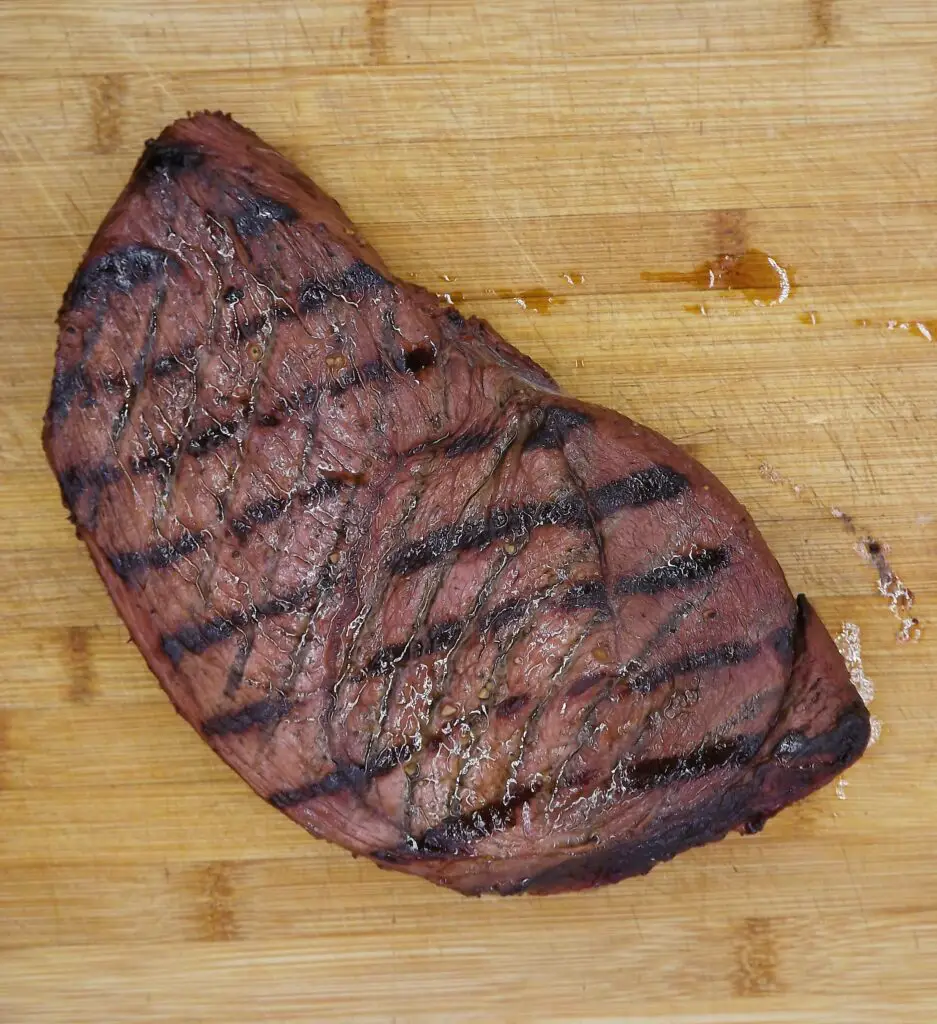 For the reverse searing you are going to do 2 minutes on each side over a medium to high heat. This should put you in the range of finishing the steak at medium rare. After the reverse sear, you can tent the steak and let it rest for about 15 minutes and then slice thinly and serve.
This is a great cut for a quick smoked meal and those that are budget conscience. Pair this with a side of vegetables and you have a great meal that the family will love.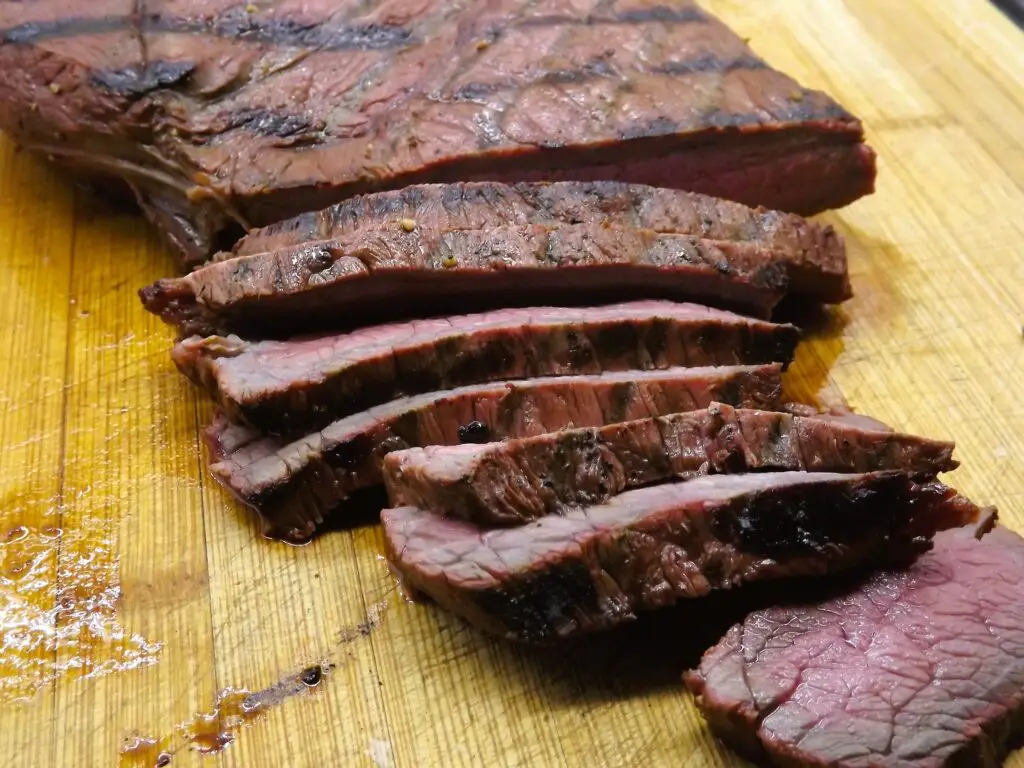 Thanks for being here and checking out this Smoked Sirloin Tip recipe. I hope you enjoy it! We always appreciate comments, 5 star recipe rating and social media shares. As always, keep that smoke rolling!
If you are looking for some other recipes here are some suggestions:
This post contains affiliate links. If you use these links to buy something I may earn a commission. Thanks!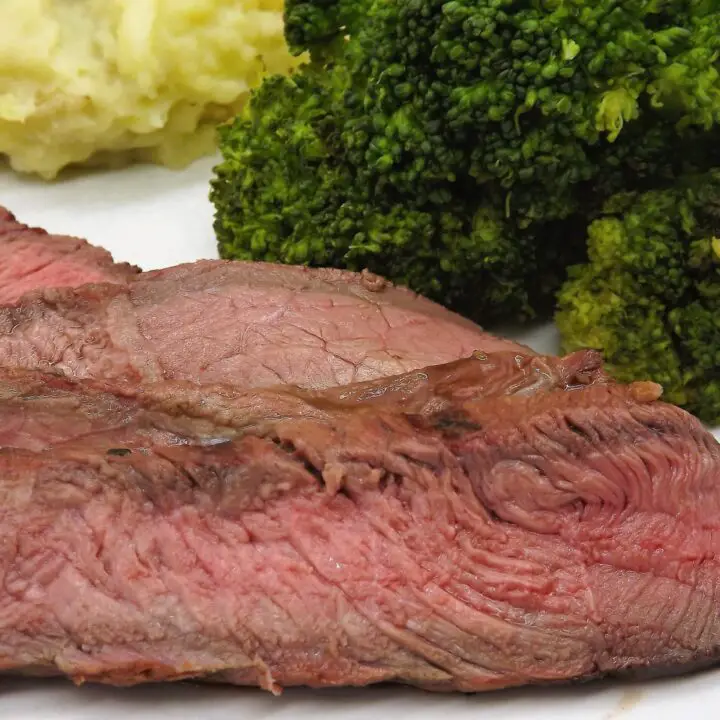 Smoked Sirloin Tip
Additional Time:
15 minutes
Total Time:
1 hour
30 minutes
Today we are going to do a smoked sirloin tip. They are easy on the budget and quick to do on the smoker. The sirloin tip is a great combination of flavor and tenderness.
Ingredients
3 tablespoons of red wine vinegar
4 tablespoons of soy sauce
1 tablespoon of minced garlic
1 tsp. of salt
1/2 tsp. of pepper
1/4 cup of olive oil
1.5 lbs. of sirloin tip steak
Instructions
Combine the ingredients for your marinade and place in a Ziploc bag to marinade overnight. If not overnight, try to get at least 8 hours of marinade time.
Set your smoker to a temperature of 225°, using pecan wood.
Remove from the steak from the marinade, pat dry and place on the smoker.
Smoke until you get to 125° IT. Once there, reverse sear the steak, 2 minutes on each side. Do this over medium to high heat.
After 3 minutes of reverse sear on each side, remove, tent and rest for 15 minutes.
Slice and serve while hot.
Nutrition Information:
Yield:

6
Serving Size:

1
Amount Per Serving:
Calories:

466
Total Fat:

32g
Saturated Fat:

10g
Trans Fat:

0g
Unsaturated Fat:

18g
Cholesterol:

140mg
Sodium:

909mg
Carbohydrates:

1g
Fiber:

0g
Sugar:

0g
Protein:

41g