Smoked chicken thighs are super easy, are loaded with flavor and won't break the bank. These WSM chicken thighs are quick to prepare and always enjoyed by the kids and the adults. Let's dive into this Weber Smokey Mountain chicken thighs recipe as you prepare for that summer BBQ or an easy mid week dinner.
Brining The Chicken Thighs
Before we get to far into this, most of this recipe will center around boneless skinless chicken thighs but I will comment along the way on thighs with skin and bone. First thing are going to do is trim some of that excess fat off but you don't need to go crazy. What makes chicken thighs so enjoyable and allows them to be smoked so well is the fat that they do have. Most of our flavor will come from the dry rub and the smoke so we will not be adding any kind of marinade to these boneless and skinless chicken thighs.
This is why you will see thighs smoked more often than chicken breasts. If you do want to check out a great method and recipe for smoked chicken breasts, check out our Smoked Pulled Chicken Breasts recipe. This recipe works great on a Kettle or Weber Smokey Mountain.
When you go to brine the goal is to add moisture to the chicken, not necessarily add flavor to the chicken. You can check out the brine recipe here or follow the directions below.
We are going to need the following ingredients:
5 cups of water
2 tablespoons of brown sugar
1 tablespoon of BBQ sauce
1 tablespoon of Worchester Sauce
6 teaspoons of salt
As I mentioned above the goal is to add moisture into the chicken not the flavor. Granted some of these ingredients add a touch of flavor like the barbecue sauce but the real flavoring happens later on in the process. When we brine these WSM chicken thighs you will take all the ingredients, add them to a bowl or Ziploc bag and then add in the chicken.
This recipe should allow for about 2 pounds of chicken. Once the brine is combined with the chicken, place them in the refrigerator. I would suggest leaving them in there at least 2 hours but upwards to 4 hours if you can get there. I rarely go longer than 4 maybe 5 hours and the results have always been great.
Smoked Chicken Thighs
As you get to the tail end of that brining time, let's get the smoker up and running. We will be smoking chicken thighs at 250°. I usually a pecan but any flavor of wood will work well with thighs. From here this is when it get easy. Just to re-iterate this WSM chicken thighs recipe is for boneless skinless thighs. If you do not have a WSM, you can also do these on your Kettle or Traeger pellet grill, or whatever your smoker of choice is. I have used both the WSM and Kettle for thighs.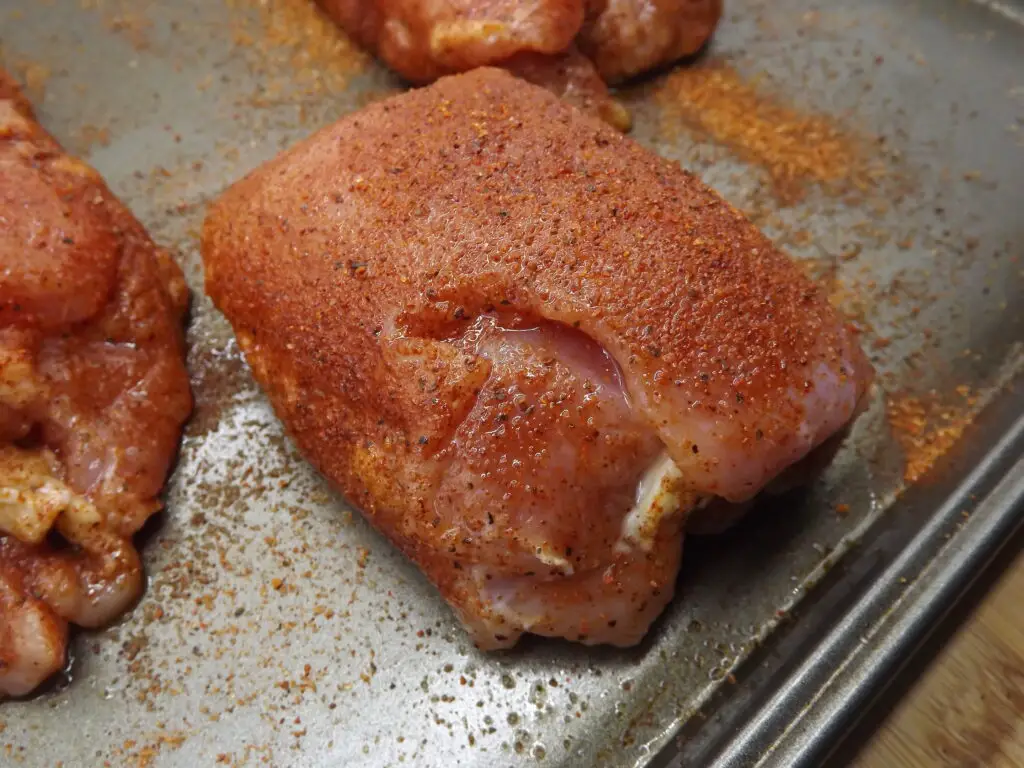 After having removed the thighs from the brine, you can season these a couple of different ways. I will usually hit them with a dry rub of choice. Before applying the rub, pat dry the thighs and then apply your rub. If you are looking for some rub ideas, give these a try: Dizzy Pig, Pineapple Head or BBQGuys Habanero Honeybee Rub . When doing so, especially with chicken thighs, ensure you are flipping them over and seasoning the underside and in the cuts of thigh. There is plenty of meat to move and season on the bottom side of a thigh.
If you want to use thighs that are bone in and skin on, then my suggestion would be crank your temperature up and go with a hot and fast method. This will provide you with that crispy skin people might be looking for.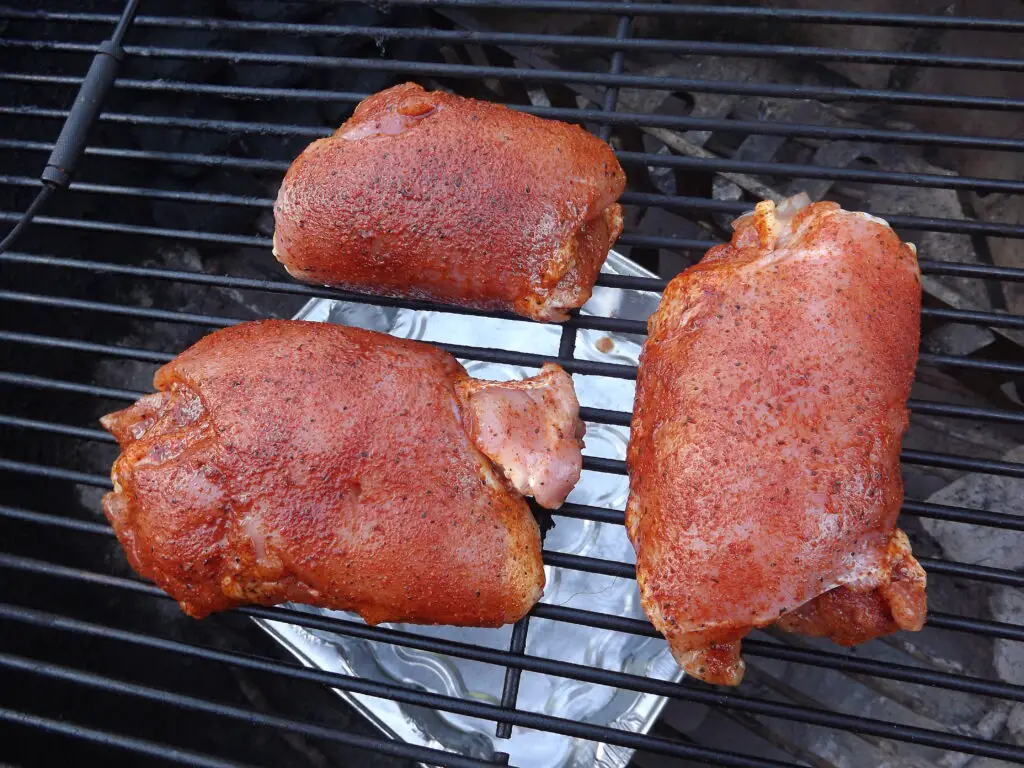 By now you have the thighs ready to go and your smoker should be at temperature so let's throw these thighs on. You will leave them on for about two hours. That is plenty of time to get some nice smoke flavor on them and get them to 170 degrees, internal temperature. After placing them on, if you used a dry rub, you may want to recoat a few spots that might have rubbed off in the handling process. I use my ThermoPro TP28 meat thermometer and will place a probe in the largest thigh to gauge internal temperatures.
During the smoking process you should not need to do anything to the thighs. If you want to coat them with a BBQ sauce my recommendation would be to do so about 30 minutes before you pull them. Once your internal temperature reaches 170 degrees you can go ahead and pull the boneless chicken thighs.
I want to note that thighs have a much higher tolerance than breasts do and can take a higher IT. Breast I would always recommend pulling at 165° but in the case of thighs you can let them stay on a bit longer, after the brine they are not likely to dry out.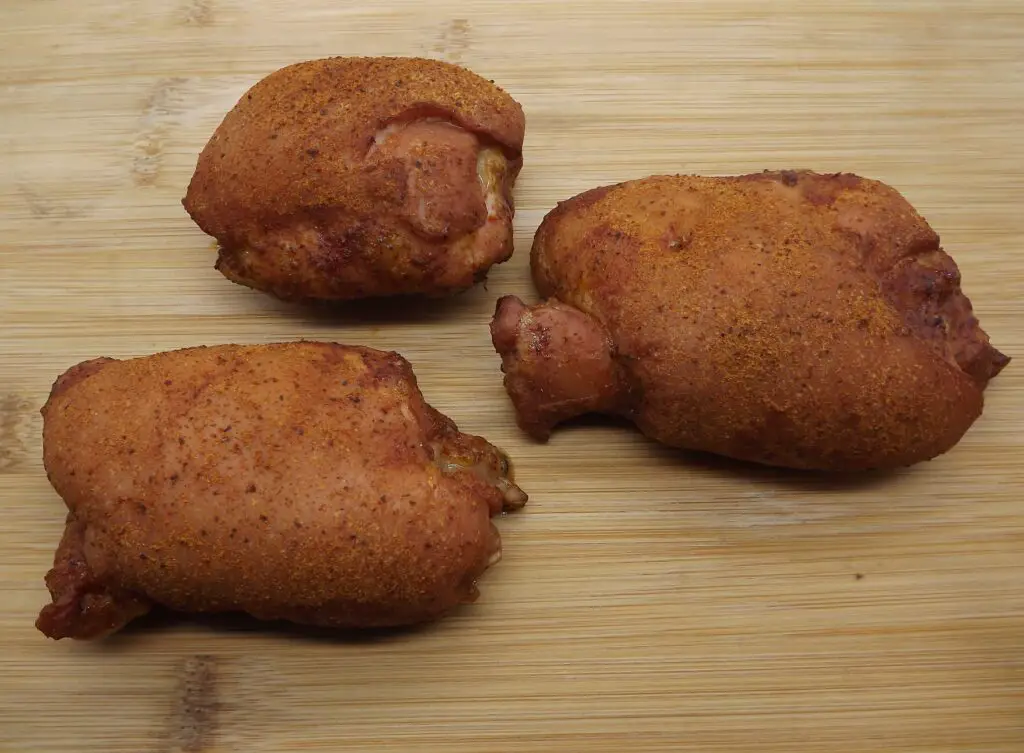 Serving WSM Chicken Thighs
So now that these are done, there are a couple of ways you can serve them. One thing I have done in the past, if you are using skinless thighs but want a little bit of crisp to them, I throw them on the grill for just a couple of minutes to get some char on them. Another idea is to throw them over a bed of rice or serve with a side of mac and cheese. You can even throw them on a roll for a sandwich, add some of our Easy Mexican Coleslaw or your favorite BBQ sauce and you are good to go.
I love smoking chicken thighs. They are easy and the kids and adults love them as well. You can do so much with them that they never get old. I hope you enjoy this as much as I do.
If you are looking for some other ideas and recipes take a look at some of these suggestions:
Thanks for being here and checking out this WSM Chicken Thighs recipe. I hope you enjoy it! We always appreciate comments, 5 star recipe rating and social media shares. As always, keep that smoke rolling!
This post contains affiliate links. If you use these links to buy something I may earn a commission. Thanks!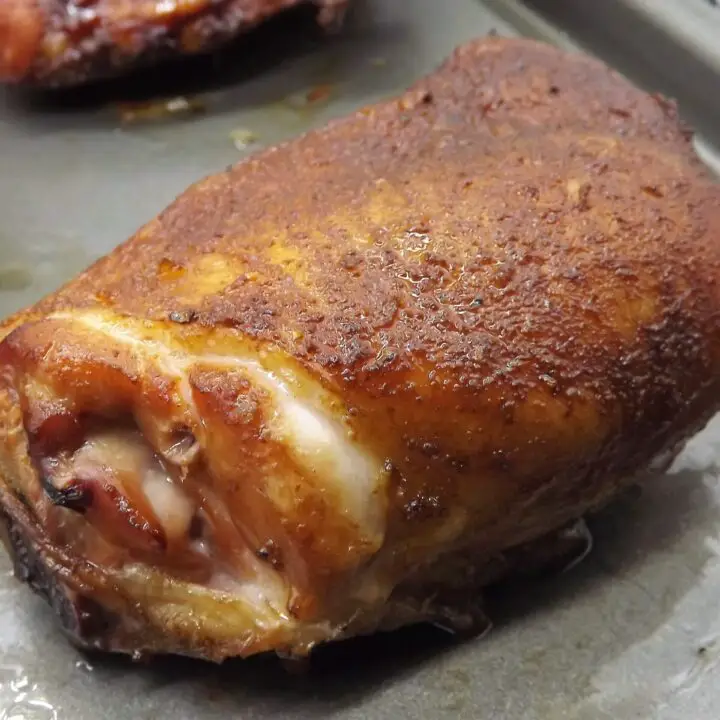 Chicken Thigh Brine Recipe
Total Time:
4 hours
10 minutes
A simple brine recipe for chicken
Ingredients
5 cups of water
2 tablespoons of brown sugar
1 Worchester Sauce
1 tablespoon of BBQ sauce
1/4 cup of salt
Instructions
Add all ingredients to a bowl, mix and add chicken
Let brine, in the refrigerator, for about 2-4 hours
Remove and smoke or grill chicken
Nutrition Information:
Yield:

5
Serving Size:

1
Amount Per Serving:
Calories:

47
Total Fat:

3g
Saturated Fat:

0g
Trans Fat:

0g
Unsaturated Fat:

2g
Cholesterol:

0mg
Sodium:

1315mg
Carbohydrates:

6g
Fiber:

0g
Sugar:

5g
Protein:

0g
WSM Chicken Thighs
Additional Time:
15 minutes
Total Time:
2 hours
35 minutes
Smoked chicken thighs are super easy, are loaded with flavor and won't break the bank. Your options are only limited to what you are willing to try and when done, these will be a hit by all.
Ingredients
2 lbs of chicken thighs
Dry chicken rub of choice
BBQ sauce of choice
Instructions
Brine the thighs according to our brine recipe
Get your smoker up to a temperature of 250° using a wood of your choice
After removing the chicken from the brine, pat dry and coat with a rub of your choice
Place on the smoker and leave until the thighs on until you hit an IT of 170°
Remove and serve
Nutrition Information:
Yield:

6
Serving Size:

1
Amount Per Serving:
Calories:

333
Total Fat:

21g
Saturated Fat:

6g
Trans Fat:

0g
Unsaturated Fat:

15g
Cholesterol:

194mg
Sodium:

321mg
Carbohydrates:

2g
Fiber:

0g
Sugar:

2g
Protein:

36g