This is an easy chicken thigh brine recipe I use on chicken thighs or even chicken breasts before I smoke or grill them. Most of the ingredients you will probably already have in the house and this chicken thigh brine recipe ensures you will get nice juicy chicken coming off the smoker or grill.
Chicken Thigh Brine Recipe – Why Brine Chicken
Chicken and especially chicken breasts can dry out very quickly, due to the lack of fat on them. Chicken thighs have a little more fat on them and can withstand the heat better than breasts but are still susceptible to drying out, especially when cooking over a direct flame or heat. Even though smoking chicken is not over direct heat, if left in too long or you get a spike if your heat, you may still end up drying the chicken out.
Up until now I have been referring to boneless and skinless thighs. If you are smoking or grilling chicken with skin and bone, those will have a tendency to withstand the heat a little more because a slightly higher fat content and the skin absorbs some of the heat and retains some of the moisture. Regardless of what kind of chicken you are using, I would still highly recommend brining the chicken. It really does make a big difference in how your chicken turns out.
The Difference Between Brining and Marindae
This is worth a quick explanation because I am sure someone is reading this asking what is the difference. When you brine you are looking to ensure you are adding and maintain the juiciness in the chicken. And it helps provide that little bit of a buffer in case you tend to overcook the chicken. The salt you are adding is actually pushing the liquid into the the chicken.
When you marinade, most of what you are adding is flavor. You are coating the meat with the flavor and while it is penetrating the meat without a high salt content you are obtain the same result.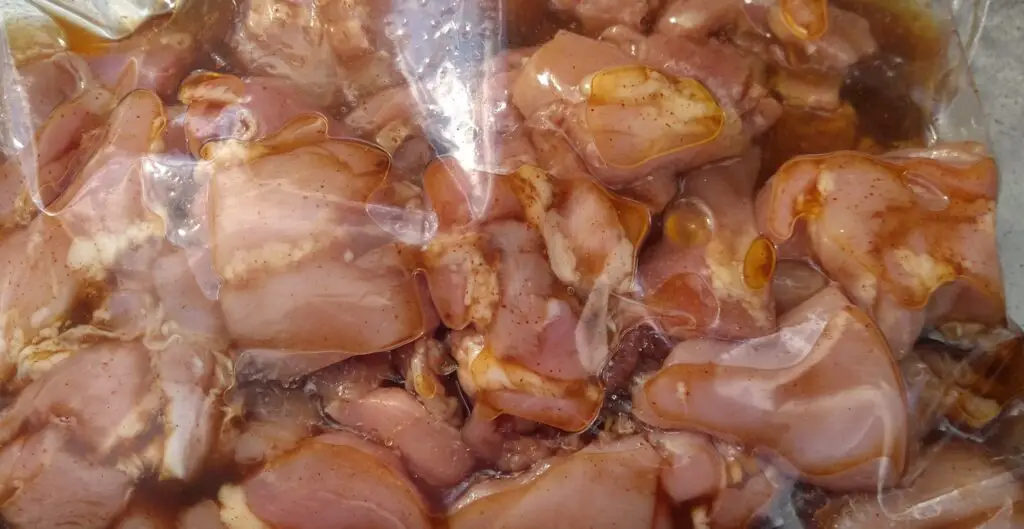 How Long Should You Brine Chicken Thighs?
Hopefully most of these ingredients are ones you will already have in the house. If you are an avid smoker or grill there is a good chance you will have it.
We are going to need the following ingredients:
5 cups of water
2 tablespoons of brown sugar
1 tablespoon of Worchester Sauce
1/4 cup of salt
You will take all the ingredients, add them to a bowl or Ziploc bag and then add in the chicken. This recipe should allow for about 2 pounds of chicken. Once the brine is combined with the chicken, place them in the refrigerator. I would suggest leaving them in there at least 2 hours but upwards to 4 hours if you can get there. I rarely go longer than 4 maybe 5 hours and the results have always been great.
Once you pull the chicken out of the regfrigator, if you are doing a dry rub you may want to pat them down a bit. But after that go ahead and throw them on the smoker, grill or even the oven.
You brine your chicken once and I guarantee, you will be doing it every time there after.
If you run into a time crunch and you are unable to take the time to use our chicken thigh brine recipe, injecting it will achieve the same results. You could use the same ingredients and instead of brining just inject them. You do not need anything fancy to use for an injector. If you are looking for an injector, give this one a try. It is simple, inexpensive but has done the trick for me.
If you are looking for some other recipes for chicken, take a look at some of our suggestions:
Thanks for being here! I hope this chicken thigh brine recipe helps you out. We always appreciate your reviews and comments! And as always keep that smoke rolling.
This post contains affiliate links. If you use these links to buy something I may earn a commission. Thanks!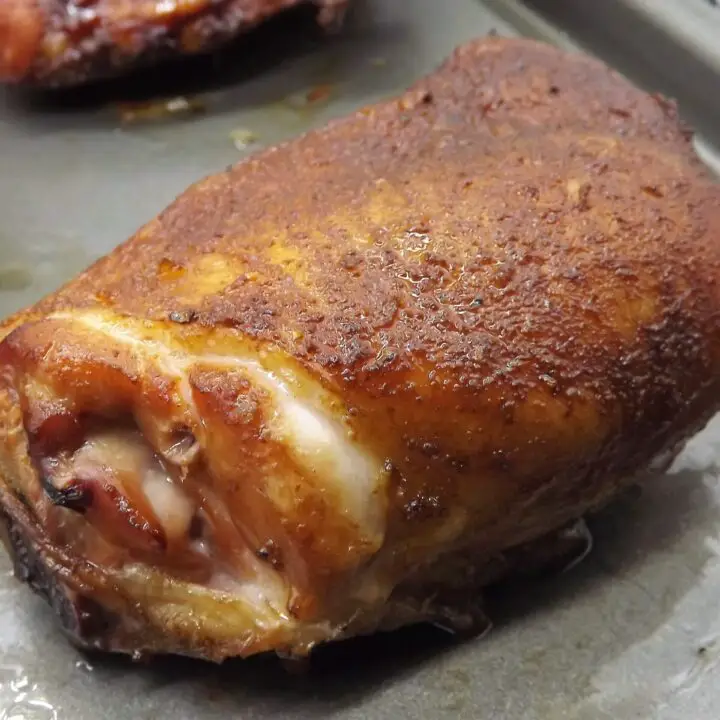 Chicken Thigh Brine Recipe
Total Time:
4 hours
10 minutes
A simple brine recipe for chicken
Ingredients
5 cups of water
2 tablespoons of brown sugar
1 Worchester Sauce
1 tablespoon of BBQ sauce
1/4 cup of salt
Instructions
Add all ingredients to a bowl, mix and add chicken
Let brine, in the refrigerator, for about 2-4 hours
Remove and smoke or grill chicken
Nutrition Information:
Yield:

5
Serving Size:

1
Amount Per Serving:
Calories:

47
Total Fat:

3g
Saturated Fat:

0g
Trans Fat:

0g
Unsaturated Fat:

2g
Cholesterol:

0mg
Sodium:

1315mg
Carbohydrates:

6g
Fiber:

0g
Sugar:

5g
Protein:

0g