This is a stuffed chicken thighs wrapped in bacon recipe is great to use when you are smoking skinless, boneless chicken thighs. This smoked chicken thigh recipe is one you can put together relatively quickly and is loaded with flavor. Great for a summer evening dinner.
Stuffed Chicken Thighs Wrapped In Bacon Prep
To start, I always like to brine my chicken thighs especially if it is skinless and boneless. I usually recommend about 2-4 hours for brining the chicken thighs. You can do more but I have not ever seen the need to brine chicken thighs that long. You can get the brine recipe here. Its really basic chicken thigh brine recipe.
Now that you have the chicken thighs brining, you can start the smoker prep. I did these stuffed chicken thighs on my WSM. I got my WSM up to 250°, using B&B char logs and 3 cherry wood chunks for flavor.
For this recipe , and most of my chicken thigh recipes, I used boneless and skinless chicken thighs. Remove any pieces of excess fat off the thighs, there should not be a lot of you get the occasional large pieces of fat left on. When that is complete, lay out your thighs so they are open and flat on a tray. You are then going to take chunks of Pepper Jack Cheese and lay it in the thigh and then roll the thigh up around the cheese.
After you have the cheese wrapped in the chicken thigh, take the rub of your choice and coat the thigh. With this recipe I used Rib Rack Chicken Rub, a great rub with a lot of flavor. With the cheese wrapped in the thigh we are going to move to the bacon. I throw all the bacon into a cast iron pan for just a couple of minutes to get the bacon started. Do not cook it fully, just a minute or two in the pan. This will help you get crispier bacon, instead of doing it all on the smoker.
You are going to take 2 slices of bacon and lay them down on a plate or tray. Take your chicken thigh, with the cheese in it and roll the 2 slices of your bacon around the thigh. Then you are going to take one more slice of bacon and wrap it long ways around the thigh. Depending the size of the thighs you may need 2 slices of bacon. This will help keep some of your cheese from melting out and when is there ever too much bacon on something.
After the thigh is wrapped in the bacon you will need a couple of toothpicks to keep everything in place and together (make sure the toothpicks have soaked in water so they do not burn). Now that you have the chicken ready to go, throw them on the smoker.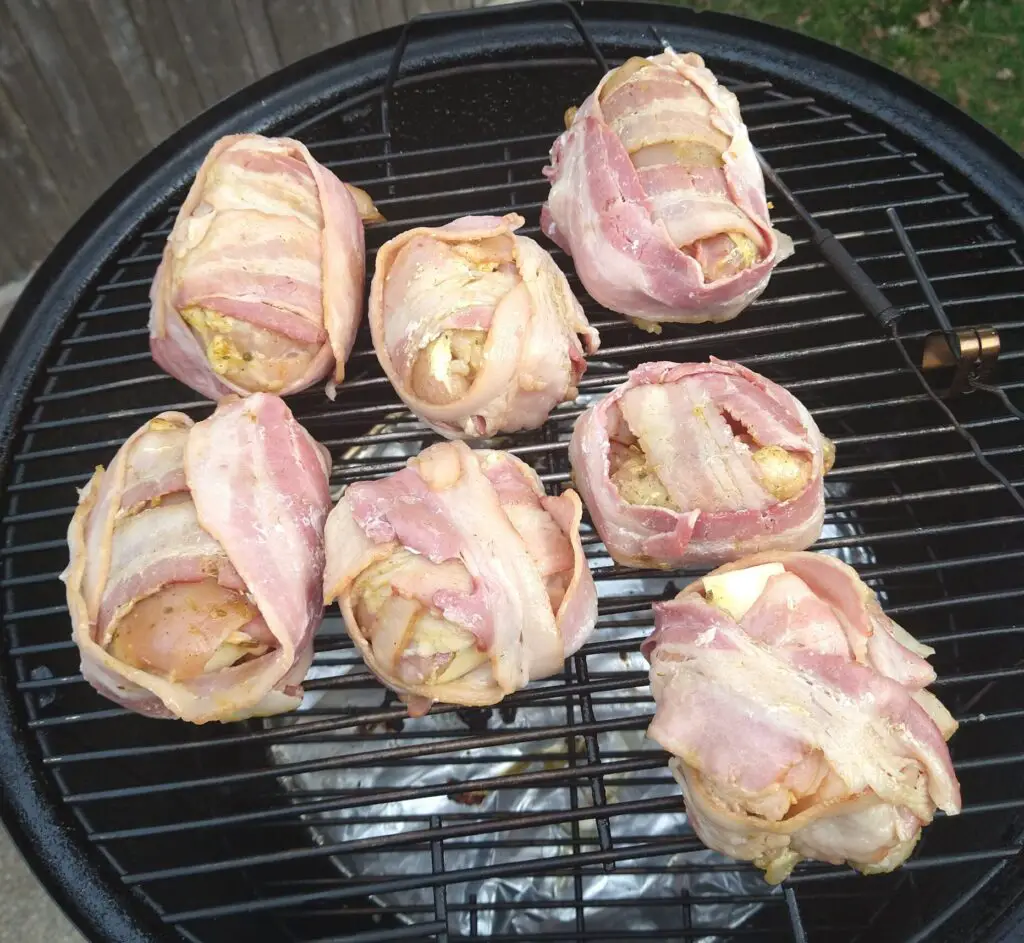 Smoke Time and Ready to Eat!
You are going to have these on the smoker for about 2 hours or until you hit an IT of 165°. You may also want to keep an eye on the bacon and how well that is cooked, I did not have any issues with that but may be worth keeping it on for a bit longer if you need some more crisp on the bacon.
If you are looking for a great meat thermometer that won't break the bank, try the ThermoPro TP20. I have 3 different versions of ThermoPro products and the TP20 is going on 3 years with no issues. I highly recommend.
Once you get to that IT of 165° and a nice crispy bacon, go ahead and pull. No need to let this rest, serve while hot and enjoy! For most of us you will have most of what you need in the house and can do this relatively last minute when you get the urge to smoke something but not the time for a big shoulder or brisket.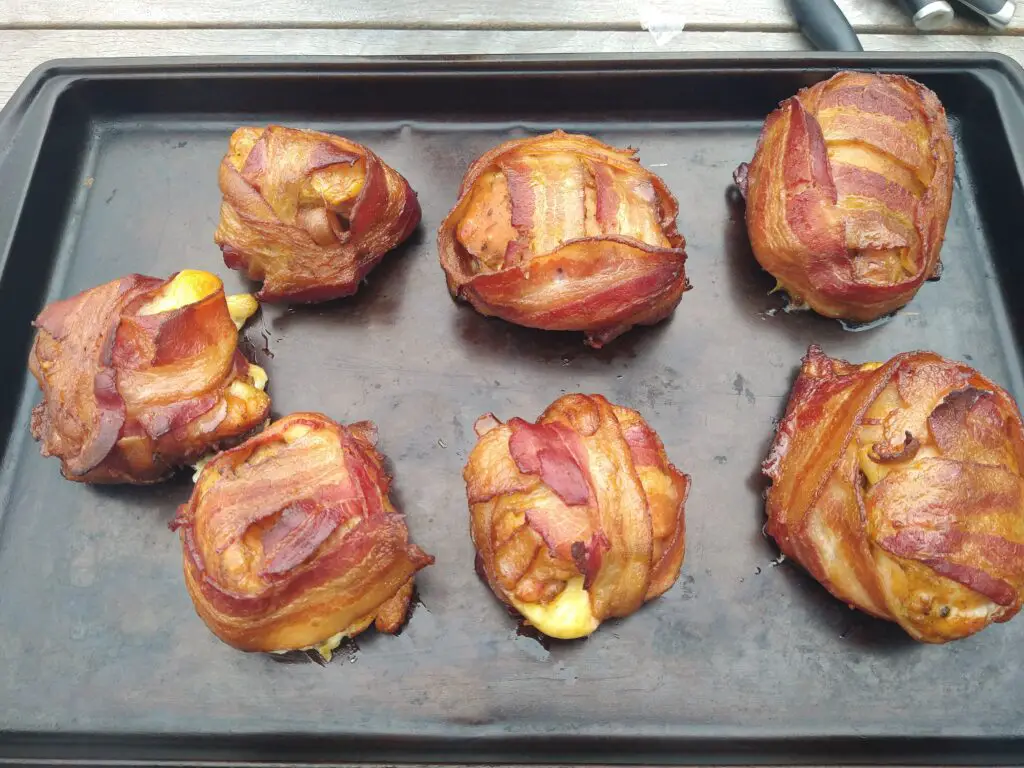 Thanks for being here and checking out this Stuffed Chicken Thighs Wrapped in Bacon recipe. I hope you enjoy it! We always appreciate comments, 5 star recipe rating and social media shares. As always, keep that smoke rolling! If you are looking for some other recipe ideas, here are some suggestions:
This post contains affiliate links. If you use these links to buy something I may earn a commission. Thanks!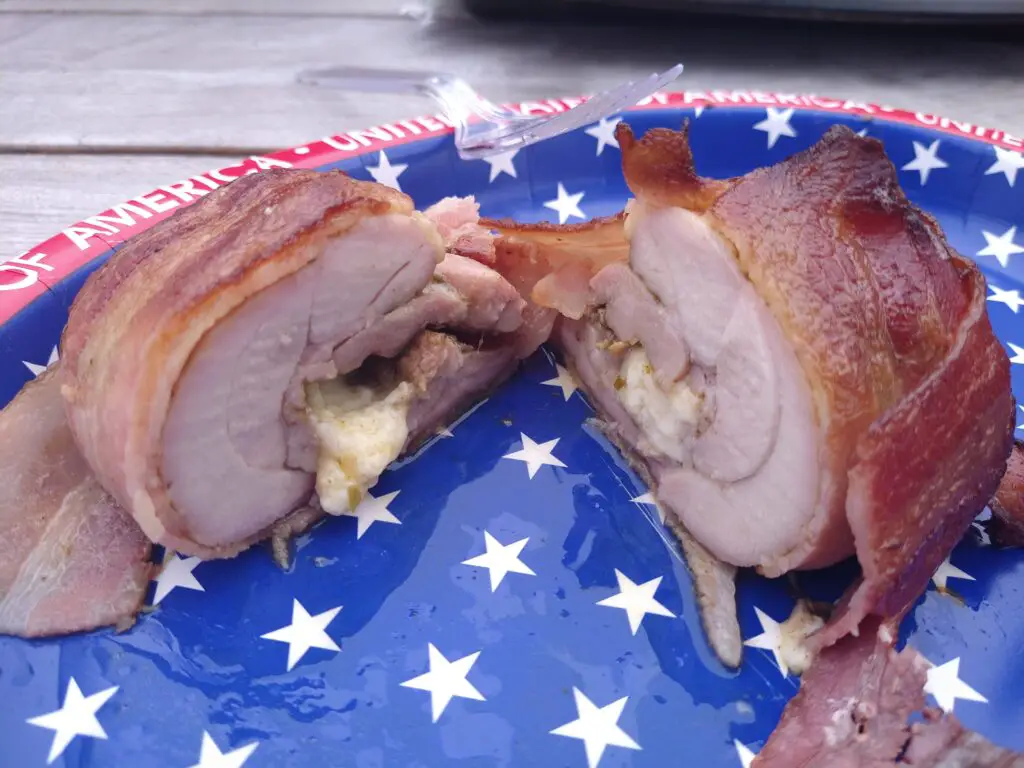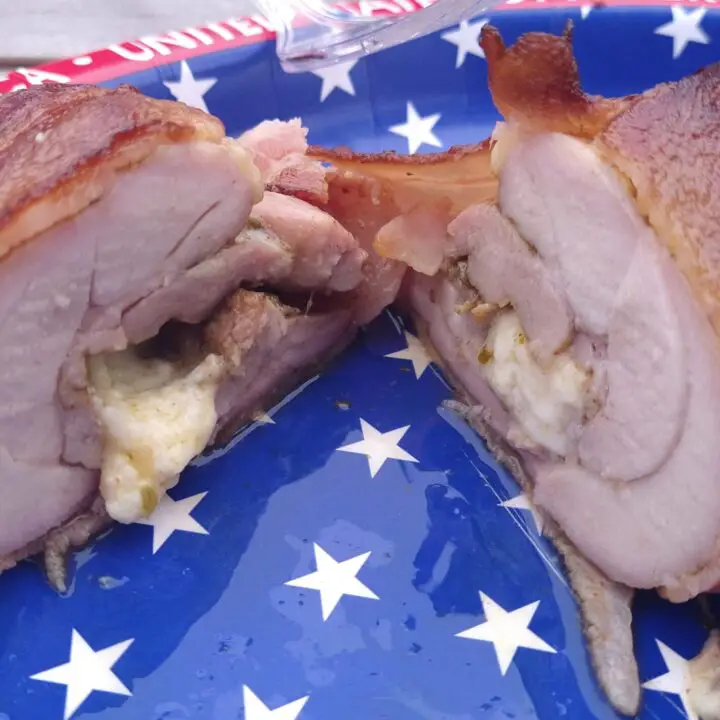 Stuffed and Bacon Wrapped Thighs
Prep Time:
2 hours
30 minutes
Total Time:
4 hours
30 minutes
A quick and simple recipe for smoked thighs, stuffed with Pepper Jack Cheese and wrapped in bacon.
Ingredients
1 pound of boneless and skinless chicken thighs
1 pound of bacon
8 oz of Pepper Jack cheese
Rub of your choice
Instructions
Brine your chicken for 2-4 hours. You can find the brine recipe here
While brining, you will need to set your smoker to a temperature of 250°. I used B&B char logs and 3 chunks of cherry wood for this recipe
Remove from brine and place cheese into thigh and wrap
Take 2 slices of bacon and roll around thigh
Coat thigh with a chicken rub of choice, I used Rib Rack Chicken Rub
Take 1-2 slices of bacon and wrap around the thigh to keep the cheese in the thigh and because you always need more bacon!
Use toothpicks soaked in water to keep bacon and chicken together while on smoker
Smoke for approx 2 hours or until you reach a minimum IT of 165° and a the desired crisp on the bacon.
Remove and serve hot!
Nutrition Information:
Yield:

7
Serving Size:

1
Amount Per Serving:
Calories:

530
Total Fat:

38g
Saturated Fat:

15g
Trans Fat:

0g
Unsaturated Fat:

21g
Cholesterol:

172mg
Sodium:

1400mg
Carbohydrates:

1g
Fiber:

0g
Sugar:

0g
Protein:

46g
This data was provided and calculated by Nutritionix on 8/3/2021