Mac and cheese on its own is great. Mac and cheese stuffed poblano peppers is taking things to another level. This stuffed peppers recipe tastes great and is extremely easy to pull together.
Mac and Cheese Stuffed Poblano Peppers Prep
For this recipe you are going to want to get the smoker going at 225° and I used 3 cherry wood chunks. While that is getting up to temp, you can start with the cheese sauce and the pasta. You can prep the pasta first and put it off to the side. I used a 1lb box of elbow pasta. Cook to instructions but cut the time in half, as the pasta will finish cooking in the smoker. Fully cooking the pasta may leave it too soft and mushy after coming off the smoker. Once the pasta is done, transfer into a foil tray.
The key to this recipe is the cheese sauce so let's dive into that. For starters you will take a 1/2 stick of butter and melt it. Once the butter is melted you are going to slowly add 4 tablespoons of flour and will whisk that until it is thickened. When that is done, start adding in 2 cups of milk. Continue stirring as you add the milk.
After the milk has been added you can then add 3 tablespoons of cream cheese, 4 oz. of shredded pepper jack cheese and 2 cups of Mexican blend shredded cheese. Continue stirring all the ingredients until the cheese has melted and blended in together. Now that you have the cheese sauce completed you can add it to the pasta and stir.
Unless you are using a lot of peppers you will probably not be able to get all the mac and cheese in the peppers (you can always adjusted how much you are making, we typically go through a pound of pasta around here) so you may want to add the pasta and cheese sauce to a foil tray for smoking what is left after you have filled the peppers.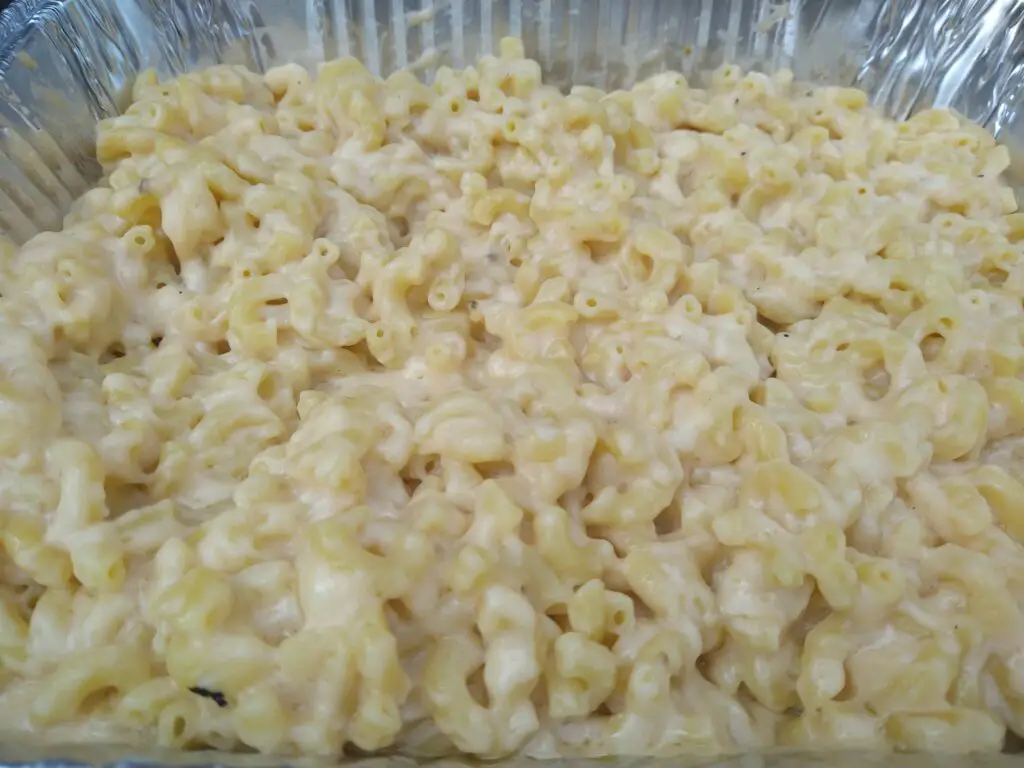 Now that you have the pasta and cheese sauce complete, go ahead and slice the peppers in half. Clean out any seeds that may be in there, poblano peppers do not usually have as many seeds as some other peppers so this should not be too difficult. Once that is done, go ahead and load up the mac and cheese in the peppers. Poblano peppers are not real deep so you may be limited in how much you can fit in them.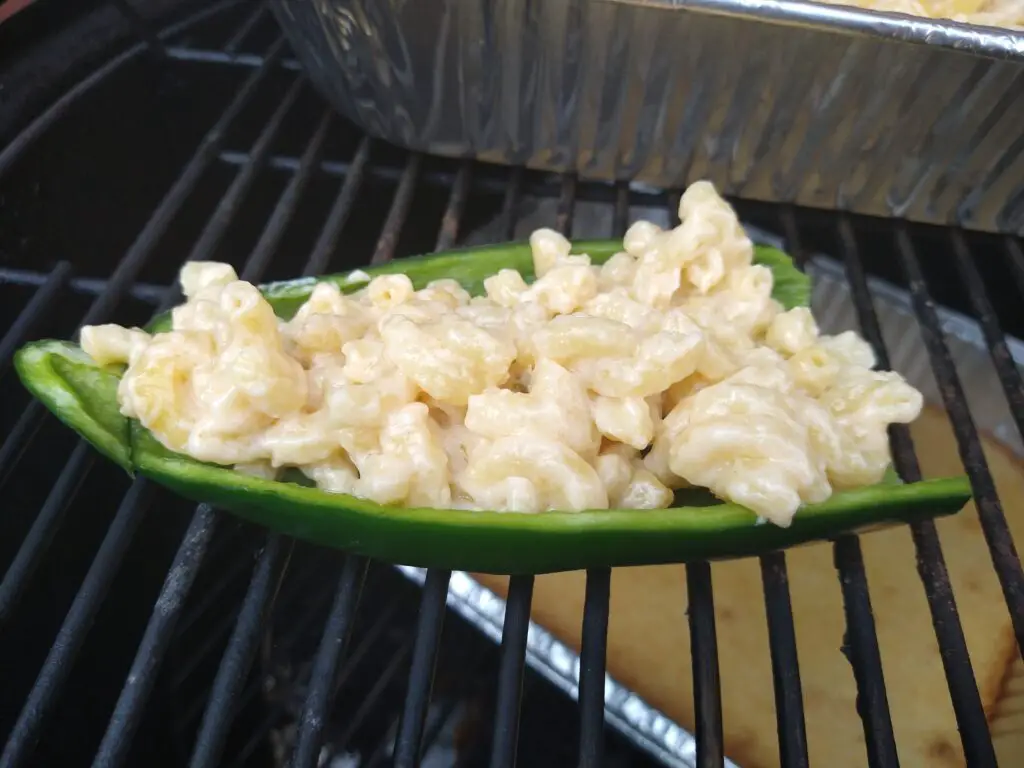 Smoking The Mac and Cheese Stuffed Poblano Peppers
Now that the peppers are loaded with the mac and cheese, your smoker should be at 225°, throw everything on the smoker. If you have extra mac n cheese in the tray find some room and throw that on as well. A quick note on any mac and cheese in the tray, about half way through give it a stir so the mac and cheese on the bottom gets some smoke on it. Once you have the peppers on the smoker, you can leave them there for about 45 minutes. This will continue to warm up the mac and cheese again while smoking the pepper as well.
When your peppers look done, go ahead and pull them off. You can then garnish with some bacon and parsley. Maybe add some scallions or bread crumbs. Mix it up a bit and add any topping you like. This is great with the added flavor of the poblano pepper.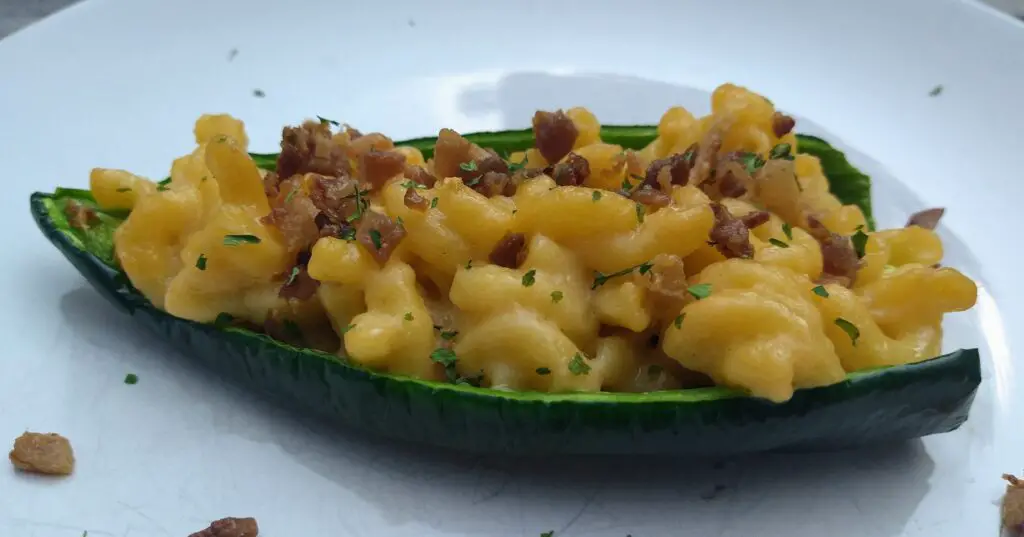 Wrapping It Up
This smoked mac and cheese on poblano peppers can make for a main dish or a appetizer for the party you are hosting.
If you are looking for some other main dishes try out some of these suggestions:
Thanks for being here and checking out this Mac and Cheese stuffed poblano peppers recipe. I hope you enjoy it! We always appreciate comments, 5 star recipe rating and social media shares. As always, keep that smoke rolling!
This post contains affiliate links. If you use these links to buy something I may earn a commission. Thanks!
Mac and Cheese Stuffed Poblano Peppers
This is a traditional meal, on the smoker that tastes great and is pretty easy to pull together. This is a creamy mac and cheese served on a poblano pepper.
Ingredients
1 box of elbow pasta
Poblano Peppers
1/2 stick of butter
4 tablespoons of flour
3 tablespoons of cream cheese
4 ounces of shredded pepper jack cheese
2 cups of Mexican blended shredded cheese
Instructions
Prep smoker for 225° and cherry wood
Cook the elbow pasta for half the required time and set to the side
Slice in half and clean poblano peppers. Set to the side when done
Melt the butter in a pot
Once the butter is melted gradually add the flour and whisk until thickens
Slowly add milk and continue stirring
Add cream cheese, pepper jack cheese and Mexican cheese and stir until melted and blended.
Once done, pour cheese sauce over pasta and stir
After pasta and cheese are stirred scope mac and cheese into the peppers and place on the smoker
Keep peppers on smoker for approx. 45 minutes
Remove and serve with your choice of garnish
Nutrition Information:
Yield:

8
Serving Size:

1
Amount Per Serving:
Calories:

276
Total Fat:

21g
Saturated Fat:

13g
Trans Fat:

0g
Unsaturated Fat:

7g
Cholesterol:

61mg
Sodium:

331mg
Carbohydrates:

9g
Fiber:

1g
Sugar:

1g
Protein:

12g
This data was provided and calculated by Nutritionix on 8/16/2021