This is smoked turkey jerky recipe was made with a little bit of health in mind and a ton of spice and flavor. Homemade turkey jerky on the smoker in this house is a favorite and it goes incredibly fast around here. The kids can't get enough of it! I have frequently done beef jerky but in an effort to mix it up a bit I decided to give some healthy turkey jerky a try and it did not disappoint. Going back to store bought smoked turkey jerky after this will not be easy.
This recipe calls for making turkey jerky 100% on the smoker, at no point do I incorporate a dehydrator or the oven into this process and it comes out great. It makes for a great snack and if the kids like it, it certainly beats out any cookies they may be having. Let's dive into the best method of how you make turkey jerky. After playing around with several versions of this recipe, this is probably the best turkey jerky recipe I landed on.
Making Turkey Jerky
I grabbed a turkey breast from the local supermarket, I thought I was buying a deboned breast but it was a bone in breast so I did have to debone it, which was rather quick and easy. I have to admit, it was surprising how fast I was able to debone it. When you get your breast home either, bone in or boneless, but once the bone is off, throw it in the freezer for about 1-2 hours. Giving it a little time to freeze. By doing this will allow you to make some nice thin slices on the breast.
Once it has frozen for that hour or two take it out and start slicing. When slicing this thin you are going to be sure you have a sharp knife. Without it you are never going to get the clean slices you need when cutting this thin. When making the slices you are going to want to make each slice about 1/8″ – 1/4″ of an inch thick. You will see I hang my jerky in the WSM so I need to fit it between the grates. After you slice the turkey place it in a Ziploc bag and then you are going to get started with the marinade.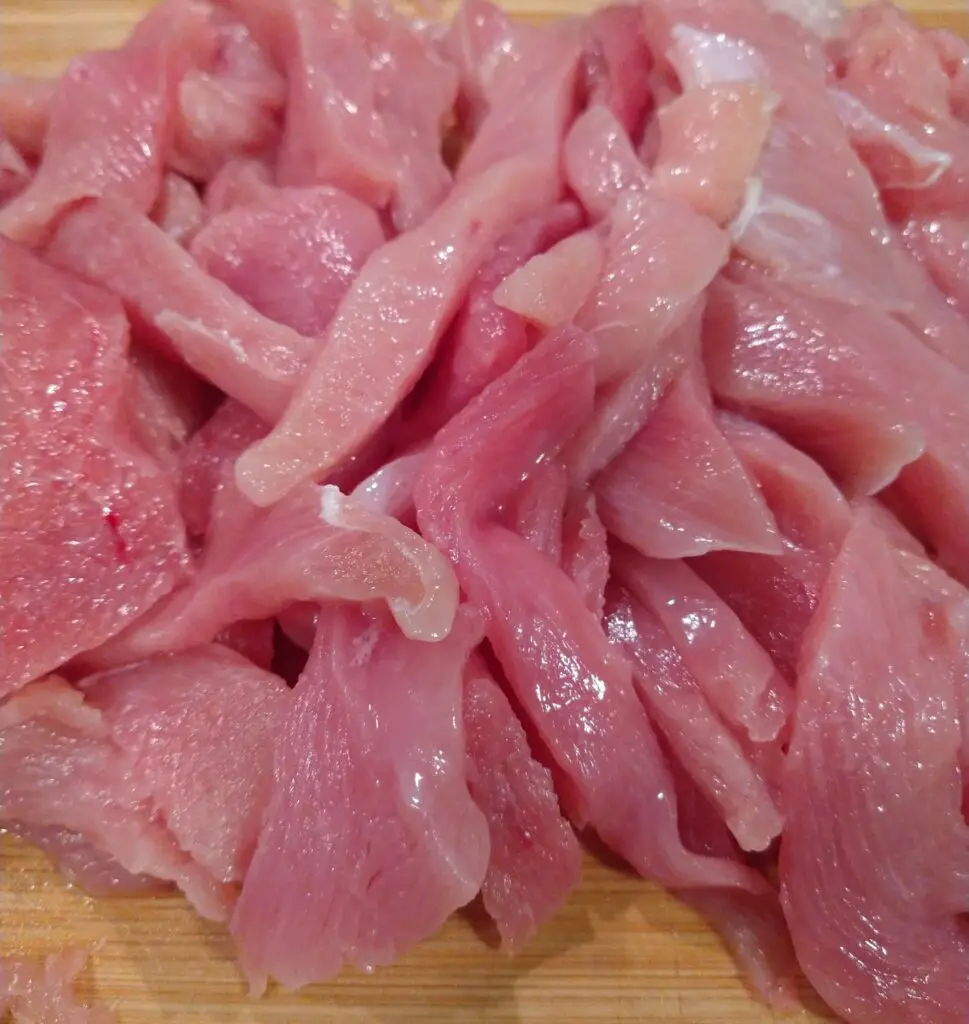 When it comes to the marinade you want to get at least 8 hours in, I usually do it overnight and that gives me at least the 8 hours if not closer to 12. The marinade recipe is pretty easy so let's take a look at it.
How To Make Turkey Jerky Marinade
We are going to get started with 3/4 cup soy sauce, 1/2 cup of Worchester sauce, 1 tablespoon of olive oil and 1 teaspoon of hot sauce. For hot sauce we use Tapatio here, you are definitely getting some more flavor than a Franks but it may not be available where you are so go with what you can get. Stir that together and now you can add in the spices.
You will need 1 tablespoon of minced garlic (I used store bought minced but you can always use fresh garlic cloves if you want. Your other option can be garlic powder but the minced garlic is preferred), a teaspoon of ground black pepper, 1 teaspoon of pink Himalayan salt, 3 tablespoons of brown sugar and 1 teaspoon of Four Pepper Blend from FlatIron Pepper Co (you don't have to use the FlatIron but if you have never tried it you are missing out! Check out their gift pack here).
Get that stirred in well with the liquids and we are going to add it to the bag with the turkey and refrigerate it while it marinates. Before you call it a night and let your turkey marinade, if you hang your jerky like I do, soak a bunch of toothpicks overnight. If you can flip the bag around a few times and mix it up to ensure every piece of turkey is getting as much of the flavor as it can.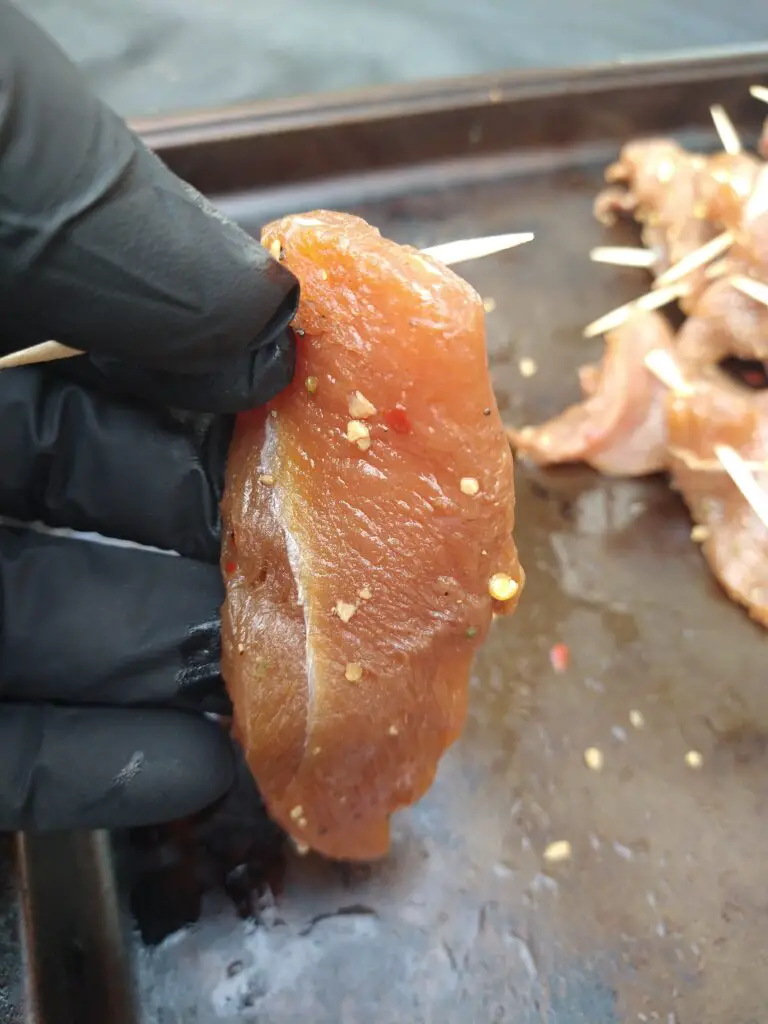 The next morning you can get your smoker started. I set my WSM at about 175°. In order to do this I keep my vents nearly closed, set up a snake method with my charcoal and try to find some of the smaller pieces of wood chunks in an effort to avoid spiking the temperature. For this recipe I used cherry wood. While I am doing this on my WSM, you might need to make some minor adjustments but no reason you cannot use this recipe on your pellet smoker or electric smoker.
How To Make Turkey Jerky In A Smoker
While you are getting your smoker up to temp, which should not take long, pull your turkey and lay it out on a tray. You are then going to pull the pieces and pat them dry. Depending on how big your turkey breast was this could take some time but it is important that you try to remove as much of the liquid as possible. If you do not, it will take that much longer to get it right on the smoker.
After you patted it dry, if you hang it like I do you will want to place a toothpick on one end of each piece. If you are laying it flat you are about ready to go. You can certainly get more on if you are going to hang it.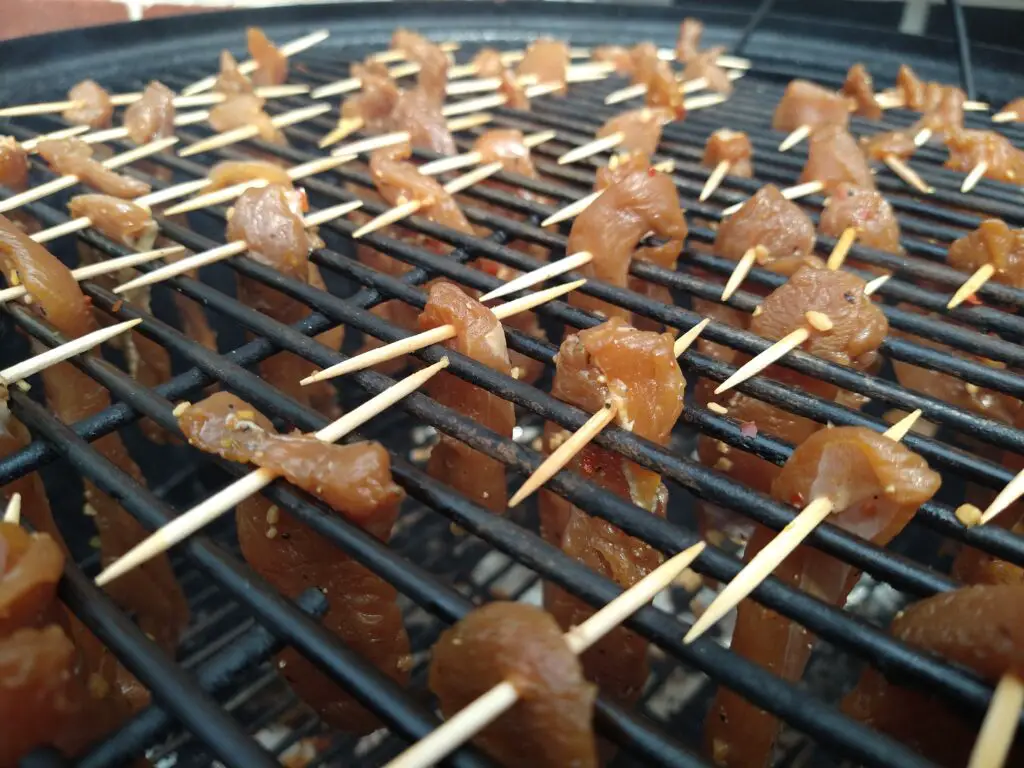 Smoked Turkey Jerky – Final Product
Once you have it on you are going to let the smoked turkey jerky stay in the smoker for about 6-7 hours. Your smoking time is going to vary depending on your ability to keep the temp in that 175° and how thin the turkey has been cut. You will know it is ready when you can bend the jerky and it just starts to crack a little. You do not want it to so brittle that when you bend the turkey strips it starts to break. I have found after you pull it, let it sit for a little bit and cool down. The smoked turkey jerky usually only needs about 15 minutes to rest and cool down.
I guarantee you this will go, I can never seem to make enough of this jerky when I do. Whether it is this or beef jerky, its rare that a batch makes it through the day. As this smoked turkey jerky started running out the requests started coming in from my 7 year old, to make it again and soon. Not too far behind were her sisters adding to the requests for more.
Thanks for being here and checking out this smoked turkey jerky recipe. I hope you enjoy the smoked jerky! We always appreciate comments, 5 star recipe rating and social media shares. As always, keep that smoke rolling!
Looking for some other food recipes and snacks to try out, take a look at these suggestions:
This post contains affiliate links. If you use these links to buy something I may earn a commission. Thanks!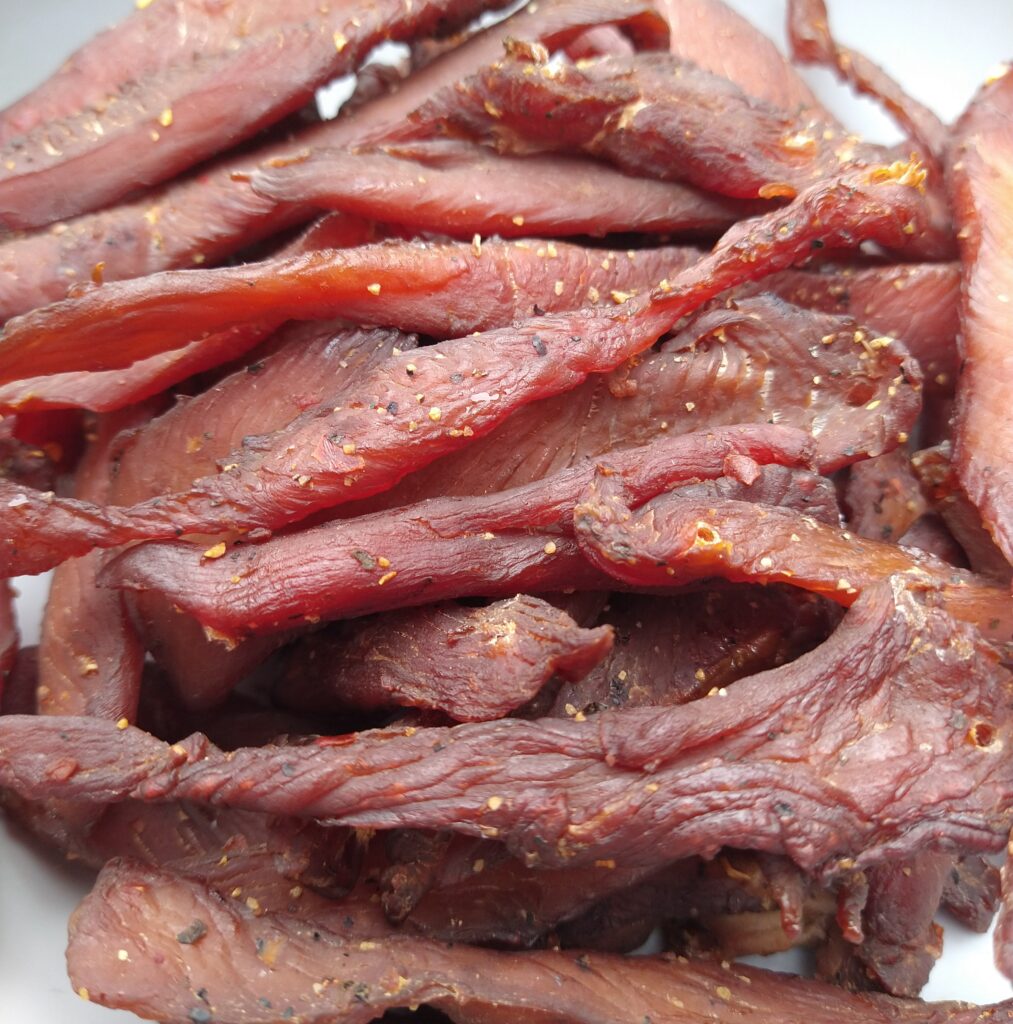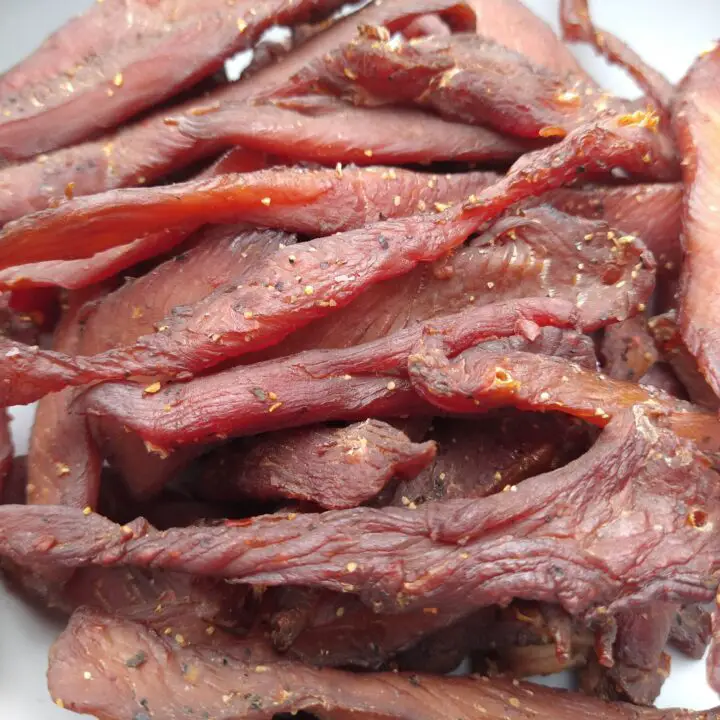 Smoked Turkey Jerky
Total Time:
6 hours
30 minutes
An easy smoked yet spicy turkey jerky recipe!
Ingredients
2 pound boneless turkey breast
1 tablespoon of minced garlic
1 teaspoon of black pepper
1 teaspoon of pink Himalayan salt
3 tablespoons of brown sugar
1/2 cup of Worchester sauce
3/4 cup of soy sauce
1/2 teaspoon of hot sauce
1 tablespoon of olive oil
1 teaspoon of red pepper flakes. I prefer using Four Pepper Blend from FlatIron
Instructions
Freeze the turkey breast for about 1-2 hours and then remove and slice
Slice the turkey into strips no more than 1/4" thick
Using the ingredients make the marinade
Combine the marinade and turkey and marinade in the refrigerator for anywhere from 8-12 hours
Start smoker and set for a temperature of 175 using cherry wood
Remove from refrigerator and lay out the jerky and pat dry
If hanging the jerky place toothpicks through one end of the jerky, otherwise skip this step
Place jerky on the smoker and smoke until you can bend the jerky, it cracks but does not break
Remove and enjoy!
Nutrition Information:
Yield:

10
Serving Size:

1
Amount Per Serving:
Calories:

179
Total Fat:

4g
Saturated Fat:

1g
Trans Fat:

0g
Unsaturated Fat:

2g
Cholesterol:

73mg
Sodium:

1354mg
Carbohydrates:

6g
Fiber:

1g
Sugar:

4g
Protein:

29g
This data was provided and calculated by Nutritionix on 8/22/2021