So I use this easy grilled chicken breast recipe on the grill and typically for chicken fajitas. If you are not looking to use it for fajitas, it has a ton of flavor and can certainly run solo as a meal, on its own or go ahead and instead of slicing, chop it for chicken tacos. It really is easy and fast to pull together and super simple for those nights you are maybe not be prepared or get the itch to throw something on last minute.
Many of these ingredients you will already have in the kitchen, again making this easy grilled chicken perfect or a last minute recipe.
Easy Grilled Chicken Breast Marinade
Let's run through the marinade real quick on this one, you can also print it our from the recipe card if that is easier for you. You are going to need the following:
1/3 cup of lime juice
1/2 cup of white sangria, I used Senor Sangria for this recipe. If you are in the NY tri-state area or in Florida you can find Senor Sangria in many stores but any white sangria will work. If you are looking for another option besides sangria some orange juice or pineapple juice can work as well.
2 tbsp. of Worchester sauce
4 tbsp. of olive oil
1 tbsp. of mined garlic, you can use fresh garlic if you would like. I typically have a jar of minced garlic so that is my go to. If you do not have fresh garlic or a jar of minced garlic you can use garlic powder but you are not going to get the same flavor if you were to use on the other garlic products.
2 tsp. of cumin
1/2 tsp. if cayenne pepper
1 tsp. of salt
1 tsp. of black pepper
1 tsp. of FlatIron Sweet Heat pepper flakes. If you have never used these flakes give them a try, you will not be disappointed. If you have seen in other recipes, I use these frequently.
1/2 tsp. of paprika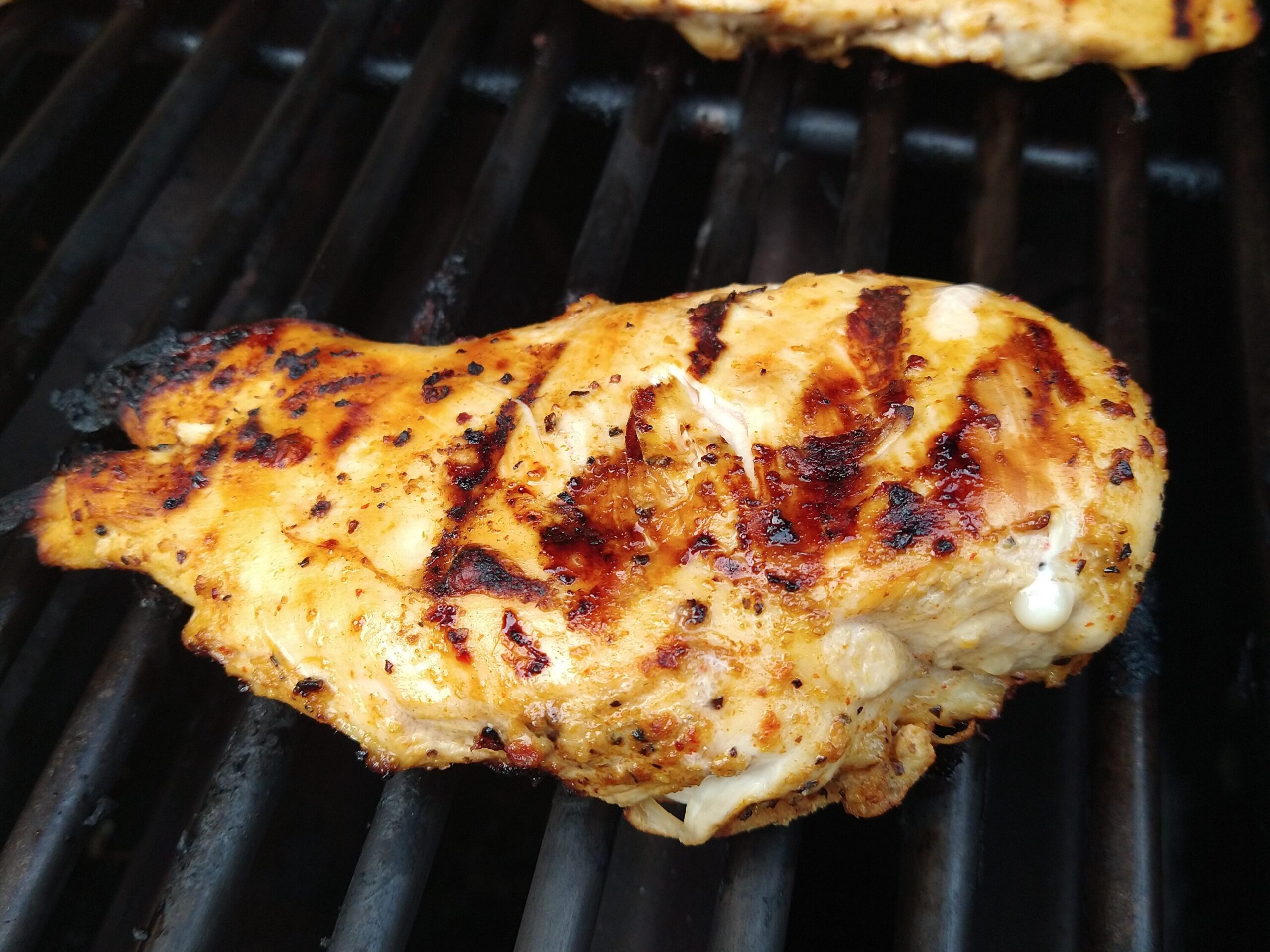 Time To Grill
I used 2 full chicken breasts and marinated them for 5 hours. You can always marinade longer but you start getting 5 hours plus you will capture a lot of that flavor. Once I pulled them from the marinade I threw them on the grill on medium heat. I grilled on each side for about 7 minutes, so about 14-15 minutes total. This will depend on the thickness of each breast. Always make sure you are going for that IT of 165 when grilling or smoking chicken.
Once you hit that IT of 165 go ahead pull them off the grill and slice away. No need to wait around and let this cool, serve this right away while its hot and enjoy!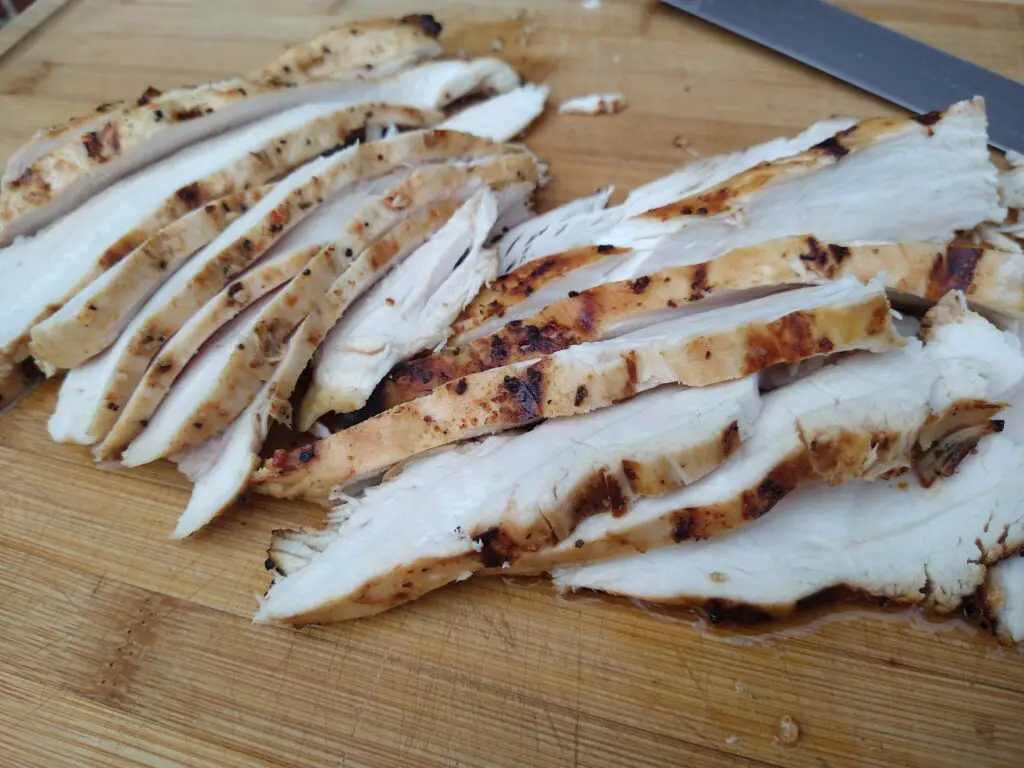 Thanks for being here and checking out this Easy Grilled Chicken breast recipe. If you are looking for some other ideas especially for fajitas, take a look at our flank steak recipe or if you want a side dish if you are running this easy grilled chicken recipe solo take a look at our smoked cornbread recipe. If you are looking for a totally different meal option take a look at this smoked shrimp and peach kabob. We love this recipe for all seasons but its great for a summer evening or side dish.
Keep those smokers and grillers running and we appreciate if you take some time to leave us a review or comment!
This post contains affiliate links. If you use these links to buy something I may earn a commission. Thanks!
Easy Grilled Chicken
Total Time:
5 hours
15 minutes
Ingredients
Chicken breast
1/3 cup of lime juice
1/2 cup of white sangria (I used Senor Sangria for this recipe)
2 tbsp. of Worchester sauce
4 tbsp. of olive oil
1 tbsp. of minced garlic
2 tsp. of cumin
1/2 tsp. cayenne pepper
1 tsp. of salt
1 tsp. of black pepper
1 tsp. of FlatIron Sweet Heat Pepper flakes
1/2 tsp. of paprika
Nutrition Information:
Yield:

4
Serving Size:

1
Amount Per Serving:
Calories:

213
Total Fat:

15g
Saturated Fat:

2g
Trans Fat:

0g
Unsaturated Fat:

12g
Cholesterol:

26mg
Sodium:

645mg
Carbohydrates:

7g
Fiber:

1g
Sugar:

2g
Protein:

10g