Smoked Bone In Chicken Thighs are a delicious meal for the family. Everyone will love the crispy skin and smoky flavor and once on the smoker you are done in less than 90 minutes.
I do want to note before getting too far into this recipe, these are not competition smoked chicken thighs. While competition thighs are great, we are going to do a delicious smoked chicken recipe that is stress free, budget friendly and will be a family and BBQ party favorite.
Smoked Chicken Thighs Brine
I always recommend brining chicken or any poultry, as they have a tendency to dry out. Thighs are a great meat to smoke and/or grill because they are a bit more tolerant to high heat. Here is our brine recipe and it is also below in a recipe card. I recommend 4-5 hours of brine for chicken thighs.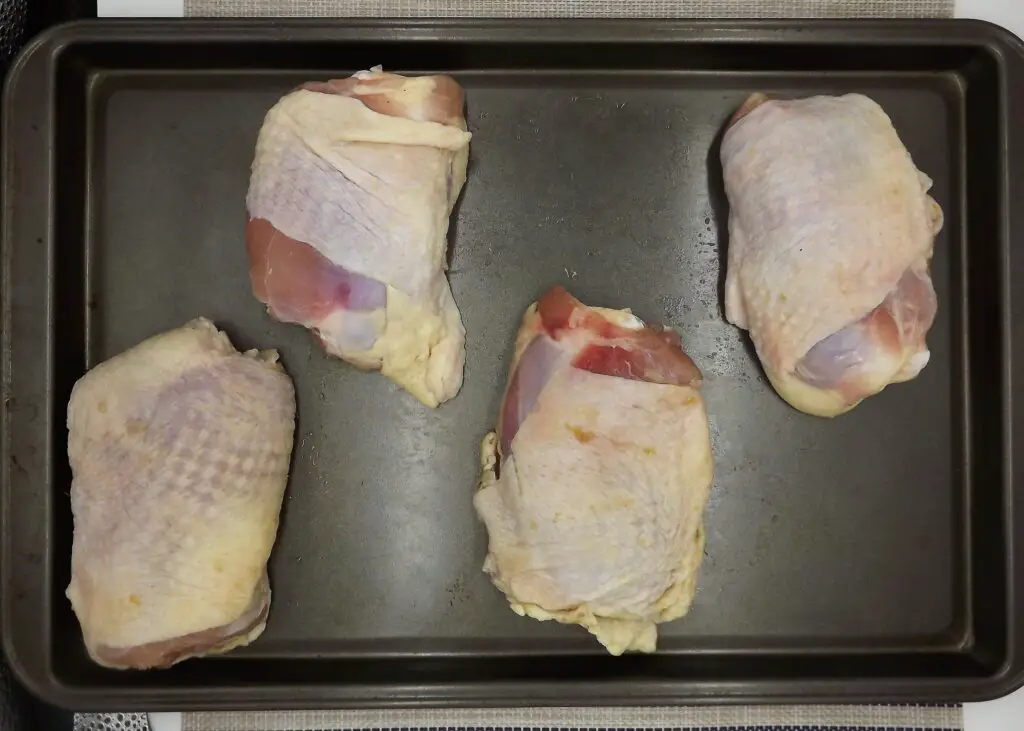 Prepping To Smoke Chicken Thighs
Before the thighs are done in brine, you can get the smoker started. I did these on my Weber Kettle but have also done them on my Weber Smokey Mountain. Whether you do this on your pellet grill or some other smoker, this recipe should still work.
When smoking chicken thighs or any poultry with skin and bone, we do not want to do these low and slow. The reason being, low and slow while keep the meat nice and juicy and tender, it will produce a rubbery skin, that will not be nearly as appealing. So when setting up our smokers, we are going to get these going hot and fast and that is what will give us the crispy chicken skin. We will want to set our smoker temperature to 325° and for this recipe I went with some mesquite wood.
While your smoker is getting up to temp, you can pull the thighs from the brine. The first thing you are going to do, after removing from the brine is to pat them dry with a paper towel. After having patted them dry, you are going to brush on some olive oil to the top of the thighs but particularly on the skin. In addition to the high heat, the olive oil will help get the chicken thighs skin nice and crispy and act as a binder for the rub.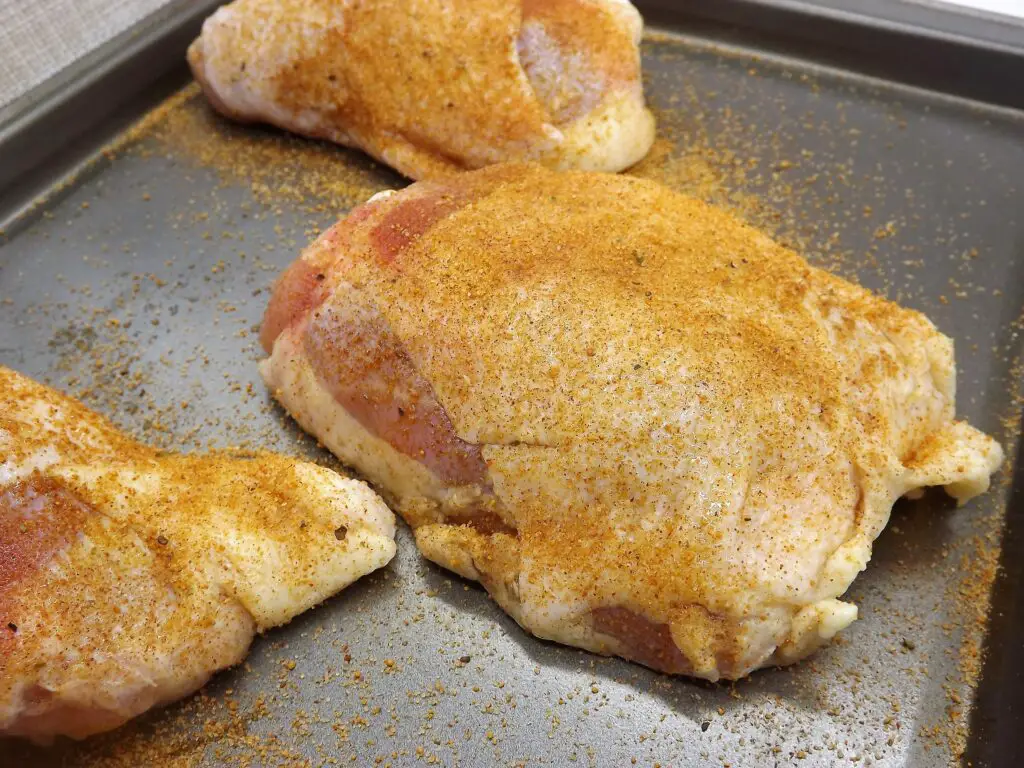 With the olive oil on the the thighs, we can get some dry rub on them. I used some Meat Church Holy Voodoo on these thighs. Coat them generously and be sure to get the top and bottoms of the thighs. After you have gotten some dry rub on the thighs we are ready to get them on the smoker.
How To Smoke Chicken Thighs
This is the easy part, when making smoked bone in chicken thighs. Because we are going to smoke these hot and fast, it will be a quick smoke. Once on the smoker there is not much we need to do. Keep an eye on the internal temperature. If you need a good meat thermometer that doesn't break the bank, take a look at the ThermoPro TP20. It is my go to when using my smoker.
Most chicken we will pull when the internal temperature reaches 165 degrees. Because thighs are more tolerant of the higher heat, we do not need to pull at 165° but can let these ride until they reach an IT of 170°-175°.
I usually like leaving my thighs with just the dry rub but if you are going to want to add some of your favorite barbecue sauce to the thighs, you will want to do that when they get to an IT of 155°. After you add the BBQ sauce leave the thighs until you get to 170°-175° degrees. When you reach that point, pull the thighs and let them rest for about 10 minutes. From start to finish the thighs on the smoker should take you about 75 minutes.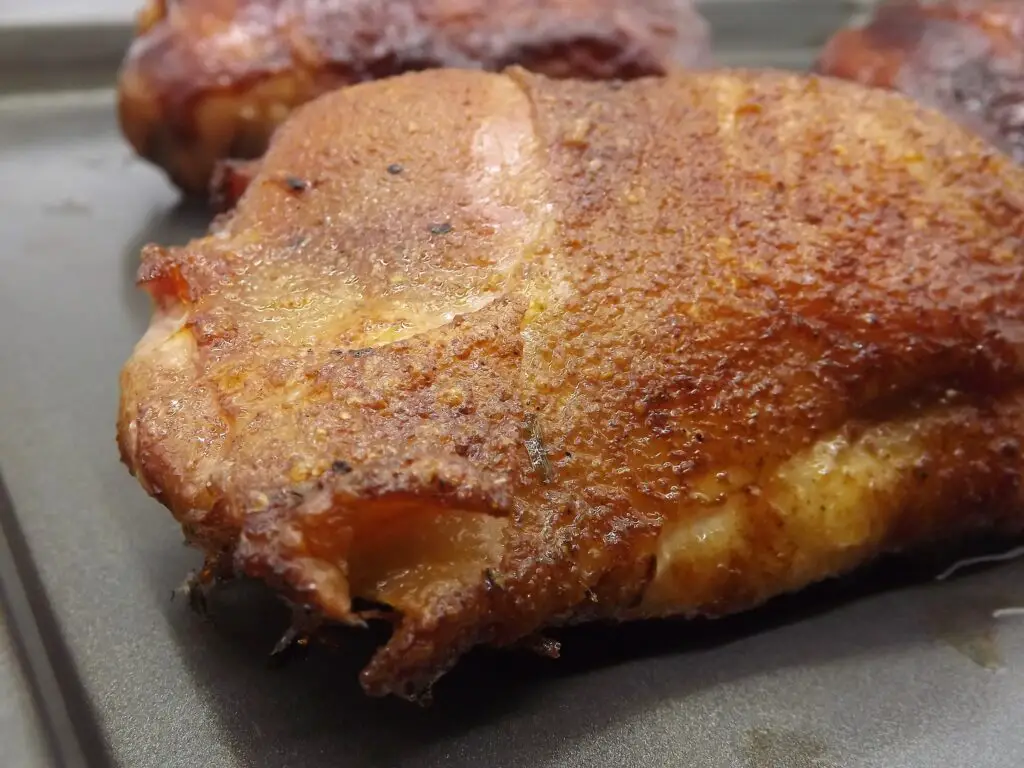 Thanks for being here and checking out this Smoked Bone In Chicken Thighs recipe. I hope you enjoy it! We always appreciate comments, 5 star recipe rating and social media shares. As always, keep that smoke rolling!
If you love smoking chicken we have some other chicken recipes and a few other ideas for you:
This post contains affiliate links. If you use these links to buy something I may earn a commission. Thanks!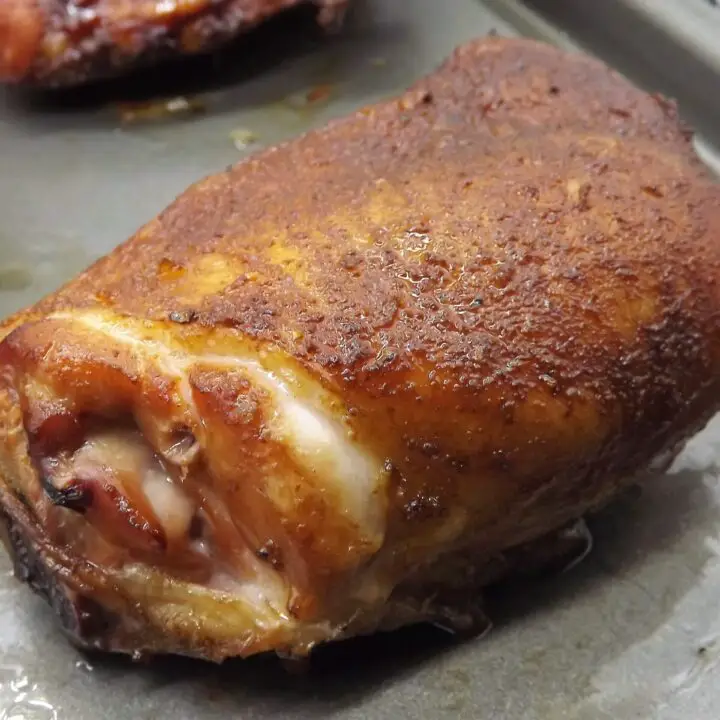 Chicken Thigh Brine Recipe
Total Time:
4 hours
10 minutes
A simple brine recipe for chicken
Ingredients
5 cups of water
2 tablespoons of brown sugar
1 Worchester Sauce
1 tablespoon of BBQ sauce
1/4 cup of salt
Instructions
Add all ingredients to a bowl, mix and add chicken
Let brine, in the refrigerator, for about 2-4 hours
Remove and smoke or grill chicken
Nutrition Information:
Yield:

5
Serving Size:

1
Amount Per Serving:
Calories:

47
Total Fat:

3g
Saturated Fat:

0g
Trans Fat:

0g
Unsaturated Fat:

2g
Cholesterol:

0mg
Sodium:

1315mg
Carbohydrates:

6g
Fiber:

0g
Sugar:

5g
Protein:

0g
Smoked Bone In Chicken Thighs
Cook Time:
1 hour
15 minutes
Additional Time:
10 minutes
Total Time:
1 hour
40 minutes
Smoked Bone In Chicken Thighs are a delicious meal for the family. Everyone will love the crispy skin and smoky flavor and once on the smoker you are done in less than 90 minutes.
Ingredients
1.5 lbs. of chicken thighs (4 thighs)
1 tbsp. of olive oil
Dry Rub of choice. I used Holy Voodoo
Instructions
Brine for about 4 hours
Set smoker to 325°. I used mesquite wood for this smoke.
Remove from brine and pat dry with a paper towel
Lightly coat with some olive oil
Cover with a rub of choice, I prefer a sweeter rub like Holy Voodoo
Place on smoker
If you are going to use a BBQ sauce coat the thighs when they reach an IT of 155°
When the thighs reach a minimum of 165° you can pull. Thighs can take a higher IT, so I will usually pull around 170°-175°.
Nutrition Information:
Yield:

4
Serving Size:

1
Amount Per Serving:
Calories:

394
Total Fat:

27g
Saturated Fat:

8g
Trans Fat:

0g
Unsaturated Fat:

19g
Cholesterol:

218mg
Sodium:

296mg
Carbohydrates:

0g
Fiber:

0g
Sugar:

0g
Protein:

40g