Smoked carnitas are an awesome way to take smoked pork and create a great taco dish. Smoked Carnitas are different from your traditional smoked pork tacos as we are going to add a bit of a crisp to the pulled pork.
What Are Carnitas?
Carnitas is a traditional Mexican dish that is made from a marbled cut of pork. It is usually made from pork butt or pork shoulder, as they are best suited to make shredded pork. After shredding the pork it is then cooked in some oil to get some great crisp on it. You can then serve the carnitas on its own, with some sides, or in tacos, which we will do, or in burritos.
Smoked Pork Carnitas
For this recipe, I used 2 bone in pork butts. I set my WSM for 250° and used Kingsford charcoal and cherry wood. With little adjustments you can probably set up your pellet grill or other smoker to make this recipe.
We are going to start this recipe and essentially make some smoked pulled pork. If you are looking for some more detail around smoking pork, you can check our our smoked pork butt recipe. While we are going to wait for the smoker to get up to temperature we can start working on our dry rub.
Smoked Carnitas Dry Rub
This is a great smoked carnitas rub, that when added to the butt will make some flavorful Mexican pulled pork to make tacos with. Here is a list of ingredients you will need for this dry rub:
2 tsp. kosher salt
2 tsp. ground black pepper
1 tsp. chili powder
1 tsp. powder garlic
1 tsp. minced onions
1/2 tsp. of cayenne powder
1/2 tsp. of cumin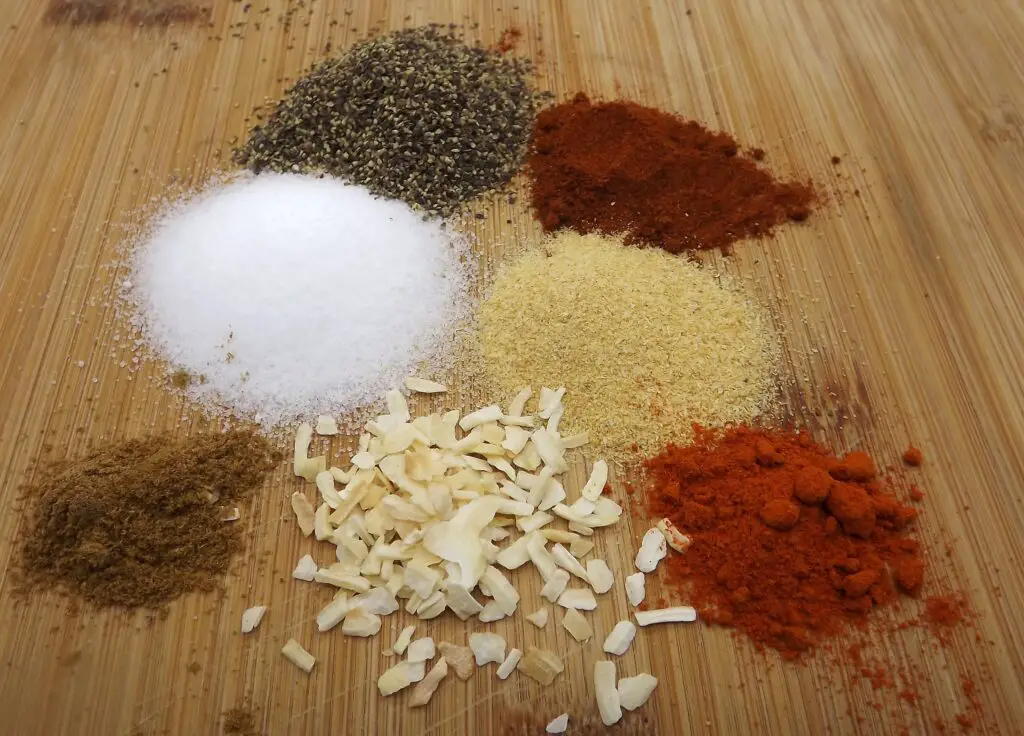 Mix these ingredients well and then you can coat the pork. If you need a binder, a little bit of mustard will do the trick to hold this to the pork. Ensure you cover all sides and get the rub in any kind of cuts or slits. Because I am using a bone in, there are less cuts in this meat compared to a boneless pork butt or shoulder that is going to have more area to cover.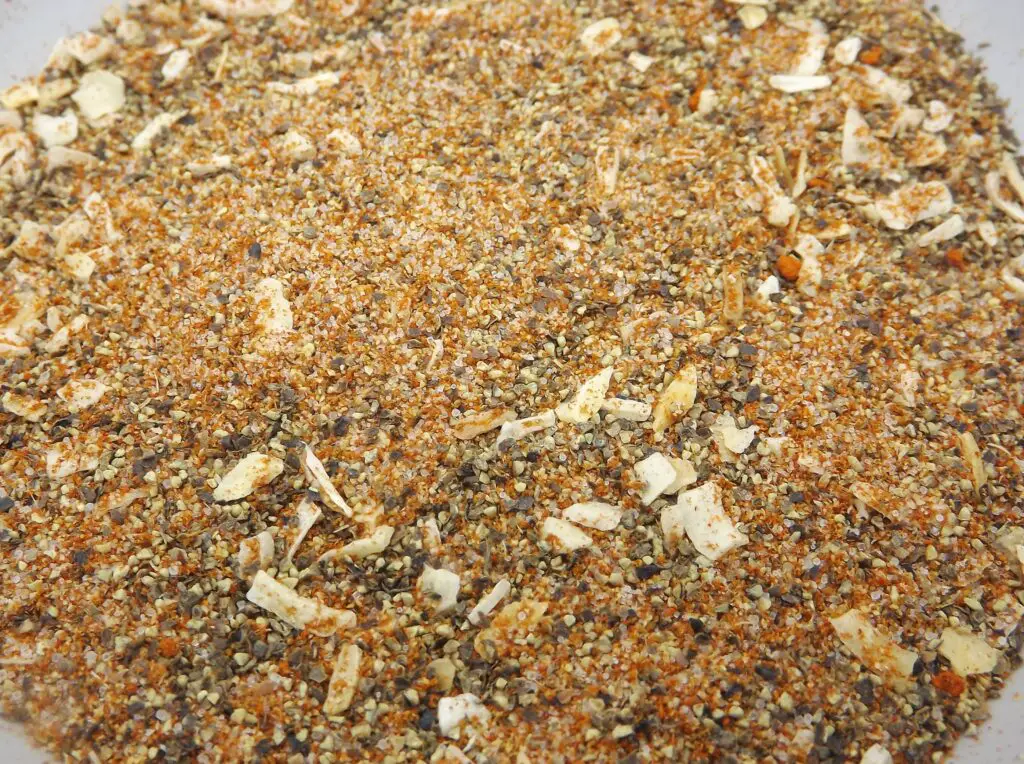 If you have some extra rub, save it, we will use it later, after the smoke.
Smoked Pulled Pork
You are going to let the pork smoke until you get to an internal temperature of about 160°, which is about where it will stall. Once you are happy with the bark, go ahead and wrap the pork. You can wrap with butcher paper or aluminum foil. The butcher paper will hold the bark better than the foil. You are then going to keep it wrapped and smoking until it is probe tender and that will usually be around 205°. Once you hit probe tender, keep the pork wrapped and pull from the smoker. You can then let it rest for about 30 minutes.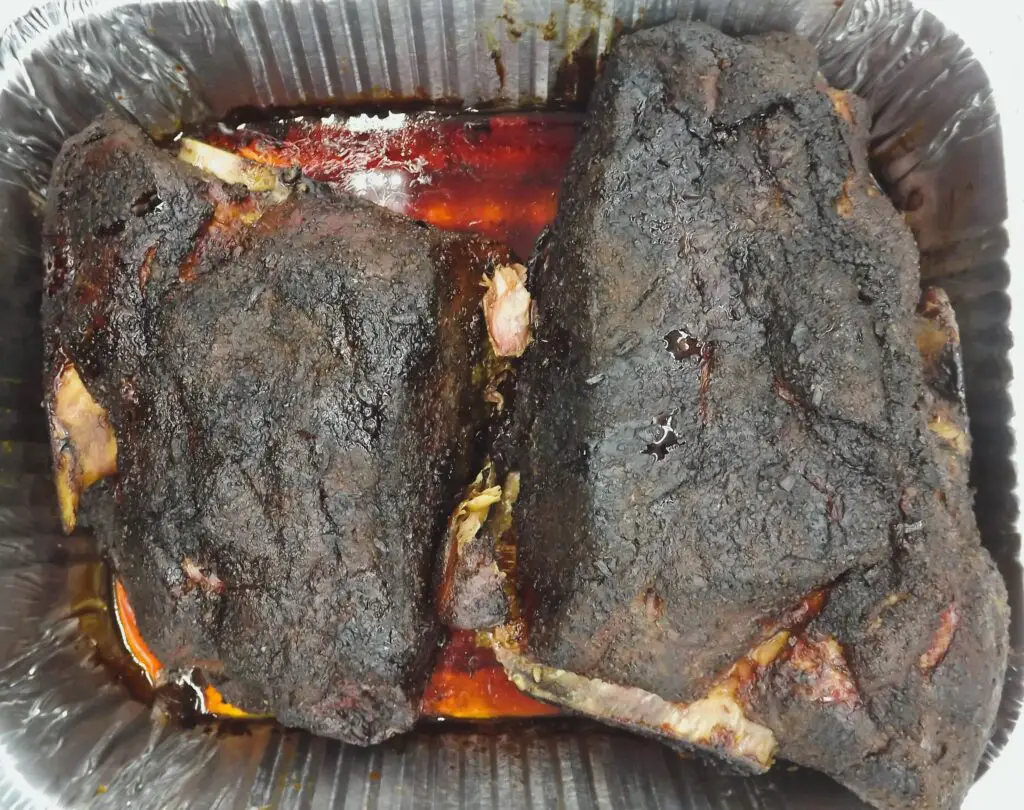 Looking for a great probe to measure temperatures? Try the ThermoPro TP20, perfect for a smoke like this and budget friendly.
Depending on the size of your pork butts, you are looking at 10-12 hours all in. After 30 minutes of rest you can pull the bone and start to shred. Once you shred, put off to the side and we will move on to making the carnitas.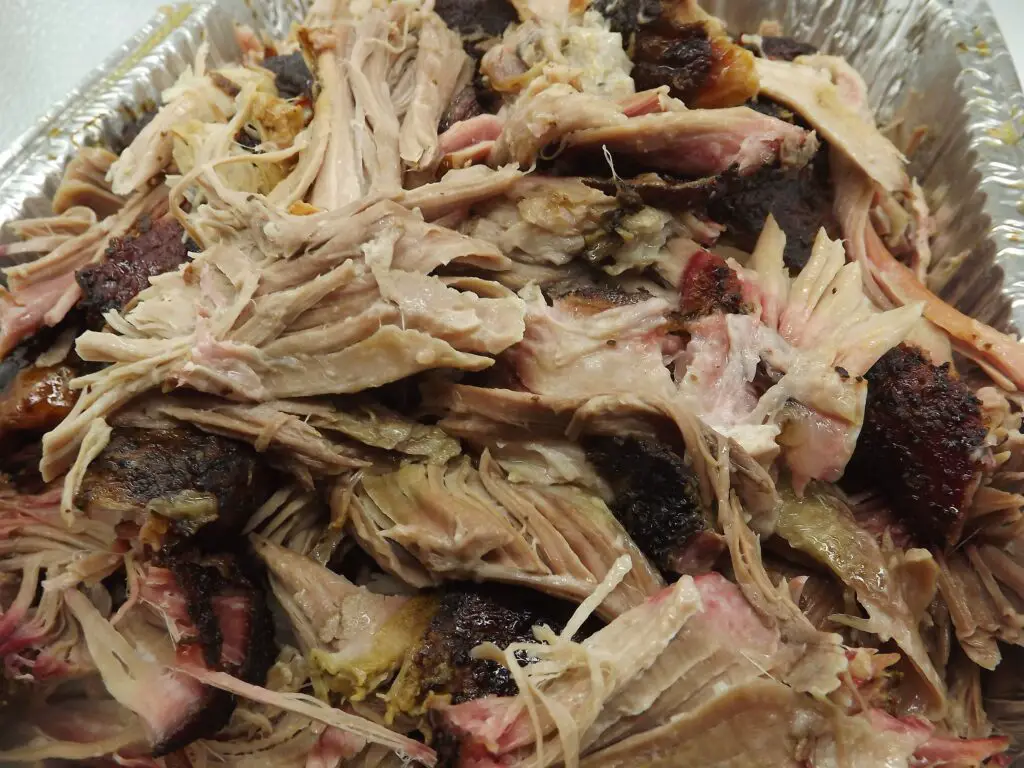 How To Make Pulled Pork Carnitas
Now that we have the pork pulled we are going to make some carnitas. The first step will be to warm up some vegetable oil in a cast iron skillet, over medium to high heat. You will also want some of the extra dry rub that we coated the pork butt with earlier. Once the oil is warmed up we are going to place just one layer of pork down into the vegetable oil and then add some of the dry rub to the pork.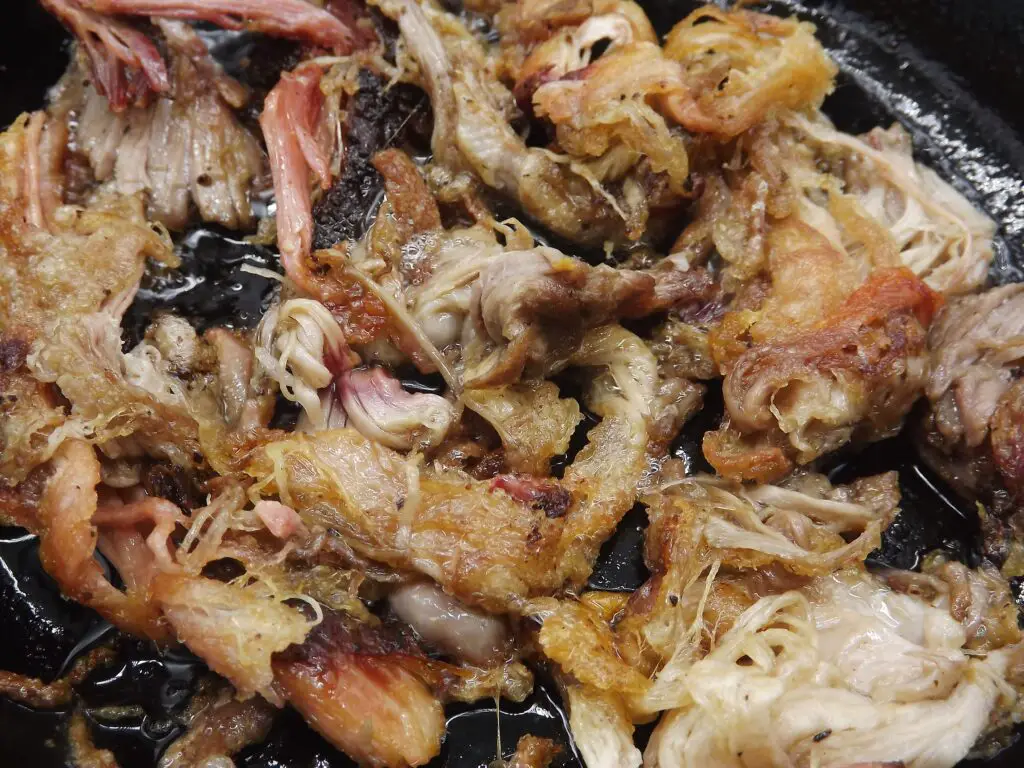 You are not going to want to layer the pork in the skillet, this is a relatively quick process and having layered pork will make it slightly more difficult. Once you have it in, you want to keep the pork in the oil until you see it start to crisp up. At this point you will want to try flipping it after about one minute. In all you are looking at a approximate 2 minute process. Another key to making this work is to not wait until the pork is fully crisped because the oil on the pork will continue to cook the pork after removing it from the skillet, even if only briefly.
Repeat this step of cooking the pork in the oil until you have the amount of carnitas you need. Once completed we will put our tacos together.
If you have some extra pork go ahead, freeze it and check out our article on how to reheat pulled pork.
How To Make Smoked Carnitas Tacos
Authentic Mexican tacos are so incredibly easy. American style tacos are so much more work then they need to be. You can use either corn or flour tortillas. You then just need some chopped cilantro, white onions and maybe some garnish with some radishes and/or lime juice. We also like to top our tacos off with some guacamole salsa.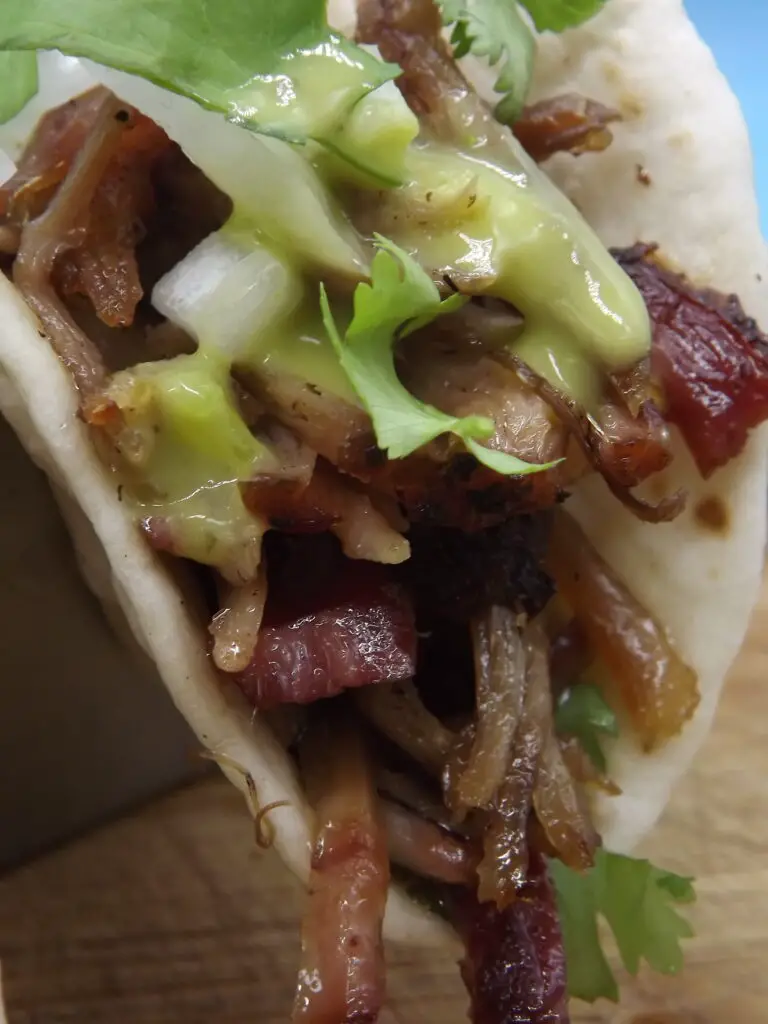 That is it! You have some incredibly delicious tacos on your hands. Another addition for your Taco Tuesday rotation or to really wow your guests for a summer BBQ.
Thanks for being here and checking out this Smoked Carnitas recipe. I hope you enjoy it! We always appreciate comments, 5 star recipe rating and social media shares. As always, keep that smoke rolling!
If you are looking for some other recipes, here are a few suggestions:
This post contains affiliate links. If you use these links to buy something I may earn a commission. Thanks!
Smoked Carnitas Tacos
Cook Time:
10 hours
15 minutes
Total Time:
10 hours
35 minutes
Carnitas are a great way to mix up your taco menu, and with one extra step you get some great authentic Mexican tacos.
Ingredients
7 lbs. pork butt
1 tbsp. vegetable oil
flour tortillas
1 cup of chopped cilantro
1 cup of chopped white onion
Dry Rub
2 tsp. kosher salt
2 tsp. ground black pepper
1 tsp. chili powder
1 tsp. powder garlic
1 tsp. minced onions
1/2 tsp. of cayenne powder
1/2 tsp. of cumin
Instructions
Make dry rub and then coat pork butt. Use mustard as a binder if you need it.
Smoke the pork butt until probe tender. This will take approximately 10-12 hours depending on size. Wrap when bark is good, which will be around 160. Probe tender is around 205
Let rest for 30 minutes
Pull the pork and set aside
Heat the vegetable oil and place one layer or pork in the cast iron skillet
Heat for about one minute and then turn or stir. Cook the other side of the pork until you see a crisp on the pork. Remove as the oil will continue to cook/crisp for a short period.
Make your tacos, with corn or flour tortillas, chopped cilantro and white onions. Garnish with some radishes, lime juice and/or salsa.
Nutrition Information:
Yield:

20
Serving Size:

1
Amount Per Serving:
Calories:

435
Total Fat:

31g
Saturated Fat:

11g
Trans Fat:

0g
Unsaturated Fat:

17g
Cholesterol:

137mg
Sodium:

236mg
Carbohydrates:

0g
Fiber:

0g
Sugar:

0g
Protein:

37g