This recipe for tandoori chicken on charcoal grill is quick and easy to accomplish. It makes for a great weeknight dinner, or if you are having that weekend BBQ and want to serve something with a different twist.
Grilled Tandoori Chicken Recipe Instructions
These ingredients are pretty basic, if you like Indian food, then you are likely to enjoy or have already had tandoori chicken. And if you have ever done any cooking to achieve those Indian flavors at home, there is a good chance you will have the needed spices for the marinade, in the house already. Here is a quick list of what you will need, with the details in the recipe card:
plain Greek yogurt
salt
black pepper
ground cloves
fresh ginger
minced garlic
paprika
ground cumin
ground cinnamon powder
ground coriander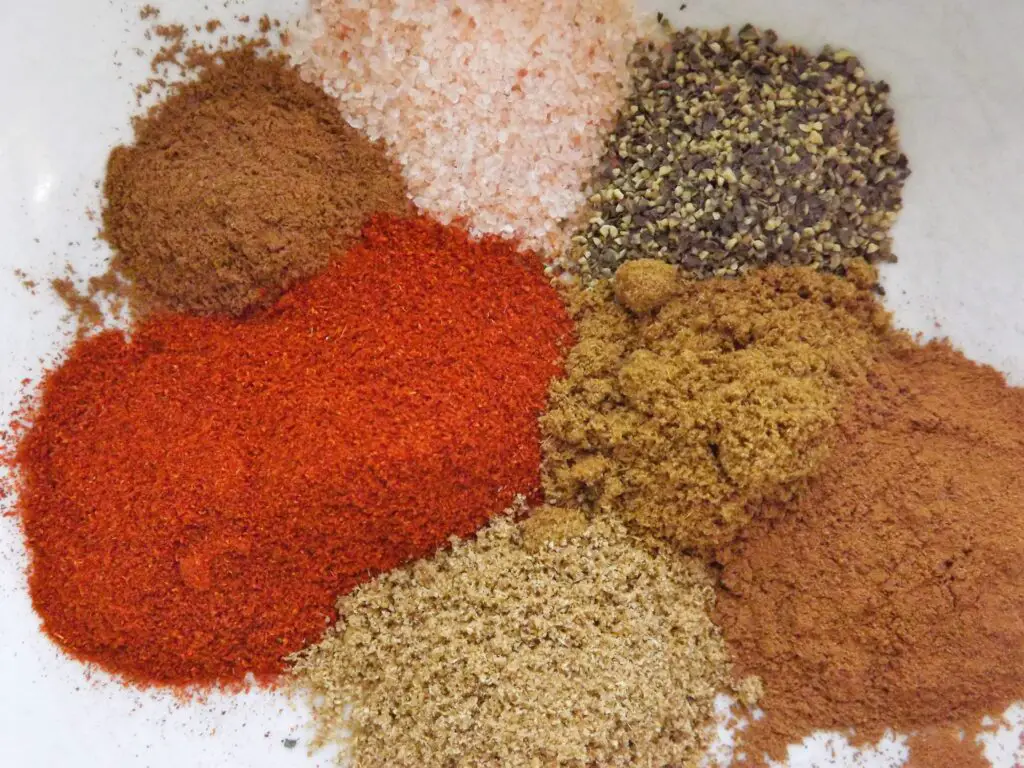 A couple of notes on the ingredients. I used freshly ground ginger, you can do that or if you have ground ginger in the house go with that. With the minced garlic, I did not use fresh garlic cloves but your basic minced garlic from Costco.
When making this tandoori chicken on charcoal grill, I opted to go with boneless and skinless chicken thighs. Any variety of chicken will work but thighs hold up great against the high heat. You will want to start by taking your tandoori chicken marinade ingredients and place them in a bowl and mix together. Then combine your marinade and the chicken thighs in a Ziploc bag. The yogurt makes this a thicker marinade so you will want to ensure you are working it into the thighs and rotating every couple of hours. If you keep the thighs in the marinade for about 6 hours you should be good to go. You can take it upwards to about 8 hours if you would like.
Grilled Chicken Tandoori Recipe
Now that you have let the tandoori grilled chicken marinade for that 6hours time frame, you can remove the chicken pieces from the bag. We are going to wipe off some of the excess marinade off the thighs. You can accomplish this with a paper towel or even a knife. After having completed this put each thigh off the to side and we can get ready to put them on the grill.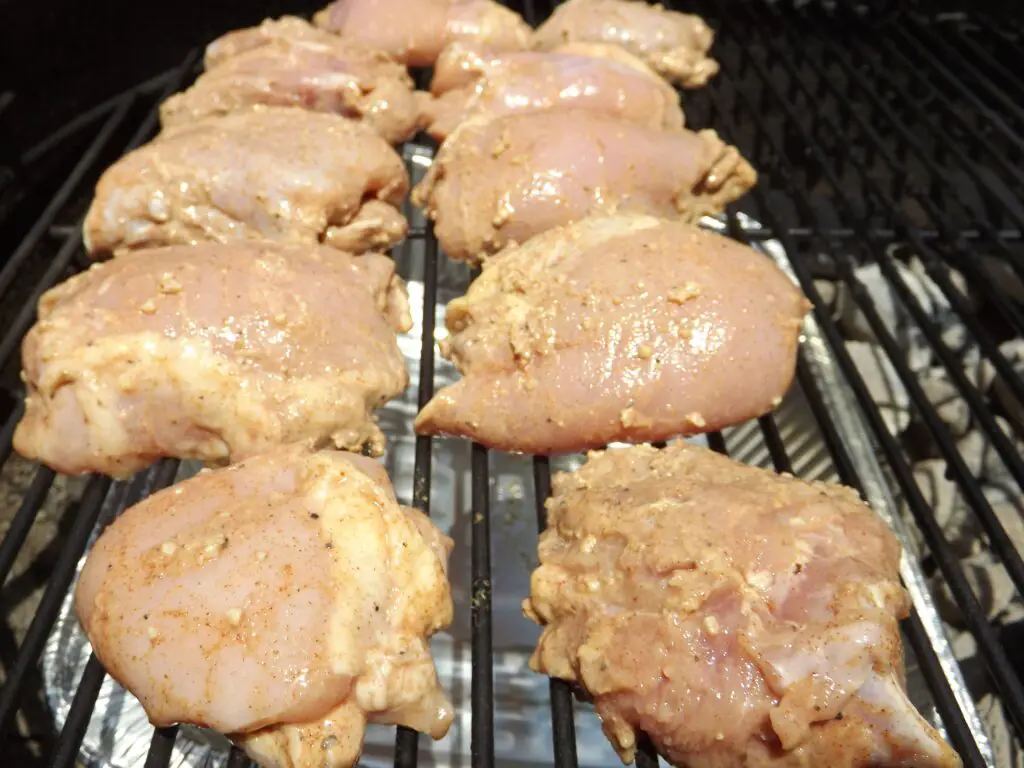 I did these thighs on my Weber Kettle, using Kingsford's briquettes for charcoal. You could follow the steps with some modest adjustments if you were to do this tandoori chicken on gas grill. My setup was charcoal on one side of the Kettle and the thighs on the other. My target temperature was 350° on the Kettle. I used about 3/4 of a chimney of Kingsford. Once they started to ash over, I moved them into the Kettle and let it settle into that 350° range.
Tandoori Chicken On The Grill
Once I was up and running on the Kettle, I placed the thighs on and using my ThermoPro TP20 kept them there until I hit an internal temperature of 165°. I kept the lid on the Kettle for the entire time, while waiting to reach 165 degrees. After I hit the IT of 165°, I moved the thighs to the other side of the Kettle for direct heat and quick reverse sear. After I moved the chicken to the other side, I then hit each side of the chicken over direct heat, for about 3 minutes. After the 3 minutes on each side, I removed and they were ready to serve.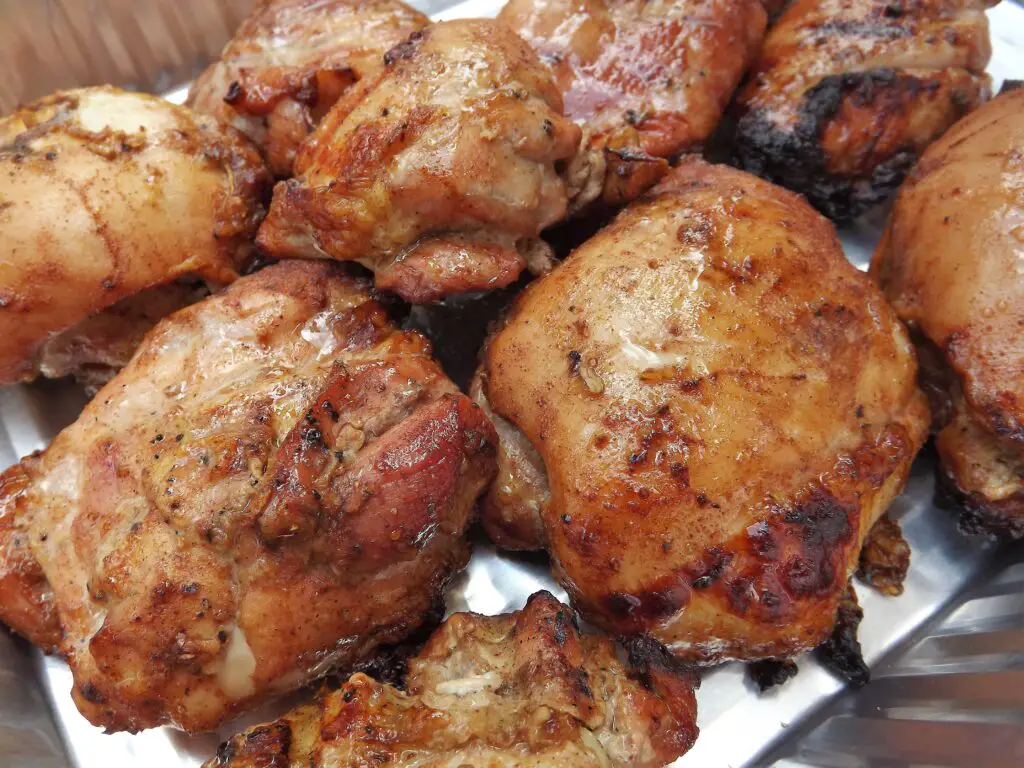 It is worth noting that thighs can take a higher heat and can go beyond the 165° you would normally pull chicken breasts. Breasts do not have nearly the same tolerance as thighs do for grilling. You can take thighs upwards of 180 without them really getting dried out. It took about 35 minutes for the thighs to reach the 165°.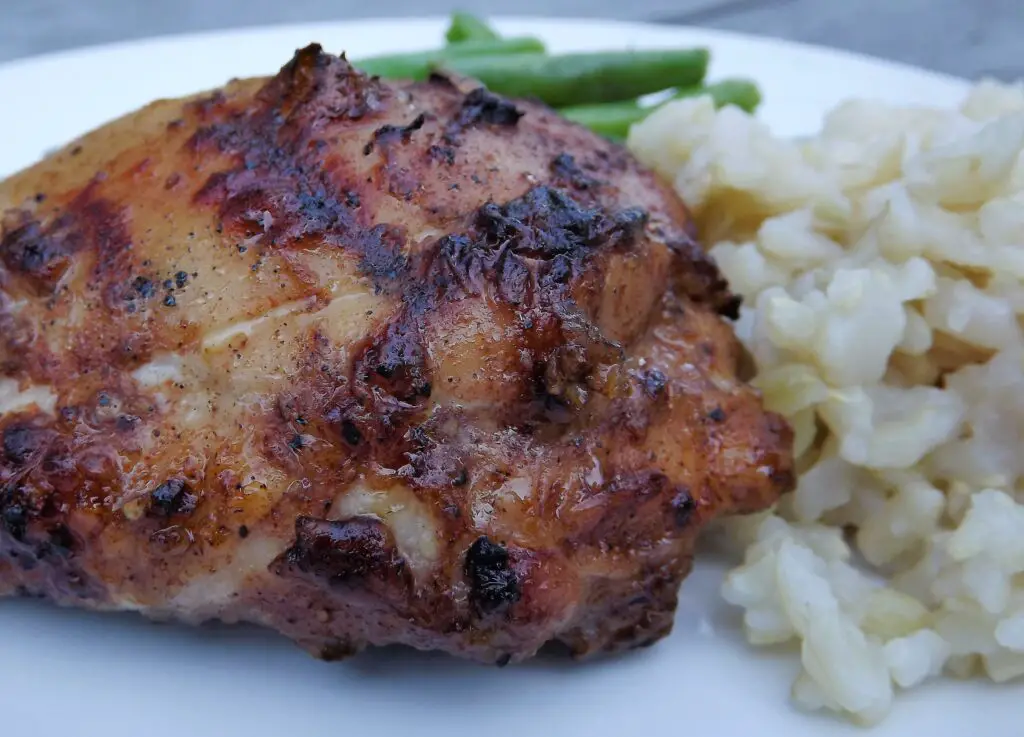 What Side Dish Can I Serve With Tandoori Chicken?
Some easy side dishes to compliment this grilled tandoori chicken recipe are:
Naan: A flatbread that pairs perfectly with tandoori chicken
Rice: You can serve a turmeric rice or basmati rice
Bombay Potatoes: boiled with turmeric and then either fried or roasted, a perfect side dish
Thanks for being here and checking out this Tandoori Chicken On Charcoal Grill recipe. I hope you enjoy it! We always appreciate comments, 5 star recipe rating and social media shares. Keep that smoke rolling!
If you are looking for some other chicken recipes or ideas here are some suggestions:
This post contains affiliate links. If you use these links to buy something I may earn a commission. Thanks!
Tandoori Chicken On Charcoal Grill
Cook Time:
1 hour
30 minutes
Additional Time:
10 minutes
Total Time:
7 hours
40 minutes
Ingredients
2 lbs. of chicken thighs
5 oz. of plain Greek yogurt
1 teaspoon of salt
1/2 teaspoon ground black pepper
1/2 teaspoon of ground cloves
1 tablespoon of freshly ground ginger
1 tablespoon of minced garlic
2 teaspoon of paprika
1 teaspoon ground cumin
1 teaspoon of ground cinnamon
1 teaspoon of ground coriander
Instructions
Combine your ingredients for the marinade into a bowl and mix well
Add the marinade and the chicken thighs in a bag and be sure to massage the marinade into the meat
Keep refrigerated for anywhere between 6-8 hours, rotating the bag on occasion
After 6 hours remove the thighs and remove excess marinade using either a paper towel or the back side of butter knife
Get your charcoal grill up to 350° and place chicken on, for indirect heat until you reach an IT of 165°
Then place over direct heat, for about 3 minutes on each side of the thighs
Remove and serve