Smoked London broil is not exactly the cut of meat you hear a lot of people throwing on the smoker. But it can be done with a great marinade and reverse sear, smoking a London broil can be an amazing option for you and your guests.
What Is A London Broil?
London broil got its name from not from the cut of meat but the way it is cooked. It originated as best cooked when marinated and broiled. Over the years that has changed and London Broil, is now commonly done on the grill and occasionally in the smoker.
The actual cut of meat is a top round steak or flank steak and is typically known as a tougher cut of meat from the rear of the cow. When at the grocery store you will frequently see it labeled and marketed as a London broil. And it should be noted that the term London broil has nothing to do with London but is a North American creation.
Smoked London Broil Marinade
The key to a good London broil is the marinade. The marinade while adding flavor will also help break down some of those tougher tissues in the top round roast and make it far more tender than it would be otherwise.
Our ingredient list for the marinade is as follows, all the measurements in the recipe card:
minced garlic
soy sauce
Worchester sauce
lemon juice
olive oil
salt
pepper
FlatIron Hatch Valley flakes
oregano
red wine vinegar
thyme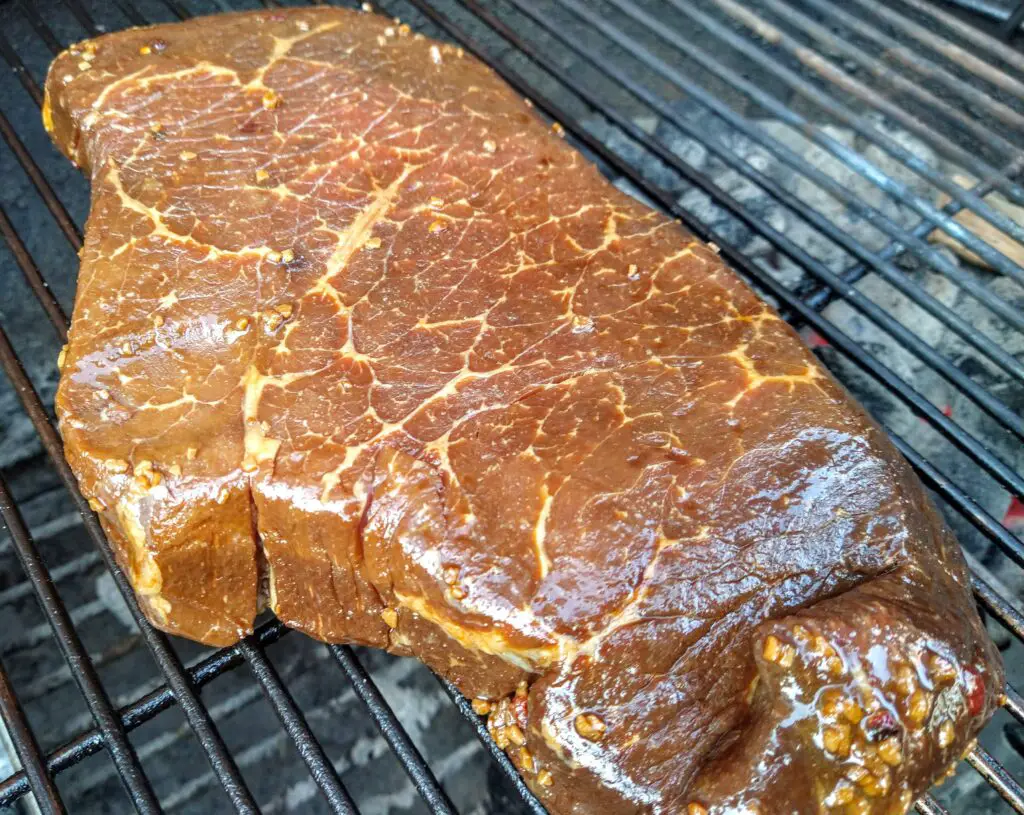 After you combine all your ingredients in a bowl, mix and then add to a dish large enough to hold the London broil or a large Ziploc bag. You will then it marinade for about 6 hours. After the 6 hours, you will remove and prep to throw on the smoker.
How To Smoke A London Broil
Now that we have the London broil marinaded. We are going to get it on the smoker. I did this on my Kettle but nothing saying you can't smoke this London Broil on pellet grill or other smoker of choice. I have also smoked London broil on my WSM. I used B&B lump and ran it at 250° with some pecan wood chips. When smoking London broil, you will only want to take it to medium at most. London broil, If you shoot for to high of an internal temperature you will likely end up with a dried out and chewy cut of beef.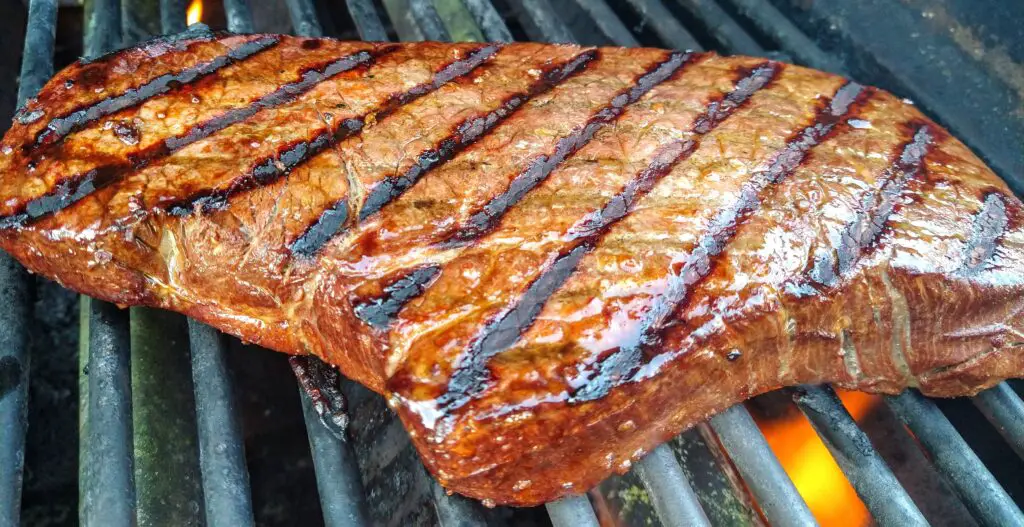 Place the London broil in the smoker and we are going to let it ride until the internal temperature reaches 125°. For a meat thermometer and these one meat smokes, I love using my ThermoPro TP20. What I love about this recipe is we are not having to do anything to the steak while its on the smoker. Only when its time for the reverse sear do we need to do anything. Reaching ort ideal IT will take about an hour, maybe just a little more than that.
When the London broil internal temp reaches 125° we are going to reverse sear it. Depending on how you do this is up to you. I will frequently get it over to my gas grill for the reverse sear. If I were to do this on my Weber Kettle, I might get the coals cranked up and do it that way as well. Even though this one was on my Kettle it was easier to get it on the gas grill. I hit each side with the reverse sear for 3 minutes and then pulled it.
While our initial IT is going to go to a medium rare temperature, the reverse sear and rest and will bring this up to a medium finish. Adjust your timing accordingly if you prefer a different level of doneness.
After the reverse sear, I tented it with aluminum foil and let it rest for about 15 minutes. After the 15 minutes of rest, I sliced it. The best way to slice a London broil is to do so against the grain, giving you the most tender cut. At this point, go ahead and serve immediately.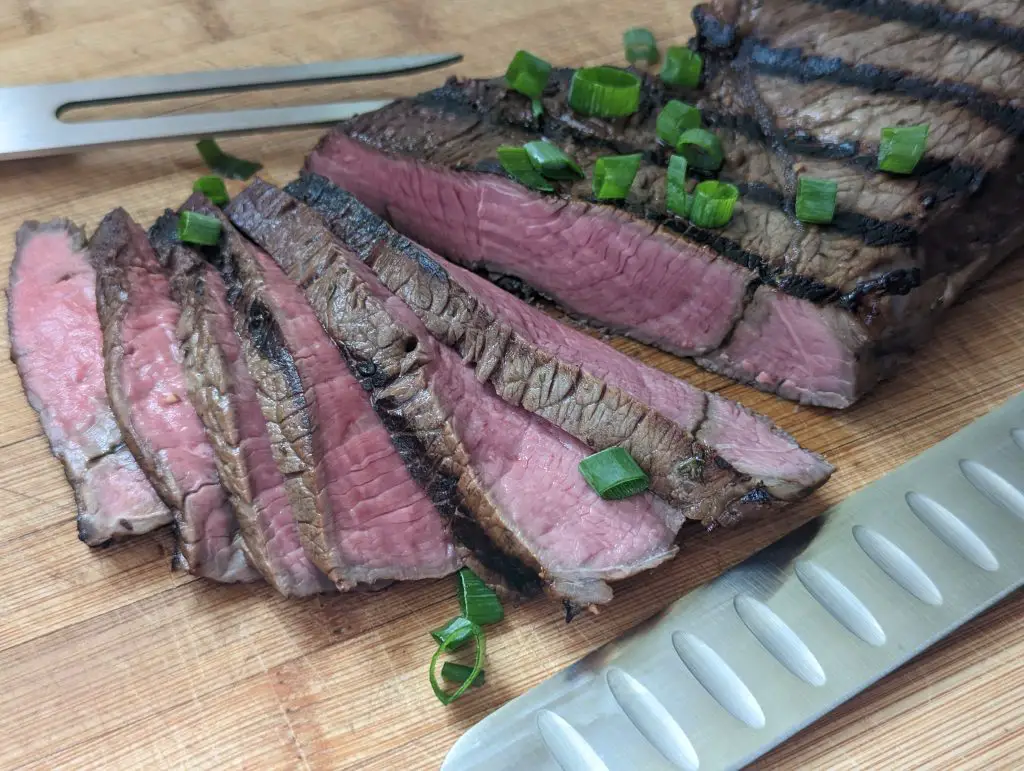 Smoked London Broil Wrap Up
There is nothing fancy or exciting about London broil but when done right, it can be as good as any cut of beef out there.
Thanks for being here and checking out this Smoked London broil recipe. I hope you enjoy it! We always appreciate comments, 5 star recipe rating and social media shares. As always, keep that smoke rolling!
If you are looking for some other suggestions and recipes to try out here are some suggestions:
This post contains affiliate links. If you use these links to buy something I may earn a commission. Thanks!
Smoked London Broil
Cook Time:
1 hour
15 minutes
Total Time:
1 hour
50 minutes
Smoked London broil is not exactly the cut of meat you hear a lot of people throwing on the smoker. But it can be done with a great marinade and reverse sear smoking a London broil can be an amazing option for your guests.
Ingredients
2.5 lb. London Broil
1 tbsp. minced garlic
1/4 cup of soy sauce
1/2 cup of Worchester sauce
1 tbsp. of lemon juice
1/4 cup of olive oil
1/2 tsp. of salt
1/2 tsp. of pepper
1/2 tsp, of FlatIron Hatch Valley flakes
1/2 tsp. of oregano
1 tbsp. of red wine vinegar
1/2 tsp, of thyme
Instructions
Mix ingredients of the marinade, add London Broil and let marinade for 5-6 hours.
Set up smoker for 250°, using pecan wood
Smoke London broil until it reaches an IT of 125°, approximately 1 hour on the smoker
Reverse sear for 3 minutes on each side
Let rest for 15 minutes, tented with foil
Slice against the grain and serve while hot
Nutrition Information:
Yield:

7
Serving Size:

1
Amount Per Serving:
Calories:

569
Total Fat:

39g
Saturated Fat:

13g
Trans Fat:

0g
Unsaturated Fat:

21g
Cholesterol:

189mg
Sodium:

1012mg
Carbohydrates:

3g
Fiber:

1g
Sugar:

1g
Protein:

49g
This data was provided and calculated by Nutritionix on 8/23/2022