A double smoked ham, topped with a honey peach glaze is fantastic as an Easter dinner or any other holiday. The prep on this recipe is easy and will have your dinner ready in no time.
Twice Smoked Spiral Ham Prep
For this recipe, I used a spiral ham. You can use a ham that is not already sliced but I prefer to have the option to really get the glaze into the spiral cut ham slices. It also allows for greater smoke penetration. If you do end up going with a ham that is not sliced, you will want to take some time to score it.
This spiral cut ham was about 10 lbs. The beauty of this recipe is there is minimal prep. The ham will initially go on without any rub or anything else needing to be done. All you need to get is get the smoker up and running.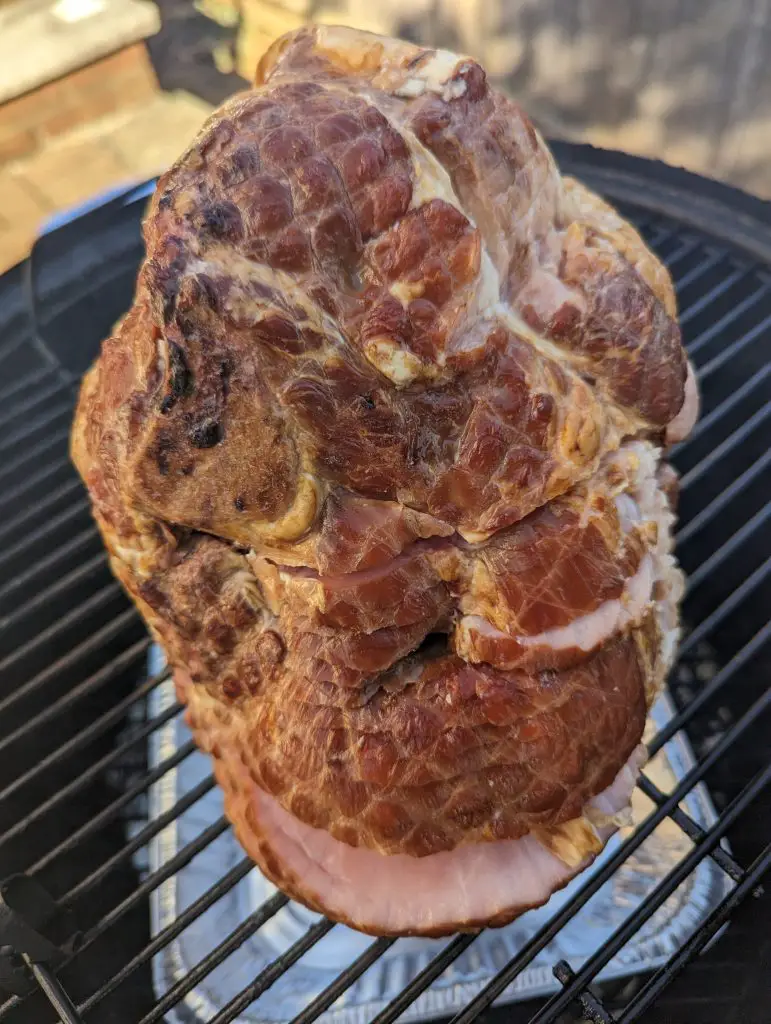 For this recipe, I used my Weber Smokey Mountain. I got it up and running for 250°, using peach wood. If you do not have peach wood, you can use a an apple or cherry wood as well. Both are great compliments to a double smoked ham. Before putting the ham on the smoker you will want to put an aluminum pan under it to catch any drippings and the glaze when applying.
Many of the precooked hams come with a glaze, if you are looking for a traditional honey smoked ham you can also use the packaged glaze and skip the peach glaze, but you might be missing out!
Whether doing this on a WSM, Kettle or pellet grill, this recipe should not require many adjustments.
Double Smoked Ham Glaze Recipe
We are going to make a sweet but smooth peach glaze for this ham. You can start preparing this once you have the ham on the smoker, as you will need this towards the tail end of the smoke. You will need the following ingredients:
sliced peaches
lemon juice
brown sugar
honey
crystalized ginger
apple juice
We are going to start with the peaches. You can go two ways with this, I used jarred peaches, from Costco. You can use fresh ones too, whatever you prefer to do. If you are using peaches from a can or jar, those will typically be in a light syrup. I would recommend rinsing them off before using them.
You will take the peaches and puree or mash them. If using the jarred ones, they will mash pretty easily but the fresher ones you will more likely need to puree. Once that is done, you will add it to a small pot over a low heat. You are then going to add the remaining ingredients and continue stirring for about 10 minutes until everything has dissolved and mixed together.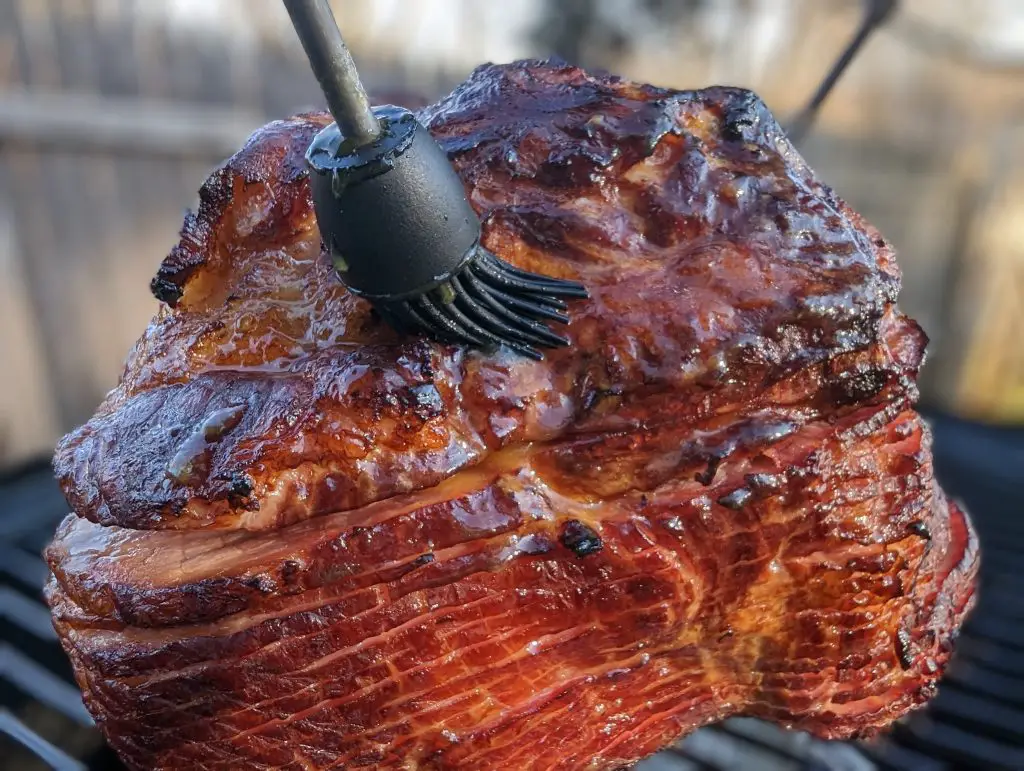 Once done, you will set it aside until ready to apply.
How To Smoke A Ham
It is important to remember when smoking ham, you are likely smoking a precooked ham. So what we are actually doing is warming the ham up. As we talked about above, the ham should be on the smoker and glaze made or being made. We will not need to do anything until the ham reaches an internal temperature of 120°. At that point we are going to apply the glaze.
In my case I was doing a double smoked spiral ham, so when applying the glaze my suggestions are brushing the glaze on, is to use a butter knife with some glaze on it and work the glaze into the spiral cuts. It will really add more of that sweet peach flavor to the glazed smoked ham.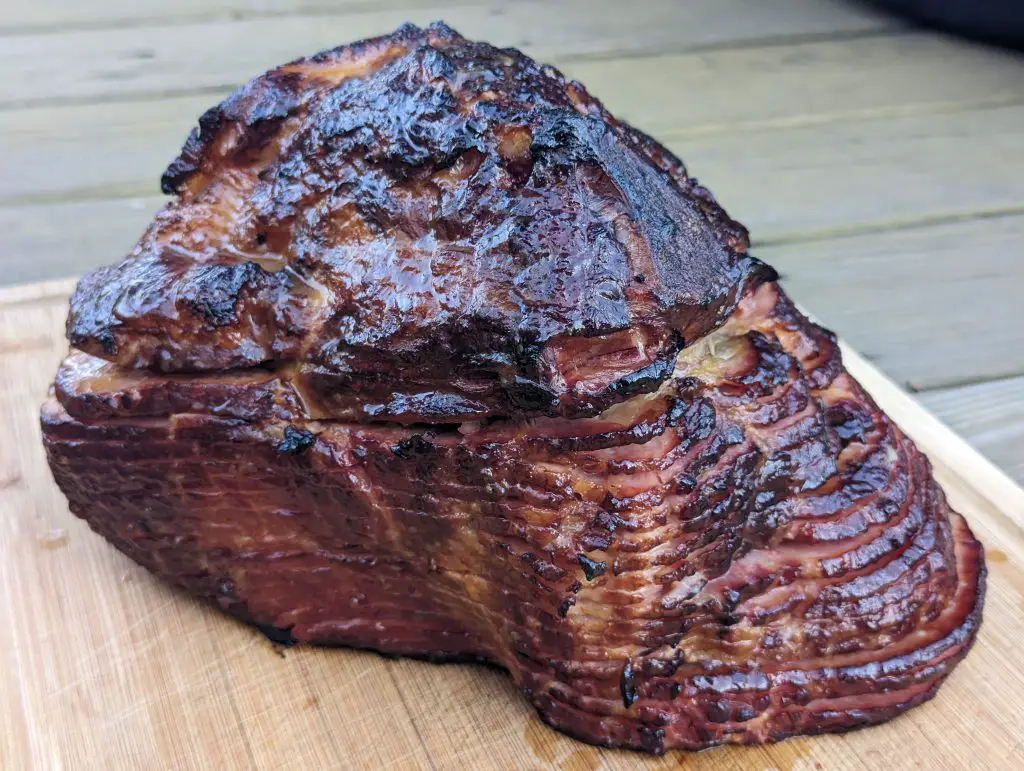 With our peach honey glaze now applied, we are going to let the ham finish until it reaches 140 degrees. At 140°, you can pull the ham, set it aside. Give it about 15 minutes to rest and cool down so you can start serving.
If you are looking for a budget friendly probe, try the ThermoPro TP20. It is easy on the budget and super reliable.
Double Smoked Ham Recipe Wrap Up
Smoking a ham, is a great and simple way to celebrate a holiday meal. Prep is super easy and cooking time is short. The peach glaze is fantastic finishing touch on the ham, along with the smoke flavor.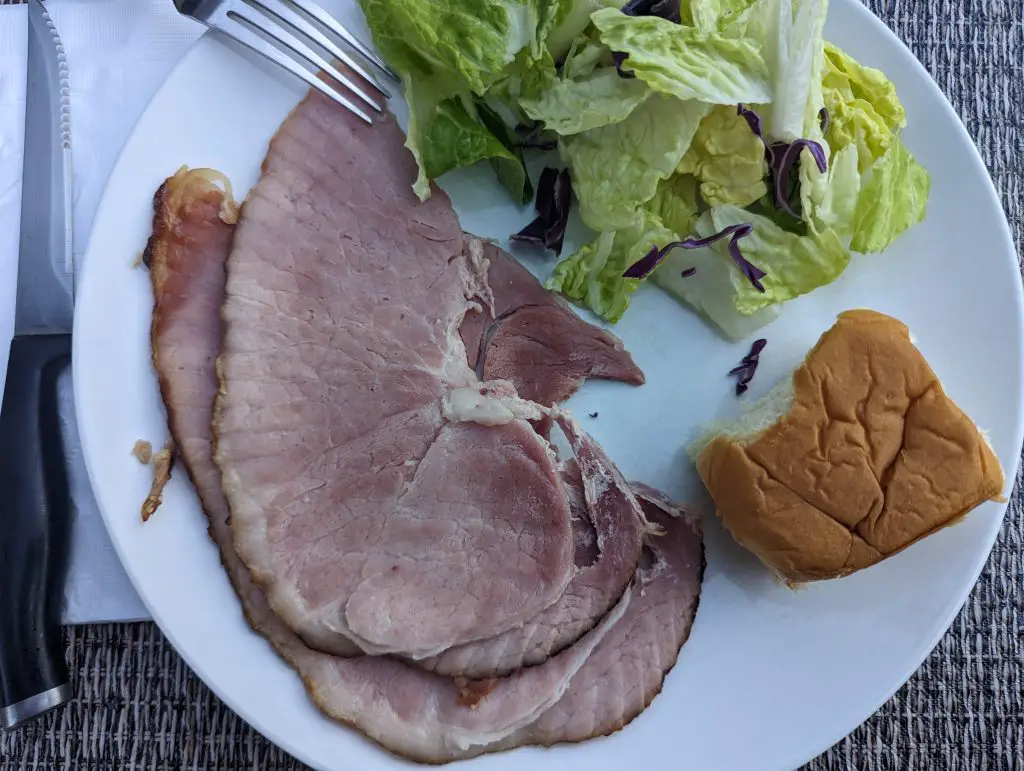 If you are looking for some other holiday recipes, here are a few you may enjoy:
Thanks for being here and checking out this Peach Glazed Double Smoked Ham recipe. I hope you enjoy it! We always appreciate comments, 5 star recipe rating and social media shares. As always, keep that smoke rolling!
This post contains affiliate links. If you use these links to buy something I may earn  a commission.
Peach Glazed Double Smoked Ham
Additional Time:
10 minutes
Total Time:
3 hours
15 minutes
Double smoked ham, has an amazing combination of smoke flavor with a honey glaze that makes for a wonderful holiday ham dish.
Ingredients
Peach Glaze
1 cup of sliced peaches
1/4 cup of lemon juice
1/2 cup of brown sugar
2 tbsp. of honey
1 cube of crystalized ginger
1/4 cup of apple juice
Instructions
Set smoker to 250°, using peach wood if you have it or a cherry wood
Place ham on smoker (if not using a spiral cut ham, score the ham before placing on the smoker)
Prepare glaze. Take peach slices and mash or puree. Combine peaches and other ingredients to a small pot and simmer over low heat for about 10 minutes, until ingredients are blended and glaze thickens.
Smoke ham until it reaches an IT of 120°, then apply glaze
Continue to smoke until an IT of 140°
Once the ham reaches an IT of 140°, remove and let rest for about 15 minutes, tented with foil.
After 15 minutes, slice and serve.
Nutrition Information:
Yield:

20
Serving Size:

1
Amount Per Serving:
Calories:

349
Total Fat:

12g
Saturated Fat:

2g
Trans Fat:

0g
Unsaturated Fat:

6g
Cholesterol:

145mg
Sodium:

2218mg
Carbohydrates:

11g
Fiber:

0g
Sugar:

11g
Protein:

50g