Smoked Cornish hens are a delectable and unique dish that will surely impress even the most discerning palates. These small game birds, known for their tender and succulent meat, take on a whole new level of flavor when cooked using the traditional smoking method. The rich smokiness infuses every bite, creating an irresistible combination of savory, juicy meat with a hint of charred goodness.
Whether you're looking to elevate your backyard barbecue or add a touch of elegance to your Christmas dinner table, smoked Cornish hens are a must-try delicacy that will undoubtedly leave everyone craving for more. In this article, we will delve into the art of smoking Cornish hens, exploring different techniques, flavors, and tips to achieve perfectly smoked poultry every time..
What Are Cornish Game Hens
Cornish game hens have the obvious appearance of being a small chicken. Reality is they are a crossbred between a Cornish chicken and Rock hen and a Malayan fighting gamecock. They tend to mature quickly and its tender meat and young age give them a unique flavor when compared to chickens.
Usually in the range of 1 lb. they are great for a one per person entrée that will be a delightful pivot from a standard chicken dish.
Easy Cornish Hen Brine
Our first step here is the brine. It is a basic brine but will add a bit of flavor. You are going to need the following for the brine recipe:
1 gallon of water
1/2 cup of salt
1/4 cup of brown sugar
1/2 tsp. of all spice
After you have your ingredients mixed, you can add the brine and the birds into a gallon sized Ziploc bag and we are going to let them brine for 5 hours in the refrigerator. A note, frequently the hens are bought frozen so you will need about 2 days to defrost properly.
After 5 hours, you can remove from the brine. You need to pat them dry with a paper towel and then apply a dry rub of your choice. I used Rub Your Chicken dry rub on these hens.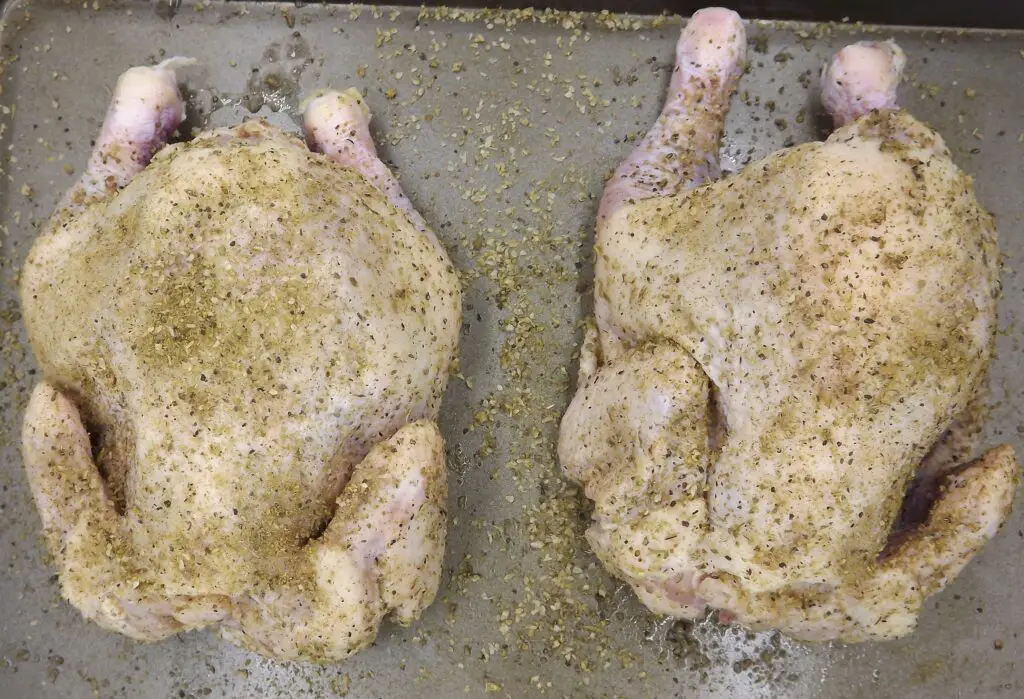 How To Smoke Cornish Hens
When smoking a Cornish hen, you are going to get the smoker running hot on this one. I did this on my Weber Kettle but it should work whether you are using a Traeger pellet grill or some other smoker. We want to get it upwards of 275° but no more than 300°. The goal here is to ensure we get some nice crispy skin on these hens.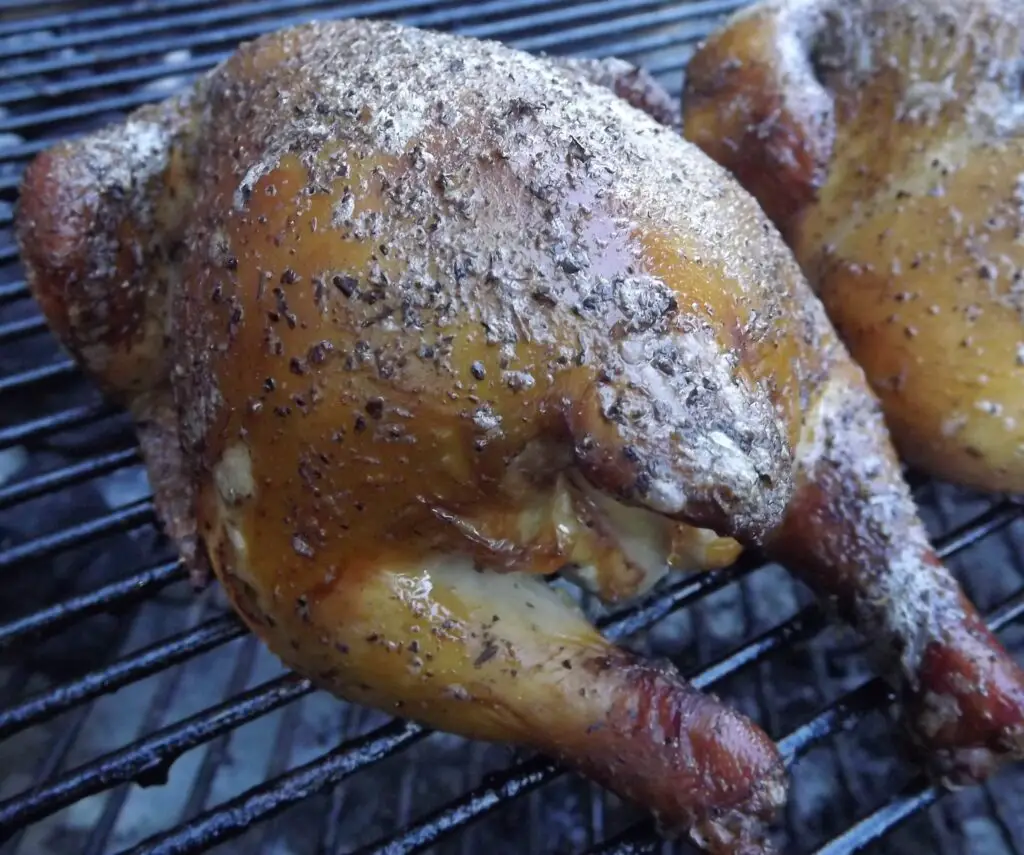 Once you are up to temp, go ahead and place them on the smoker. This entire smoke will take about one and a half hours. After about 1 hour in, or when your hit and IT of 130, we are going to baste these hens with some butter. This will help crisp the skin on the hens and keep them moist.
We are going to pull these when the internal temperature reaches 165°. In order to ensure we are hitting 165°, you want to be checking the temperature in the thickest part of the breast. Dark meat whether its in a chicken, turkey or hen can take higher internal temperatures upwards of 175°-180°.
If you are looking for a great meat thermometer when doing smoked Cornish Hens, check out the ThermoPro TP20. It has not disappointed me.
Once the smoked Cornish hens hit 165°, go a ahead and pull them. You can give them a few minutes to rest but feel free to serve these almost immediately.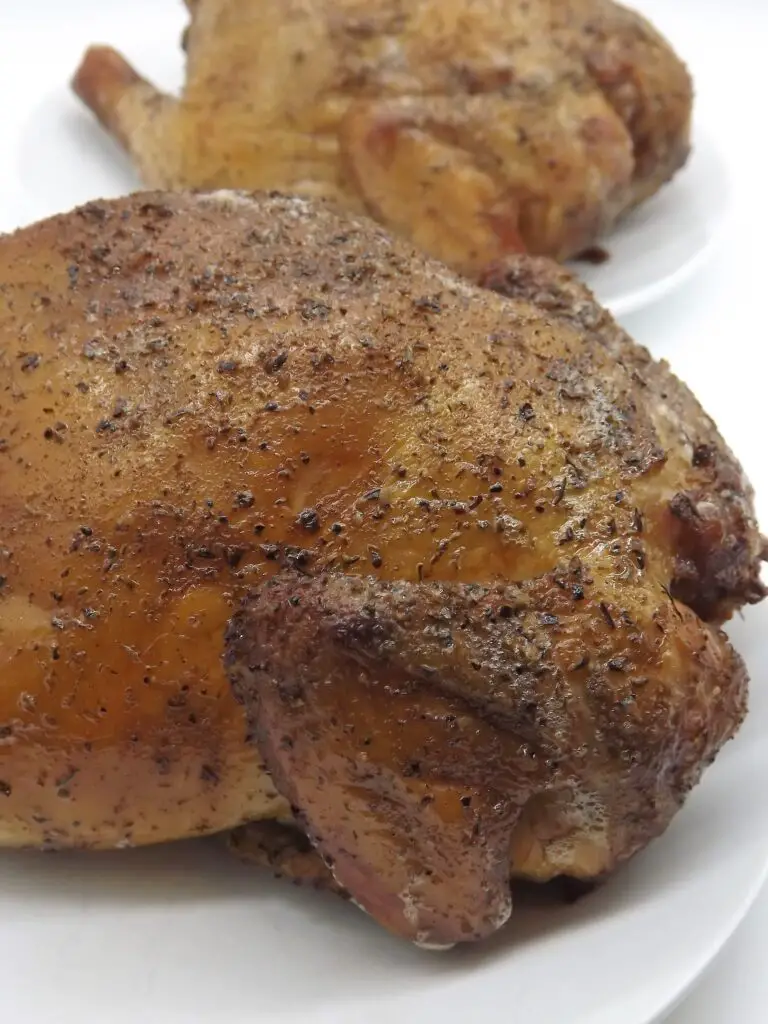 Wrapping Up Smoked Cornish Hens
These smoked Cornish hens are a wonderful way to mix things up, you can dress these up for a holiday meal or dig in with your fingers on that summer weekend BBQ.
Thanks for being here and checking out this Smoked Cornish Hens recipe. I hope you enjoy it! We always appreciate comments, 5 star recipe rating and social media shares. As always, keep that smoke rolling!
If you are looking for some other recipes, here are some suggestions:
This post contains affiliate links. If you use these links to buy something I may earn a commission. Thanks!
Smoked Cornish Hens
Total Time:
2 hours
20 minutes
Ingredients
2.5 lbs. of Cornish hens (2 hens)
2 tbsp. of butter (for basting)
Dry rub
Brine
1 gallon of water
1/2 cup of salt
1/4 cup of brown sugar
1/2 tsp. of all spice
Instructions
Mix the brine ingredients and let the hens brine for about 5 hours
Start the smoker and set for a temperature of 275°, using a pecan or cherry wood
Remove the hens from the brine, pat dry and apply the dry rub
Place on the smoker
After 1 hour baste with some butter and then again after 90 minutes
When it reaches an IT of 165°, remove and serve