Smoked Pumpkin seeds are that enjoyable snack you may only have once a year after digging the seeds out from your pumpkins. They are a classic fall time snack that are guaranteed to not last long. I will walk you through the steps to make these smoked pumpkin seeds on the Weber Kettle.
Smoked Pumpkin Seed Recipe
This recipe is super lite on ingredients. Besides the seeds, you will only need a dry rub, I used Holy Voodoo, and some cooking spray.
If you are pulling raw pumpkin seeds from the pumpkin, the hardest part of this recipe will be separating the seeds from the pulp. If you can get through that part, you will breeze through the rest of this. Your other option is of course to buy seeds from the store. Personally over here, I went with seeds straight the from pumpkin.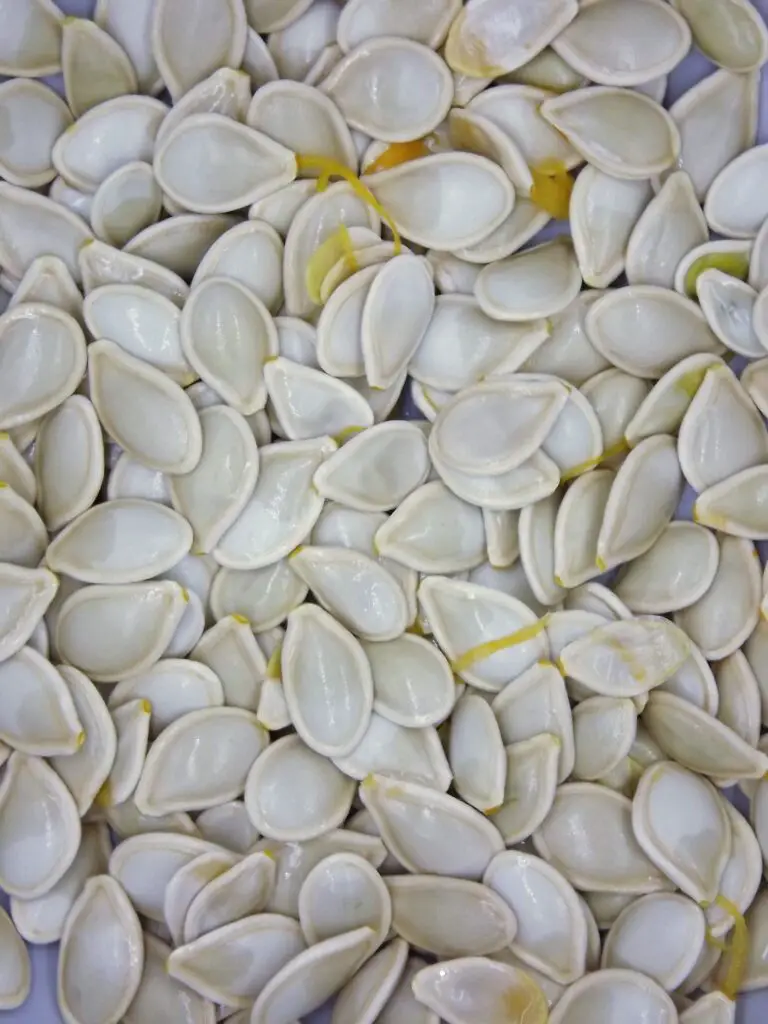 So as I mentioned above, your first step will be to clean the seeds and get as much of the pumpkin pulp off the seeds. Not a fun task but very doable. I would suggest rinsing what you can off with some cold water and then picking the pumpkin off the rest of the seeds.
After having completed that you will want to pat the seeds dry with a paper towel and then place in a bowl. Then once you have place them in the bowl we will spray them with some cooking spray. You other option is to drizzle on some olive or vegetable oil. After that, you can sprinkle on some dry rub. As mentioned above, I used some Holy Voodoo but you can choose something that you like or have in the house. Some salt based seasoning is also a classic mix on the seeds. The kids love the sweeter flavor on the seeds with the Holy Voodoo.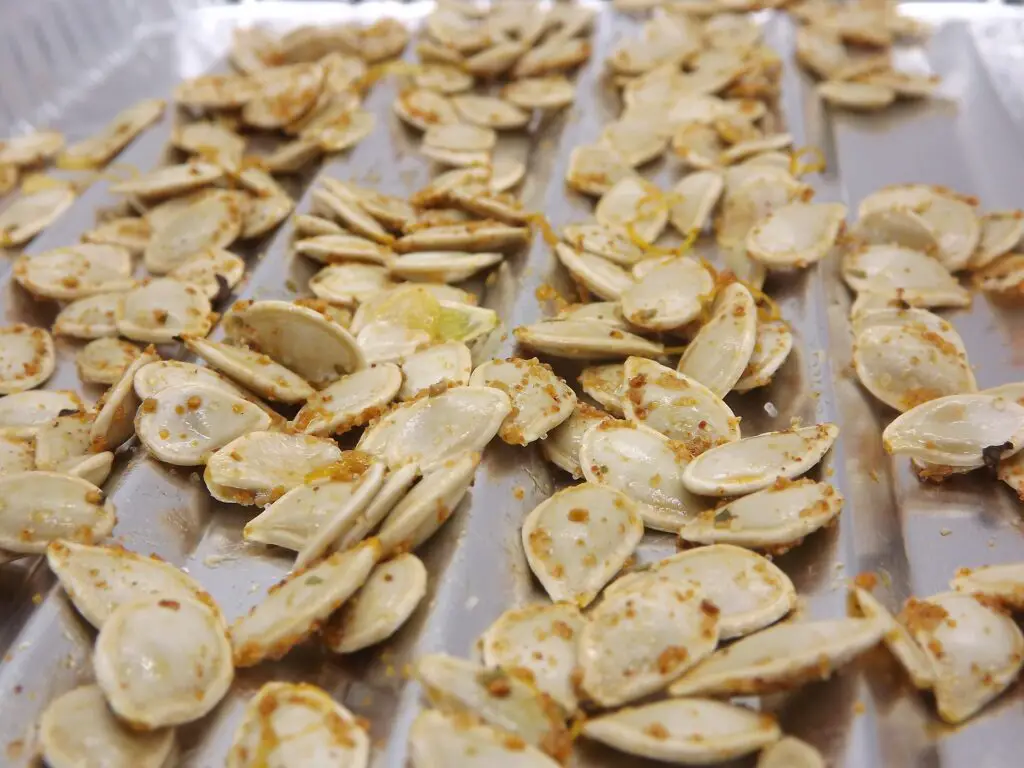 After having coated with a dry rub, lay out the seeds on a single layer. I laid the seeds out on small foil tray but you could use a baking sheet if that works better. Once that is done we will move to smoking them.
How To Smoke Pumpkin Seeds
Now that you have the seeds prepped, you can get them on the smoker. So I set the smoker for 400° and used some pecan wood. You can do this on the Kettle like I did or on a pellet grill or some other style smoker. Reality is, this is a quick smoke, and in one sense this is a little more of roasting pumpkin seeds as much as it smoking them.
You are going to put the seeds on the smoker and leave them until they start turning brown and appear to be cooked. This should only take about 10-15 minutes. In such a short time frame you are not getting a ton of smoke, more of a touch of smoke flavor and just enough to not overwhelm the other flavors. Once they start turning brown, its time to pull them. They could go from brown to burnt pretty quickly.
After you pull them off, let them cool and you are ready to serve. If you are storing pumpkin seeds, do so in an airtight container. They should hold for a week or so that way. This recipe really makes for a great smoke at the tail end of something larger or at the beginning. This is great little recipe, that the kids are sure to enjoy as a snack.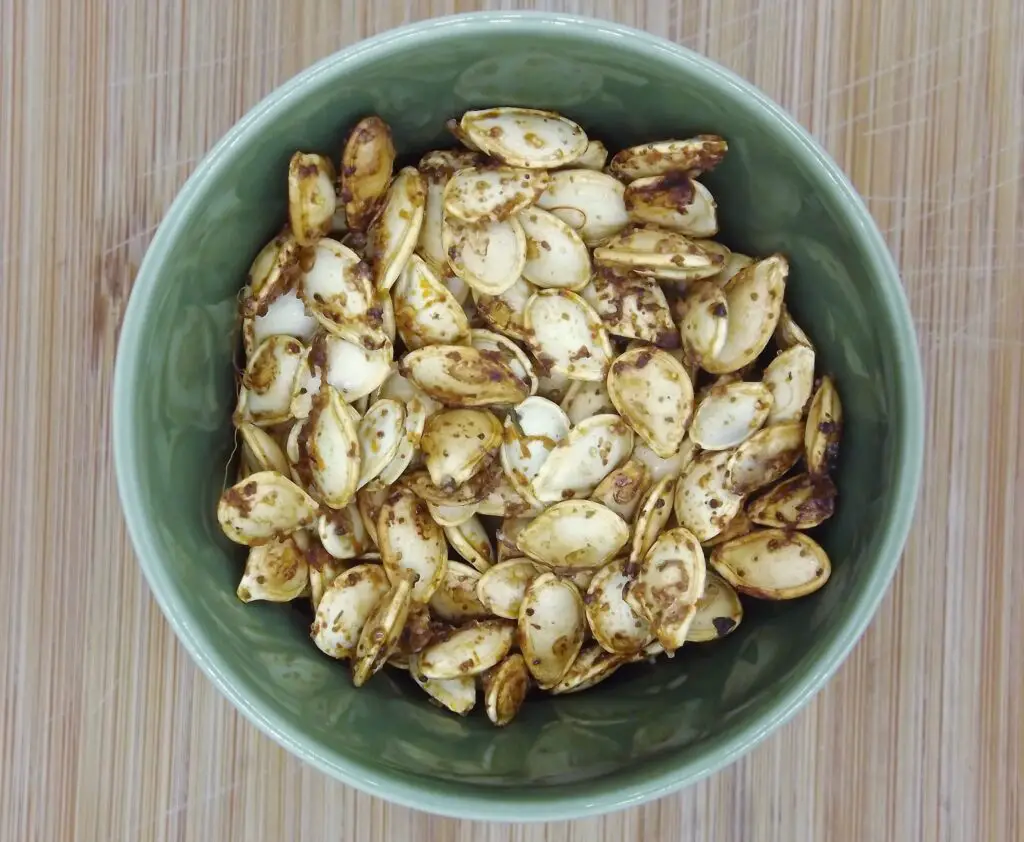 Thanks for being here and checking out this Smoked Pumpkin Seeds recipe. I hope you enjoy it! We always appreciate comments, 5 star recipe rating and social media shares. As always, keep that smoke rolling!
If you are looking for some other recipes, here are some suggestions:
This post contains affiliate links. If you use these links to buy something I may earn a commission. Thanks!
Smoked Pumpkin Seeds
Additional Time:
5 minutes
Smoked Pumpkin seeds are that enjoyable snack you may only have once a year after digging out the seeds from your pumpkins.
Ingredients
Raw pumpkin seeds
Dry rub or other seasoning of choice
Cooking spray or olive oil
Instructions
Set smoker for 400°, using a cherry or pecan wood
Clean seeds and remove as much of the pumpkin as you can, assuming these are fresh seeds.
Pat dry if they are wet, using a paper towel
Spray with a cooking spray and then coat with dry rub of choice. I used Holy Voodoo.
Place on smoker and smoke for approximately 10-15 minutes and remove when you see them turning slightly brown.
Nutrition Information:
Yield:

4
Serving Size:

1
Amount Per Serving:
Calories:

102
Total Fat:

7g
Saturated Fat:

1g
Trans Fat:

0g
Unsaturated Fat:

5g
Cholesterol:

0mg
Sodium:

3mg
Carbohydrates:

9g
Fiber:

3g
Sugar:

0g
Protein:

3g