Grilled chicken street tacos are that prefect on the run kind of meal. The ingredients are basic yet the flavor packs a punch. It will be a great rotation for Taco Tuesday and by the way, the smaller size are perfect for the kids.
What Is An Authentic Mexican Chicken Street Tacos Recipe?
Mexican street tacos are a very basic and simple set of ingredients. They will usually consist of corn tortillas, in our case grilled chicken, white onions, cilantro and some salsa and hot sauce. Very frequently tacos that Americans are used to eating, with the hard shells, lettuce, tomato's, cheese and ground beef are an American concoction and not anything close to what you would see in Mexico.
Street tacos got their name from because they originated as a working class meal, as they were easy to make and inexpensive. They were a perfect meal to eat during the course of a work day, for those that were especially doing manual labor. As this dish moved into the cities of Mexico they started serving them out of carts, to pedestrians, on the street and hence the name Street Tacos were born.
An Easy Grilled Chicken Recipe
For this recipe we are going to keep it simple, in the tradition of these chicken tacos. We are going to use boneless skinless chicken thighs for this recipe. Using chicken thighs will give us a lot of natural flavor and they stand up to the heat on a grill much better than chicken breasts. We are also going to skip the chicken taco marinade and just use a very basic rub on these thighs.
If you are interested in checking out a chicken marinade for tacos, visit our Easy Grilled Chicken recipe. It has a marinade that would work great on tacos or fajitas.
For the rub on these grilled chicken tacos, we are going to use equal parts, salt, pepper and garlic powder, all in 2 tbsp. increments. We will then add 1 teaspoon of cayenne pepper powder or chili powder and combine them all. Once these 4 ingredients are combined you can coat the chicken thighs as generously as you would like. Once that is done you can throw the thighs on the grill.
We are going start off with indirect heat and then grill over medium heat and a direct method. Grill the thighs with indirect heat for 7 minutes per side, then transfer over to direct heat until you hit an IT of 165°. Thighs can be taken as high as 180° so don't panic if you pull it off over 165°, its not likely to get dried out.
After having reached that IT of at least 165° you can pull the thighs off the grill and dice them. Once diced, go ahead and set the chicken off to the side.
If you need a great probe I use the ThermoPro TP20. Bang for buck its one of the best out there.
Ingredients For Chicken Street Tacos
As we start to build our authentic Mexican street tacos recipe we will want to use corn tortillas, those are what you be more traditional for those tacos. You can make them yourselves or you will frequently see at local supermarkets corn tortillas labeled as street tacos. They will tend to be smaller than you what you may call normal sized tacos.
With corn tortillas, you typically do not want to use them straight from the bag. They will have a tendency to break apart on you as you start folding them up. To avoid that you will want to place either a little bit of olive oil in a cast iron skillet or spray the tortillas with some cooking spray and warm them up. This will keep them from breaking apart as you are making and eating the tacos.
You will then need some white onions, cilantro and radishes. Dice the onions and cilantro and thinly slice the radishes. Now that you have everything cut, the chicken diced you can put the grilled chicken street tacos together. You can top these tacos with the ingredients to your taste and then top off with some salsa and/or a hot sauce. If you are looking for a great hot sauce, look around and see if you have Valentina at a local grocery store. Good chance though you will only find it at a Spanish supermarket but I highly recommend if you can find it.
You can also add some lime juice to the tacos, either using fresh sliced limes or lime juice in a pinch. A great side with these tacos is some cilantro lime rice.
Grilled Chicken Street Tacos Conclusion
I have no doubt that the family will love this chicken street taco recipe and it will be a new favorite to the Taco Tuesday rotation. If you are looking for some other recipes, here are some other suggestions:
Thanks for being here and checking out this Grilled Chicken Street Tacos recipe. I hope you enjoy it! We always appreciate comments, 5 star recipe rating and social media shares. As always, keep that smoke rolling!
This post contains affiliate links. If you use these links to buy something I may earn a commission. Thanks!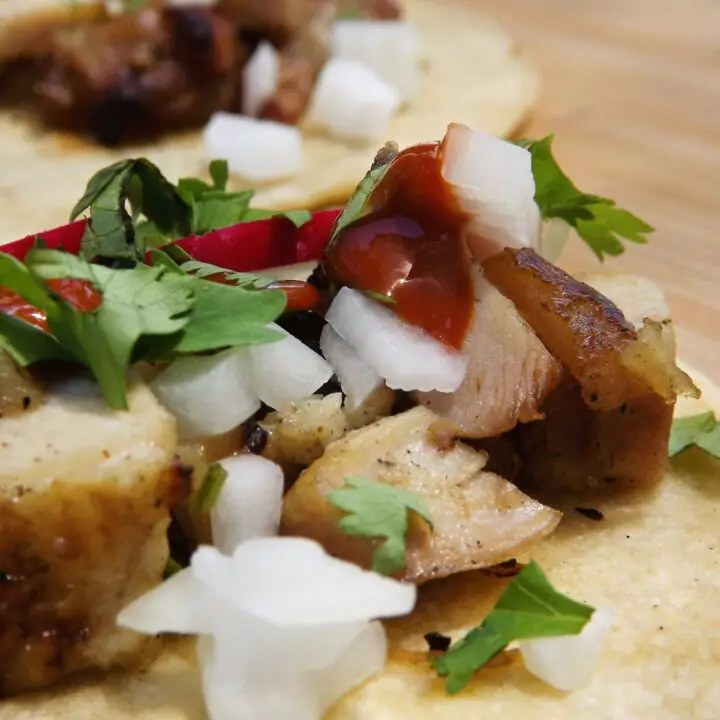 Grilled Chicken Street Tacos
Grilled chicken street tacos are that prefect on the run kind of meal. The ingredients are basic yet the flavor packs a punch. It will be a great rotation for Taco Tuesday and by the way, the smaller size are perfect for the kids.
Ingredients
1 lb of chicken thighs
2 tbsp of garlic powder
2 tbsp. of ground black pepper
2 tbsp. of salt
1 tsp. of cayenne pepper
1 cup fresh cilantro chopped
3 radishes
1 white onion
corn tortillas
hot sauce and/or salsa of your choosing
2 limes
Instructions
Coat your chicken with the dry rub of equal parts, salt, pepper and garlic powder (2 tbsp. of each) and then 1 tsp. of cayenne powder
Grill over indirect heat for 7 minutes on each side and then over direct heat until you reach an IT of 165°
Dice the chicken and set aside
Warm up the corn tortillas in a cast iron skillet with some olive oil or cooking spray
Chop the cilantro, dice the white onions and slice the radishes
Make the grilled chicken street tacos and serve hot
Top with some limes, salsa and/or hot sauce
Nutrition Information:
Yield:

5
Serving Size:

1
Amount Per Serving:
Calories:

246
Total Fat:

13g
Saturated Fat:

4g
Trans Fat:

0g
Unsaturated Fat:

9g
Cholesterol:

116mg
Sodium:

3009mg
Carbohydrates:

13g
Fiber:

3g
Sugar:

2g
Protein:

23g
This data was provided and calculated by Nutritionix on 7/24/2022