Sweet and spicy chicken bites are super easy to smoke and make for a great snack or appetizer. They are great for a summer BBQ or tailgating at the football game. You, the family and the guests will most definitely enjoy these sweet and spicy chicken bites.
Ingredients For Sweet And Spicy Chicken Bites Recipe
I like good food but we also have a full family life here at home so easy recipes that taste amazing are how we roll. This recipe is easy and limited in ingredients but you would never know. Let's quickly breakdown what we will need:
Boneless skinless chicken thighs
Rub Some Chicken dry rub
brown sugar
butter
cayenne pepper
BBQ sauce
honey
The rub will be used first on our bites, the remaining ingredients we will be combining and making into a sauce to coat the bites with later in the smoking process. We have our ingredients so let's start working on prepping everything.
Prepping The Sweet And Spicy Chicken Recipe
First thing we are going to do is prep the chicken thighs. If you have used some of my other chicken recipes you will see that thighs are great on the smoker and grill. They have more flavor and stand up well to the heat. I would not recommend using chicken breasts for this recipe.
The majority of my recipes use thighs but if you are looking for a chicken breast recipe on the smoker, take a look at our Smoked Pulled Chicken Breast recipe.
When starting with the thighs, remove some of the excess fat. There should not be a lot but there is usually a bit you can take off. Once you have that completed, go ahead and start to cut them in pieces, approximately 1″ x 1″. Its not as easy as it sounds because the thighs have a lot of cuts in them but do the best you can. As you cut them I would suggest throwing them in a bowl so we can move to the next step of using our dry rub.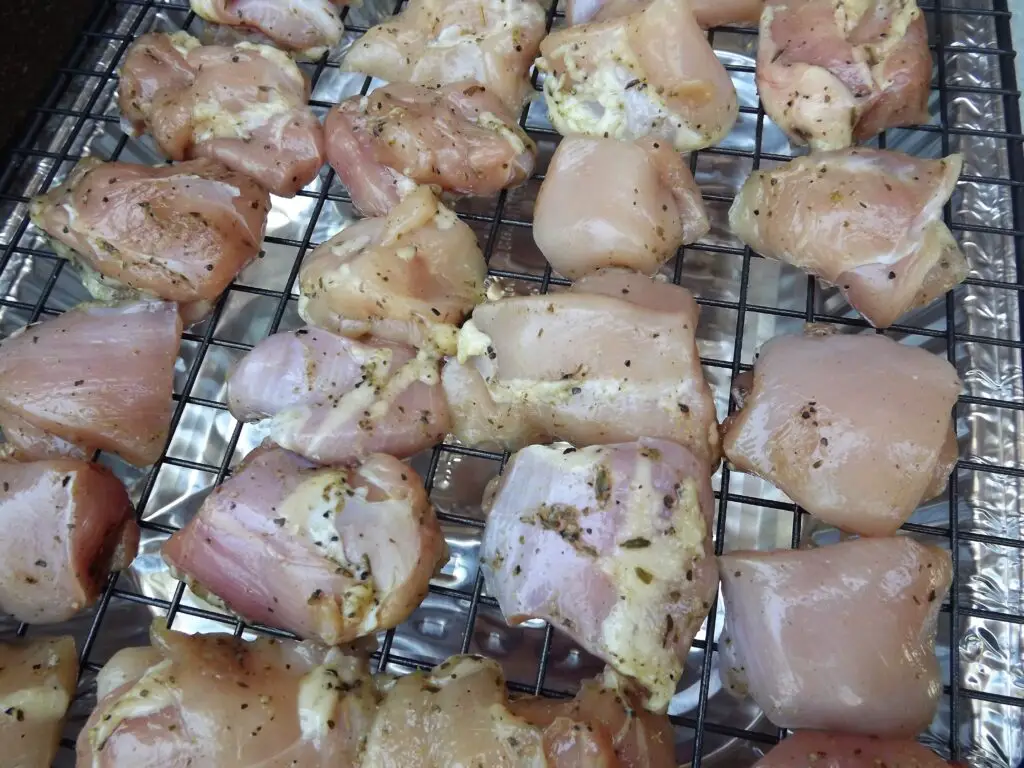 After you have placed all the chicken pieces in a bowl, you can start adding the rub. As I stated above, I went with Rub Some Chicken dry rub and it was a nice compliment to the sweet and spicy portion of the recipe. Keep adding and shaking your bites in the bowl until you have full coverage on the cubed chicken. When you have completed that step we are going to start removing and preparing them for the smoker.
In an effort to make this easier on myself, I placed the bites on a cooling rack that way taking them on and off would be easier and would also assist in getting a little more smoke on them. To catch the drippings I rested the cooling rack on a foil pan and was easily able to transfer later in the process.
Smoking Sweet And Spicy Chicken Bites
With that ready we can get them on the smoker. I did this on my Weber Kettle, using Kingsford briquettes and some cherry wood. I got the Kettle temperature up to 275° before placing the bites on. Once they were on, I let them ride for about 30 minutes. While that is on, we will want to get started on our sweet and spicy chicken sauce.
For the sauce we will need the following items, as listed above:
brown sugar
butter
cayenne powder (if you do not have cayenne, you can substitute it with some chili powder)
BBQ sauce
honey
You will take these ingredients and stir together until the brown sugar dissolves and the butter is melted. Once that is done, continue on simmer until ready to apply to the bites.
Throughout, I did not really need to check temperature on the chicken but I did use my ThermoPro TP20 to check the Kettle ambient temperature.
After 30 minutes we will need will transfer the chicken bites into a pan and then add the sauce. When adding the bites to the sauce, make sure you coat them well. After having coated the bites, you can put back on the smoker and we will leave them there for another 35 minutes.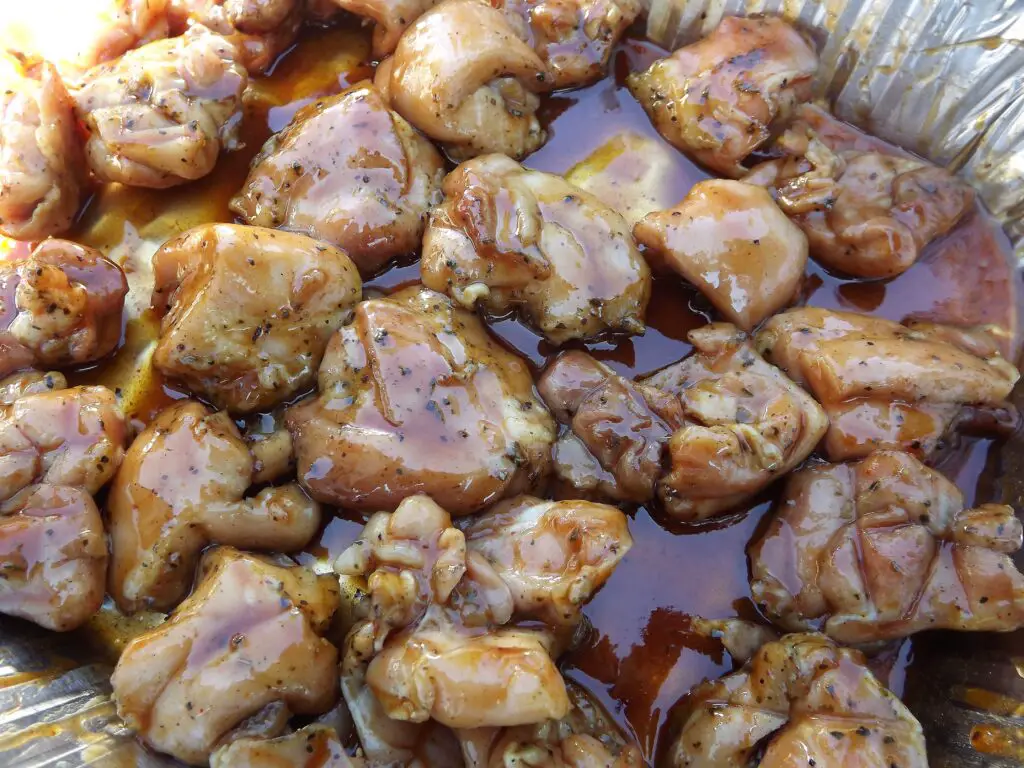 At the 25 minute mark, you can take some coarse sugar and coat the chicken bites. After the 35 minutes you can pull these sweet and spicy chicken bites off the smoker and get them ready to serve.
These make for a great appetizer or if you are looking for a snack around the house for yourself and/or the kids. As you eat these you will start off tasting the sweet part of the bites and then you feel the spice start to manifest itself as you finish it off.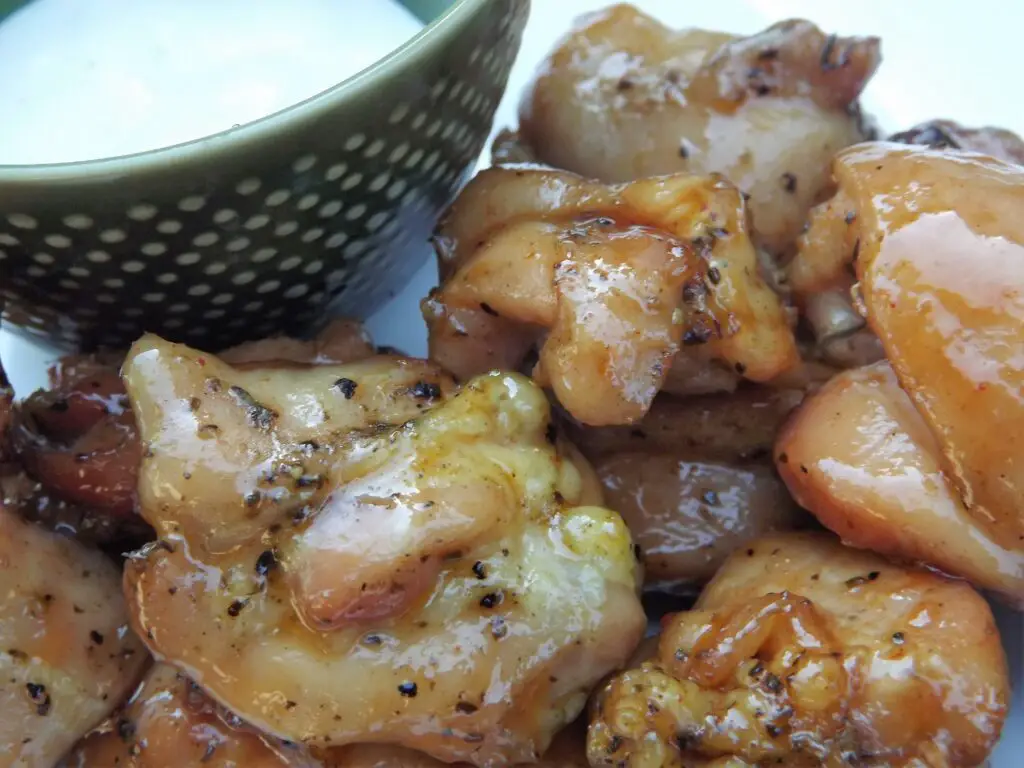 Thanks for being here and checking out this Smoked Sweet And Spicy Chicken Bites recipe. I hope you enjoy it! We always appreciate comments, 5 star recipe rating and social media shares. As always, keep that smoke rolling!
If you are looking for some other ideas and recipes, here are some suggestions:
Smoked Sweet and Spicy Chicken Bites
Cook Time:
1 hour
5 minutes
Total Time:
1 hour
25 minutes
The sweet and spicy chicken bites are super easy to smoke and make for a great snack or appetizer. Great for a summer BBQ or tailgating. You, the family and the guests will most definitely enjoy these sweet and spicy chicken bites.
Ingredients
1 lb of chicken thighs
Rub Some Chicken dry rub
1/4 cup of brown sugar
1/2 stick of butter
1/2 tsp. of cayenne pepper (you can substitute for chili powder if needed)
1/4 cup of BBQ sauce
1/4 cup of honey
Instructions
Cube your thighs into cubes approximately 1"x1"
Place the chicken cubes into a bowl and add your dry rub, covering thoroughly
Start smoker using cherry wood and set for a temperature of 275°
Place on a cooling rack for easy transport and place on the smoker
Smoke for 30 minutes
While smoking combine your ingredients for the sauce
After the first 30 minutes, transfer to a pan and add the sauce, covering well
Put back on the smoker for another 35 minutes, in the last 10 minutes sprinkle with some coarse sugar
Remove and serve while hot
Nutrition Information:
Yield:

5
Serving Size:

1
Amount Per Serving:
Calories:

424
Total Fat:

24g
Saturated Fat:

10g
Trans Fat:

0g
Unsaturated Fat:

13g
Cholesterol:

156mg
Sodium:

391mg
Carbohydrates:

29g
Fiber:

0g
Sugar:

28g
Protein:

26g
This data was provided and calculated by Nutritionix on 8/2/2022