Duck makes for a wonderful traditional holiday meal especially around the Christmas and New Year holidays. Smoked duck also makes for a delicious change of pace, that combined with apple wood and a sweet maple glaze, will give you a new holiday meal to enjoy for years to come. Or maybe you just want to impress the friends at a summer BBQ with some smoked duck. Either way, you will find the recipe easy and enjoyable.
Preparing For Smoked Whole Duck
Unless you purchased your duck from a local butcher, you are probably buying a frozen duck. I purchased mine at Costco. As with a turkey or other frozen poultry you are going to need to give it 2-3 days to defrost. One important reason, is so you can properly remove any giblets or neck that may be in the cavity.
Once defrosted we are going to do an overnight dry brine. If you are buying a store bought, frozen duck, there is a high likelihood that it has already been injected with a brine solution. So there will be little need to wet brine this duck. A simple 12 hour dry brine with some sat will help crisp the skin, as most people like with their poultry. Place the duck on some kind of tray or pan and rub it down with the salt. Once done, gently cover and place in the regfrigator to dry brine overnight.
After the dry brining period we will move on to getting the duck ready to smoke.
How To Smoke Duck
We are going to get our smoker up to 325° as with most poultry, with skin, we are going to do this hot and fast. I did this on my Weber Kettle, using apple wood. While the smoker is getting up to temperature we can apply our dry rub.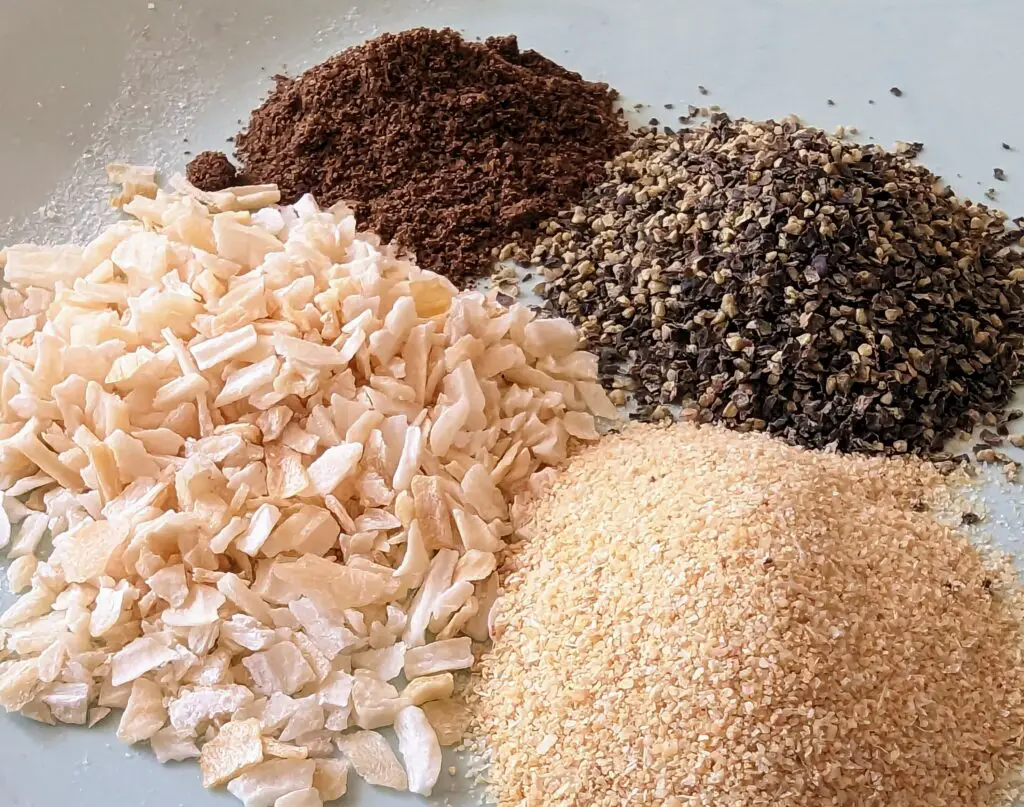 First thing we want to do is pat down the duck. You can then mix your dry rub ingredients together. The ingredients for the dry rub are as follows:
2 tsp. coarse black pepper
1 tsp. pf garlic powder
1/2 tsp. of allspice
2 tsp. of onion flakes
Be sure with the dry rub to coat the outside and sprinkle in the cavity as well. If you need a binder, you can brush some olive oil on, very lightly.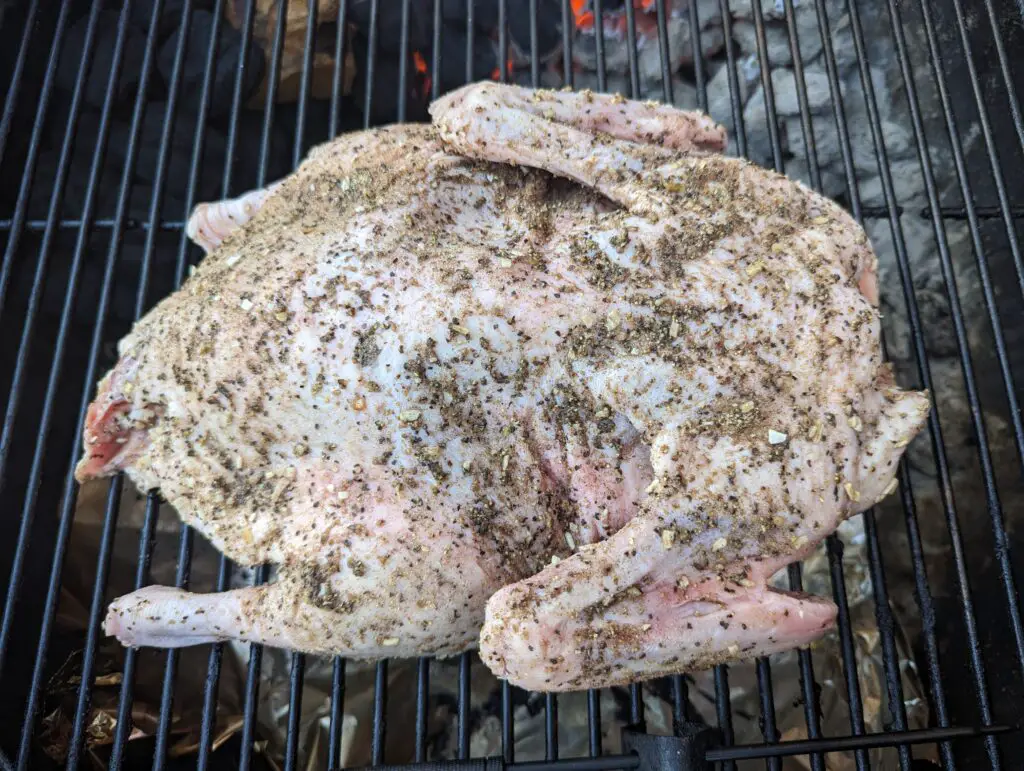 Once the rub is on, the smoker should be up to temperature and we can get the duck on the smoker. I highly recommend smoking the duck in a pan or having a drip pan below it, so you catch the duck fat and glaze. While you have the duck on the smoker we are going to get started with the glaze.
While smoking a duck is not that different from a whole chicken or turkey, they are smaller and will not nearly take as long. If you are going to place a probe in the chicken, it never hurts to get one in the duck breast and thigh but if you are only doing on, go with the duck breast.
Looking for a good multi-probe unit that won't break the bank? Try the ThermoPro TP829. It is a favorite of mine.
Smoked Duck Maple Bourbon Glaze
As we move onto the glaze, you will need the following ingredients:
1/4 cup of maple syrup
1/4 cup of bourbon
1/4 cup brown sugar
1/8 cup of honey
1/8 cup of orange juice
You are going to want to mix all the ingredients and stir over a low to medium heat until the sugar has dissolved and the ingredients are mixed and they start to thicken. If you finish this early you can keep it simmering, just give it a stir on occasion.
Resuming Instruction on Smoking Duck
Our bird is on, the glaze is ready and we are just bidding our time now. When the duck gets to an internal temperature of 140°, we are going to hit it with the glaze. We are then going to let it finished out at an internal temperature of 150° and at this point we are going to pull it. After coating with the glaze let the smoker increase in temperature to upwards of 350° to 375°. This will aid in crisping the skin before you serve. After you pull the duck let it rest for about 15 minutes.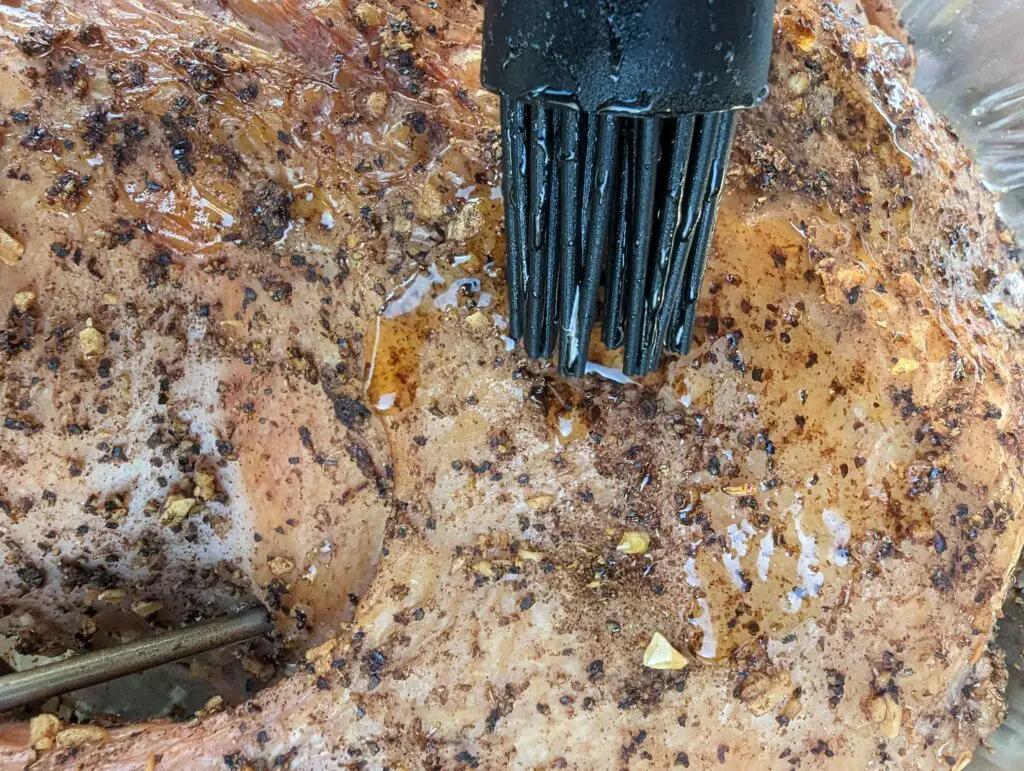 The Internal Temperature To Cook Duck Meat
The USDA recommends taking duck to an IT of 165°. If you decide to follow this you should not end up with overly dried out duck as they tend to be fattier than a chicken or turkey. Reality is you do not have to take a duck that high as as 165° and it can be finished at a lower IT, similar to that of beef or lamb. The reason being is duck is not as common a carrier of salmonella as turkey or chicken, making it safer to cook at a lower temperature.
Now taking it a little higher, closer to the 165° will help break down some of the fat and connective tissues in the duck. That is why we pushed it a little closer to 150° and then giving it a rest period. Some recipes call for pulling the duck at 135° but this recipe worked great pulling at the 150° mark.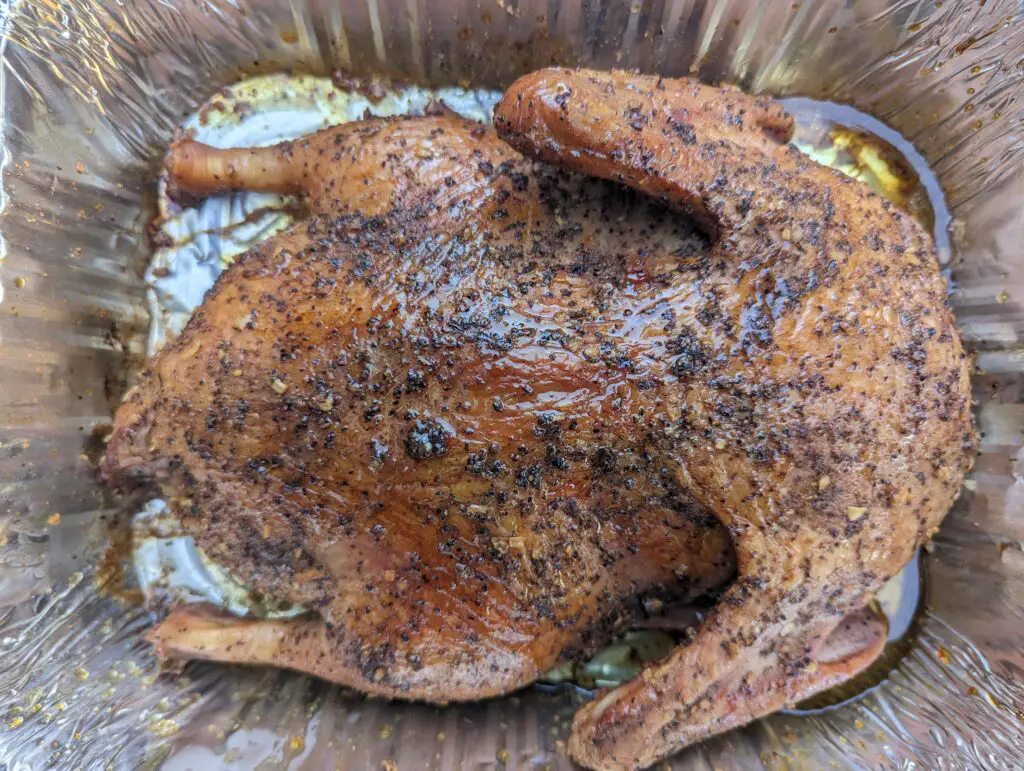 Wrapping Up How To Smoke A Duck
This is a great meal that with a smaller duck like mine can you on and done in about 90 minutes. It is a great change of pace meal option or something different and special for that Christmas dinner.
Thanks for being here and checking out this Smoked Duck recipe. I hope you enjoy it! We always appreciate comments, 5 star recipe rating and social media shares. As always, keep that smoke rolling!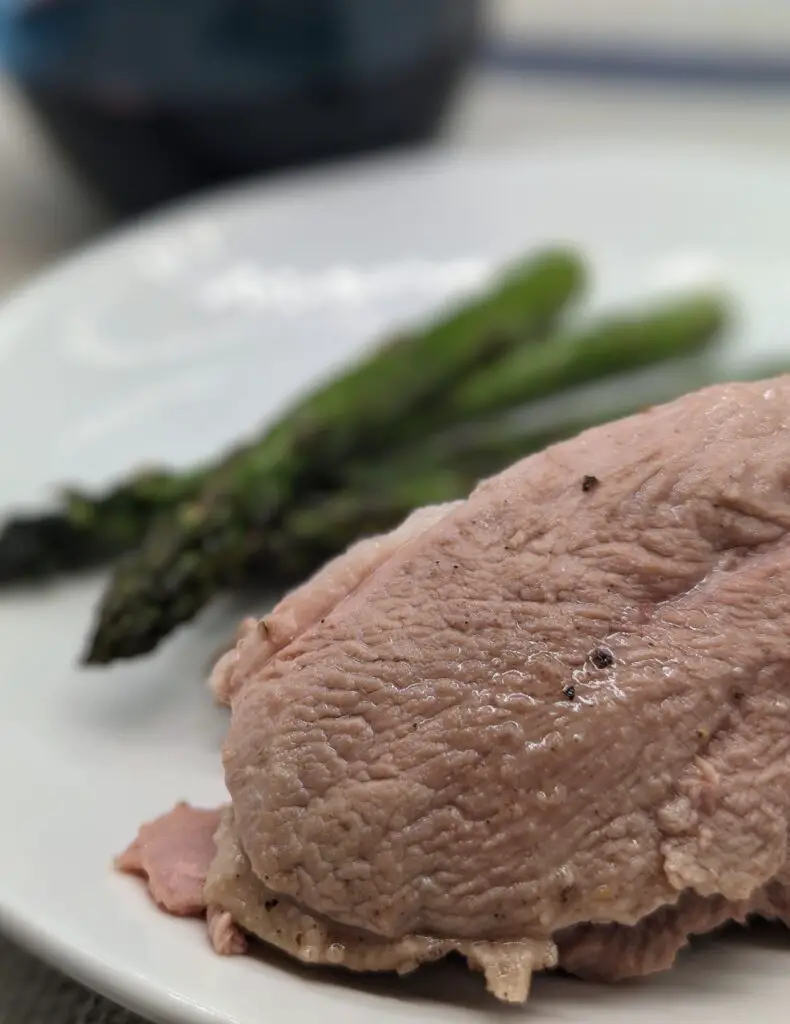 Here are some other recipe suggestions for the smoker or grill:
This post contains affiliate links. If you use these links to buy something I may earn a commission. Thanks!
Smoked Duck
Cook Time:
1 hour
30 minutes
Additional Time:
15 minutes
Total Time:
2 hours
5 minutes
Smoked duck is a flavorful meal that makes for a great holiday dish, guaranteed to be enjoyed by all.
Ingredients
3.5 lbs. whole duck
3 tsp. of kosher salt
Dry Rub
2 tsp. coarse black pepper
2 tsp. pf garlic powder
1 tsp. of allspice
2 tsp. of onion flakes
Maple Bourbon Glaze
1/4 cup of maple syrup
1/4 cup of bourbon
1/4 cup brown sugar
1/8 cup of honey
1/8 cup of orange juice
Instructions
If using a frozen duck, ensure it is defrosted and all giblets and ties are removed
Dry brine with salt for 12 hours before smoking
Set smoker for 325° using apple wood
Mix dry rub ingredients and coat the duck with the dry rub, also add some to the cavity. Use some olive oil binder if necessary
Place duck on the smoker
Mix ingredients for glaze and let simmer until ready, start about 20 minutes before ready to coat the duck
When it reaches an IT of 140° coat with glaze
Crank the smoker up in temperature upwards of 350° to 375° to finish off with some crispy skin
Smoke until the breast reaches an IT of 150° (see explanation in post)
Let rest for 15 minutes, slice and serve
Nutrition Information:
Yield:

5
Serving Size:

1
Amount Per Serving:
Calories:

256
Total Fat:

15g
Saturated Fat:

5g
Cholesterol:

65mg
Sodium:

440mg
Carbohydrates:

2g
Sugar:

6g
Protein:

14g