Smoked turkey breasts is a great smoked meal but smoked Cajun turkey breast is at another level. It is just as easy as your basic turkey breast but add in a kick of flavor with a homemade Cajun seasoning and you have yourself a hit.
Cajun Turkey Breast Rub Recipe
Before diving into the rub, I will briefly cover the turkey. I used a basic Butterball boneless breast, usually coming at 3 lbs. This are easy to find, already boneless and taste great on the smoker. Now onto the Cajun rub.
This makes for a great Cajun style turkey breast. The ingredients are pretty basic and you should have most already in the pantry. Of course if you don't have these and do already have a store bought Cajun rub, you can use that too.
Cajun Rub Ingredient list:
garlic powder
onion powder
salt
paprika
cayenne pepper
black pepper
oregano
ground thyme
Because we are using this rub recipe in the injection I took the pepper and oregano and ground them up in a molcajete or a mortar and pestle set. By grinding them, it keeps our injector from getting clogged when injecting the breasts.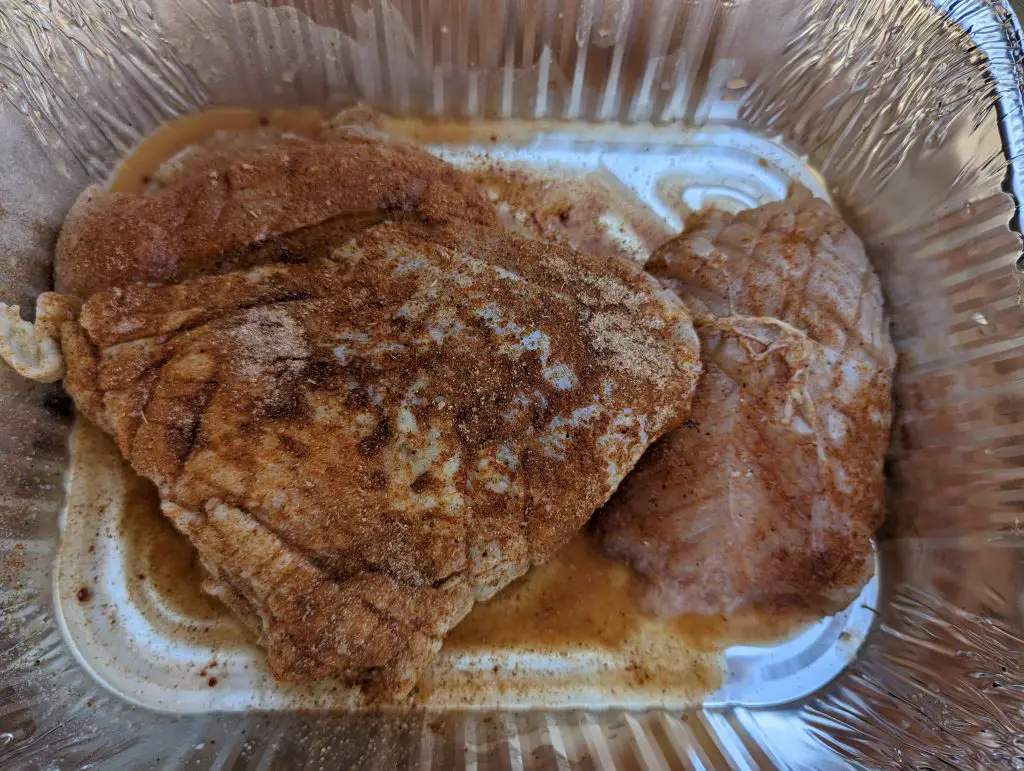 You can mix these ingredients together and set to the side once done. We will then start prepping the turkey and smoker.
Smoker and Turkey Prep
Before we start getting the turkey ready, we need to prep the smoker and get that up and running. For this smoke, I used my Weber Kettle and got it up and running for a temperature of 275 – 300. Turkey is a meat that does better with a hot and fast method, as opposed to low and slow. The injection does an incredible job of keeping the turkey nice and moist. For a wood, I used apple.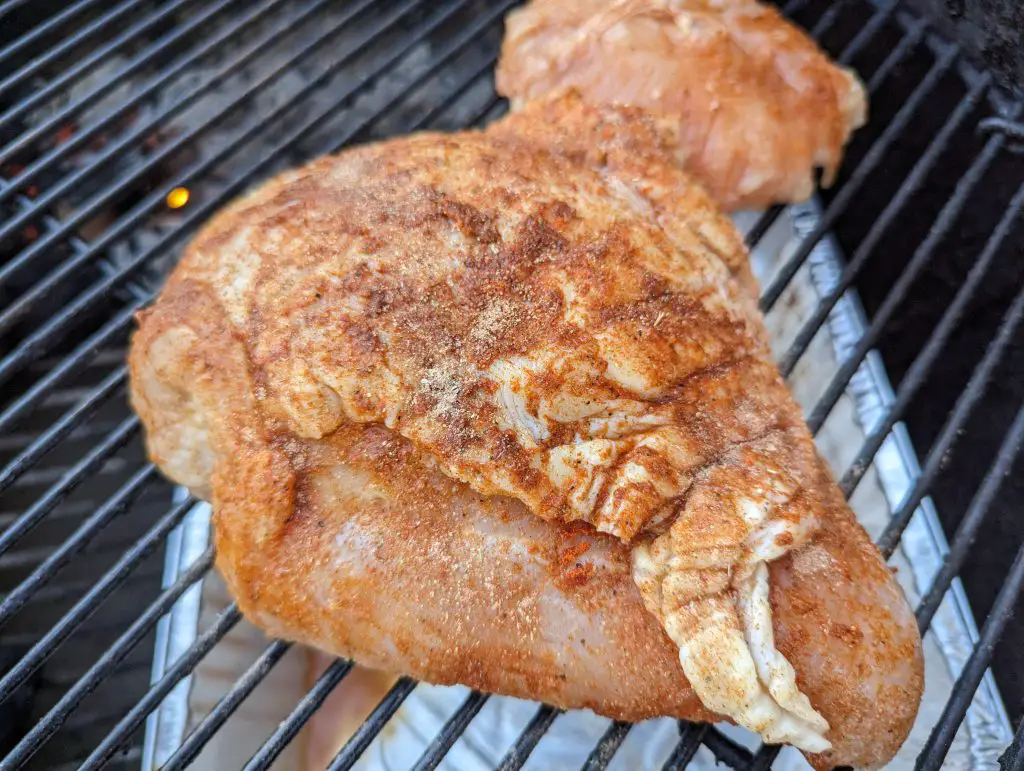 While the smoker is getting up to 275, we can start working on the turkey. The rub is made, so we can first work on the injection. You will need the following ingredients for the injection:
chicken broth
butter
Cajun rub
You are going to take the butter and broth and let simmer in a pot until the butter melts. Once melted add the dry rub and stir it in until it has dissolved. After you have the injection ready you can start to inject the turkey breast. Use the injection liberally as it will provide an incredibly flavorful turkey breast and keep it juicy when serving.
Following up the injection you will take the remaining rub and rub the turkey down. Make sure you are getting the top, bottom and inside and cuts made into the breast. I did not use any binder as the skin and turkey were moist enough from the injection to hold the rub. Save just a little bit of the rub after placing the turkey on the smoker and fix any spots that you may have rubbed off during handling it.
For a probe on this smoke, I used my ThermoPro TP20. Its a quality unit that won't break the bank.
After you have placed the turkey on the smoker, close it up and let it ride for a bit. While the breast is moving up in temperature, you will want about a stick of butter, that we will use to baste. When the breast gets to an IT of 115 and then 135, you will baste with the melted butter. This will add a little bit more flavor and help tighten up the skin, making it a little crispier.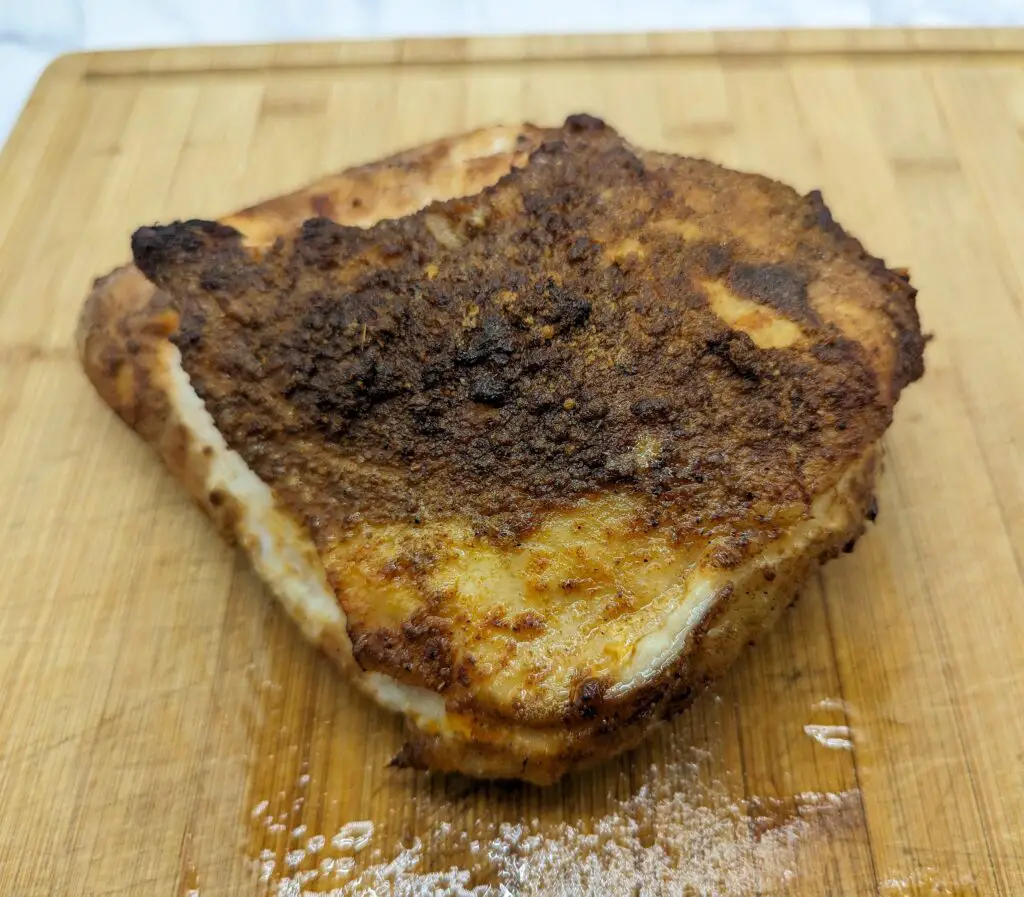 We are always looking for poultry to get to an IT of 165 degrees. In this case, we are going to pull it from the smoker at 160 and let it rest, tented for about 20-30 minutes. It will give it time to reach that ideal 165 IT and give the meat a chance to rest before slicing.
Wrapping Up Smoked Cajun Turkey Breast Recipe
This is a great meal, whether you are doing it at any point during the year or using it for a formal Thanksgiving dinner. It is quick and easy and an incredible way to enjoy a boneless Cajun turkey breast.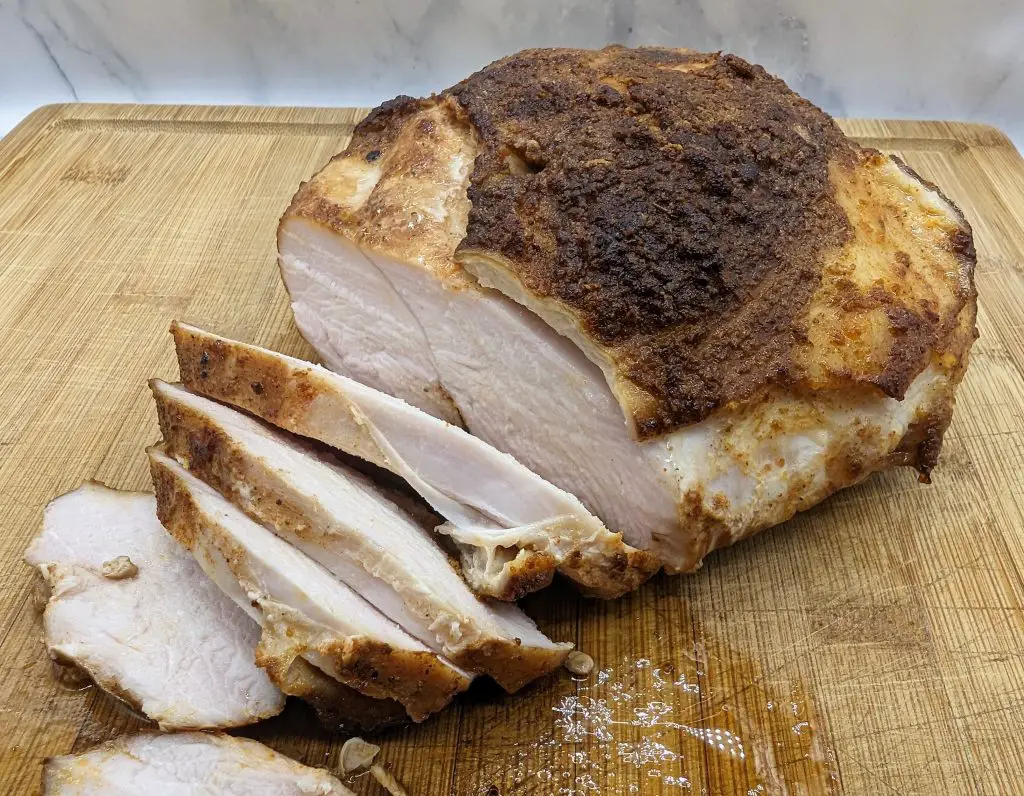 Thanks for being here and checking out this Cajun Smoked Turkey Breast recipe. I hope you enjoy it! We always appreciate comments, 5 star recipe rating and social media shares. As always, keep that smoke rolling!
This post contains affiliate links. If you use these links to buy something I may earn  a commission.
Looking for some other turkey recipes and more, here are a few suggestions: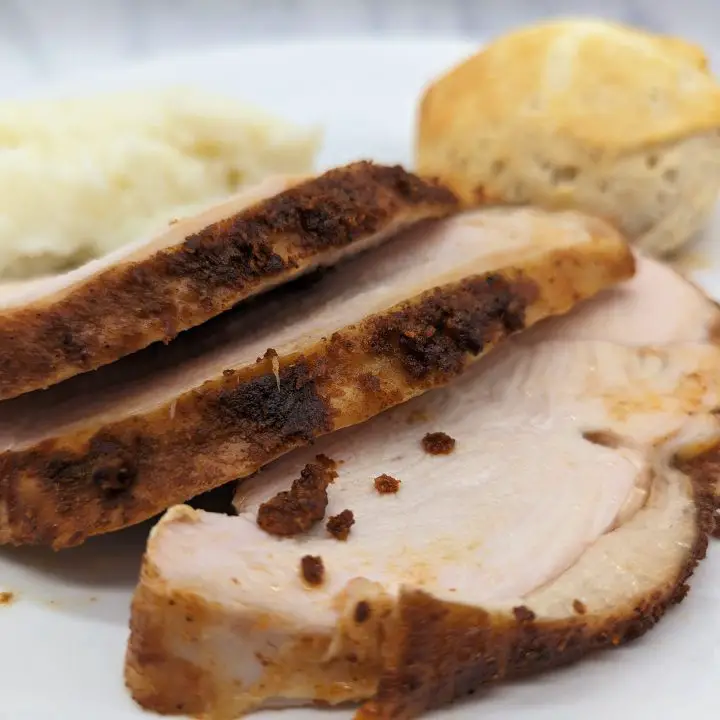 Smoked Cajun Turkey Breast
Cook Time:
1 hour
45 minutes
Additional Time:
30 minutes
Total Time:
2 hours
45 minutes
Smoked turkey breast is an easy and delighful meal. Combine and smokey flavor with the Cajun seasoning and this is a true hit.
Ingredients
Injection
8 oz. of chicken broth
1/2 stick of melted butter
2 tablespoons of Cajun rub
Cajun Dry Rub
1 tbsp. of garlic powder
1 tbsp. of onion powder
1 tbsp. of salt
2 tsp. of paprika
2 tsp. of cayenne pepper
1 tsp. of black pepper
1 tsp. of oregano
1 tsp. of ground thyme
Instructions
Prepare smoker for 275° using apple wood chunks
Prepare the injection and inject turkey
Prep your turkey with your rub
Place breasts on the smoker and recoat with your rub anywhere handling may have removed it
Baste twice with melted butter, at approx. 115° and 135°
Smoke to an IT of 160° and remove
Cover with foil and let rest of 30 minutes.
Slice and serve
Nutrition Information:
Yield:

8
Serving Size:

1
Amount Per Serving:
Calories:

314
Total Fat:

10g
Saturated Fat:

5g
Trans Fat:

0g
Unsaturated Fat:

4g
Cholesterol:

152mg
Sodium:

1203mg
Carbohydrates:

3g
Fiber:

1g
Sugar:

0g
Protein:

52g