A grilled twice baked potato recipe is the one thing you have been missing and need on your dinner menu. Baked potatoes are good, this recipe is amazing. It is simple to make, consists of ingredients you likely have in the house and will be enjoyed by the kids and the adults.
Ingredients For Twice Baked Potatoes
Our ingredients are pretty traditional for what you would look for in some grilled loaded potatoes. How we go about making these is what makes this recipe different from an oven baked potatoes recipe. For this recipe, you will need the following ingredients:
Russert potatoes
olive oil
salt
black pepper
crushed bacon or real bacon bits
shredded cheese
chops scallions/ green onions
milk
melted butter
garlic powder
A I mentioned above, these are all pretty basic ingredients that you may already have or can easily pick up at the grocery store.
How To Grill Twice Baked Potatoes
We are going to get this started on the gas grill and get it running on 400°. Set it up for indirect heat. My Weber has 4 burners so I set mine up by cranking two burners, allowing the other side to be where I would place the potato's. If you have a smaller grill, I would suggest placing the potatoes on the warming rack. While that is getting up to temperature, we are going to start on the potatoes.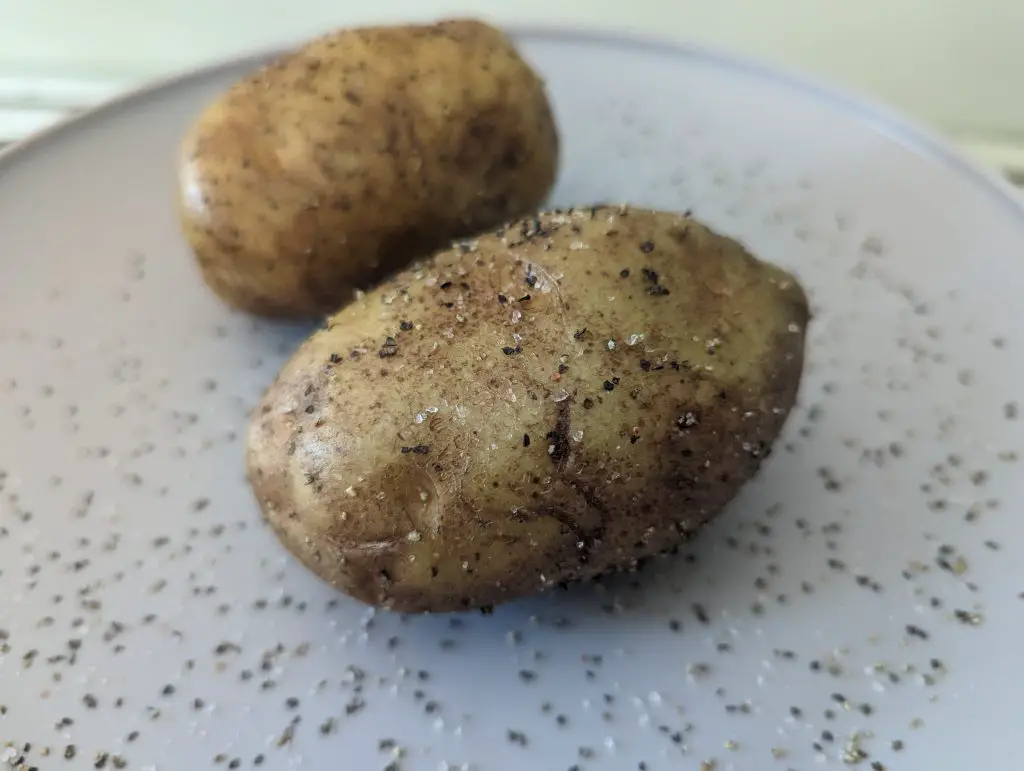 Start with some olive oil, and brush it onto on the potatoes. After that is done, take the salt and pepper and coat them all around the potatoes. Once that is done, we are going to get them on the grill. We are going to leave them on there for about 45-60 minutes. Once they are probe tender, with a fork, you can pull them off.
While the potatoes are cooking on the grill, you can prepare some of the other ingredients. Chop the green onions and work on the bacon. If you are using full bacon strips, you will need to cook it and them crumble it. If you are doing real bacon bits, you can choose to warm them up in a pan or use them cold. They will get warmed when we put the potatoes back on the grill. I have tried both options and the flavor has been similar, so go with whatever one you choose.
Preparing For Loaded Twice Baked Potatoes
With the potatoes off, let them cool for about 15 minutes, or until you can handle them. Once cooled, cut them in half. While you are waiting for the potatoes to cool you can melt the butter. I would do this over a low heat and let simmer until you are ready to use it. The potatoes will need to be scooped out once cooled enough and cut in half. Do not scrape down to the skin, leave about 1/8 to 1/4 inch of potato on the skins. Take what you scoop out and place in a bowl.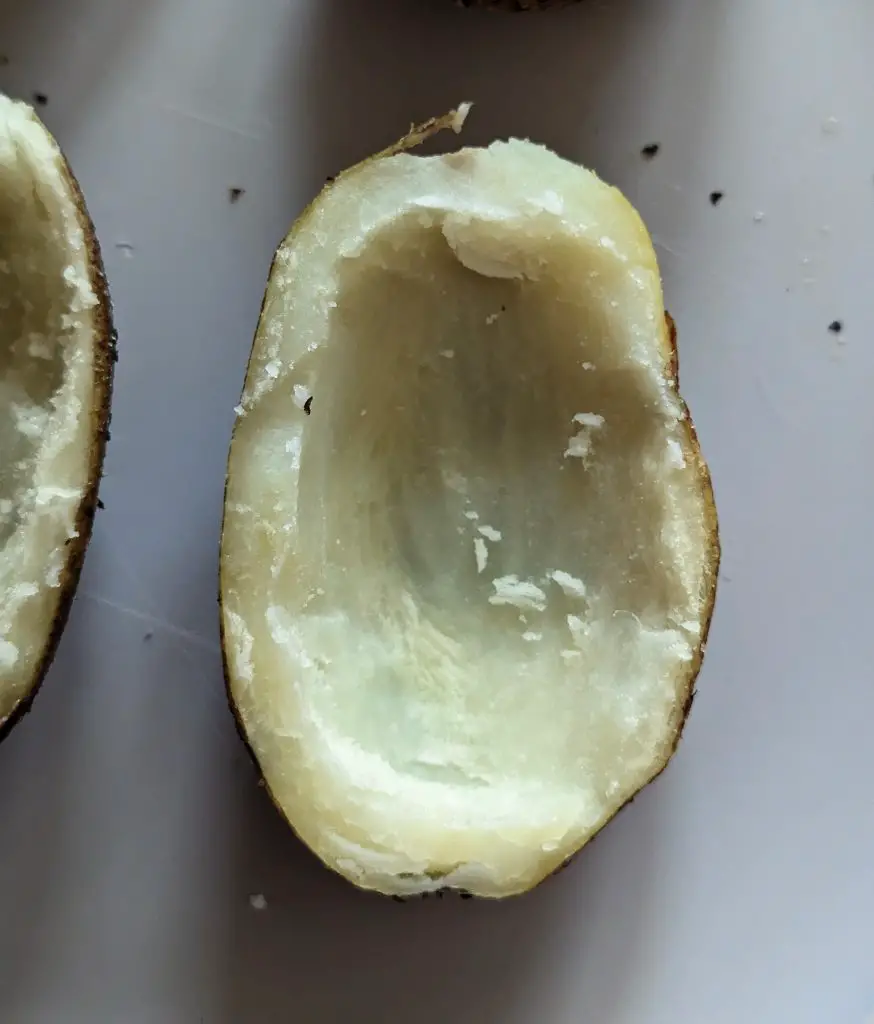 With the potatoes scooped out, we can add the remaining ingredients to the bowl. Save a little of the cheese, green onions and bacon to garnish the potatoes when they are done. Add in the bacon, green onions, milk, cheese, melted butter and garlic powder. I would suggest using a hand mixer, as you do not want to be too aggressive.
Mix the ingredients well and until the milk is absorbed along with the butter. You should have a nice fluffy mixture, when its all said and done. With everything mixed, you can now add the potato mixture back into the potato skins.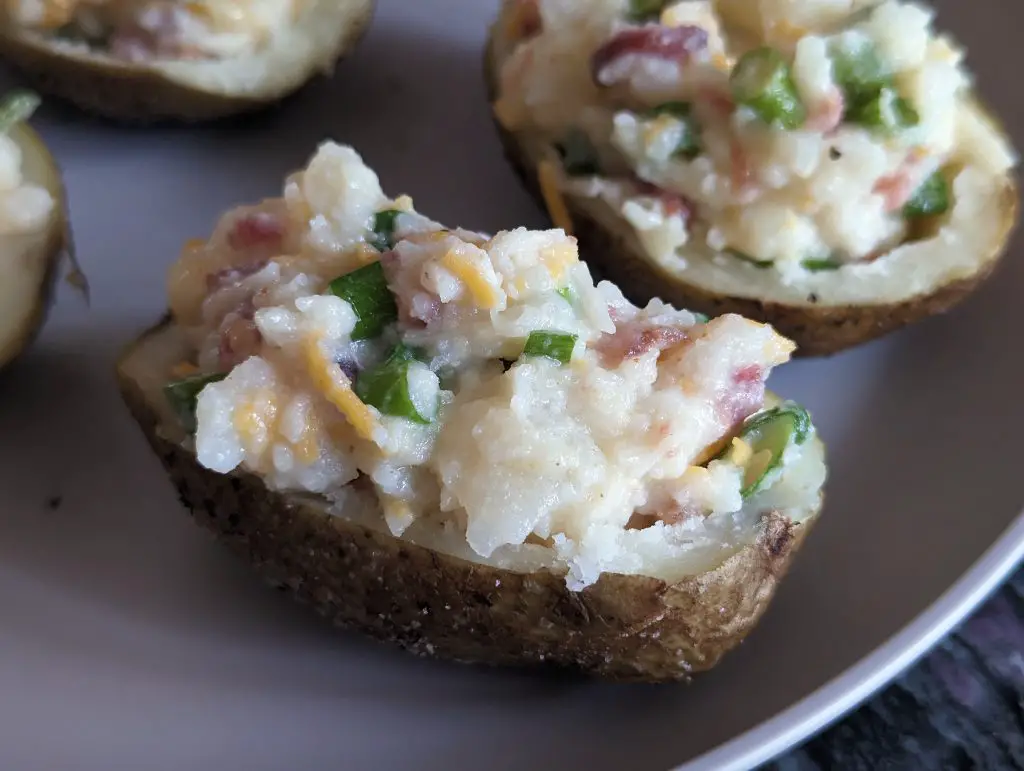 Load these skins up nice and high! With the added ingredients, you will have plenty to make these heaping loaded potatoes.
While not needed for this dish, I would highly recommend a meat probe, the ThermoPro TP20 . This is a great budget friendly unit, that will absolutely serve your smoking and grilling needs.
Finishing Up The Twice Grilled Baked Potatoes
You will keep the temperature at 400° and continue with the indirect heat when placing them back on. You will keep them there for another 20 minutes. This should allow the tops of the potatoes to slightly brown. As you get closer to that 20 minute mark, you can go by look and see how the loaded potatoes are looking and pull when you feel they are ready.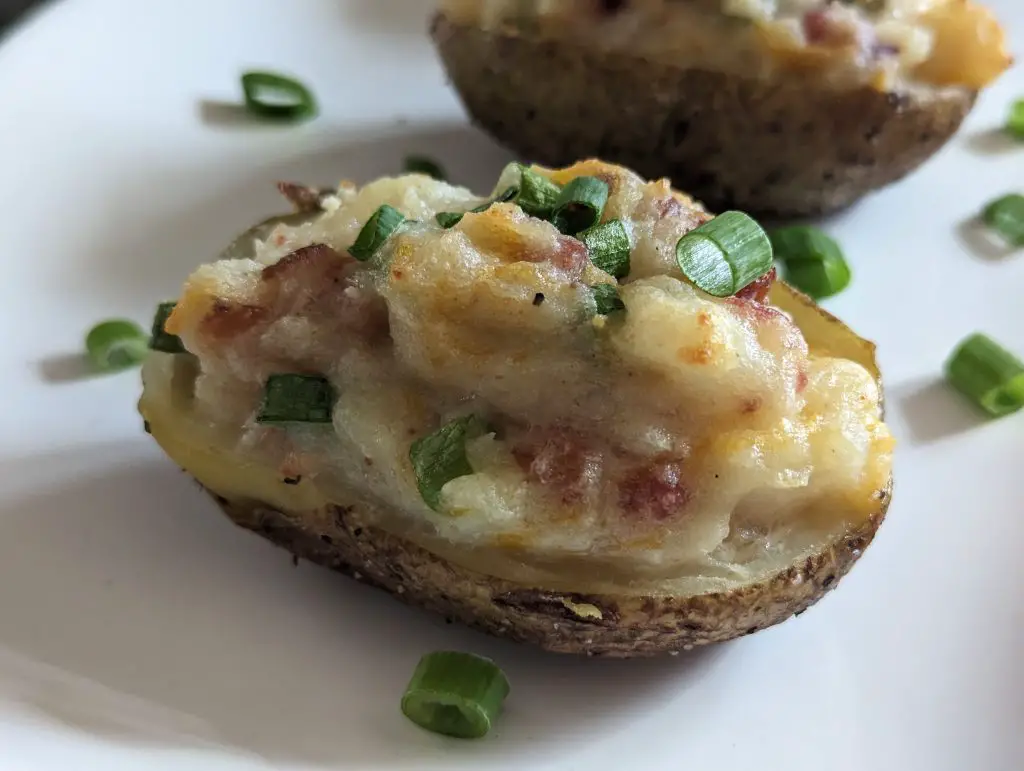 When done you can remove, let cool for a couple of minutes, garnish with some of that extra cheese, bacon and green onions that we set aside earlier. Add some sour cream and enjoy these amazing grilled twice baked potatoes.
Grilled Twice Baked Potato Wrap Up
This is a delicious recipe that our family absolutely loved. Its a simple set of ingredients, most items that kids will enjoy and the combination of flavors will offer the adults a great side dish for their meal.
If you are interested in some other side dish recipes or entrees to pair with this, here are some suggestions:
Thanks for being here and checking out this Grilled Twice Baked Potato recipe. I hope you enjoy it! We always appreciate comments, 5 star recipe rating and social media shares. As always, keep that smoke rolling!
This post contains affiliate links. If you use these links to buy something I may earn  a commission.
Grilled Twice Baked Potato
Cook Time:
1 hour
30 minutes
Total Time:
1 hour
35 minutes
Ingredients
2 Russert potatoes
1/2 tbsp.. of olive oil
1 tsp. of salt
1 tsp. of black pepper
1/2 cup of either crushed bacon or real bacon bits
1 cup of shredded cheese
1/4 cup of chops scallions
1/4 cup of milk
2 tbsp. of melted butter
1/2 tbsp. of garlic powder
Instructions
Heat grill to 400
Coat the potato's with olive oil, salt and pepper
Place on grill for indirect heat
Grill for about 1 hour or until easily pierced with a fork
When done, let cool. Slice in half, scoop out the potato's
Take potato's, bacon, scallions, cheese, milk and garlic and mix together (reserve some of the cheese, scallions and bacon for toppings if you would like)
Add the mix ingredients back into the potato skins and place back on the grill
Cook for another 20 minutes or until the tops start to slightly brown
Remove and serve while hot
Garnish with some sour cream, bacon, scallions and cheese
Nutrition Information:
Yield:

2
Serving Size:

1
Amount Per Serving:
Calories:

755
Total Fat:

50g
Saturated Fat:

24g
Trans Fat:

1g
Unsaturated Fat:

22g
Cholesterol:

129mg
Sodium:

2394mg
Carbohydrates:

45g
Fiber:

5g
Sugar:

4g
Protein:

34g