Smoked cinnamon sugar almonds are an amazing combination of cinnamon, sugar and smokey flavor. They are great for around the house for the kids or as snack for your party. This is our kind of recipe, easy, fast and delicious!
How To Make Cinnamon Sugar Almonds
Before we get into making the almonds, let's get the smoker set up and running. For this recipe I used my Weber Smokey Mountain. Normally, I would have done this on my Weber Kettle if it were a one off smoke but because I was smoking some pecans on the lower rack and then a ham later on, I did this on the WSM.
While we are not measuring any kind of internal temperature on this smoke, if you need a probe that fits the budget and is high quality, to measure your ambient temperature try the ThermoPro TP20.
The smoker set up was rather simple, a temperature of 225°, using some hickory wood. you can go with a apple or cherry but I think the hickory makes for such a great compliment to almonds, its hard for me to get away from that.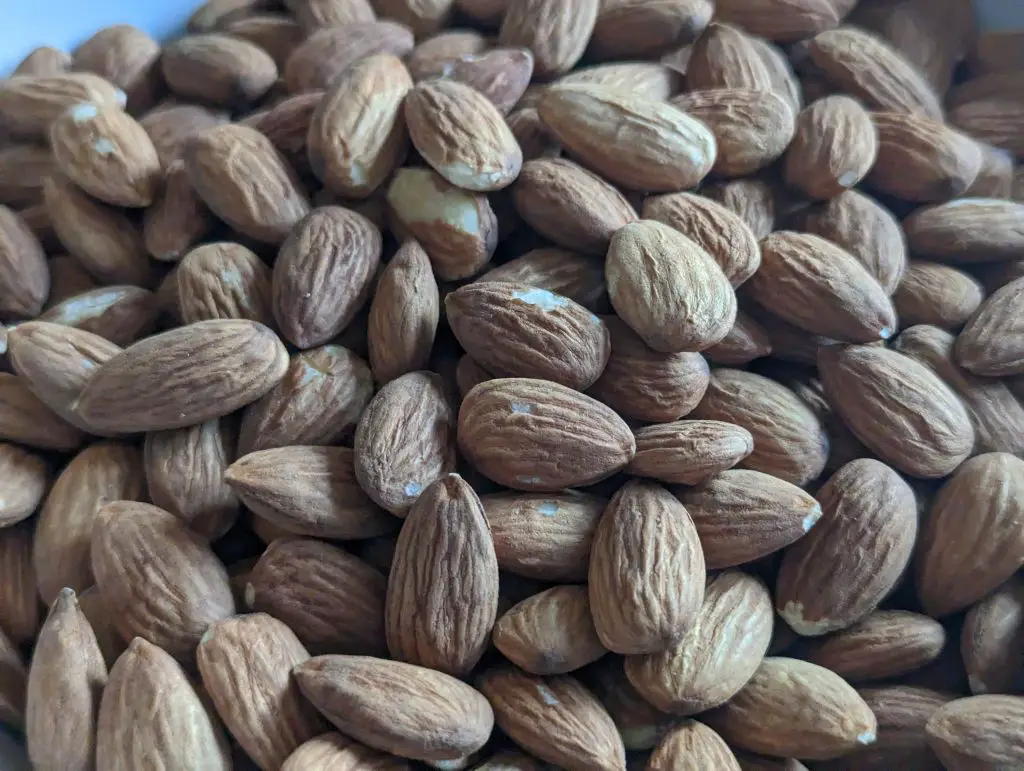 With the smoker working its way up to temperature, we can now get started with our almond recipe. I bought a bag of unsalted almonds from Costco. For this recipe we only need 1 lb.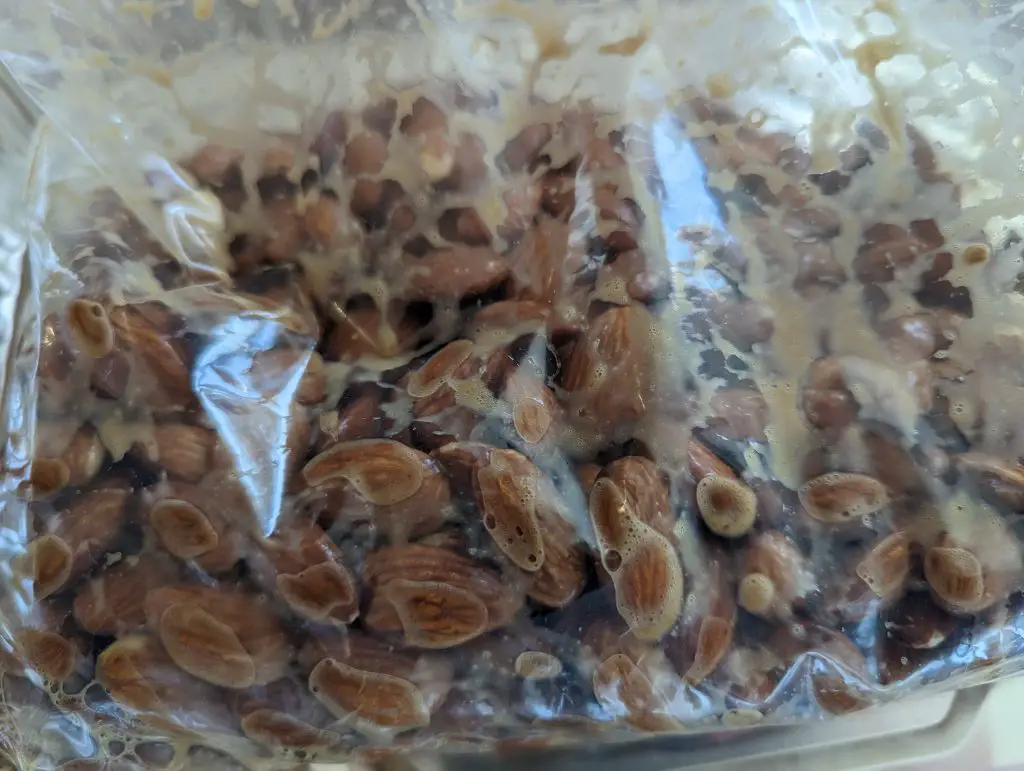 Start with 1 egg and add in the vanilla extract, mixing the two together. Make sure the egg is fully beaten in the process. Once that is done, set it off to the side. You will then mix the dry ingredients together and set to the side. With those ready, take the almonds and place in either a large bowl or a 1 gallon Ziploc bag. Start by adding the egg mixture to the bag or bowl and mix until you have full coverage on the almonds. With that completed, add the cinnamon sugar mixture to almonds and do the same, mix until full coverage on the almonds.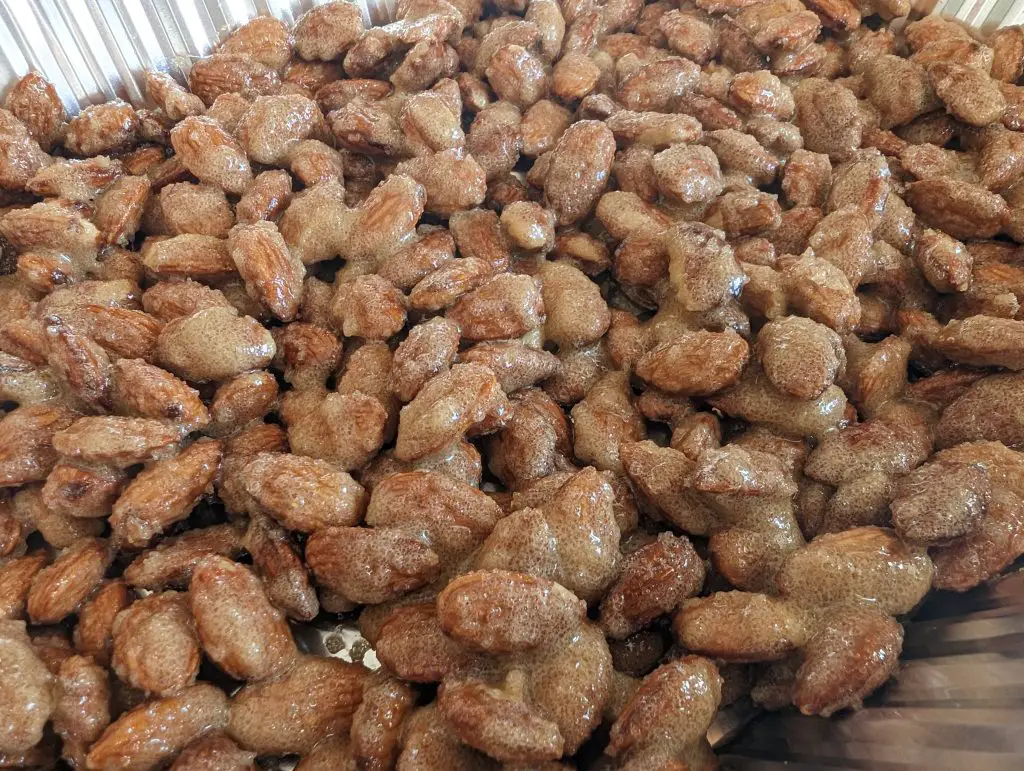 After having completed coating the almonds with the sugar cinnamon mixture you can prepare to get them on the smoker. I would suggest placing the almonds on a baking sheet or foil pan. Personally I prefer the pan and will explain why in a bit. Once you have them ready we get can them on the smoker.
How To Make Roasted Almonds With Cinnamon And Sugar On The Smoker
Now that the almonds are ready, we can get them on the smoker. Your smoker should be at 225° now and ready for the almonds. Depending on the size of your smoker may determine what you put the almonds on. As I mentioned above I prefer the pan as they fit better on my WSM but also hold the almonds better. And like me, if you end up having the almonds layered you will want to give the almonds a stir about half way through. Thus why I prefer the pan over the baking sheet. You will keep them on for about 90 minutes.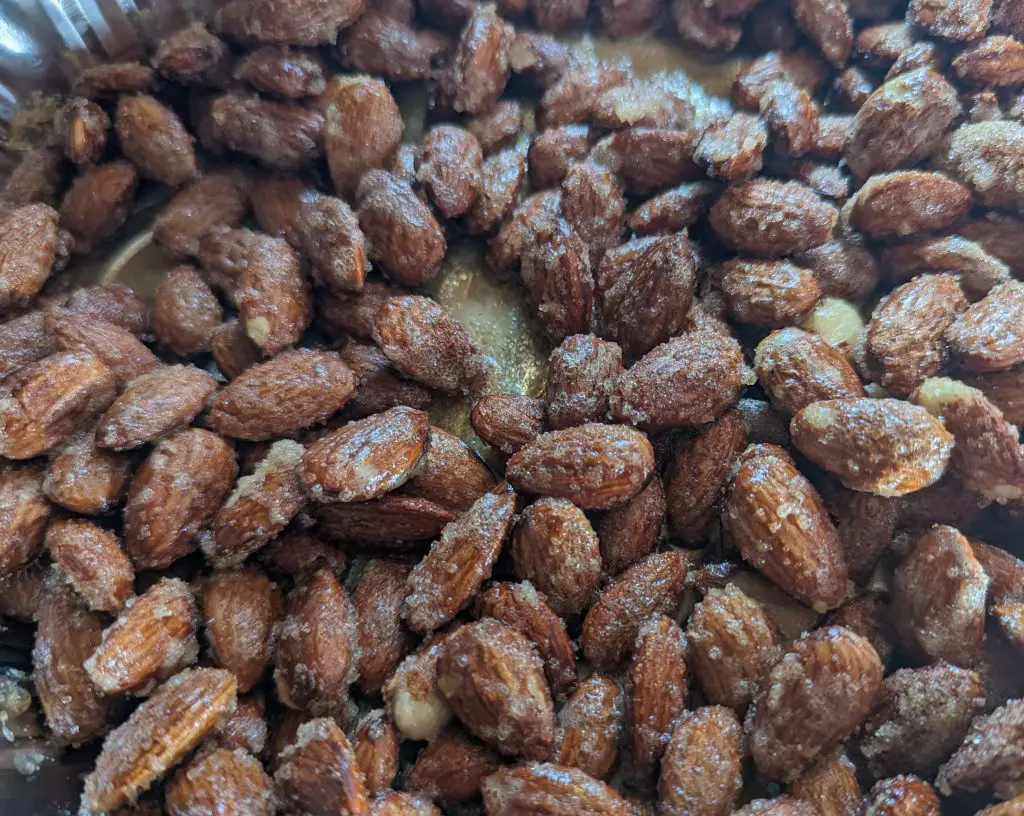 Since we are not going by temperature and just time then you can pull after 90 minutes or sooner if it looks like they are done. After pulling you will want to let the almonds cool completely. When the almonds are cooled, they are ready to serve.
Wrapping Up Smoked Cinnamon Sugar Almonds
This is a super easy recipe and one that makes for a great add on item, like I did, or a solo smoke, if you are having a party, BBQ or looking to make something for the kids to snack on around the house. Store these in an airtight container for 1-2 weeks and you will be good to go!
If you are looking for some other ideas or snacks or meals, here are a few suggested recipes:
Thanks for being here and checking out this Smoked Cinnamon Sugar Almonds recipe. I hope you enjoy it! We always appreciate comments, 5 star recipe rating and social media shares. As always, keep that smoke rolling!
Smoked Cinnamon Sugar Almonds
Cook Time:
1 hour
30 minutes
Additional Time:
30 minutes
Total Time:
2 hours
15 minutes
Ingredients
1 lb. of unsalted almonds
1 egg
2 tsp. of vanilla extract
3/4 cup of brown sugar
1/2 cup of sugar
1 tsp. of salt
2 tsp. of cinnamon
Instructions
Set smoker to 225°, using hickory wood
Beat the egg and add in the vanilla extract, mix well
Mix the dry ingredients together and set aside
Place almonds in a bowl and add egg mixture
Stir well until all almonds are covered
Add in dry ingredients to the almonds and stir again until well coated
Place almonds in a foil tray and place on smoker
Smoke for 45 minutes and stir, bring bottom almonds to the top
Smoke for another 45 minutes
Remove and let cool for about 30 minutes before serving
Nutrition Information:
Yield:

10
Serving Size:

1
Amount Per Serving:
Calories:

372
Total Fat:

24g
Saturated Fat:

2g
Trans Fat:

0g
Unsaturated Fat:

21g
Cholesterol:

19mg
Sodium:

245mg
Carbohydrates:

33g
Fiber:

5g
Sugar:

26g
Protein:

10g