Grilled chicken fajitas are a mouthwatering Tex-Mex dish that combines sizzling, marinated chicken strips with colorful bell peppers and onions. This delectable creation is a crowd-pleaser, loved for its smoky flavors and vibrant presentation. Whether you're hosting a summer barbecue or simply craving a flavorful weeknight dinner, grilled chicken fajitas offer the perfect balance of savory, tangy, and slightly spicy tastes.
In this article, we will explore the history of this classic dish, discover various marinade options to enhance its flavor profile, and provide step-by-step instructions on how to create restaurant-quality grilled chicken fajitas in the comfort of your own home. Get ready to tantalize your taste buds with this delicious Tex-Mex favorite!
Origins of Fajitas
Fajitas have a rich history that dates back to the early 1930s. The term "fajita" itself is derived from the Spanish word "faja," which means belt or sash.
Traditionally, fajitas were made using less desirable cuts of beef such as skirt steak, which were marinated and tenderized to impart flavor. Cowboys and ranch workers along the Texas-Mexico border would cook these tough cuts over an open fire and wrap them in flour tortillas for a hearty meal.
The origins of fajitas can be traced back to Mexican vaqueros (cowboys) who migrated from northern Mexico to south Texas during the late 19th century. These cowboys brought with them various cooking techniques and flavors that heavily influenced Tex-Mex cuisine.
However, it wasn't until the 1980s that fajitas gained widespread popularity across the United States. A meat company called Vidal Ranches began marketing skirt steak as "fajitas" to appeal to American consumers' growing interest in Mexican food. This clever marketing strategy led to an explosion in demand for fajitas, making them one of America's favorite Tex-Mex dishes.
Today, fajitas come in various forms, including chicken, shrimp, and vegetable options alongside traditional beef versions. They are typically served with grilled onions and peppers, guacamole, sour cream, salsa, and other condiments.
Fajitas have become a staple item on menus at Tex-Mex restaurants worldwide due to their versatility and delicious flavors. Whether enjoyed at home or ordered out at a restaurant, these sizzling hot platters of flavorful meats wrapped in warm tortillas continue to captivate taste buds everywhere.
So next time you bite into a juicy fajita filled with tender meat and vibrant toppings, remember its humble origins as a cowboy's meal along the Texas-Mexico border.
Making The Best Grilled Chicken Fajitas
This meal is great for a quick weeknight dinner or maybe a Cinco de Mayo celebration, or that summer BBQ. The kids absolutely love this meal, whether they are making full blown fajitas or just picking away at the grilled seasoned chicken.
Grilled Chicken Fajitas Marinade
Start off by seasoning the chicken, we are going to want to marinade these chicken breasts for about 4-5 hours. Longer is ok but 4-5 hours is about the minimum you want. Here is what you are going to need for the marinade:
olive oil
lime juice
water
salt
cumin
minced garlic
paprika
black pepper
chili powder
Combine these ingredients into a bowl, and whisk together well. Add the chicken breasts into a resealable bag and then pour the marinade into the bag over the breasts. Place the bag into the refrigerator and let marinade, as I mentioned about 4-5 hours.
When they are done marinating, remove the breast and pat dry. We then want to season with a dry rub that consists of some paprika, cumin and cayenne pepper. Mix them together and lightly coat the top and bottom of the chicken breast. Save a little for the peppers and onions later on in the process. While you are working on the final steps of preparing the chicken you can get the grill up and running. We are looking for 350° on the grill and can set the grill up for direct heat grilling.
Easy Grilled Chicken Fajitas
The grill should be up and running at an ambient temperature of 350°. As I mentioned above, the chicken breast we are going to grill over direct heat. I usually suggest wiping the grate down with some vegetable oil to avoid the chicken from sticking to the grate.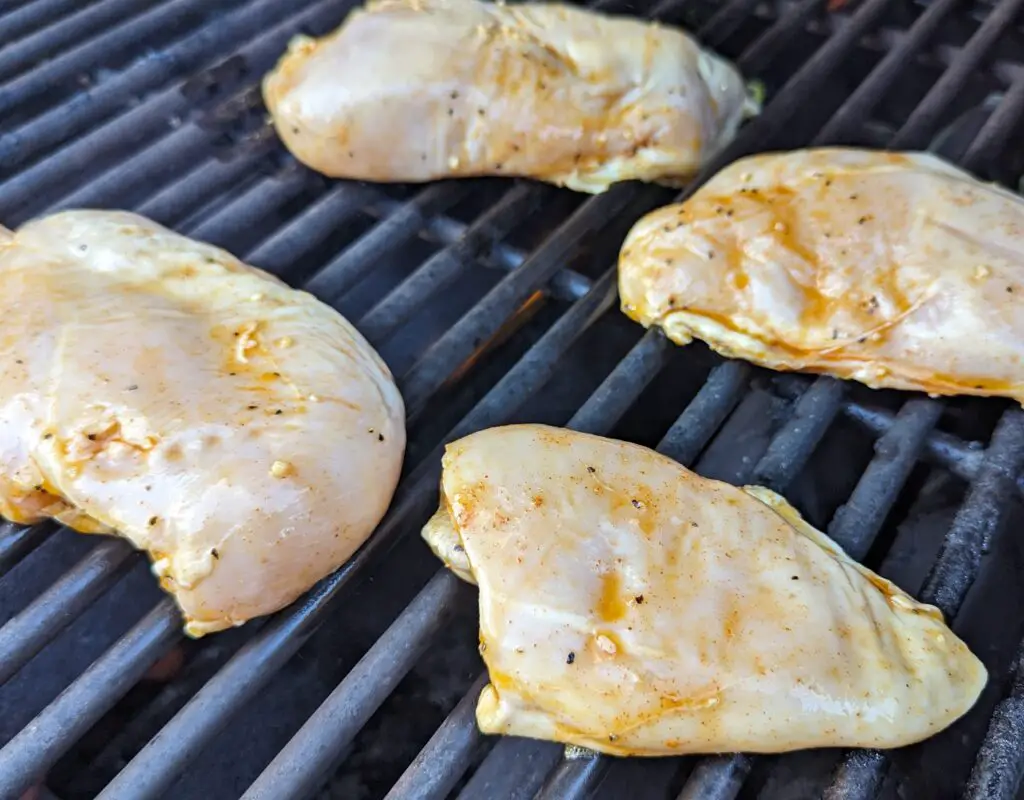 Place the breasts on and close the grill. You are going to do these about 8 minutes on each side. Chicken is usually done at 165°. My suggestion is to pull it at 160°, and we are going to give it a 15 minute rest period, during which you will get to that 165° temperature. When resting, cover with some foil.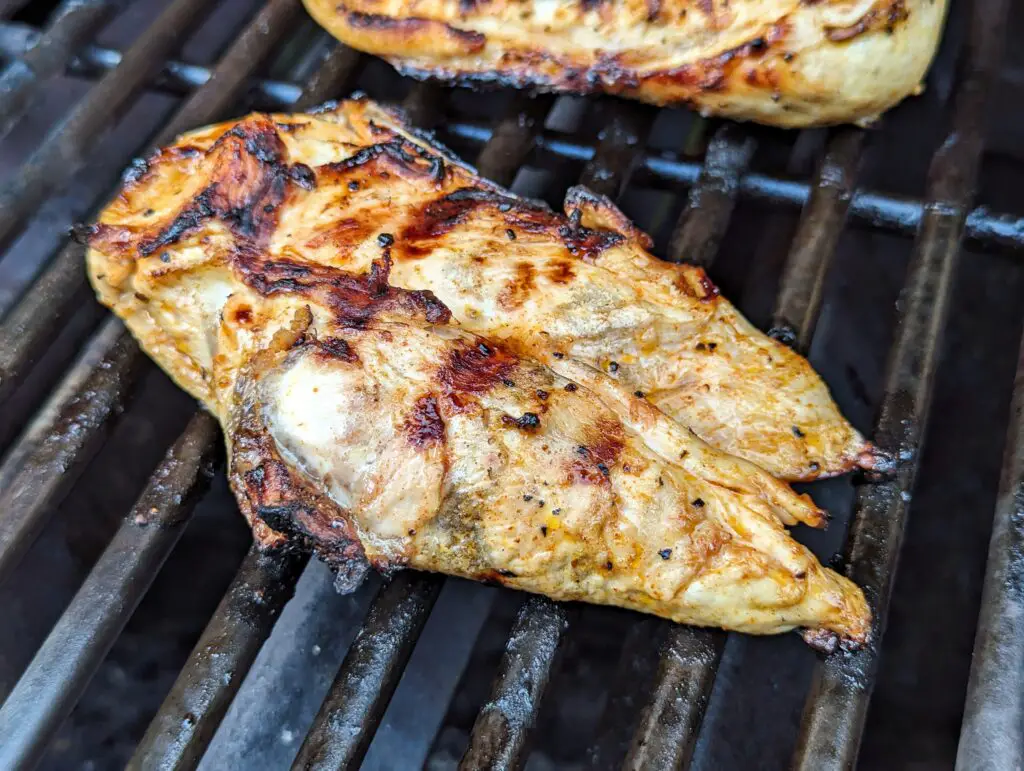 I used my ThermoPro TP19H to spot check the chicken breasts during the cooking process.
Cooking Peppers and Onions
When it comes to the peppers and onions, they will take a little longer than the chicken, so I would suggest starting a little before you start the chicken. I used the following combination of peppers but you can go with what you like. My only suggestion is to not go with just green peppers or red peppers but try to mix it up with at least some green and red or some other combo.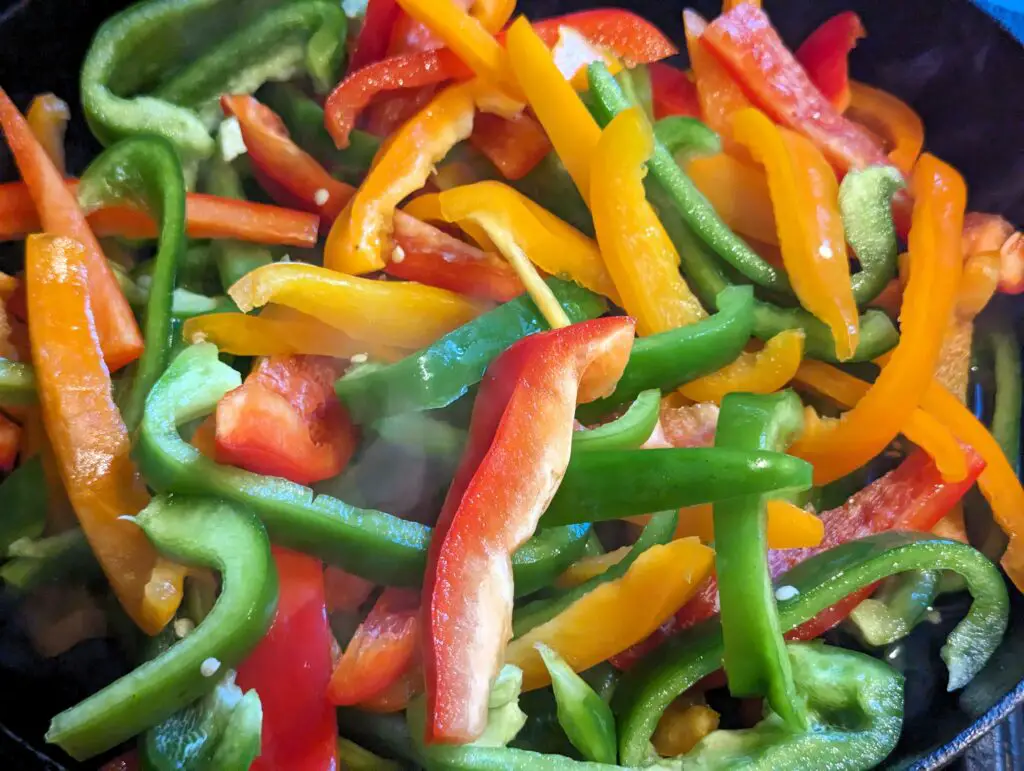 I used 2 green, 1 red and 1 orange pepper for this chicken fajita recipe. Cut them into strips, remove the seeds and we are going cook in a cast iron skillet on the stove top. You will want one white onion cut in half and then sliced. You can cook the peppers and onions on the grill as well if you have room. Warm your skillet up and then add some olive oil or water, if you are looking for something a touch healthier.
You can then sauté the peppers until you see them start to soften a bit. At this point add the onions, the onions will cook faster than the peppers so you do not want to put them in at the same time. Take a little of the seasoning and add it to the peppers and onions.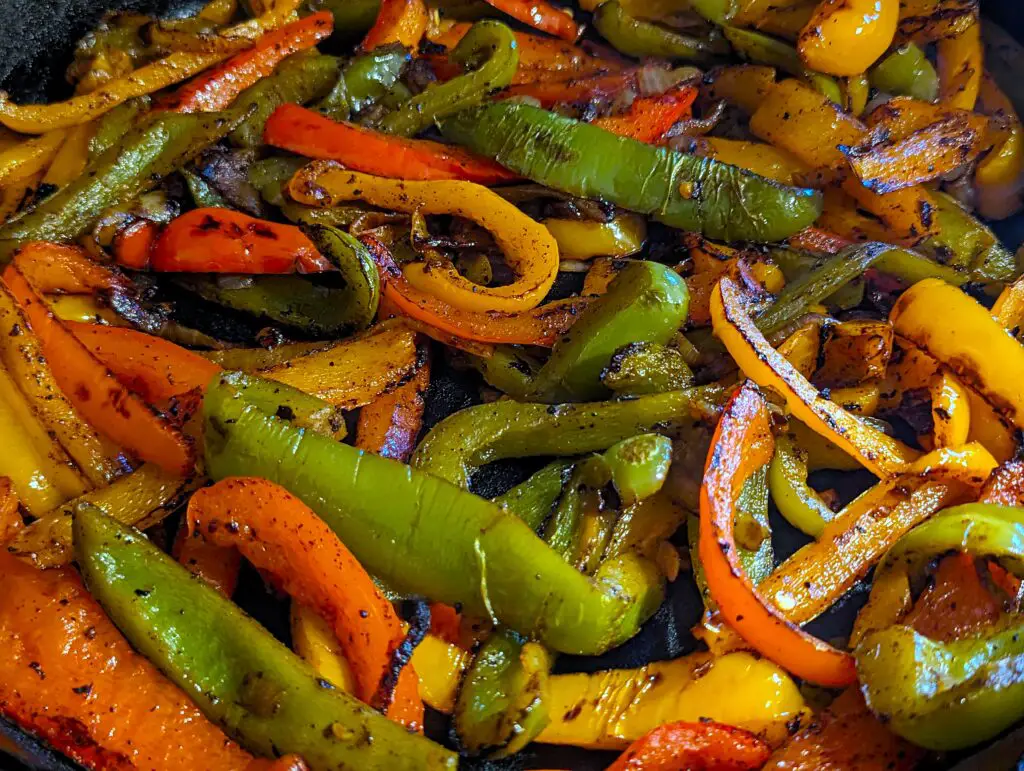 You can choose to pull the peppers and onions once they soften up, I like leaving them in the skillet while they crisp and get a little bit of char on them. Once they are done to your liking, pull them off and let them cool down a bit for serving.
Making The Fajitas
With the chicken finished on the grill and it rested, you can start slicing it. I slice it the length of the breast and then depending on the thickness of the breast, again in half. I used fajita sized flour tortillas and started off by layering on the sliced grilled chicken, then peppers and onions and then started to garnish it. I like my fajitas simple and top them off with a dollop or two of sour cream. The seasoning combinations we used will keep you from feeling like you need a lot of additional flavor.
Some other suggestions to top off the fajitas are: avocado, cilantro, salsa, grated cheese or sautéed jalapenos.
Wrapping Up Grilled Chicken Fajitas
Grilled chicken fajitas are a delicious and versatile dish that can be enjoyed by everyone. With their flavorful combination of marinated chicken, colorful bell peppers, and onions all cooked to perfection on the grill, they offer a healthy and satisfying meal option. Whether served with warm tortillas, fresh guacamole, or tangy salsa, this Tex-Mex favorite is sure to please any crowd. So fire up the grill and get ready to savor the mouthwatering flavors of grilled chicken fajitas – a truly irresistible culinary delight.
Thanks for being here and checking out this Grilled Chicken Fajitas recipe. I hope you enjoy it! We always appreciate comments, 5 star recipe rating and social media shares. As always, keep that smoke rolling!
Need some other recipe ideas, here are a few suggestions:
This post contains affiliate links. If you use these links to buy something I may earn a commission.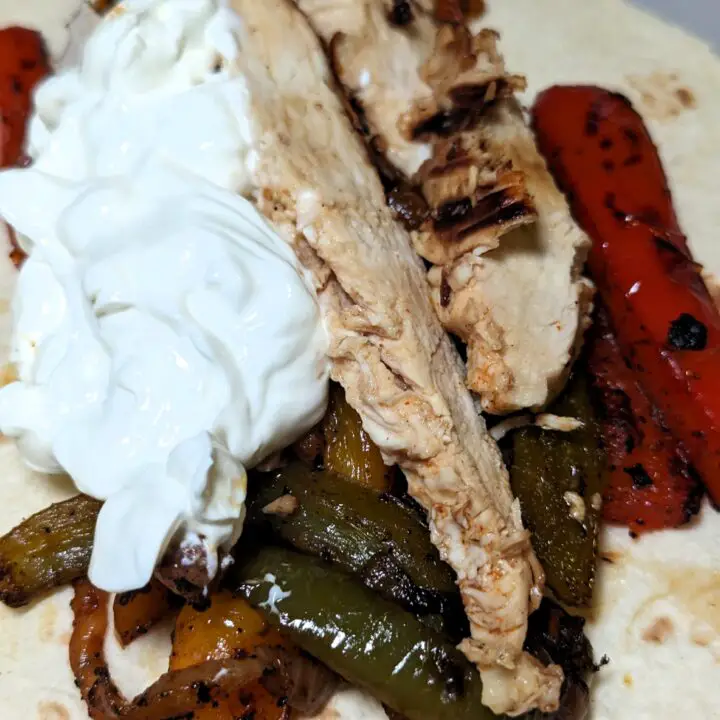 Grilled Chicken Fajitas
An easy and delicious combination of paprika, cumin and cayenne on these grilled chicken breasts for an incredibly mouthwatering meal.
Ingredients
2 lb. chicken breast
12 flour tortillas
Chicken Marinade
1/2 cup olive oil
3/4 cup lime juice
1/2 cup water
2 tsp. salt
1/2 tsp. cumin
1 tbsp. minced garlic
2 tsp. paprika
1/2 tsp. ground black pepper
1/2 tsp. chili powder
Dry Rub
1 tsp. paprika
1 tsp. cumin
1/2 tsp. cayenne pepper
Instructions
Combine the marinade ingredients, whisk together well
Place the chicken breasts in a sealable container or resealable bag and then pour the marinade over the breasts
Seal and place in the regfrigator and marinade for 4-5 hours at minimum
Mix the dry rub that consists of the cayenne, cumin and paprika. We will use some for the chicken and then some of the peppers and onions
While the chicken is marinating, you can start the peppers and onions. Slice the peppers into strips and remove the seeds and slice the onion in cutting the slices in half before placing in the skillet
Sauté the peppers in a skillet, using either olive oil or some water, for a slightly healthier option. Do this over a medium to low heat
Once the peppers start to soften up, you can add the onions. They are going to cook much faster than the peppers do.
After adding the onions, add some of the dry rub that we set aside earlier
Continue cooking the peppers and onions to your liking. Some may prefer them just soften up, I like to keep them in the skillet until I get a little bit of char on the them.
While the peppers and onions are cooking, you can start the grill with a temperature of 350° and direct heat cooking. I also recommend wiping the grates down with some vegetable oil or olive oil to keep the chicken from sticking to the grates
Before placing the chicken on, remove from the marinade, pat dry, add the dry rub and place on the grill
Grill over direct heat, for about 8 minutes on each side, this will be dictated by the thickness of the breasts. You will grill until an IT of 160° is hit.
When the chicken hits 160°, remove cover with foil and let rest for 15 minutes.
After resting the chicken, slice into long strips and then build the fajitas, garnish as you would like
Enjoy!
Nutrition Information:
Yield:

6
Serving Size:

1
Amount Per Serving:
Calories:

744
Total Fat:

31g
Saturated Fat:

6g
Trans Fat:

0g
Unsaturated Fat:

23g
Cholesterol:

129mg
Sodium:

1366mg
Carbohydrates:

59g
Fiber:

4g
Sugar:

1g
Protein:

56g