Are you ready to elevate your pulled pork game to the next level? Look no further than this mouthwatering recipe for peach Bourbon pulled pork. Combining the sweetness of peaches with the rich and smoky flavors of Bourbon, this dish will have your taste buds dancing with delight. Whether you're hosting a summer cookout or simply craving some comfort food, prepare yourself for a tender and succulent pulled pork that is sure to be the star of any gathering. So fire up your grill, grab a bottle of Bourbon, and get ready to indulge in a truly unforgettable culinary experience.
Smoked pulled pork is a staple and one of the easiest ways to get started smoking, I mention it in my article, Best Meat To Smoke For Beginners, as a great starter meat. This recipe is a great way to add some sweetness to your pulled pork and surprise your guests with a delightful variation of smoked pulled pork.
Ingredients Needed For This Pulled Pork Recipe
For starters I used about a 7 lb. pork butt. I usually will buy the twin pack from Costco and smoke them both and the either serve or repackage and freeze. If you are a Costco member, I usually wait for the $5 off sale and take advantage of that and load up for some smoked pulled pork. Outside of the pork butt, I used a sweet rub for this recipe. I went with Dizzy Pig Pineapple Head, this sweet rub is a perfect compliment for our injection and BBQ sauce. If you do not use this the Pineapple Head, any other sweet rub will do the trick. Now let's jump over to the injection recipe.
Ingredients For Peach Bourbon Injection
This injection is pretty basic but will add so much flavor to the pulled pork. You will want to inject and let sit overnight so the pork butt can really absorb the flavors.
Here is a list of what you will need:
Peach juice
Butter
bourbon (if you wanted a non-alcoholic version, you could try this Kentucky 74)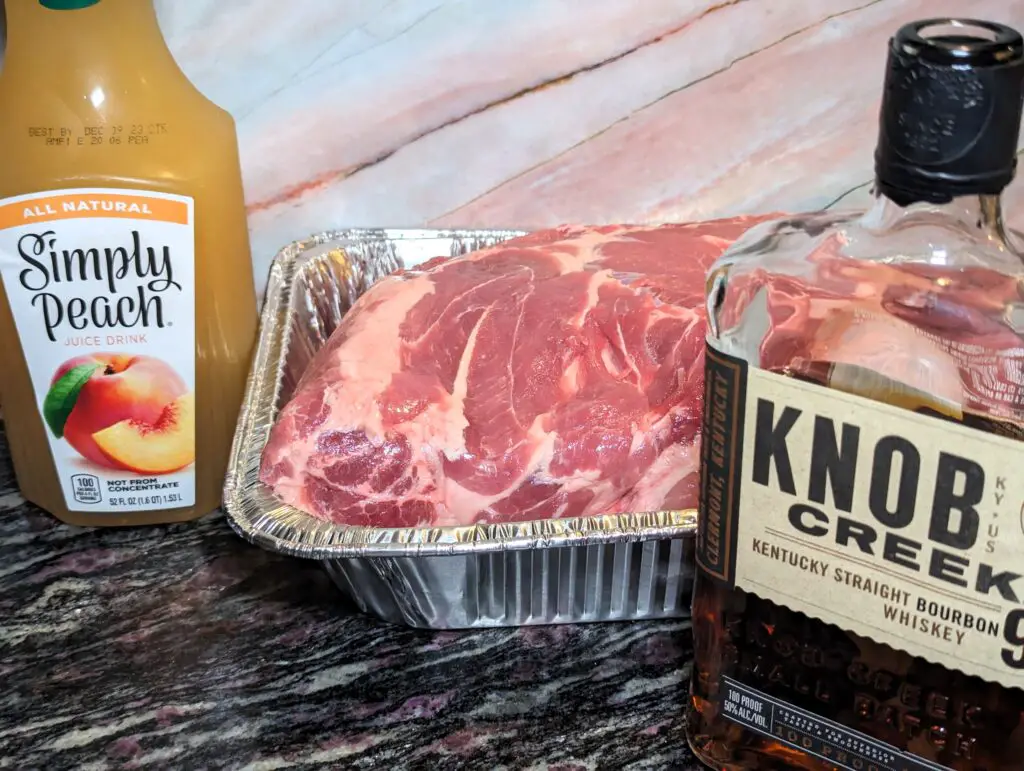 You are going to want to simmer this over low heat for about 20 minutes. Let the butter melt and the ingredients blend together, you will also burn off the alcohol during this 20 minute period. I wanted to point that out in case that was a concern for anyone. Once done, we are going to inject the pork butt.
You can inject this generously, as you will have some run out from the pork butt. I suggest doing this in a foil tray of some kind, that way it catches anything that works it way out but also makes transport easy. We are going to inject and let sit overnight so as to maximize the flavors. In my experience, the few times I have injected and then more or less moved directly to the smoker, the pork butt did not capture the flavors I was going for. But on the flip side, letting those injections sit overnight has always panned out well and really provided the full flavors I was looking to achieve.
Before letting this settle into the regfrigator overnight cover with some plastic wrap or aluminum foil. A solid 12 hours is about what you are looking for.
Prepping A Boneless Pork Butt
After the overnight, remove the pork butt and get ready to apply the rub. Before you apply the rub, ensure you have removed it from the tray it was in. We do not want any liquid that has worked it's way out of the pork butt to wipe the rub off as we apply it. Before applying the rub some like to score the fat cap, I don't do it on a regular basis but about half the time I do.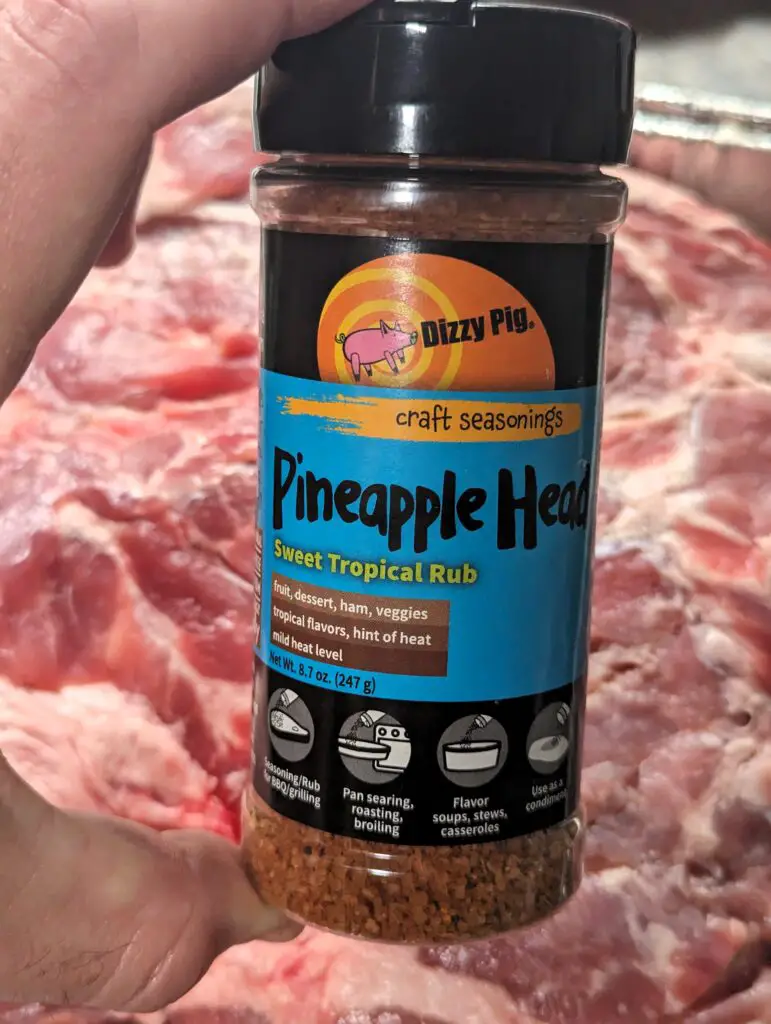 If you are team "score the fat cap" go ahead, do that and then start applying the rub. I actually did this without any binder but if are using a binder, yellow mustard is my go to. Because of the liquid from the injection, I felt like a binder was not necessary and it was a correct assumption. The rub held just fine during the application process. Apply the rub generously, make sure you get all the cuts from where they would have removed the bone. After having prepped the pork butt, you can either get it on, if the smoker is ready, or let it sit to the side while the smoker is working its way up to temperature.
Smoker Prep For Peach Bourbon Pulled Pork
I did this recipe on my 18″ Weber Smokey Mountain. Time and temperature mostly translates over to any other style smoker as well. I set my smoker for a temperature of 250°, as pork butt is best done low and slow. For this smoke I used some Kingsford Professional. For wood, I used a combination of 2 chunks of cherry wood and one chunk of peach wood. Once the smoker is up and running you can go head and place the pork butt on the smoker.
Smoking Pork Butt
Once you have it on, we are going to let it ride until it stalls out and you get the bark you are looking for. The stall usually hits around 150°-160°. In many cases the bark is not likely ready when the stall ends up hitting. I usually let it go for about another hour before I like the bark and get ready to wrap it. I did not spritz this pork with anything, so it was just a real simple, let it hit that stall, get the bark you want and then wrap.
I wrap in butcher paper but you can wrap in aluminum foil as well, in the foil your bark may degrade a bit but I have used both. After you have it wrapped, you just need to let it finish off. You will want to take it up until about 205° or until its probe tender. After you reach probe tender, pull it, keep it wrapped and let it rest for about 45 minutes. At that point you can remove from the wrap and pull it.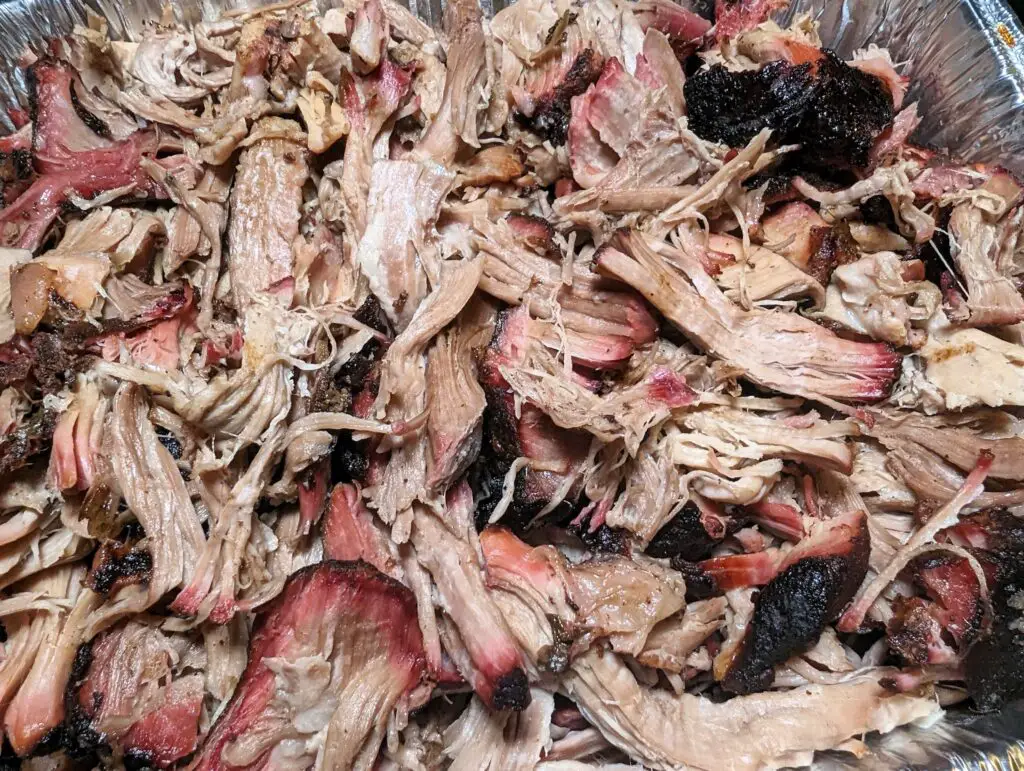 When you are smoking a pork butt, the ThermoPro TP20 is highly recommended and the one I use almost all the time. Durable and budget friendly.
Bourbon Peach BBQ Sauce
We are going to make this peach bourbon BBQ sauce to compliment our peach injection and make some killer pulled pork sandwiches. You will need to gather the ingredients listed below for the BBQ sauce.
ketchup
peach preserves
brown sugar
apple cider vinegar
bourbon
honey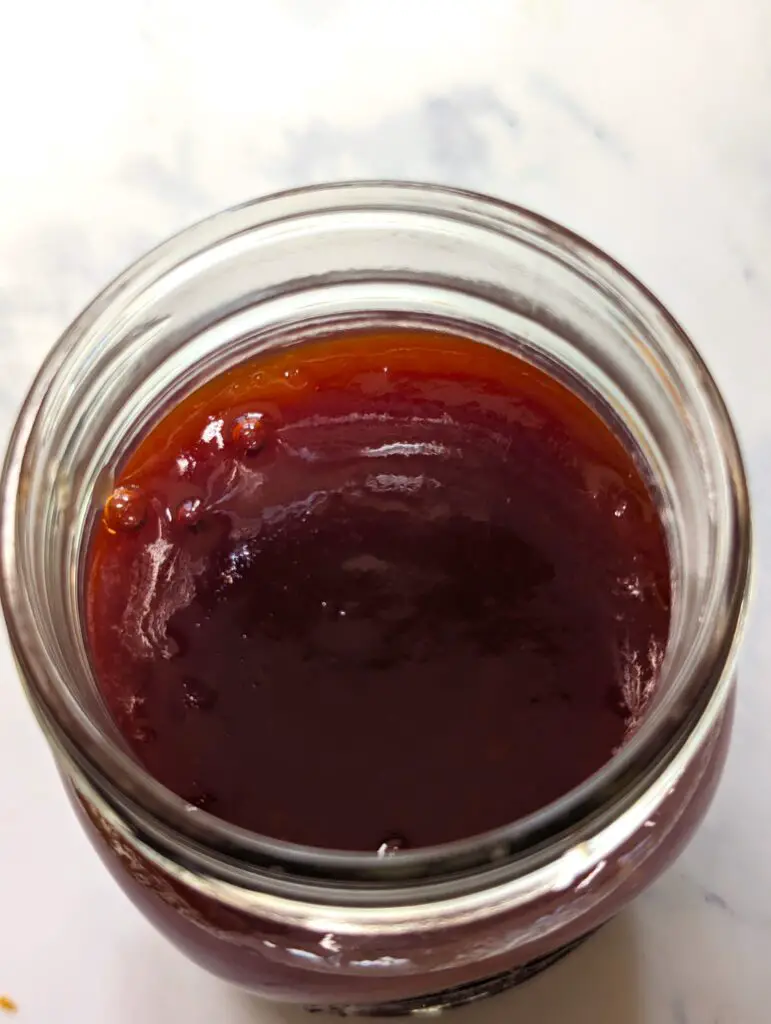 When making the BBQ sauce, combine the ingredients in a small pot and let simmer for about 20 minutes. The preserves are likely to have some pieces of peach, which I highly recommend keeping in there, as it will add some amazing flavor and texture to the BBQ sauce. You can store this in a mason jar for about a week. You can easily make this sauce while the pork butt is smoking.
How To Serve Peach Bourbon Pulled Pork
A simple but delicious pulled pork sandwich is a great way to go when serving this mouth watering meal. Using an artisan roll, or a kaiser works as well, topped with the peach bourbon BBQ sauce is a simple, filling and taste bud delighting option. Another option is to make some sliders, on a King's Hawaiian roll with the BBQ sauce.
If making this, especially for that late June, or July summer BBQ a nice refreshing coleslaw to garish the sandwich with or as a side, will pair exceptionally well too.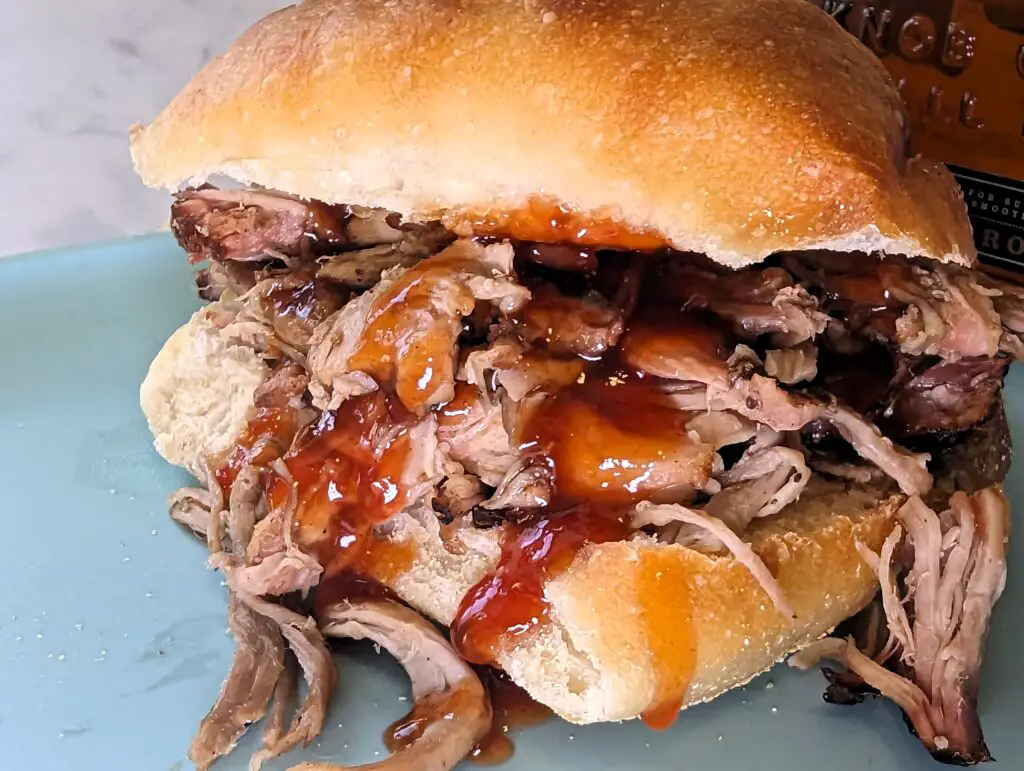 If you are making this in advance and need to reheat, I have a full article here but you can substitute the apple juice with the peach juice. If you are going to freeze this, I will usually vacuum seal and will take a little bit of the peach juice, place it in the bag, before vacuum sealing. A quick tip on sealing the bag, freeze it for about an hour, let the juice and any other liquids freeze so they are not sucked out during the vacuuming process.
Wrapping Up Peach Bourbon Pulled Pork
Peach Bourbon Pulled Pork offers a delightful twist on the traditional barbecue favorite. The combination of juicy pork infused with sweet and tangy peach flavors, along with the subtle warmth of bourbon, creates a mouthwatering dish that is sure to impress. Whether served on a bun as a sandwich or paired with side dishes at a summer gathering, this recipe will leave your taste buds craving more. With its easy preparation and incredible flavor profile, Peach Bourbon Pulled Pork is undoubtedly a must-try for any barbecue enthusiast looking to elevate their grilling game.
Thanks for being here and checking out this Peach Bourbon Pulled Pork recipe. I hope you enjoy it! We always appreciate comments, 5 star recipe rating and social media shares. As always, keep that smoke rolling!
Before you run off to make this, here are some other pork recipes you may enjoy:
This post contains affiliate links. If you use these links to buy something I may earn a commission.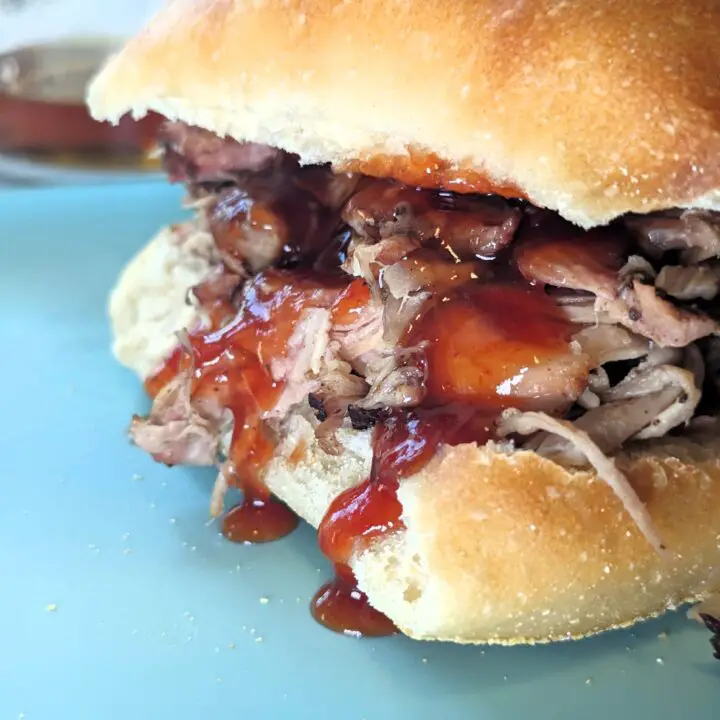 Peach Bourbon Pulled Pork
This pork butt recipe is injected with a delicious combination of peach juice and bourbon and then topped with a sweet peach bourbon BBQ sauce.
Ingredients
7 lb. pork butt
Sweet rub
Peach Bourbon Injection
1 cup of peach juice
3/4 stick of butter
1/4 cup of bourbon
Peach Bourbon BBQ Sauce
3/4 cup ketchup
1 cup of peach preserves
1/4 cup of brown sugar
1/4 cup apple cider vinegar
1/4 cup of bourbon
1 tbsp of honey
Instructions
Prepare the ingredients for the injection. Mix together in a small pot, simmer over low heat for 15-20 minutes.
Place the pork butt in a foil tray, and inject.
Cover with foil or plastic wrap and refrigerate overnight, 12 hours if you can.
The next day, start the smoker, set for 250°, using a combination of apple and peach wood. Any combination of those and/or apple or pecan can also work well with this recipe.
While the smoker is getting up to temperature, start applying the rub.
Remove the pork from the tray and apply the rub. You can you yellow mustard as a binder or as I did apply the rub with no binder
When the smoker is ready, place the pork butt on the smoker
Smoke until you hit the stall and have a desired bark on the pork butt and then wrap. The stall will hit around 150°-160°. Wrap in butcher paper or foil, my preference is butcher paper but foil will work as well.
While the pork butt is on the smoker you can start making the BBQ sauce. Combine your ingredients in a small pot and let simmer for 20 minutes.
When the pork butt hits probe tender you can remove. Probe tender will hit around 203°-205°.
After removing, let rest for 45 minutes.
After the 45 minutes rest period you can then shred the pork and serve
Nutrition Information:
Yield:

20
Serving Size:

1
Amount Per Serving:
Calories:

530
Total Fat:

33g
Saturated Fat:

13g
Trans Fat:

0g
Unsaturated Fat:

17g
Cholesterol:

146mg
Sodium:

222mg
Carbohydrates:

18g
Fiber:

0g
Sugar:

14g
Protein:

37g