Are you tired of the same old Thanksgiving turkey year after year or maybe are looking for something different for your mid-week dinner? Looking to add a new twist to your November holiday dinner menu? Look no further than smoked bacon wrapped turkey breasts. This mouthwatering dish combines the smoky flavor of bacon with the succulent taste of turkey, resulting in a winning combination that will leave your guests asking for seconds. Whether you're a seasoned smoker or just starting out, this recipe is simple enough for anyone to master. Get ready to take your Thanksgiving dinner to the next level with these delectable smoked bacon-wrapped turkey breasts.
Prepping For Bacon Wrapped Turkey Breast
For this recipe I used a 3 lb. Butterball turkey breast. The Butterballs are boneless turkey breasts. When getting the turkey breast ready there is not too much to do. This should go without saying but remove the netting that is securing the breast together. I also removed the skin from the turkey breast. Because you are wrapping this breast with the bacon, the skin will not have an opportunity to crisp up as we would normally like. It will remain rather unappealing in this recipe, so removing the skin is the best option.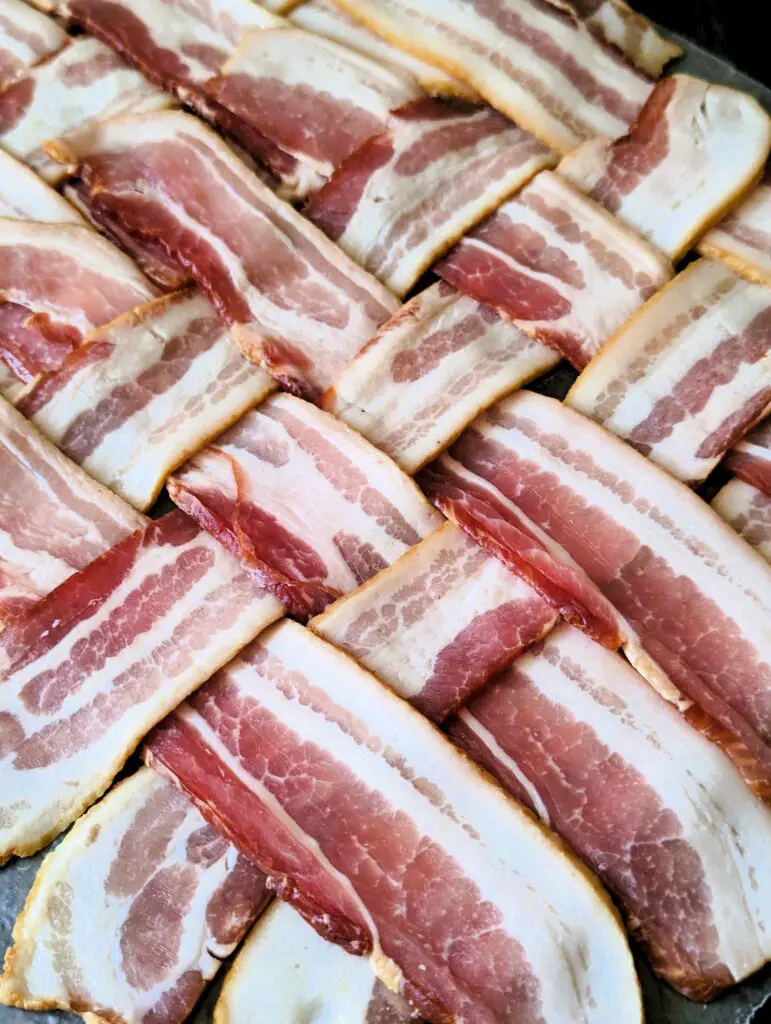 I don't think you will find many options for skinless turkey breast but it was so easy to remove, I would not sweat that. Even de-boning a turkey breast is relatively easy if you have to do it.
After that you can put the turkey breast off to the side for a few minutes. The next thing you can do is work on the bacon weave. If doing a weave is not your thing, you can simply wrap the bacon around the turkey breast. You may need some toothpicks to help keeping it in place. If using toothpicks, don't forget to soak them in water so they don't end up burning up. I used about 18 oz. of bacon around this 3 lb. turkey breast. When doing the weave, ensure you are doing it on wax paper, it will help when comes time to wrap the turkey.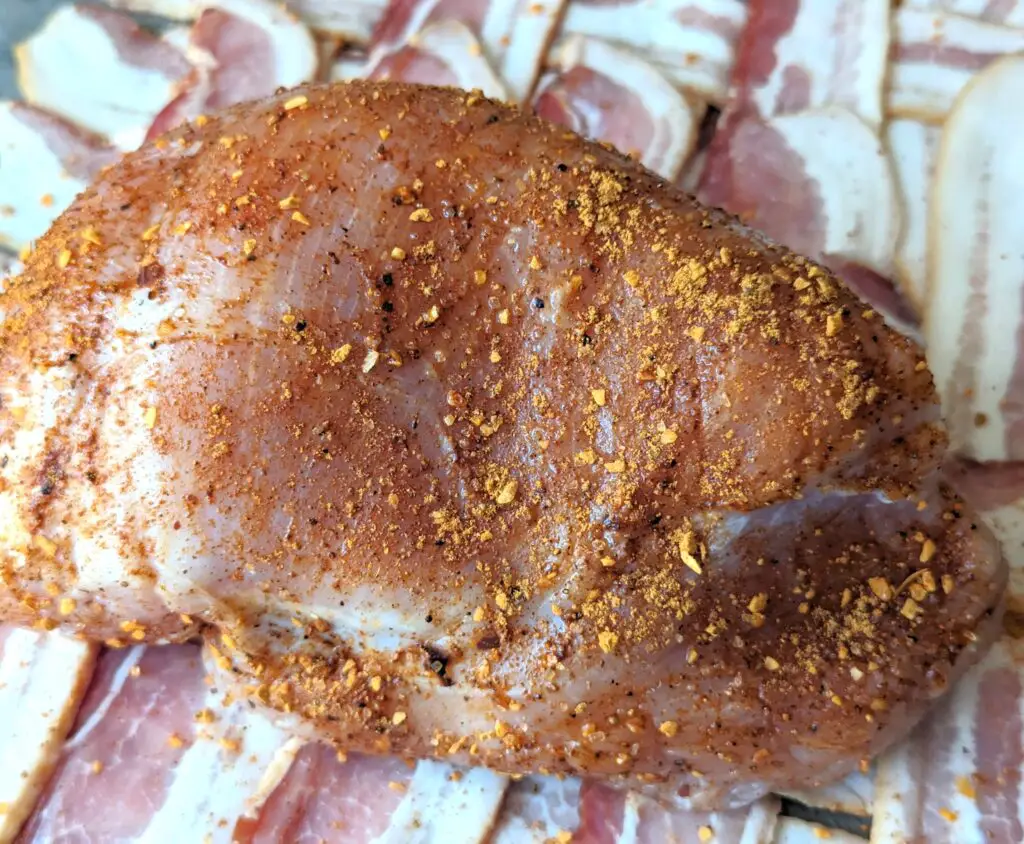 Once your weave is done, take your turkey breast, add some McCormick's Apple Wood rub, then wrap the bacon around it. When wrapping the bacon, wrap it so that you can tuck it under the turkey breast. As I mentioned above, if its easier to use toothpicks go right ahead. Place the turkey, wrapped in bacon, in a shallow tray, baking sheet or wire rack, something that will help transport, contain the of the grease and fat but still allow for plenty of smoke penetration.
Smoking A Bacon Covered Turkey Breast
Smoked turkey breast are one of my favorites on the smoker. They are compatible with some many flavors, and are delicious with that slow smoked flavor. The set up for this smoked bacon wrapped turkey breasts is just as easy as pulling the ingredients together.
We will want to do this recipe hot and fast, you are looking at 275°-300° for the smoker. Turkey does not have a ton of fat to render so low and slow does not provide a lot of value. Hot and fast, with the bacon actually makes more sense because it will help crisp that outer layer of bacon. This smoke will take about 2.5 hours give or take, depending on the size of the breast and what temperature you get dialed into. A nice cherry wood is great on the bacon and will add to the applewood rub we used. The cherry wood will give the bacon that nice daker look and a perfect compliment to the meat flavors.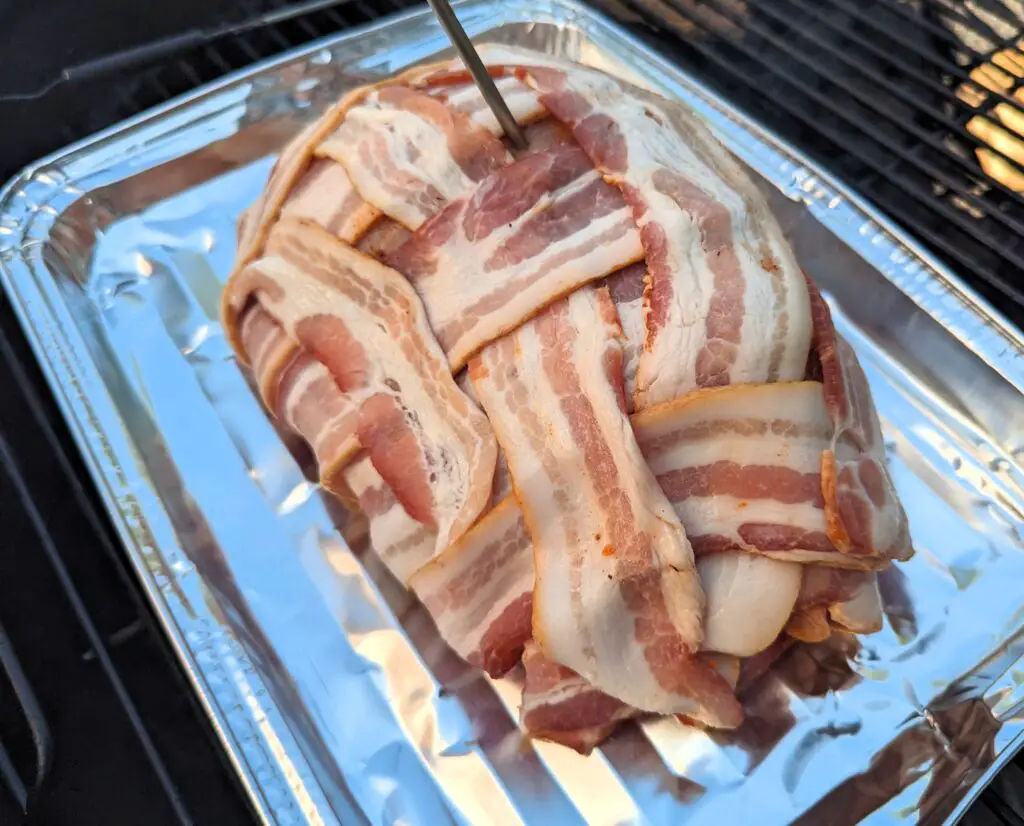 Try the ThermoPro TP20 if you are looking for a reliable, budget friendly probe.
After you get your smoker up to temperature, put the turkey breast on and go have yourself a drink. There is nothing to do now, no basting, no spritzing, just let the smoker do its magic. Once the turkey reaches an internal temperature of 140°, we can pull it off the smoker. You will then want to loosely cover the breast with foil and let it rest for about 15 minutes.
If the bacon has not crisped up enough or to your liking you can always place it in a cast iron skillet and just carefully roll the wrapped turkey breast while the bacon crisps. Once that is done, you can then cover it and let it rest for fifteen minutes.
I have done several varieties of turkey breasts, most with injections and I have to say, this recipe with no injection came out just as juicy and tender as any of those. I knew the bacon would provide some flavor and help retain some of the juices, while adding some more but not to the extent it did. This turned out even better than I could have ever expected!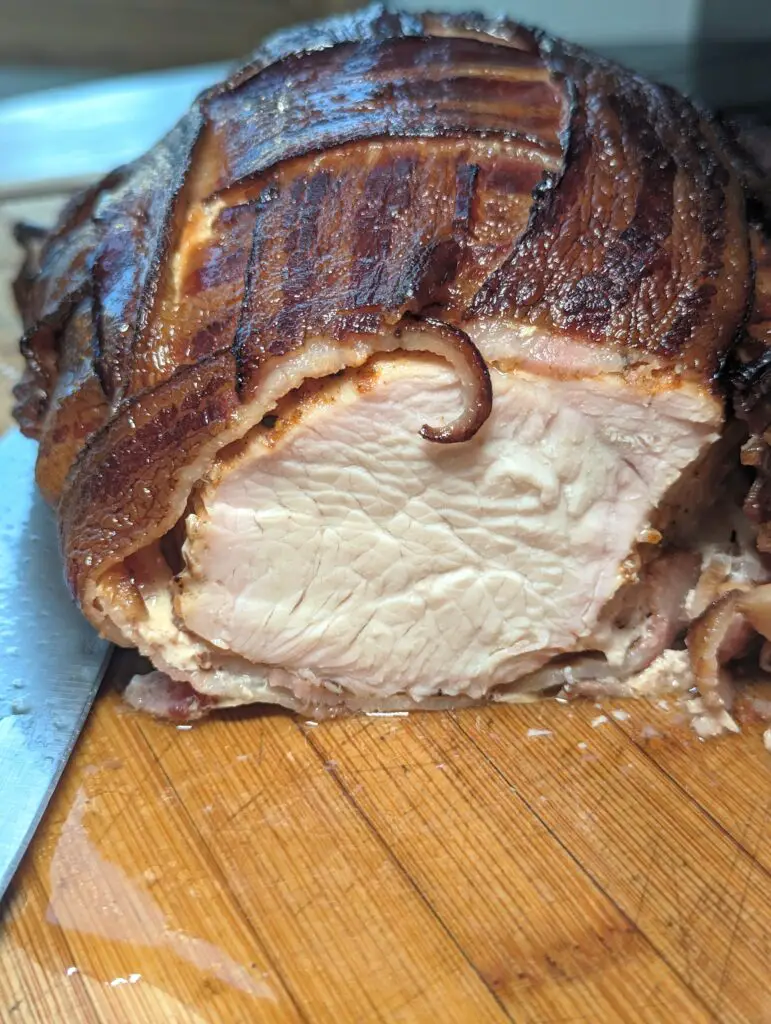 Wrapping Up, Smoked Bacon Wrapped Turkey Breasts
Smoked bacon wrapped turkey breasts offer a delicious and unique twist on traditional Thanksgiving dishes. The smoky flavor from the bacon complements the juicy and tender turkey meat, creating a mouthwatering combination that is sure to impress your guests. Whether you're hosting a holiday feast or simply looking to elevate your weeknight dinner routine, this recipe is worth trying. With its easy preparation and irresistible taste, smoked bacon wrapped turkey breasts are guaranteed to become a new favorite in your kitchen. So go ahead and give it a try, you won't be disappointed!
Thanks for being here and checking out this Smoked Bacon Wrapped Turkey Breasts recipe. I hope you enjoy it! We always appreciate comments, 5 star recipe rating and social media shares. As always, keep that smoke rolling!
If you are preparing for the holidays and worried about how you can free up some cooking space in the kitchen and oven, we have a variety of turkey breast recipe, whole turkey recipes and more more that you can do on the smoker or grill. We also have some great ways to use those leftover turkeys recipes, including some slider turkey recipes with bacon.
Maybe looking for something else besides turkey, here are some other great options!
This post contains affiliate links. If you use these links to buy something I may earn a commission.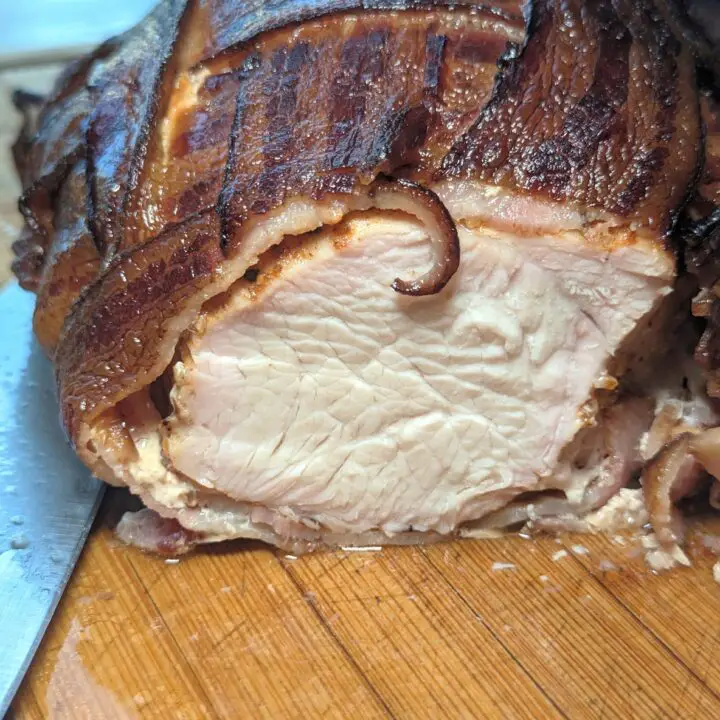 Smoked Bacon Wrapped Turkey Breasts
Cook Time:
2 hours
10 minutes
Total Time:
2 hours
45 minutes
Whether you want to change up Thanksgiving a bit or just need something new for that mid-week dinner, this juicy and tender smoked bacon wrapped turkey breasts recipe is al you need. I promise there will not be any leftovers!
Ingredients
3 lb. boneless turkey breast
18 oz. of bacon
Apple wood rub
Instructions
Set smoker for a temperature of 275°, using cherry wood
Remove the skin from the turkey breast and prepare with the apple wood rub
Either weave the bacon or lay the bacon out to wrap the turkey breast I suggest doing this on wax paper as it will assist in wrapping the bacon.
Place the turkey breast on the bacon and proceed to wrap it around the turkey. If you are wrapping the bacon without a weave, you may need some toothpicks to help keep it in place.
Once wrapped, as long as the smoker is ready, you can place it on the smoker.
Once it is on there, nothing needs to be done. Leave it there until the IT of the turkey reaches 140°, at which point you can pull and let rest.
While resting, cover with foil and let rest for 15 minutes.
After the rest period, you can slice and serve!
Notes
If the bacon has not crisped up enough or to your liking you can always place it in a cast iron skillet and just carefully roll the wrapped turkey breast while the bacon crisps.
Nutrition Information:
Yield:

8
Serving Size:

1
Amount Per Serving:
Calories:

560
Total Fat:

26g
Saturated Fat:

9g
Trans Fat:

0g
Unsaturated Fat:

16g
Cholesterol:

199mg
Sodium:

1243mg
Carbohydrates:

4g
Fiber:

1g
Sugar:

2g
Protein:

73g