Whether you are kicking off summer with a BBQ or preparing an Easter or Christmas dinner, nothing is better than cooking a mouthwatering ham on the grill? Whether you're hosting a backyard barbecue, simply looking for a delicious and easy dinner option, or hosting a holiday grilling ham brings out its natural flavors and adds that irresistible char and gives you more room in the oven. This article will guide you through the process of preparing and grilling a honey glazed ham to perfection. So fire up your grill and get ready for a satisfying feast that will have everyone coming back for seconds.
Honey BBQ Ham Glaze
Regardless of it being the holiday season or a summer BBQ, it's time to indulge in delicious and comforting dishes that bring warmth to our tables. One dish that never fails to impress is a juicy, succulent ham glazed with a delectable combination of honey and barbecue flavors. This honey BBQ ham glaze adds the perfect touch of sweetness and tanginess to elevate your feast.
Ingredients:
1 cup honey
1/2 cup brown sugar
1 tbsp. garlic powder
1 stick of butter
1 tbsp. black pepper
1/4 cup of pineapple juice
Instructions:
Step 1: Prepare the Glaze Base:
In a medium-sized saucepan, melt the butter, then combine honey, brown sugar, garlic powder, onion powder, black pepper and pineapple juice. Stir well until all ingredients are thoroughly combined.
Step 2: Simmer the Glaze:
Place the saucepan over medium heat and bring the mixture to a gentle simmer. Let it cook for about five minutes while stirring occasionally. This will allow all the flavors to meld together beautifully.
Reality is, you can do this later in the cooking process of the ham. If you are doing it sooner, you can put it off to the side, reheat just a bit before we get it on the ham.
Grilling a Pre-cooked Ham
It is worth noting, that in most cases the ham you get at the grocery stores are pre-cooked and so what we are really doing is seasoning the ham and warming it up. If your ham happens to not be pre-cooked, please do not follow these directions.
So I am doing this on my gas grill, especially if you are using this method for a holiday, its easy, no mess and little to no clean up. Now if you are doing this on a charcoal grill or pellet grill, the method should mostly convert over.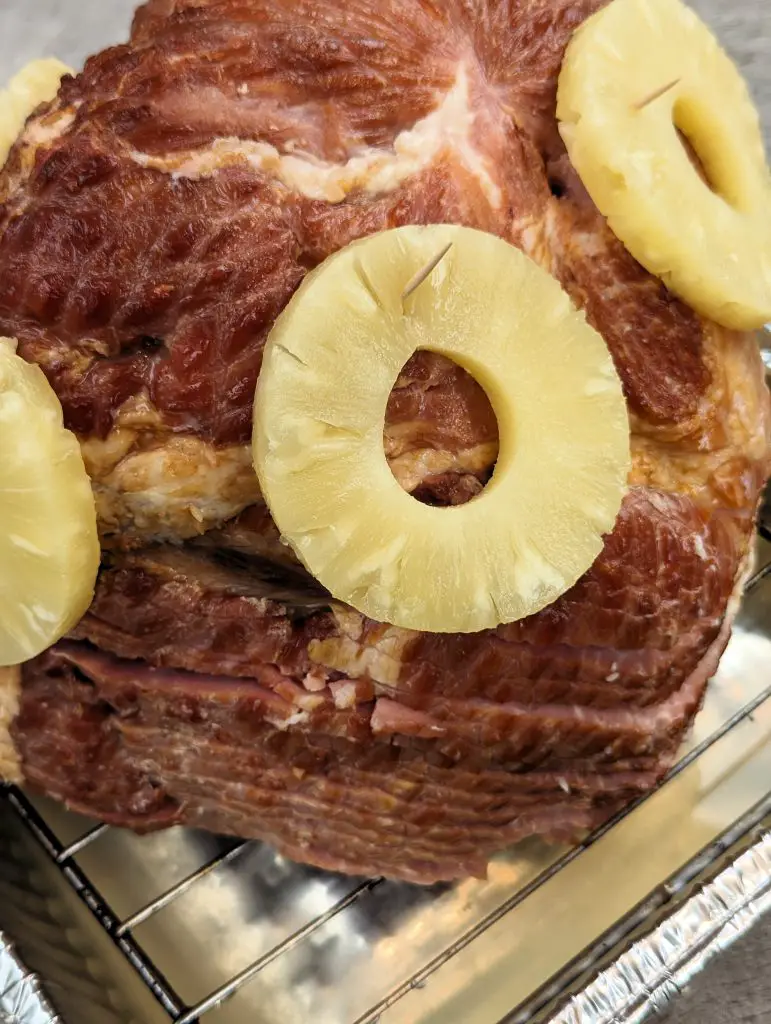 We are going to set up the grill for indirect heat. I have a 4 burner grill so I have plenty of room to do this but even if you are on a 2-3 burner grill, we are looking for a temperature of 300-325°, you can achieve with just one burner. The set up of the ham is pretty straight forward, after place it in a foil pan or roasting pan.
If you have a roasting pan and can elevate the ham on a rack, in the tray, that is best. This will allow us to get some liquid in the pan, without the ham sitting in it. I like adding some pineapple to the ham, as that ham/pineapple combination is absolutely classic and delicious. I recommend getting a can of sliced pineapples and placing them around the ham, keeping them in place with toothpicks. Any pineapple juice, from the can pour in the pan, along with a 1/2 cup of water.
Pineapple is on the ham, and you have some juice and water in the pan, you can now cover the tray with some aluminum foil. It is important that when covering the ham with foil, you seal the edges around the tray and do not leave any openings. This will help avoid the ham from drying out during the warming process. If you have also chosen to add the pineapple slices, ensure you have pushed the toothpicks down far enough to avoid them ripping the foil.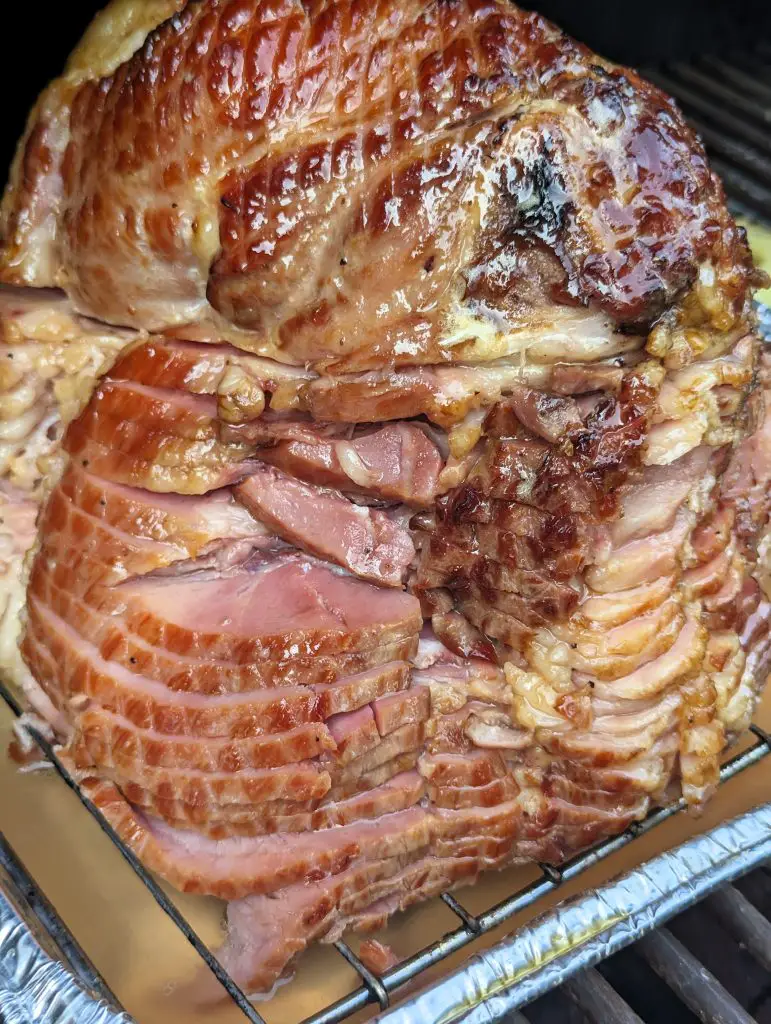 The ham/pan is tightly wrapped in foil, you can now get it on the grill. We are going to let the ham ride until we get to an IT of about 125°. When you hit that mark, we will pull it off the grill for a few minutes. You will want remove the foil, you can also remove the pineapple slice and get ready to glaze the ham. After I removed the pineapple on the grill and grilled them for a few minutes. Got some nice char and grill mark on them to serve with the ham.
The ThermoPro TP20 is a great unit for checking IT and ambient temperature.
You can start to apply the glaze and feel free to do so generously. If you have a spiral cut ham, you definitely will want to use a knife, and open up the cuts of ham and get some of the glaze in those cuts of ham. After the glaze is on, put the ham back on the grill, uncovered, and crank up the temperature to 375°. You are going to keep the ham on until it reaches 145°, it should be about 20-30 minutes to get to that point. Once done you can go ahead and pull it off the grill.
Give the ham about 10-15 minutes to rest before you start slicing and serving.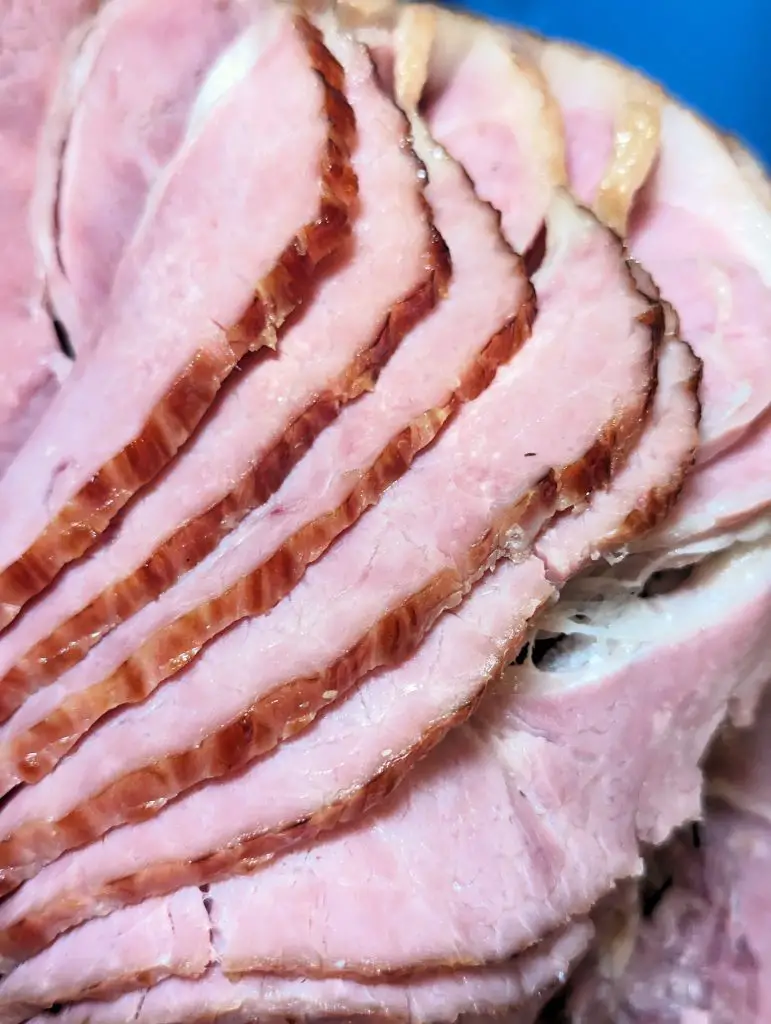 Wrapping Up Honey Glazed Ham On The Grill
Ham on the grill is a delicious and versatile dish that adds a unique flavor to any backyard barbecue, summer gathering or family holiday get together. Whether it is glazed with honey and brown sugar for a sweet and savory taste or seasoned with herbs and spices for a more robust flavor, grilled ham offers a mouthwatering experience that will satisfy even the most discerning palates. With its simplicity of preparation and ability to be enjoyed in various ways, grilling ham is an excellent choice for those looking to impress their guests while enjoying a tasty meal. So fire up the grill this summer and indulge in the smoky goodness of grilled ham – your taste buds will thank you!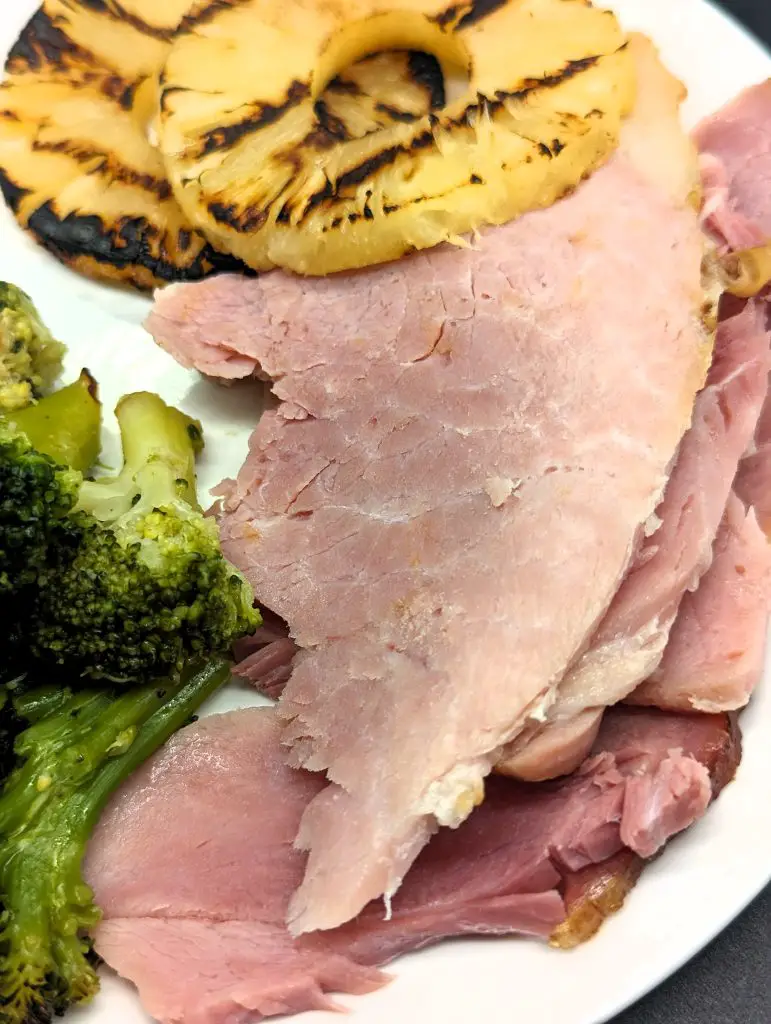 Thanks for being here and checking out this Honey Glazed Ham On The Grill recipe. I hope you enjoy it! We always appreciate comments, 5 star recipe rating and social media shares. As always, keep that smoke rolling!
Looking for some other great holiday or grilling recipes, here are a few suggestions:
This post contains affiliate links. If you use these links to buy something I may earn a commission.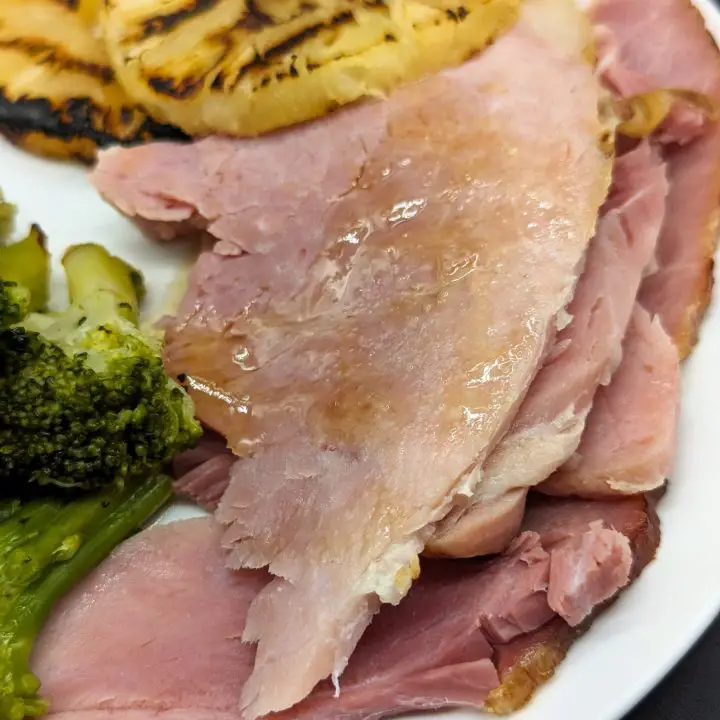 Honey Glazed Ham On The Grill
Additional Time:
10 minutes
A delicious honey glazed ham recipe for and also a great method if you are looking to pick up some oven space during the holidays.
Ingredients
11 lb. spiral cut ham
1 can of sliced pineapples
Honey Glaze
1 cup honey
1 stick of butter
1/2 cup brown sugar
1 Tbsp. garlic powder
½ Tbsp. black pepper
1/4 cup of pineapple juice
Instructions
Prepare the grill for a temperature of 300°
Place the ham in a roasting pan, elevate with a roasting rack, add the pineapple rings to the ham (hold in place with toothpicks) add a 1/2 cup of water and cover the entire tray tightly with foil
Place on the grill and cook for about 2.5 hours
At 2.5 hours or when the ham reaches an IT of 125°, remove the foil and the pineapple slices, and coat with the glaze. You can place the pineapple slices either in the pan or directly on the grill and grill for 2-3 minutes on each side
Place back on the grill, uncovered and cook until it reaches an IT of 135°
Remove, let rest for about 10-15 minutes and then slice and serve
Nutrition Information:
Yield:

24
Serving Size:

1
Amount Per Serving:
Calories:

411
Total Fat:

15g
Saturated Fat:

5g
Trans Fat:

0g
Unsaturated Fat:

7g
Cholesterol:

155mg
Sodium:

2248mg
Carbohydrates:

19g
Fiber:

0g
Sugar:

18g
Protein:

50g