Smoked Prime Rib is higher end cut of beef that will absolutely melt in your mouth. A fantastic blend of spice, smoke flavor and butter will make this rib roast recipe into a holiday favorite but also a year round favorite,\ when you want to indulge your guests at the summer BBQ, with an amazing cut of meat.
What Is A Prime Rib
Prime rib is a popular and delicious cut of beef that comes from the upper rib section of the cow. It is also known as standing rib roast, and it's called "prime" because it originally referred to the highest grade of beef.
The prime rib usually consists of seven ribs, which are roasted together in one piece. The meat is tender, flavorful, and marbled with fat, making it juicy and succulent when cooked correctly.
Prime rib is typically served during special occasions such as Christmas dinners or Thanksgiving meals. It can be cooked using various methods such as roasting or grilling, but roasting remains the most common method for preparing this delectable dish.
It's important to let the roast rest for about 15 minutes before carving so that the juices redistribute properly throughout the meat. This helps keep it moist and tender while ensuring maximum flavor.
In conclusion, prime rib is a premium cut of beef that makes an excellent centerpiece for any special occasion meal. Its rich flavor and tenderness make it a favorite among steak lovers worldwide.
When planning for how much prime rib you need, the general rule is about 1 lb. of uncooked prime rib, per person.
Preparing To Smoke A Prime Rib
Our first step will be to get our smoker up and running. I looked to get my Weber Kettle going for a temperature of 225 degrees, you are fine if it creeps upwards to the 250° number. For wood, I used hickory but a pecan, apple or cherry will work as well. While that is getting up to temperature, let's start seasoning the roast.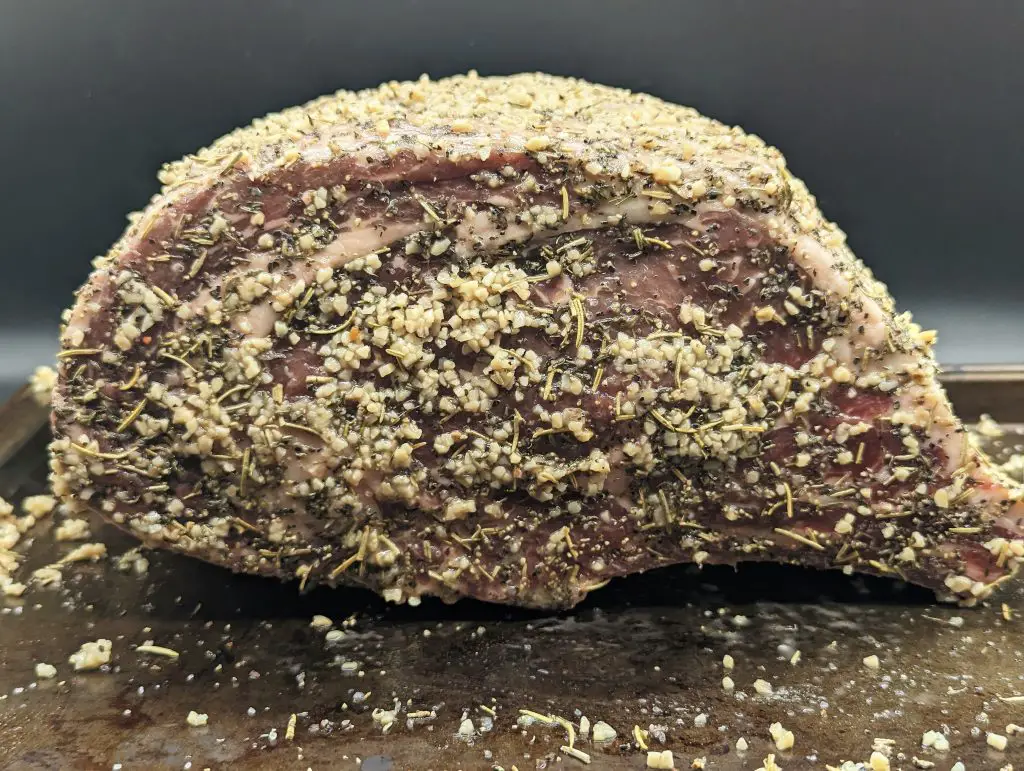 Gather your ingredients before we get started and true to form here at What's Smoking, we are going to keep it real simple for you.
Smoked Prime Rib Rub
2 tbsp. of olive oil
1 tbsp of salt
1 tbsp. of black pepper
1/2 tbsp. of thyme
1/2 tbsp of rosemary
2 tbsp of minced garlic
Mix your spices together before covering the roast. After having mixed the dry spices, coat the roast with olive oil, then the dry spices. You can then cover the rib roast with the minced garlic. You can do this an hour or so in advance, to let the spices get absorbed into the roast. If doing early, put back in the regfrigator.
After seasoning, it is time to start smoking our prime ribs. If your smoker is not ready, its ok to leave your rib roast out for about 20 minutes allowing it to come up to room temperature.
How To Smoke A Prime Rib
The smoker should be ready now and we can get the prime rib roast on the smoker. Once you get it on, there will not be much to do, except let it smoke away. Figure about 35-40 minutes per pound when smoking, this should give you a good idea on when you need to start.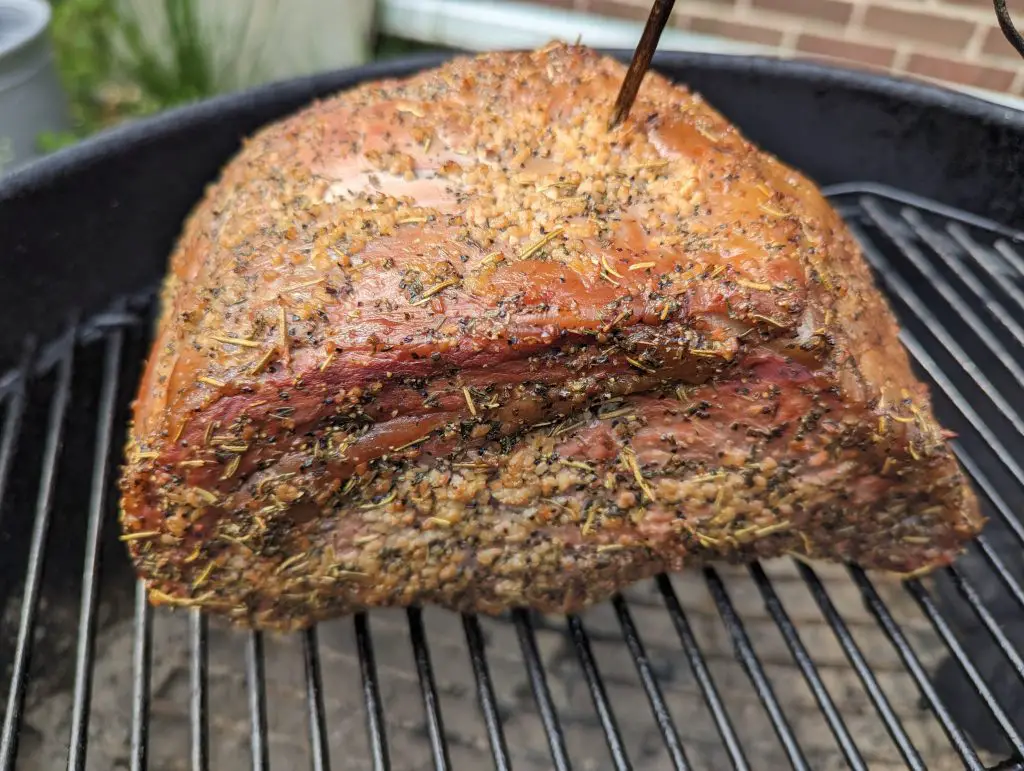 Once it is on there is not much to do except monitor your internal temperature. If you are looking for a great probe unit to track IT and the smoker ambient temperature take a look at the ThermoPro TP20, it is quality unit at a reasonable price.
In this smoked prime rib recipe, I am looking to take it to medium. Some may prefer to take it to medium rare but to each their own. Below I detail the varying internal temperatures for reference. We are not going to smoke it to 135°, but pull it before that and then finish it at a higher heat. We are going to smoke this prime rib until the internal temperature reaches 110°.
At this point, you will need to pull the prime rib roast. Tent it with some foil and crank up the heat on the smoker. It is worth noting, that at this point, the roast is not going to take on anymore smoke, so finishing it on the smoker is not necessary. In my case, I am going to transfer to my gas grill and finish it there, instead of cranking up the smoker. Where ever it is that you are going to finish the smoked prime rib, you want to do so with a temperate of 425°.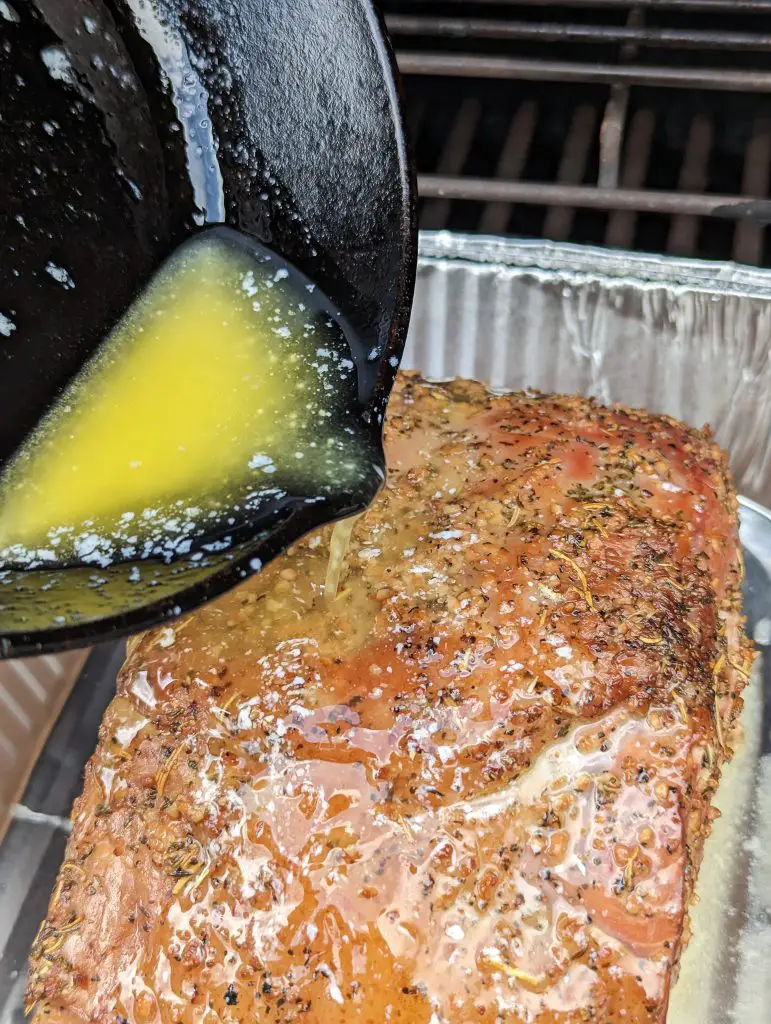 You will let the now smoked prime rib finish cooking at a higher temperature, but before closing it up, we are going to gently brush on or let drip on a 2/3 stick of melted butter. Ensure you have a pan underneath to catch the drippings. Let the smoked rib roast stay on and bring it to a temperature of 130 degrees, at which you can pull it. Let is rest for about 15-20 minutes and at that point you can start to slice and serve.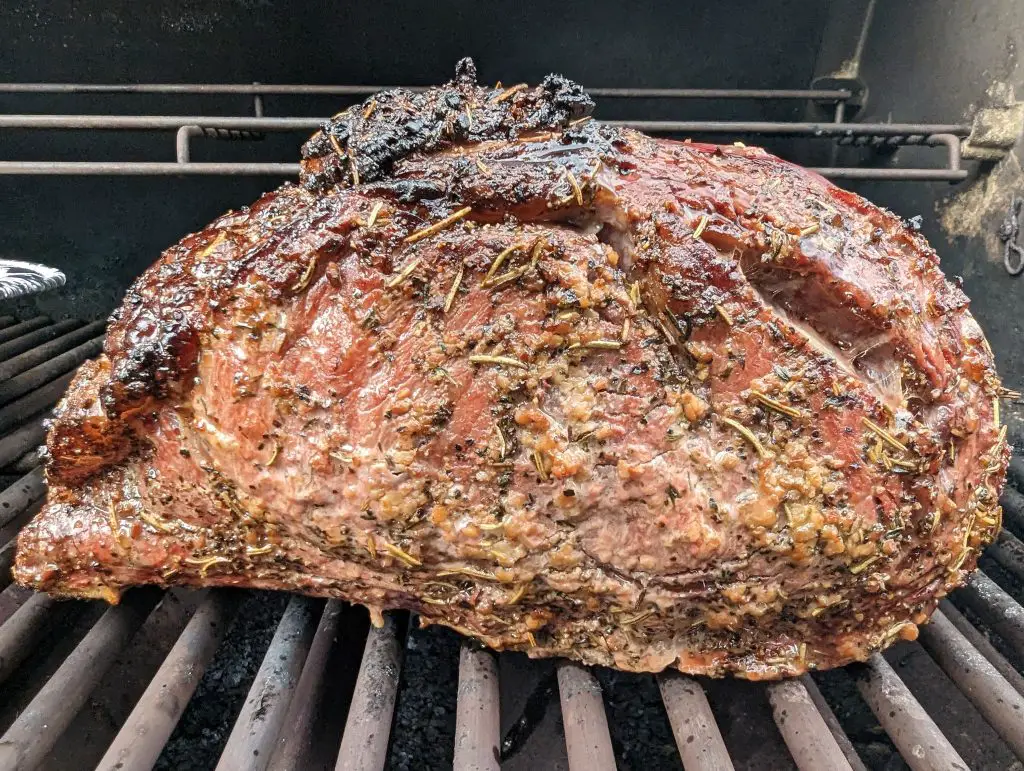 Smoked Prime Rib Roast Finish Temperatures
Rare Prime Rib: 120-129°F
Medium Rare Prime Rib: 130-134°F
Medium Prime Rib: 135-144°F
Medium Well Prime Rib: 145-154°F
Well Done Prime Rib: 155-164°F
Wrapping Up How To Smoke Prime Rib
Smoking a prime rib is a great way to enjoy a holiday meal whether its in December for Christmas or New Year's or the spring months for Easter. And if you don't want to wait for a holiday, treat your guests to a mouth watering summer BBQ treat. Regardless of whether you are new to smoking or a backyard pitmaster this is a delicious cut of beef you will find yourself smoking again and again.
Thanks for being here and checking out this Smoked Prime Rib recipe. I hope you enjoy it! We always appreciate comments, 5 star recipe rating and social media shares. As always, keep that smoke rolling!
If you are interested in some additional beef recipes for the smoker, here are a few suggestions:
This post contains affiliate links. If you use these links to buy something I may earn a commission.
Smoked Prime Rib
Total Time:
3 hours
30 minutes
An naturally flavorful and tender cut of meat that with a kiss of smoke flavor and a simple rub, this roast will be out of this world.
Ingredients
5 lb. rib roast
2 tbsp. of olive oil
1 tbsp of salt
1 tbsp. of black pepper
2 tbsp of minced garlic
2/3 stick of butter
Instructions
Start smoker and set for 225°, using hickory wood
Rub down the prime rib with olive oil, the coat with the dry spices (mix them together first) and pat on the minced garlic
Either let it sit in the refrigerator for about an hour to absorb the herbs (not required) and/or let it rest at room temperature for 20 minutes before placing on the smoker
Place on the smoker and smoke until it reaches an IT of 110°
When the prime rib reaches 110°, we want to finish cooking it at high heat. Remove from smoker and tent it with foil.
It won't take on anymore smoke so you can either crank the smoker, grill or oven to 425°.
Start melting 2/3 a stick of butter while waiting
Once one of those are to temperature, place the prime rib in a foil tray, pour the melted butter over it and finish cooking
Take it to an IT of 130° and then remove, let rest for about 20 minutes
After 20 minutes, slices and serve
Nutrition Information:
Yield:

6
Serving Size:

1
Amount Per Serving:
Calories:

469
Total Fat:

51g
Saturated Fat:

27g
Trans Fat:

0g
Unsaturated Fat:

24g
Cholesterol:

117mg
Sodium:

534mg
Carbohydrates:

2g
Fiber:

0g
Sugar:

0g
Protein:

41g
This data was provided and calculated by Nutritionix on 4/29/2023