Hotdogs are a quintessential American food that is a staple at any summer outdoor gathering, from ballgames to backyard barbecues. How to grill hotdogs and doing it properly is something every weekend warrior needs to know. Whether you're a seasoned grill master or a novice cook, learning how to grill hotdogs is an essential skill that will impress your family and friends at your next cookout. In this article, we'll provide you with step-by-step instructions on how to perfect the art of grilling hotdogs for perfectly charred and delicious results every time.
Before we get started, when I am grilling hot dogs, I use beef franks and I am not loyal to any particular brand. There are so many variations and brands of hot dogs, find something you and your family will enjoy when you are cooking grilled hotdogs. Let's get started as I walk you through step by step how to grill hotdogs.
Step #1 Preparing For Grilled Hot Dogs
If you have frozen hotdogs I would suggest defrosting them before getting started. Not 100% required but will give you better more even cooking process. Your best bet is to defrost overnight in the regfrigator or in a pinch running the package under cold water. Once they are defrosted, you can start by preheating the grill to a temperature of 300°. I am doing this on my gas grill but if you are using a charcoal grill, you will mostly follow the same steps along the way.
We are going to cook these over indirect heat. In my case I have a 4 burner grill, so I will turn two burners on for the heat and leave the other two off. This is where I will place the hotdogs for the initial step. If you only have a two burner grill, turn one on and leave the one off. 300° is not an insanely high temperature so you should be able to get there with one burner, it might take a little longer and it will need to be left on high.
If you are tight on space and need some additional surface area, your other option is to leverage the warming rack.
Step #2 of How Long To Grill Hot Dogs
Once you are up to temperature on your grill, we are going to place the hotdogs on, again using indirect heat to cook them. Once the dogs are on, you can close up the grill and let them sit. Because we are cooking with indirect heat, there is no concern of them getting burnt. They will need to stay there for 5-10 minutes.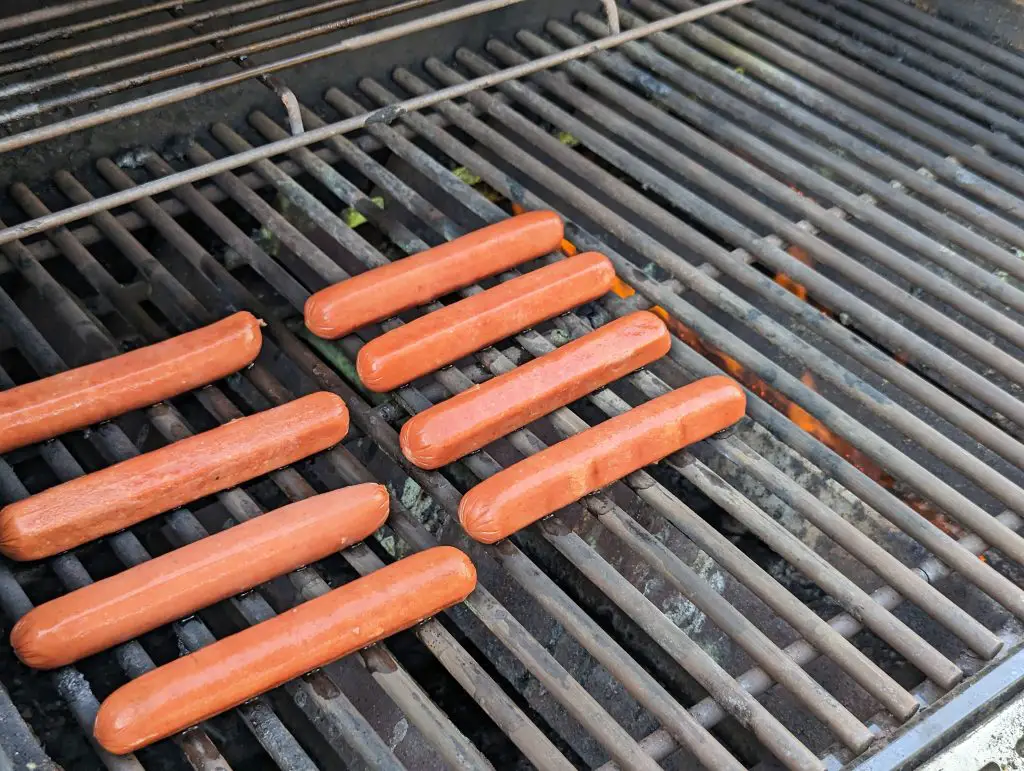 A friendly reminder, we are not actually cooking the hot dogs but really just warming them up.
Step #3 Grilling a Hot Dog Over Direct Heat
After they have been on for 5-10 minutes we are going to now transfer them over to direct heat. Now when you make the transfer over to direct we will want to keep them rolling so as to avoid burning them. When placing them on the grill grates, place them perpendicular to the grates so you can roll them without any issues.
You are going to cook them directly over heat for 2-3 minutes so you get a quick sear on them, lock in the moisture, get some grill marks on for a pleasing look and just a touch of crunch on them. While grilling keep the lid open and the dogs turning. You will see how they look and will have a sense when you need to pull them.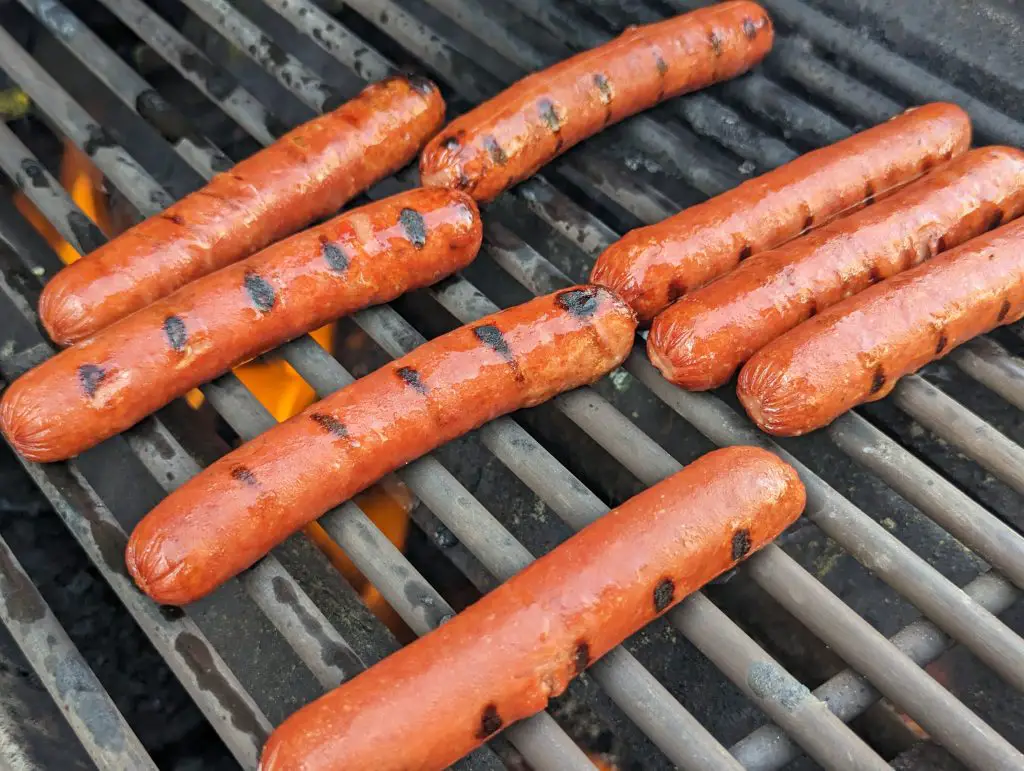 On average if you are looking to ensure they are fully cooked or should I say warmed through, check with an instant read probe and look for an internal temp for hot dogs of 140°. A great budget friendly unit is the ThermoPro TP03H.
While you are grilling the dogs over direct heat, you can place your hot dog buns on the warming rack to toast them a bit. All they need are 2-3 minutes on the warming rack.
Step #4 of Grilling Hotdogs
Now that the grilled dogs are done and the buns toasted, we can put them together. You can easily place the hot dogs in the bun and top with a variety of toppings. Here are some options:
Yellow mustard
Spicy Brown Mustard
Ketchup
Chili
Onions
Cheese
Bacon
Feel free to dress these hotdogs up however you choose now that you know how to grill hotdogs, the options are only limited by your imagination.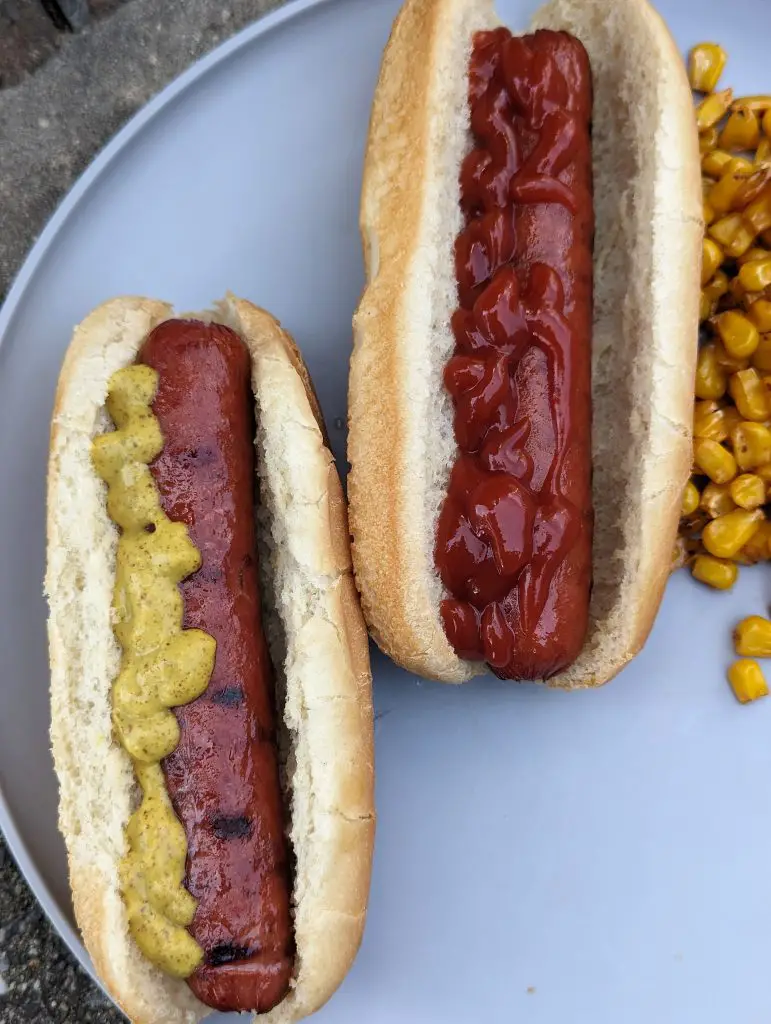 Wrapping Up How To Grill Hotdogs
In conclusion, grilling hotdogs is a simple and delicious way to enjoy this classic American food, whether you are kicking things off on Memorial Day or celebrating the birth of America on the 4th of July. If you prefer your hotdogs with ketchup, mustard, or other toppings, following these tips will help you achieve the perfect grilled hotdog every time. From choosing the right type of hotdog to mastering the grill temperature and cooking time, paying attention to these details will ensure that your summer barbecues are a hit with family and friends. So grab some buns and fire up the grill – it's time to enjoy some tasty hotdogs!
If you are looking for some other serious eats on the grill or smoker, here are some other recipes and "How To's":
Thanks for being here and checking out this article on How To Grill Hotdogs. I hope you enjoy it! We always appreciate comments, 5 star recipe rating and social media shares. As always, keep that smoke rolling!
This post contains affiliate links. If you use these links to buy something I may earn a commission.