Smoked Hot Honey Ribs are the perfect combination of sweet and spicy flavors. These ribs are slow-cooked to perfection, allowing the flavors to meld together and create a mouth-watering dish that will leave you craving more. The secret ingredient? Hot honey! This sticky, fiery condiment is brushed onto the ribs during cooking, adding a kick of heat that complements the sweetness of the honey. Whether you're a BBQ enthusiast or just looking for an impressive dish to serve at your next gathering, Smoked Hot Honey Ribs are sure to impress.
Hot Honey BBQ Ribs Prep
I used baby back ribs for this recipe. Whether you prefer to go with spare ribs or baby back the prep should not matter much. The smoke should not either, the spare ribs might take a touch longer, if anything.
I picked up a 3 pack of baby backs from Costco. A great plus to what you buy at Costco is they already remove the silver skin or membrane from the back so there is no messing with butter knives, trying to peel that off. If you are not using baby backs from Costco, you may need to pull that silver skin or membrane off the back.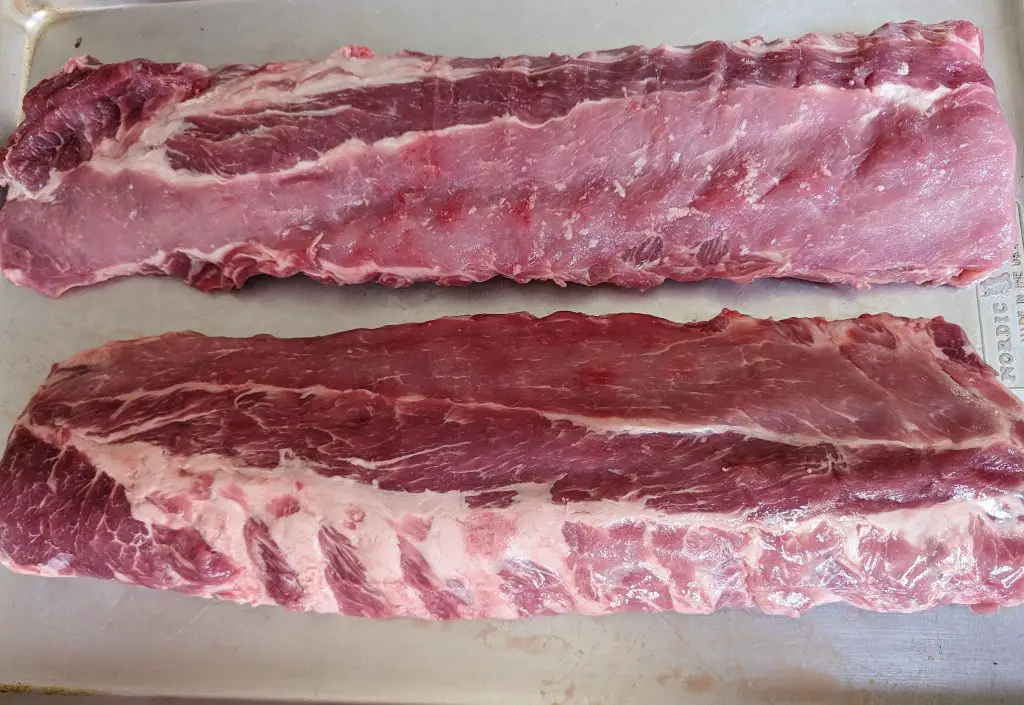 How to Remove Silver Skin From Ribs
Silver skin, also known as fascia, is a tough connective tissue that covers the underside of ribs. Removing silver skin from ribs is essential for creating tender and flavorful meat. Here's how to do it:
Locate the silver skin: Start by identifying the silver skin on your ribs. It's a thin, white layer that covers the underside of the rib bones.
Insert a knife: Use a sharp knife to loosen one end of the silverskin from the bone. Insert your knife underneath the silverskin at one end of a rack of ribs.
Peel off: Once you have loosened one end, use your hands or a paper towel to grip and pull off the layer in one piece.
Repeat: Repeat this process with each rack of ribs until all silverskins are removed.
Trim excess fat: If there is any excess fat or membrane remaining on your ribs, trim it away using your knife or kitchen shears.
By removing silver skin from your ribs, you'll be able to enjoy more succulent meat without any chewy bits getting in between bites!
Your next step is to start seasoning the ribs. I am doing this recipe a little different and in this case we are going to start off with a simple Kosmo's Dirty Bird rub on on the bottom of the ribs. Coat it well and generously. For now, we are going to leave the top free of any rubs. A little later in the process we are going to season with the honey but for now just season the bottom of the ribs.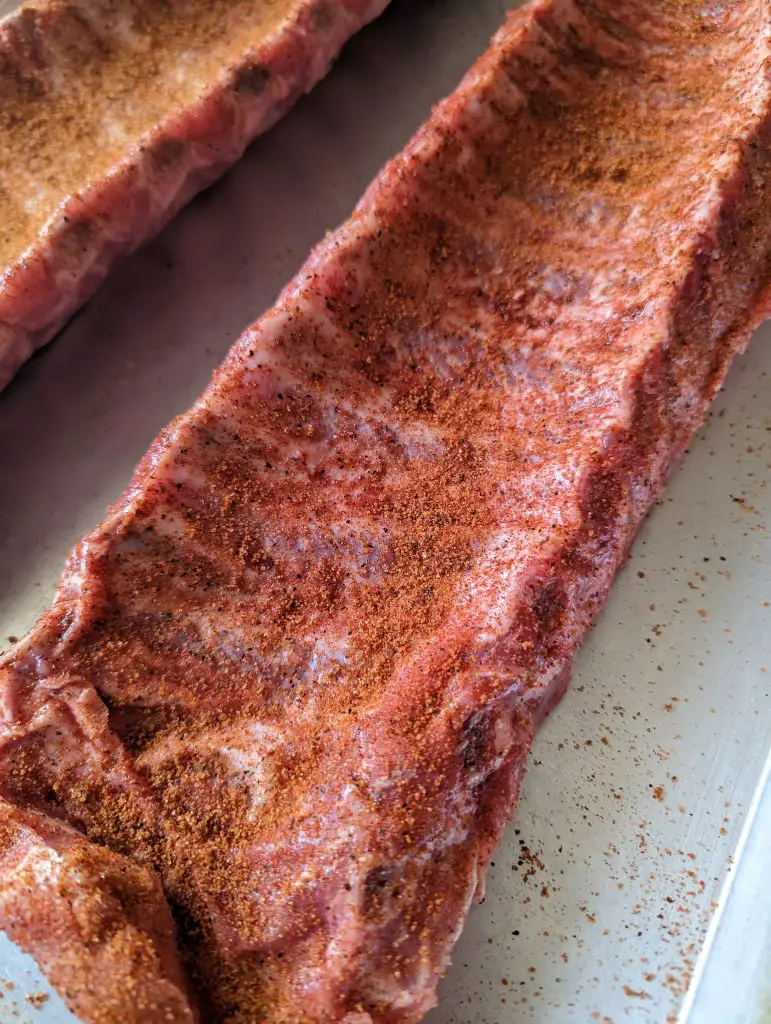 I had to cut the baby backs in half, which I did after I seasoned it, because the full size did not fit on my Kettle.
Smoking Hot Honey Ribs
Get your smoker up and running for 225°, you can go as high as 250° but would not recommend higher. I used some cherry wood for this smoke, adding another layer to sweet flavor to the ribs. I used a Weber Rib Rack to smoke these, a great way to do it on the Kettle. You will see these ribs were a little short and so when I cut them they fit between the rack and not on but it still worked as it kept them horizonal. The goal was to not have the ribs over the coals getting direct heat.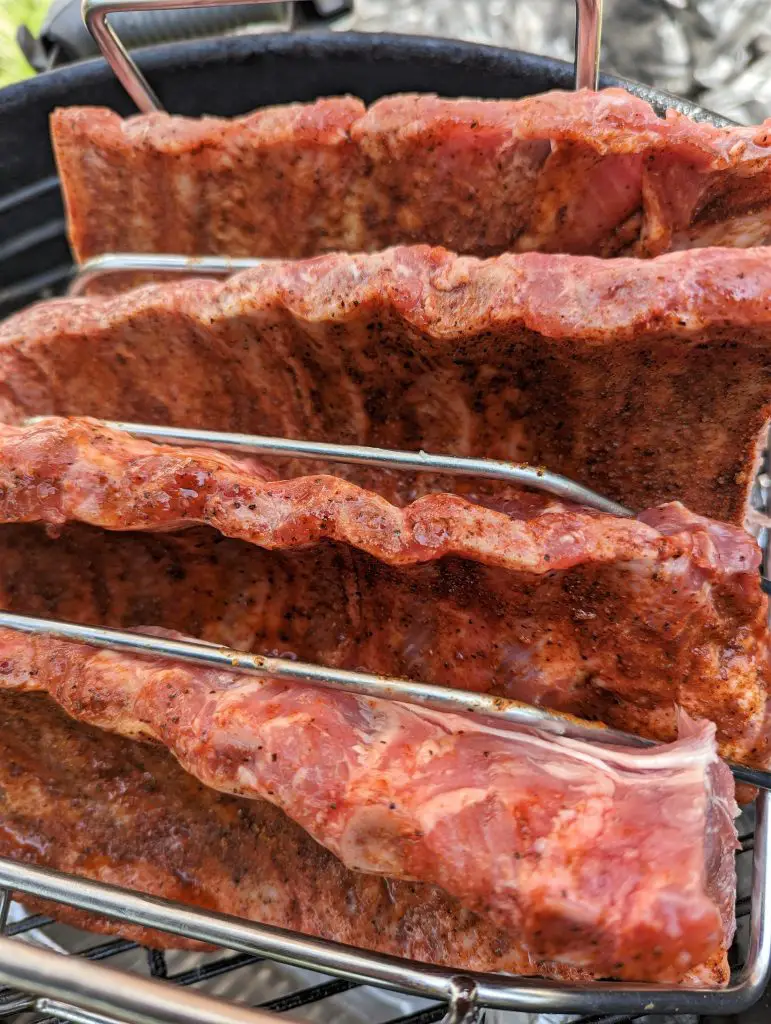 Once the smoker is up and running at the 225°-250° range, you can go ahead and put the ribs on. After positioning them on, there is not much we are going to do except let them smoke. I am going to use the 3-2-1 method on these ribs.
What Is The 3-2-1 Method
The 3-2-1 ribs method is a popular technique used by both amateur and professional pitmasters to achieve tender ribs that are moist, juicy, and full of flavor. The name of the method refers to the three stages involved in cooking the ribs.
Stage 1: Smoke (3 hours)
In this stage, the ribs are seasoned with your favorite dry rub and smoked at a low temperature of around 225°F for three hours. This allows the smoke from wood chips or chunks to penetrate the meat and give it that rich smoky flavor.
Stage 2: Wrap (2 hours)
After smoking for three hours, it's time to wrap the ribs in foil along with some liquid such as apple juice, beer, or even cola. This helps create a steamy environment that allows the meat to cook faster while keeping it moist and tender. The wrapped ribs are then returned back to the smoker for an additional two hours.
Stage 3: Unwrap (1 hour)
The final stage involves removing the foil from around the ribs and placing them back on the smoker for one hour. This helps create a crispy bark on top of the meat while allowing any excess moisture to evaporate out.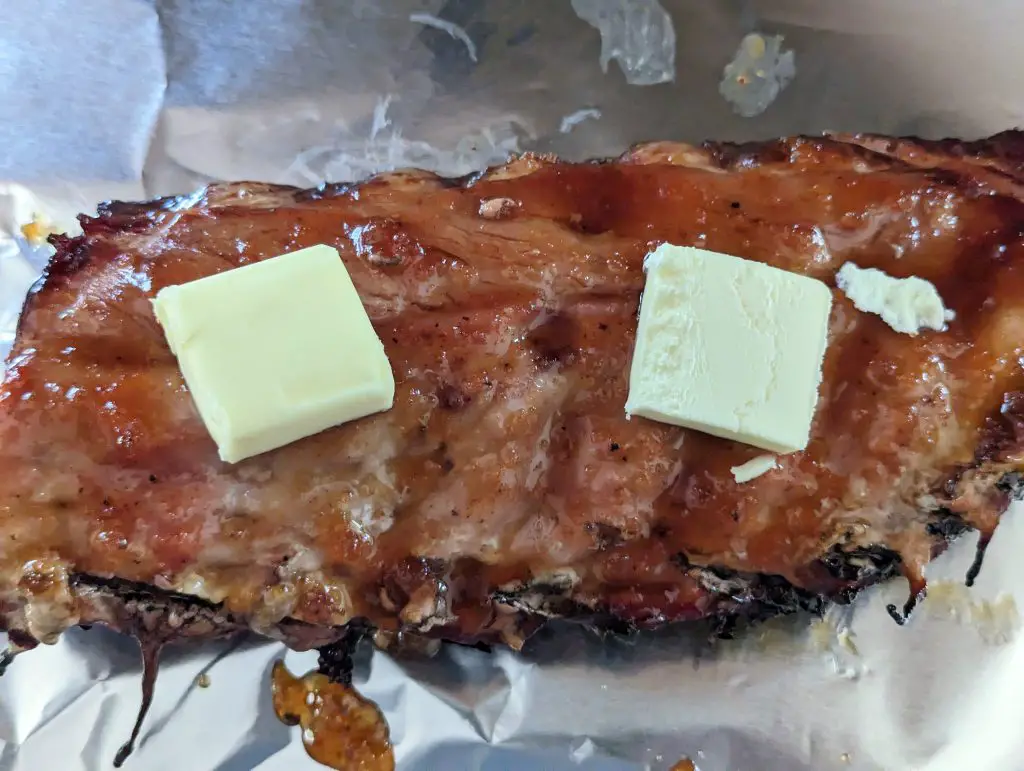 Once all three stages have been completed, you'll be left with perfectly cooked pork ribs that will melt in your mouth. It's important to note that every smoker is different so adjust your cooking times according to how your smoker performs.
One aspect that I do enjoy with the 3-2-1 method, I am just going by time, not having to sweat temperature too much. I do start gauging how the ribs are doing once I get into that 3rd stage.
After the 1st stage and getting 3 hours of smoke on the ribs, we are going to wrap them in aluminum foil. What I did when wrapping these was add just a touch of apple juice, the hot honey and then some butter. For this hot honey ribs recipe I used Mike's Hot Honey. If you prefer an extra kick, go with the Hot Honey Extra Hot.
If you do not have apple juice, you can use some apple cider vinegar as well. Slice the butter and place about 3 pats in each wrapped rack. Wrap them well, best bet to avoid losing any liquid, is to wrap twice in aluminum foil.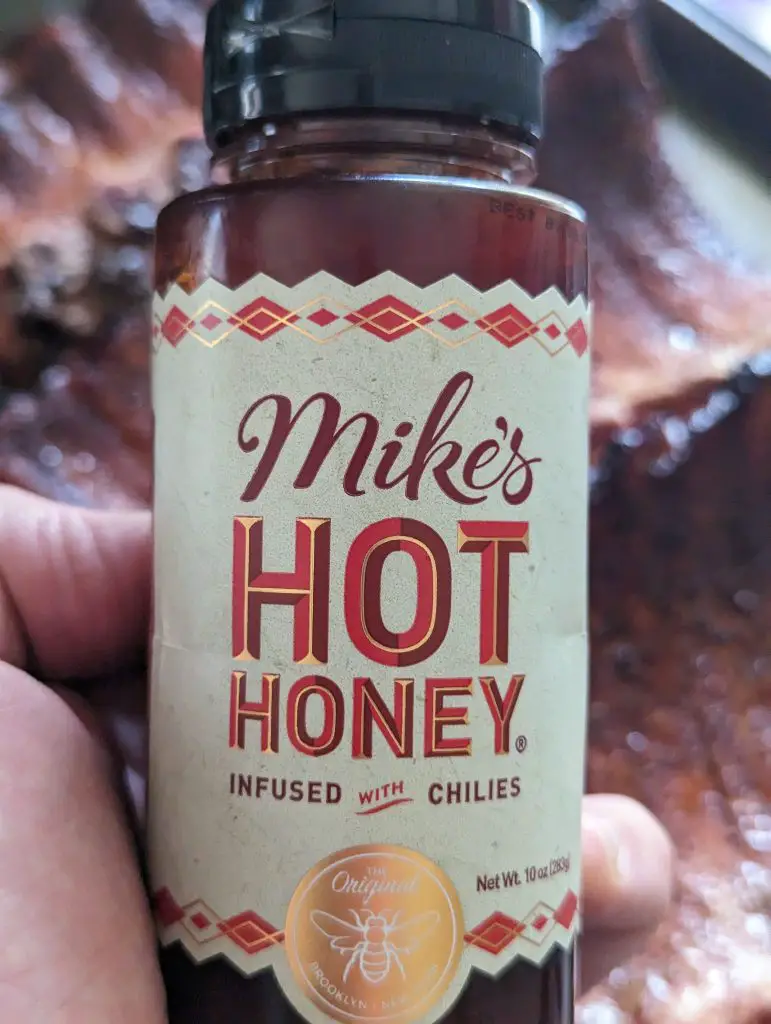 Once wrapped you can place them back on the smoker. If you are confident in your wrap you can put them back in the rack or you can just lay them flat on the grate. You are then going to leave them wrapped for about 2 hours and still keep them going at that 225°-250° range. After the two hours we can go ahead and move to the final step.
For the last hour, we are going to unwrap the ribs, rub some hot honey back on it and put back on the smoker. You can put them back on the rack at this point. We are going to keep going in that 225°-250° range. If you are looking to check and IT on the baby racks you are looking to be right around 200°.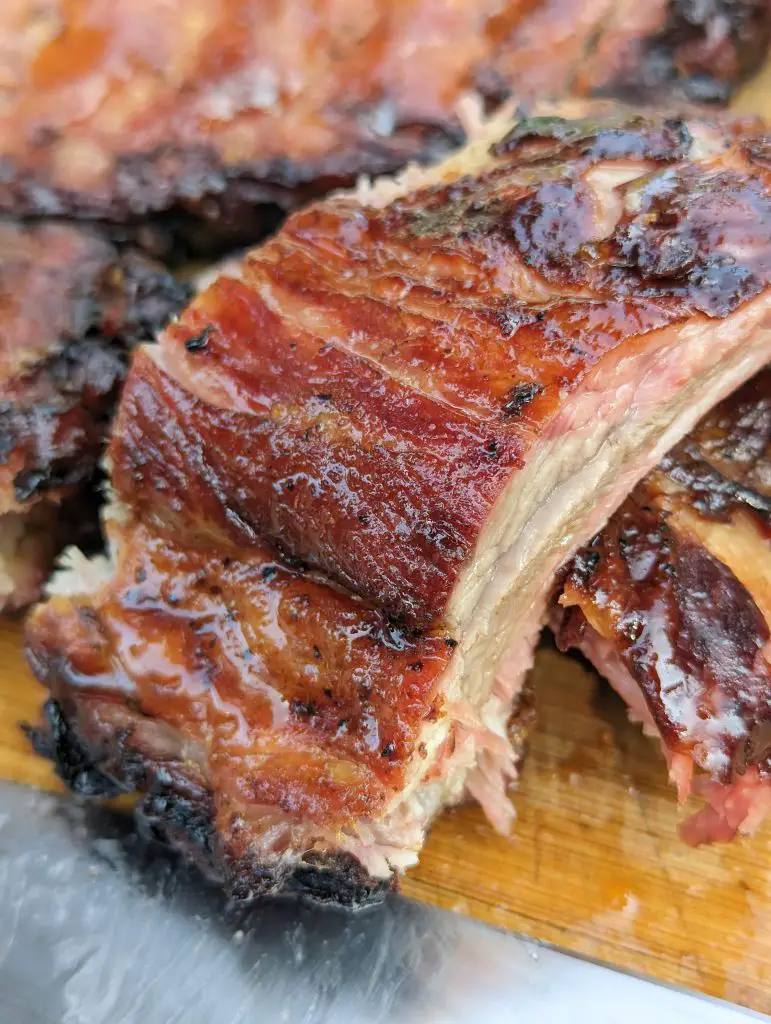 After an hour, you should be able to pull the ribs. After we pull them off, we will want to let the ribs rest for about 10-15 minutes. Before letting them rest, get one more coating of hot honey on them. The honey will set incredible well during the rest period. After the rest period, you can slice these and serve.
Wrapping Up Hot Honey Ribs
Ribs are a true American BBQ classic. With so many varieties, these hot honey ribs will stand out from the crowd. Easy enough for the newbie but not to be passed up by the most experienced of smokers. So whether smoking this hot honey ribs for a summer holiday like Memorial Day or 4th of July or a Saturday BBQ's with friends, these will sure to be a hit.
One note about making fall off the bone ribs, you do not actually want the meat to fall off the bones. If that were to happen you are likely to have some very mushy ribs that are overcooked. What you want to achieve is ribs where the meat separate from the bones cleanly when eating them. If that is not happening, you may have undercooked them.
Thanks for being here and checking out this hot honey ribs recipe. I hope you enjoy it! We always appreciate comments, 5 star recipe rating and social media shares. As always, keep that smoke rolling!
Looking for some other recipes, here are some sugggestions:
This post contains affiliate links. If you use these links to buy something I may earn a commission.
Hot Honey Ribs
Additional Time:
15 minutes
Total Time:
6 hours
30 minutes
Ribs are a classic BBQ dish, that when coated with some hot honey will be truly enjoyable.
Ingredients
2 racks of baby back ribs
Dirty Bird Rub
Mike's Hot Honey
1 stick of butter
1/4 cup of apple juice
Instructions
Set smoke to 225, using cherry wood
Prep the ribs, first by removing the silver skin on the ribs, if necessary
Coat the bottom of ribs with some Dirty Bird, we will leave the top of the ribs unseasoned for now
Place the ribs on the smoker, using a rack if you have it
Smoke for 3 hours
After 3 hours, wrap the ribs in foil, with 3 pats of butter, apple juice and hot honey
After wrapping, place back on the smoker and smoke for 2 hours
After two hours, unwrap, coat with some more hot honey and place back on the smoker
After about one hour or if you are checking IT, at about 200
After one hour, remove from the smoker, brush with more hot honey and then let rest for about 15 minutes
After 15 minutes, slice and serve
Nutrition Information:
Yield:

6
Serving Size:

1
Amount Per Serving:
Calories:

484
Total Fat:

38g
Saturated Fat:

18g
Trans Fat:

1g
Unsaturated Fat:

18g
Cholesterol:

128mg
Sodium:

387mg
Carbohydrates:

11g
Fiber:

0g
Sugar:

9g
Protein:

24g