The Caesar salad has long been a classic favorite among many, but have you ever considered adding some grilled chicken and grilled lettuce to your Caesar? Grilled Chicken Caesar Salad is a delicious and satisfying twist on the traditional recipe that can be enjoyed as either a side dish or a main course. With its flavorful combination of crispy grilled romaine lettuce hearts, juicy grilled chicken, crunchy croutons, Parmesan cheese, and creamy Caesar dressing, this salad is sure to become one of your new go-to meals for any occasion.
How To Season Chicken For Caesar Salad
Before we get started grilling anything, we are going to get some marinade on the chicken breasts. For this recipe we are going to want to use boneless skinless chicken breasts. The marinade recipe is going to call for the following ingredients:
olive oil
lemon juice
salt
ground black pepper
minced garlic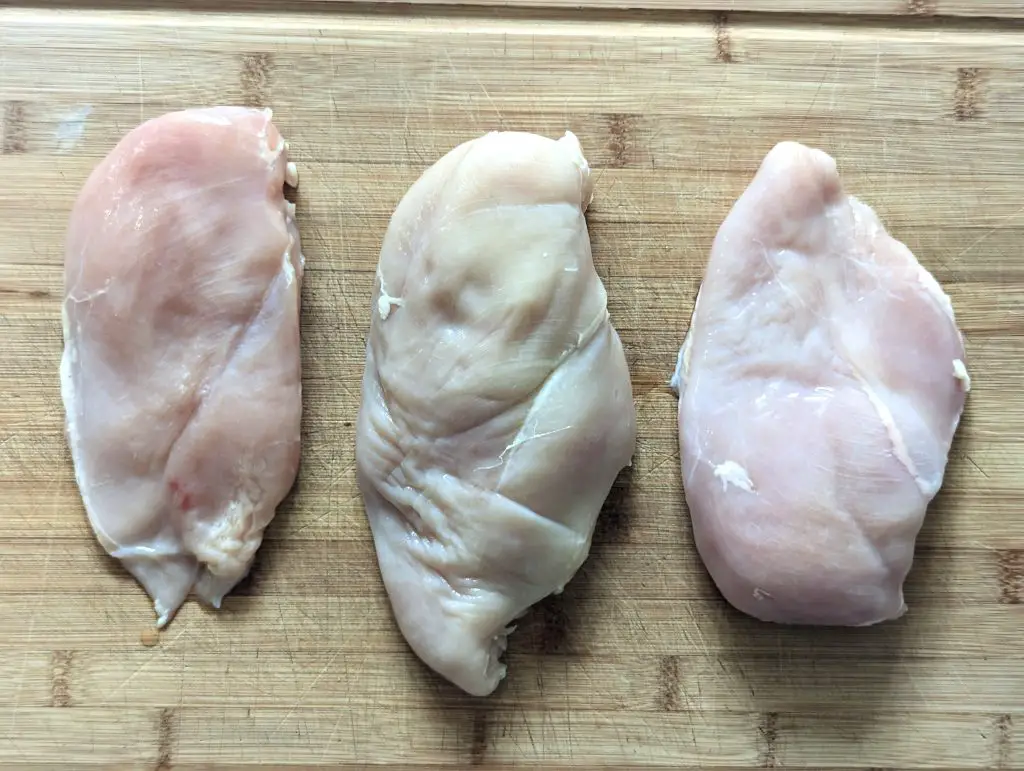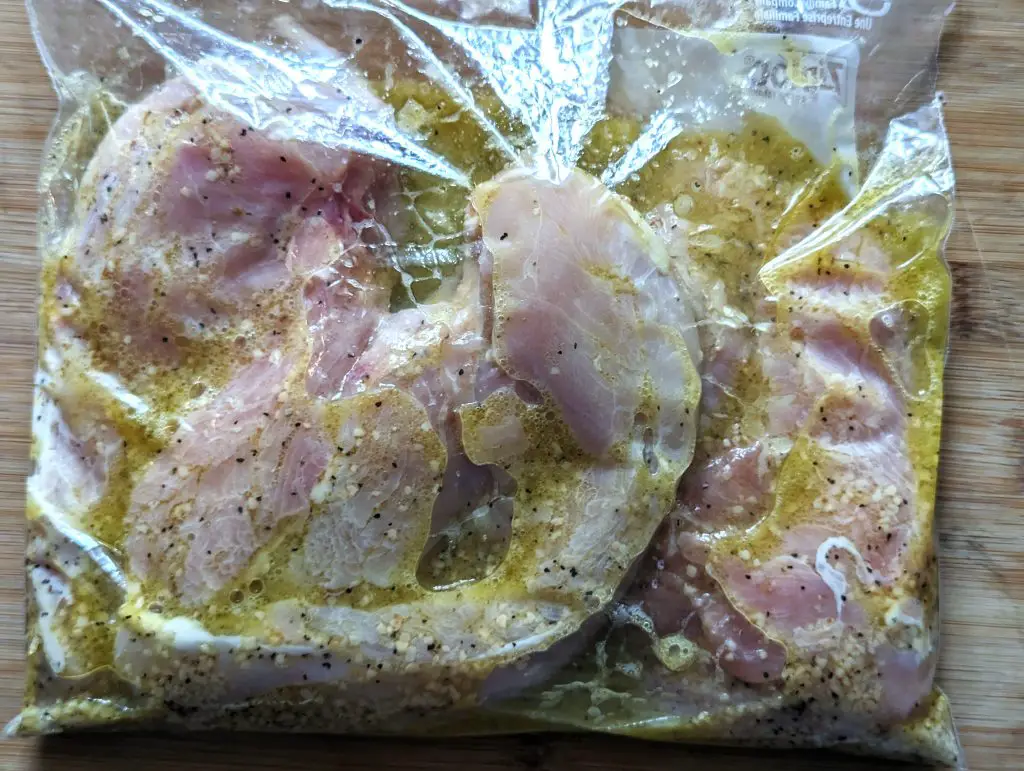 Combine these ingredients into a bag and mix. Before adding the breasts, trim off any excess fat or skin that may be on there. When finished you can place the breasts into the bags and seal. At bare minimum you will want the breasts to marinade for 30 minutes, ideally if you can do up to 2-3 hours that would provide you with the best flavor, 4-5 hours even better. You should not need to do more than that.
Grilled Chicken for Caesar Salad
After your chicken is done marinating we are going to get the grill started. We are going to crank up the grill for 400° and we will do this over direct heat. Before putting the chicken on, wipe the grates down with some vegetable oil to keep the chicken from sticking the the grates. Please be careful to not burn yourself or cause a fire. Using a thick rag or paper towels should do the trick.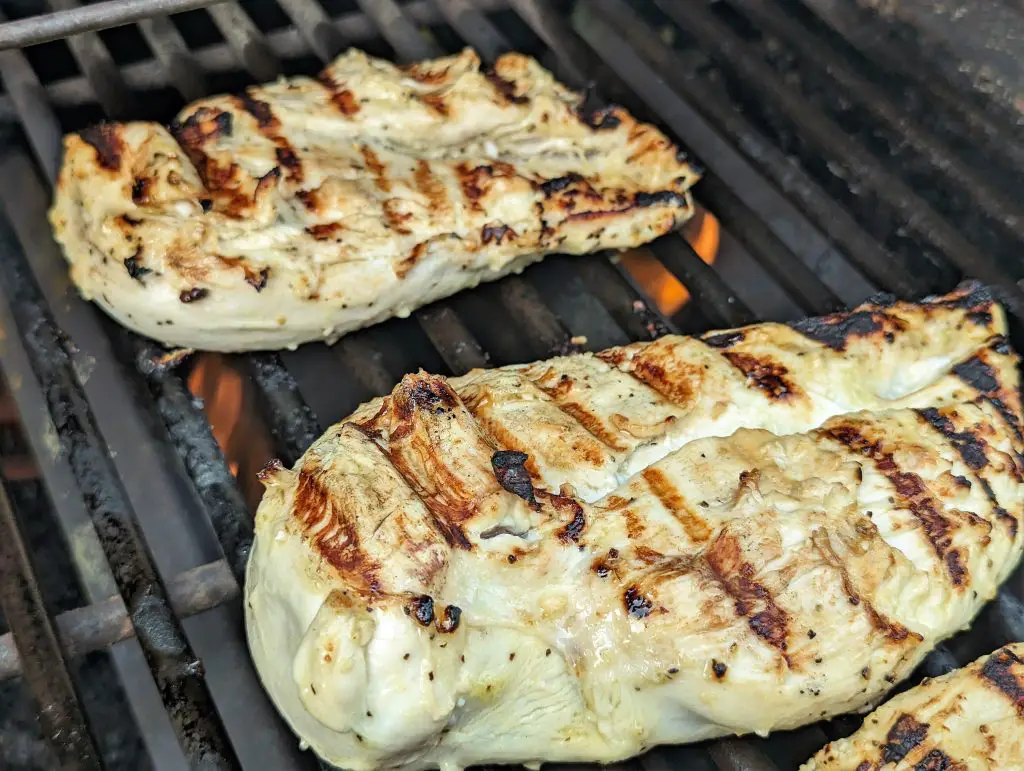 Once you have the grill up to temperature, go ahead and place the breasts on the grill. If you have a probe unit you can run that through the side of the grill lid and check IT that way, makes for less opening of the grill and more efficient cooking. The ThermoPro TP20 is a great unit for this purpose! At around and IT of 80°, you can go ahead and flip the chicken.
After flipping you are going to take these breasts to 160°. Now FDA calls for chicken to go to 165° but by pulling early, and tenting it with foil it will give the chicken time to rest and will naturally reach that safe IT of 165°. You are going to let the chicken breasts rest for about 15 minutes.
Grilled Lettuce Romaine Hearts
So while the boneless chicken breasts are resting we can throw our lettuce on the grill. Before we do that we need to prep the lettuce. Our first step will be to cut the romaine in half, long way. Now that the lettuce in cut in half, you will simply brush on some olive oil and the add some ground black pepper and some kosher salt. With the lettuce being seasoned, we can now put it on the grill.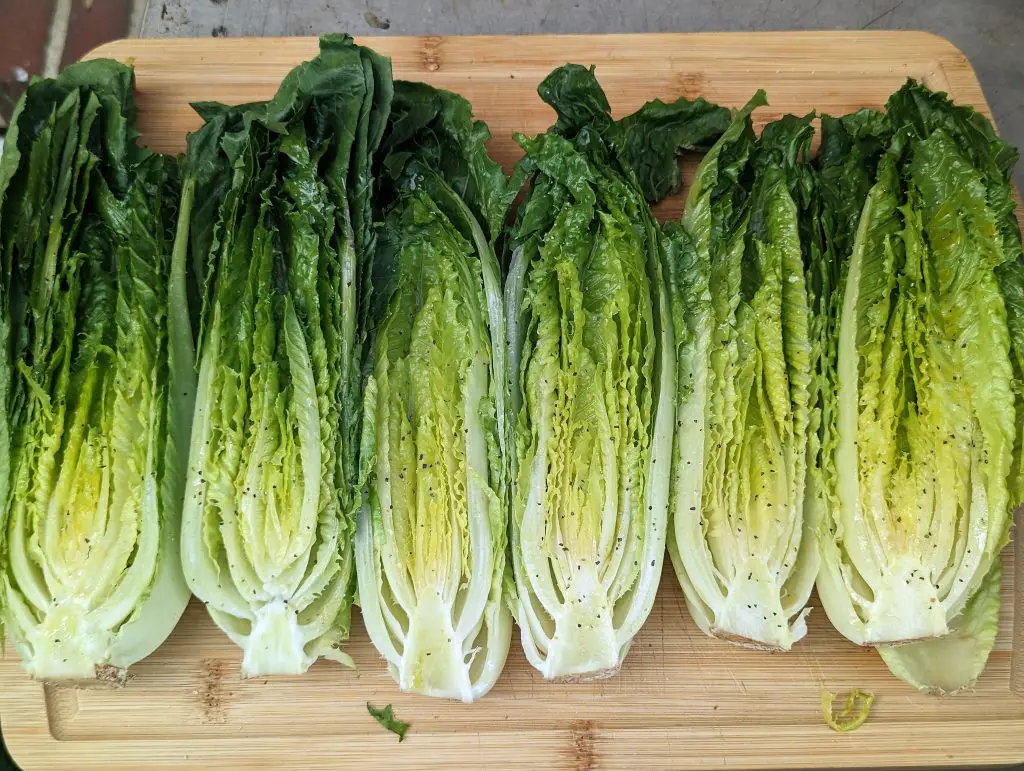 We will keep the grill going at 400° and will place the lettuce on the grill, flat side down. We are only going to grill one side of this lettuce and this will take about 5 minutes or until you get a little bit of char starting to show on the one side.
After you see the char on the lettuce, you can remove them from the grill and we can start to put our grilled chicken Caesar salad recipe together.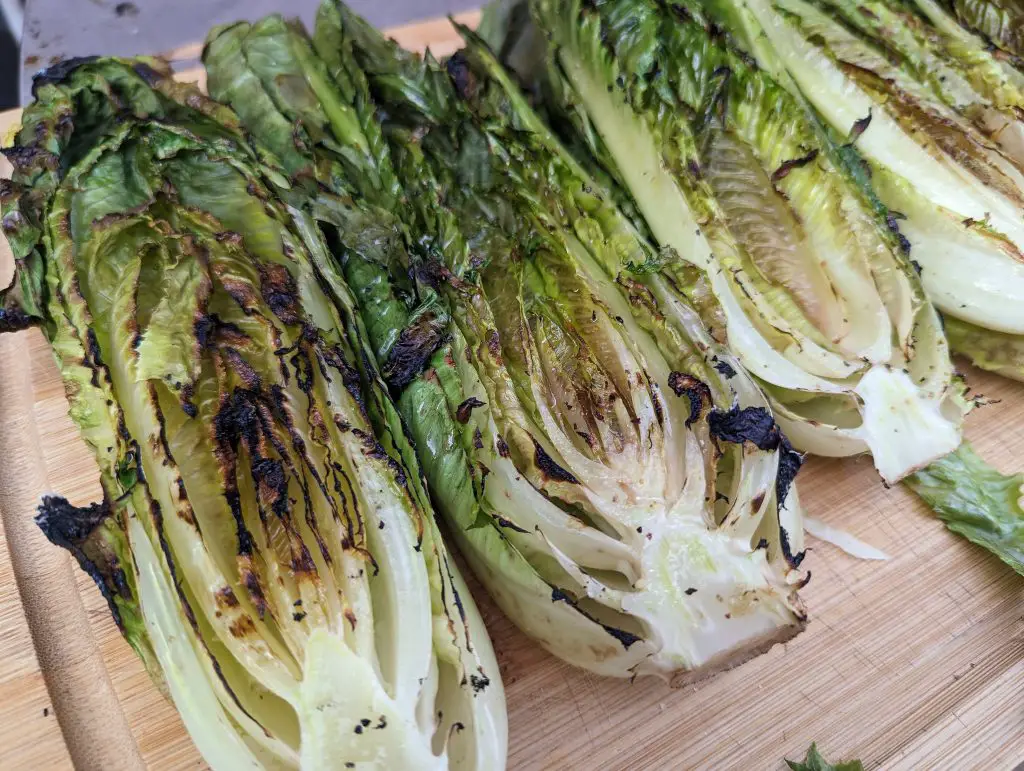 How To Make a Chicken Caesar Salad
By the time the lettuce is done, the chicken should be on the tail end of that 15 minutes rest period. If you are still waiting on the chicken you can start by chopping the lettuce and place it in the bowl. You can then move onto the slicing the chicken. I like to slice it in strips but if you prefer smaller pieces you can also chop it. Layer that on top of the lettuce.
From here, with your other chicken Caesar salad ingredients, I do not get too fancy with some store bought croutons, shaved or shredded parmesan cheese and Caesar dressing. Add those in to taste and then mix them together in the bowl and you are ready to serve.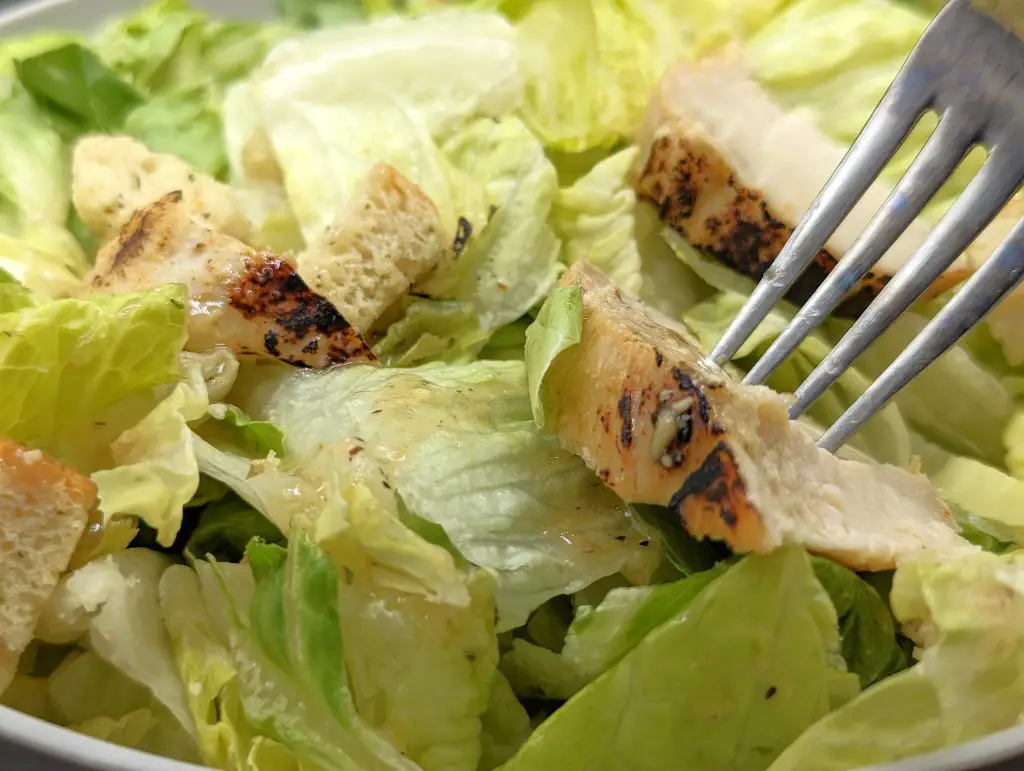 Wrapping Up Grilled Chicken Caesar Salad
Grilled chicken Caesar salad is a delicious and healthy meal option that is perfect for any occasion. With its simple ingredients and easy preparation, this dish can be enjoyed by anyone who loves food. So next time you are looking for a nutritious and tasty meal option, give grilled chicken Caesar salad a try!
Thanks for being here and checking out this grilled chicken Caesar salad recipe. I hope you enjoy it! We always appreciate comments, 5 star recipe rating and social media shares. As always, keep that smoke rolling!
Need some other easy chicken recipes for the grill and more, here are some suggestions:
This post contains affiliate links. If you use these links to buy something I may earn a commission.
Grilled Chicken Caesar Salad
Ingredients
Chicken Marinade
2 tbsp. of olive oil
1/4 cup of lemon juice
1/2 tbsp. of salt
1/2 tsp of black pepper
2 tbsp. minced garlic
Grilled Romaine Lettuce
3 heads of romaine
1/2 tbsp of olive oil
salt and pepper to taste
Salad
Croutons
Shaved Parmaeasn
Caesar dressing
Instructions
Trim the breast of any excess fat
Combined the chicken marinade in a Ziploc bag, add the chicken and marinate for 2-3 hours. Minimum of 30 minutes if you are squeezed on time
Start grill for a temperature of 400
Remove breasts from the marinade and give a minutes to start moving up to room temperature
Coat the grates with some vegetable oil to avoid the chicken sticking to the grates
Grill on each side, over direct heat for about 8-10 minutes, depending on the thickness. You will want to pull them around 160, and let them rest for about 5-10 minutes. This will give them time to also reach the desired 165 IT.
Slice romaine hearts in half, brush with olive oil and season with salt and pepper
Place cut side down and grill for about 5 minutes or until you start to see some char on it.
Remove, chop and prepare the salad with shrimp, cheese, croutons and dressing
Nutrition Information:
Yield:

5
Serving Size:

1
Amount Per Serving:
Calories:

477
Total Fat:

18g
Saturated Fat:

4g
Trans Fat:

0g
Unsaturated Fat:

13g
Cholesterol:

157mg
Sodium:

1028mg
Carbohydrates:

16g
Fiber:

8g
Sugar:

5g
Protein:

62g