What You Need For BBQ Chicken Thighs
For this recipe, we'll be using a gas grill. Its convenience is what makes it the perfect tool for this BBQ chicken recipe. Whether you're planning a quick weeknight meal or cooking for a gathering, a gas grill makes the process seamless and enjoyable.
All it takes is a few boneless, skinless chicken thighs (about 1-2 lbs.) and your favorite BBQ sauce. Although I'll be using Sweet Baby Ray's, feel free to use your favorite. With just these simple ingredients, you're set for a juicy, flavor-packed BBQ chicken feast.
How To Make Barbecue Chicken Thighs
Heat your grill to 400°. We'll be utilizing indirect heat for cooking. With indirect heat - preferably using 2 out of 4 burners and placing the chicken over the unused burners - you can cook chicken without worrying about it drying out. If space is limited, your grill's warming rack is a good alternative location.
Next, place the boneless, skinless chicken thighs onto the grill. These are chosen for their ability to withstand higher heat due to their fat content, eliminating the need to brine them. However, if you'd like to try brining, here's a link to a great brining recipe.
Allow the thighs to cook for roughly 15 minutes, keeping the grill lid closed. Make sure to move the chicken around a bit to prevent it from sticking. Applying some cooking spray or vegetable oil to the grate beforehand could be helpful too. Start lathering on your BBQ sauce once the chicken reaches an internal temperature of 140°. With indirect heat, there's no need to flip the chicken at this stage.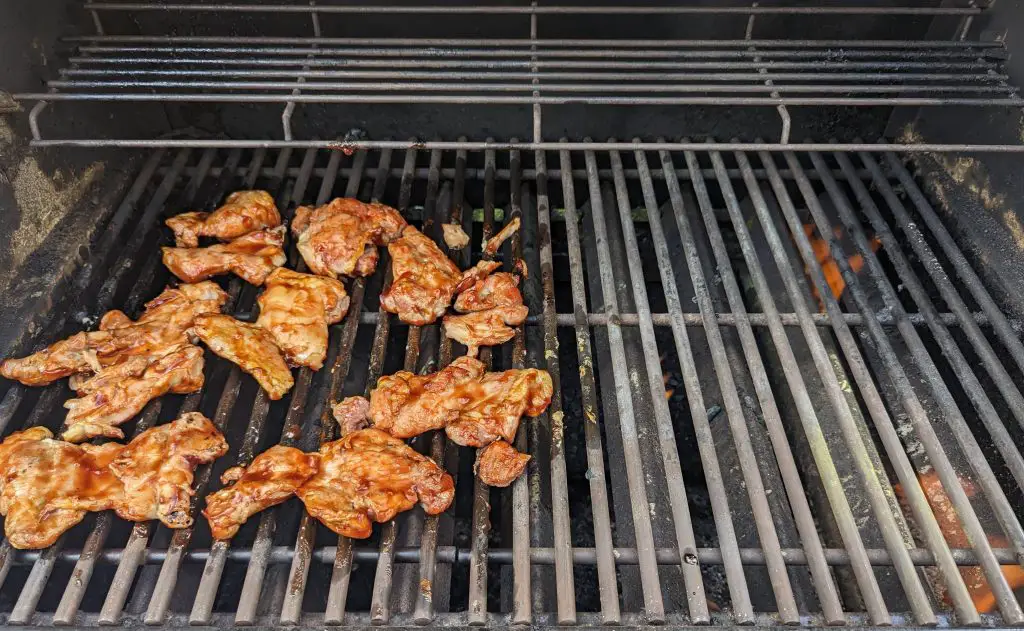 Need a simple instant read probe, try the ThermoPro TP03H. It does the trick for these basic recipes!
As for the BBQ sauce, brush it evenly on all sides before flipping the thighs. Continue with indirect grilling until the internal temperature hits 160°. It's worth noting that while chicken is typically safe to consume at 165°, thighs can withstand higher temp up to 175° due to their higher fat content, keeping them juicy and flavorful.
Once the internal temperature reaches 160°, we are going to move over to direct heat. Place over direct heat, brush the top of the thighs again with BBQ sauce and let cook for 2 minutes over direct heat. You can then flip, brush again with barbecue sauce and cook for another 2 minutes over the direct heat. Each grill will be a little different and has those hotter spots so just keep an eye on them. You can do this last part with the grill open. By moving over at 160°, there should not be a need to check IT, will you easily reach a safe IT of 165°.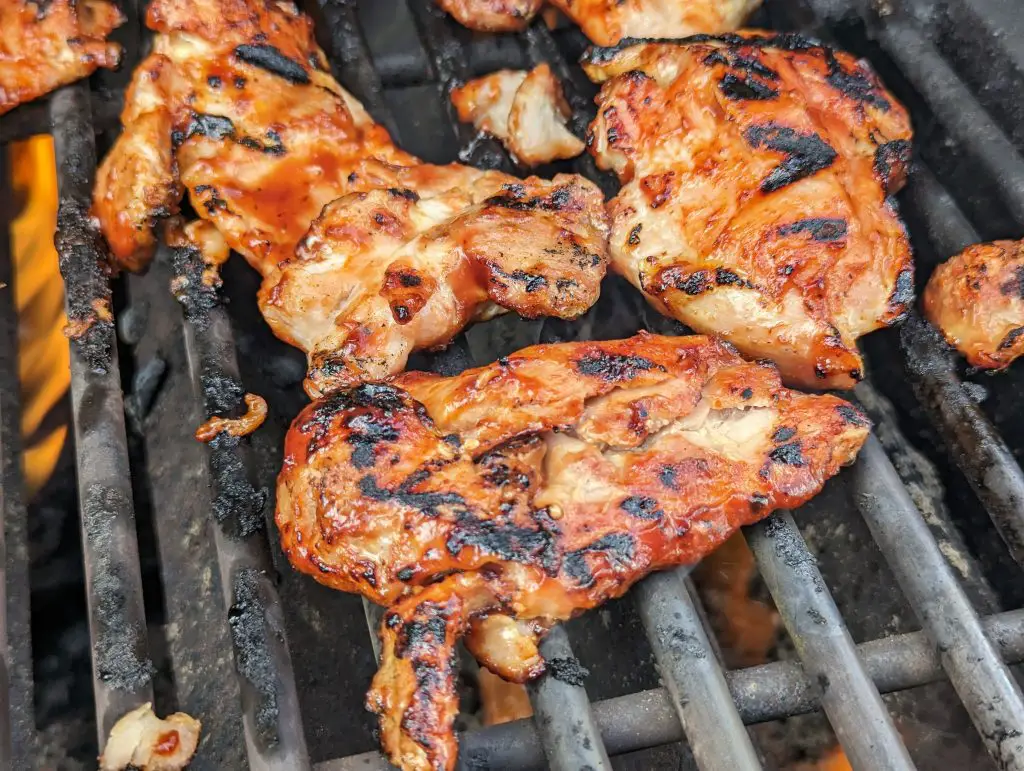 Once the thighs have achieved that perfect char, you're nearly done. Just remove them from the grill, let them rest for 5-10 minutes to let the juices evenly distribute, and then they're ready to serve!
Bringing Home Our BBQ Chicken Thighs Recipe
This scrumptious BBQ chicken thigh recipe is incredibly easy to prepare. It's a showstopper at family dinners and 4th of July BBQ parties alike. The simplicity of preparation can be our little secret – the focus will be entirely on its outstanding taste!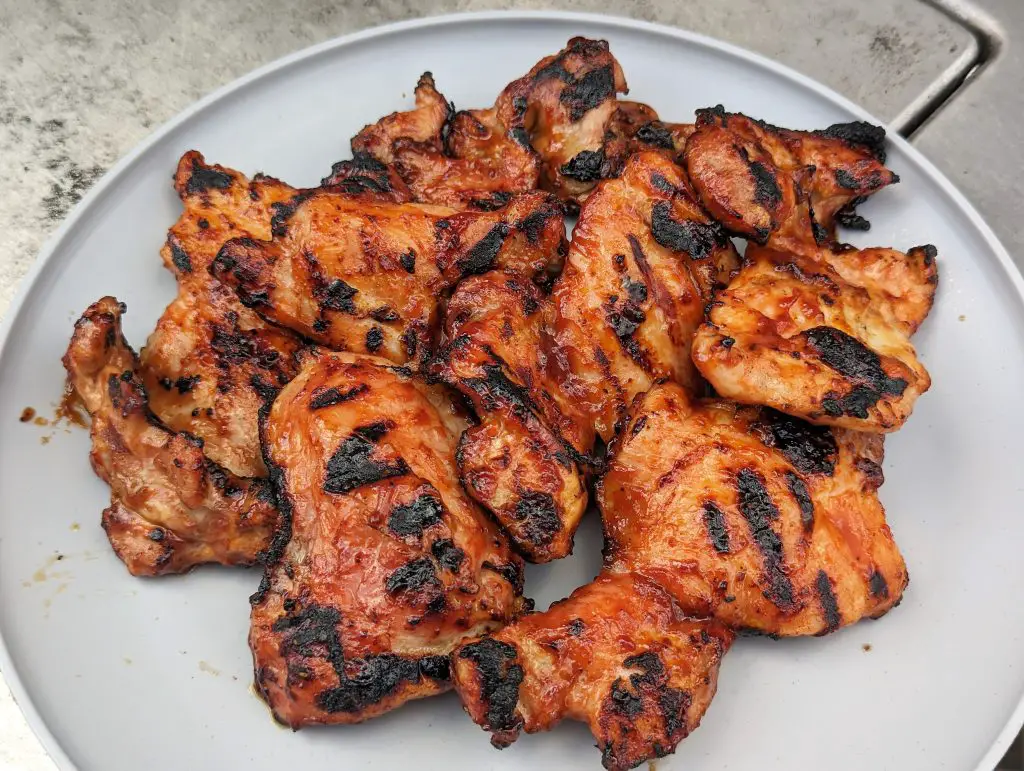 Thanks for being here and checking out this BBQ Chicken Thighs recipe. I hope you enjoy it! We always appreciate comments, 5 star recipe rating and social media shares. As always, keep that smoke rolling!
If you're looking for more chicken thigh or grilling recipes, we've got a collection of recommendations to explore:
This post contains affiliate links. If you use these links to buy something I may earn a commission.
BBQ Chicken Thighs
Additional Time:
10 minutes
Incredibly easy but delicious recipe for cooking BBQ chicken thighs.
Ingredients
2 lbs. of boneless, skinless chicken thighs
Sweet Baby Ray's BBQ Sauce
Instructions
Get the grill going to 400°
Place thighs on grill for indirect heat, keep grill closed
Cook for about 15 minutes or until the thighs reach an IT of 140°
At 140°, brush on BBQ sauce on one side, flip and brush on the other side
When thighs hit 160° move over to direct heat
While over direct heat, brush BBQ sauce on again but leave cooking over direct heat for 2 minutes
After 2 minutes, then flip the thighs, brush on BBQ sauce again and cook over direct heat for another 2 minutes
After the two minutes, remove, let rest for 5-10 minutes and then serve
Notes
When cooking over the direct heat, keep lid open and watch, if they are getting too charred, remove before the 2 minutes is up. Grills all cook a little different, have some hot spots and so some pieces may cook faster than others.
Nutrition Information:
Yield:

8
Serving Size:

1
Amount Per Serving:
Calories:

193
Total Fat:

9g
Saturated Fat:

3g
Trans Fat:

0g
Unsaturated Fat:

6g
Cholesterol:

138mg
Sodium:

244mg
Carbohydrates:

2g
Fiber:

0g
Sugar:

1g
Protein:

28g