Summer is upon us, and there's nothing quite like firing up the grill for a backyard barbecue and making an amazing side dish from frozen corn on the grill. It's time to switch things up with a delicious side dish, that will impress your guests. Frozen corn on the grill is a quick and easy option that adds a twist to this classic summer staple. Whether you're hosting an outdoor party or looking for a simple weeknight dinner idea, grilled corn is sure to be a hit.
What You Need For Grilling Frozen Corn
I love this recipe because it is so incredibly easy and flexible to do it how you wish. Any time I make this, the kids immediately flock to it, which is not the normal around here.
When making frozen corn on the grill, I usually go with a yellow sweet corn, I get the large bags at Costco but whatever you have at your local grocery store works too. You will then want to use a rub, what I have found to be some of the absolute best combinations is Holy Voodoo, Kosmo's Honey Killer Bee rub or Kinder's SPG rub. Again, if you have something different, run with it but these rubs have had the best, most positive reaction in our house.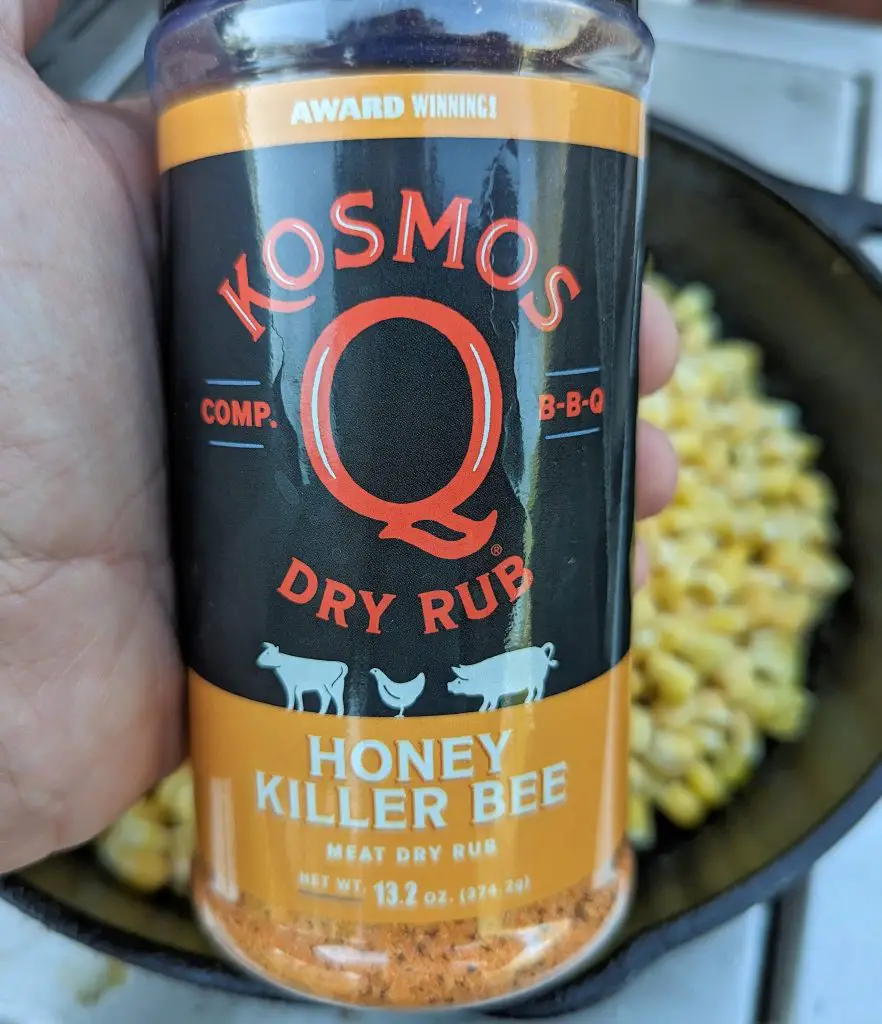 In addition to the corn and rub, you just need a cast iron skillet. Lodge is always hands down the best brand out there when it comes to cast iron.
How To Grill Frozen Corn
I am doing this on my gas grill but you could also do this on your charcoal grill as well. We are going to start the process of cooking the corn by getting the grill up to a temperature of 350°. While that is getting up to temperature we are going to prep the corn. Put the corn into the skillet, you can spray the corn with some cooking spray but its not needed, once that is done, add in your rub of choice. As you add the rub, stir it into the corn, you will likely want to add some more rub during the cooking process.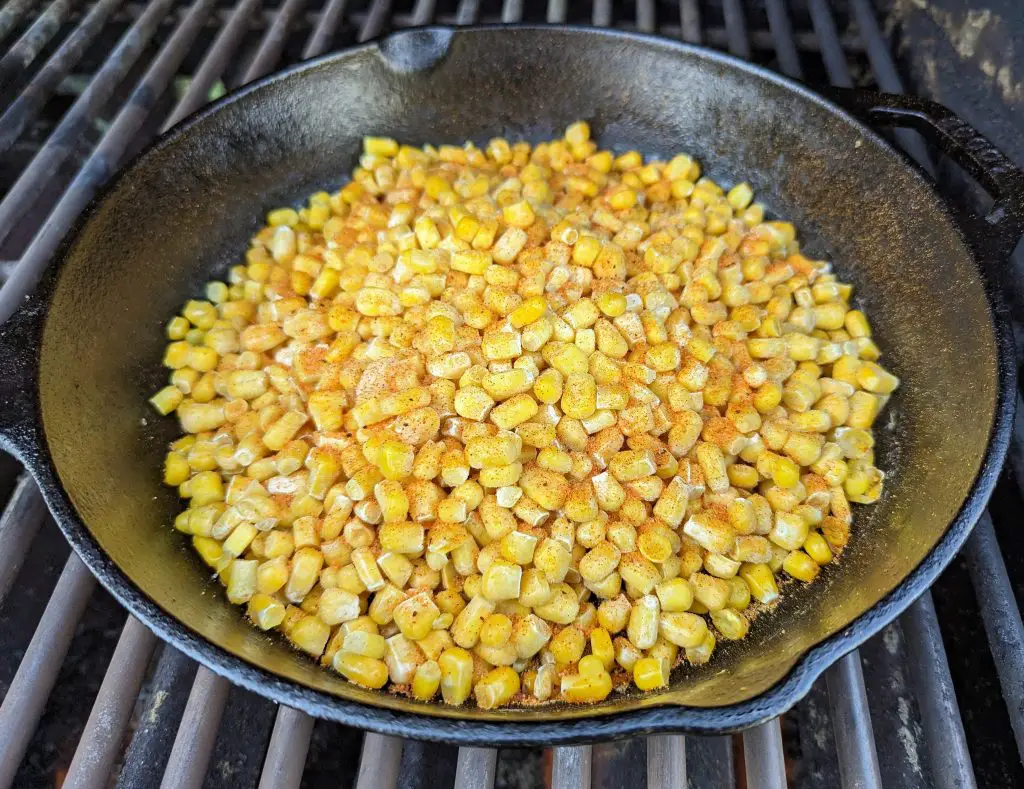 At this point the grill should be up to temp. Go ahead and place the skillet on the grill and we will cook this over medium heat, direct. After placing the skillet on the grill, close the lid and let the corn cook. You will want to stir it every 5 minutes, add additional rub if you feel it needs it. Some of the rub ends up sticking to the skillet and not the corn so you will likely need to add some more along the way.
Depending on how much you put in, about 45 cups of frozen corn should take about 20 minutes to cook. You are going to continue cooking until you start to see just a little bit of char on the kernels. Once the corn is done, you are good to pull it off and serve while hot. Quick reminder grab that skillet with a glove, its going to be hot!
Wrapping Up, Frozen Corn On The Grill
In conclusion, frozen corn on the grill is a delicious and easy way to enjoy one of summer's favorite vegetables. It requires minimal prep time, can be customized with various seasonings and toppings, and provides a healthy addition to any meal. Whether you're grilling up burgers or enjoying a vegetarian feast, grilled corn is sure to please everyone at the table. So next time you're firing up the grill, don't forget about this simple yet satisfying side dish that will take your summer cookouts to the next level!
Thanks for being here and checking out this Frozen Corn On The Grill recipe. I hope you enjoy it! We always appreciate comments, 5 star recipe rating and social media shares. As always, keep that smoke rolling!
Looking for some other recipes on the grill, here are a few suggestions:
This post contains affiliate links. If you use these links to buy something I may earn a commission.
Frozen Corn On The Grill
A side dish of corn is the perfect addition to your summer BBQ, it is simple yet delicious and will be enjoyed by all.
Ingredients
5 cups of frozen corn
Holy Voodoo, Kosmo's Honey Killer Bee rub or Kinder's SPG rub, to taste
Instructions
Pre-heat the grill for 350°
Place the corn in the skillet, coat with the rub (if you feel its not sticking the corn, hit the corn with some cooking spray)
Stir the rub into the corn
Place on the grill over direct heat and close the lid
Stir every 5 minutes and add some additonal rub if needed
After about 20 minutes and you start to see a little bit of char on the kernels, remove and serve
Nutrition Information:
Yield:

5
Serving Size:

1
Amount Per Serving:
Calories:

174
Total Fat:

1g
Saturated Fat:

0g
Trans Fat:

0g
Unsaturated Fat:

1g
Cholesterol:

0mg
Sodium:

8mg
Carbohydrates:

42g
Fiber:

5g
Sugar:

10g
Protein:

5g